Dr. Dennis Gross Skincare's Vitamin C Lactic Serum Is Worth Every Penny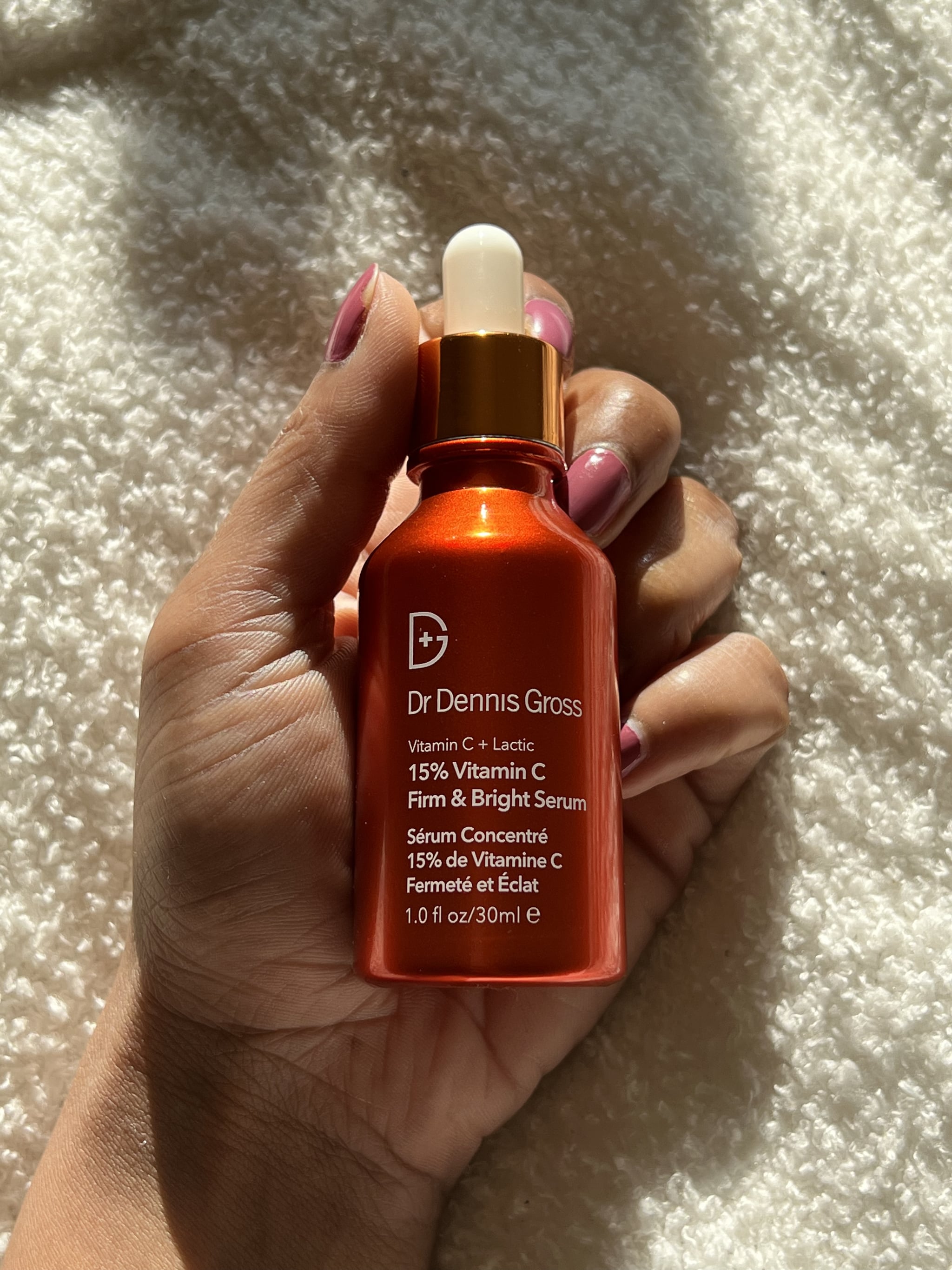 Most skin-care connoisseurs know how imperative a vitamin C serum is to their routine — it's your sunscreen's ultimate sidekick. The versatile antioxidant helps with fading dark spots and dullness as well as addressing preventative aging concerns like fine lines and collagen production, which are pretty much my top priorities. Vitamin C serums are a staple in my skin-care routine, and I'm always on the hunt for the best ones.
I got the chance to test out the Dr. Dennis Gross Skincare Vitamin C Lactic 15% Firm and Bright Serum ($85), which combines the hydrating and gentle exfoliation of lactic acid with everything vitamin C has to offer. In all my years of skin-care testing, I don't think I've ever come across a vitamin C serum that has lactic acid in it.
Turns out, according to the brand, "clinical studies show that when vitamin C is paired with lactic acid, vitamin C absorption and performance improve…When lactic acid creates this [moisture] seal, it pushes vitamin C deeper into the skin layers and thus further disrupting the hyperproduction of pigment, aka sun spots. Additionally, recent medical studies have also shown that lactic acid also has antioxidant properties, so when the two ingredients are paired together, they neutralize free radicals in all layers of skin – giving you double the protection from free radical damage and preventing future signs of aging from surfacing." Keep reading for my in-depth review, how I used it, and a closer look at my before-and-after photos.
About the Dr. Dennis Gross Skincare Vitamin C Lactic 15% Firm and Bright Serum
The Dr. Dennis Gross Skincare Vitamin C Lactic 15% Firm and Bright Serum is a daytime serum that is supposed to help fade hyperpigmentation and dark spots, uneven skin tone and texture, dullness, as well as reduce the appearance of fine lines and provide the skin with a firmer look.
Key active ingredients include 15 percent l-ascorbic acid, which is pure vitamin C, lactic acid, licorice root extract, mulberry extracts, vitamin E, ferulic acid, and glycolic acid.
This vitamin C serum is formulated for those with normal or combination skin types.
This serum is vegan and cruelty-free.
What I Like About the Dr. Dennis Gross Skincare Vitamin C Lactic 15% Firm and Bright Serum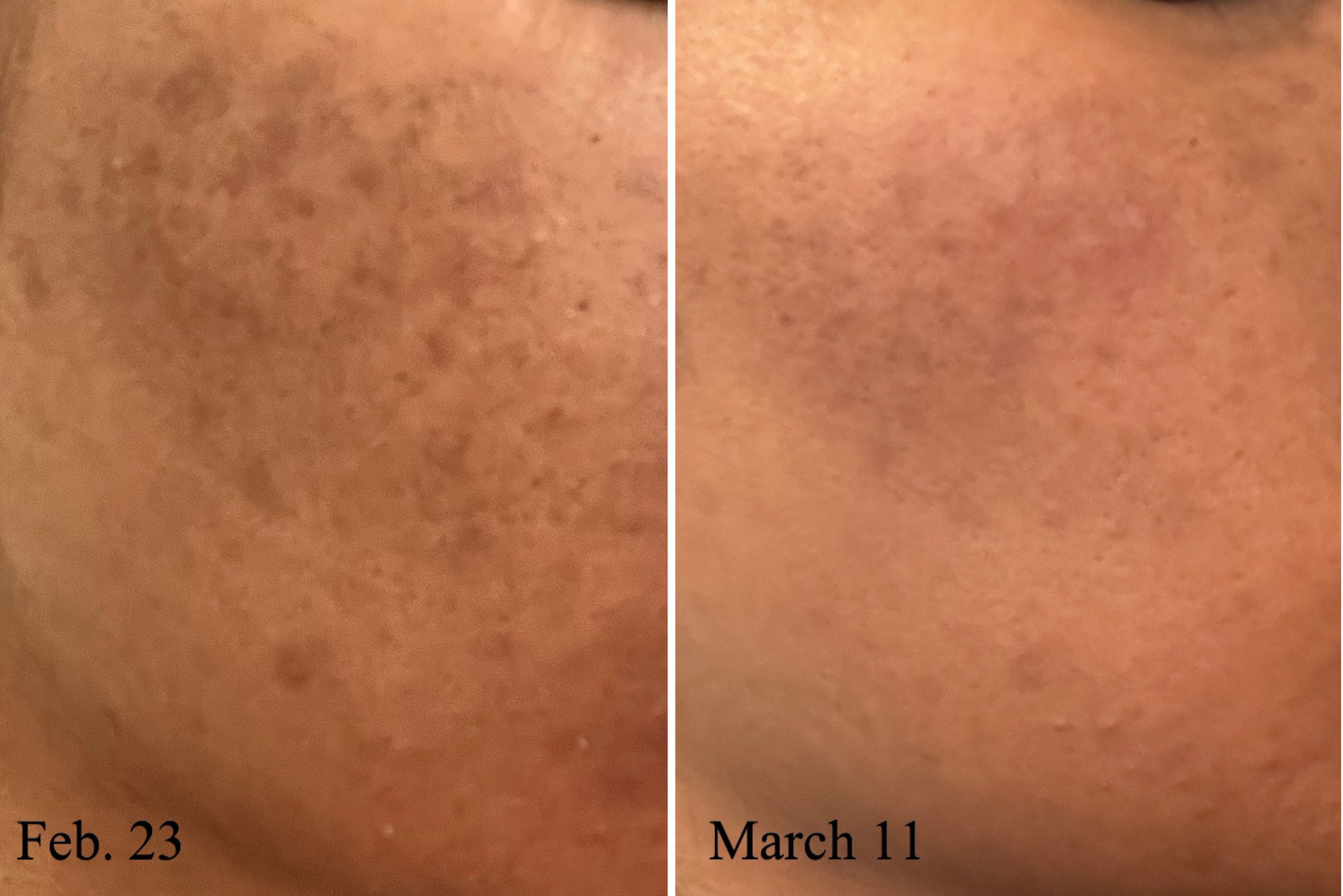 For starters, the results speak for themselves. After using this serum for 16 days, you can see how my dark spots have gradually faded, and my overall skin tone is brighter. On top of that, my skin's texture has improved significantly; my pores don't appear as big, my breakouts have decreased, and my skin looks more refined. This serum has tyrosinase inhibitors that help target and diminish dark spots, like vitamin C, mulberry extracts, and licorice root extract. AHAs like lactic acid and glycolic acid chemically exfoliate the skin, which helps with preventing breakouts, smoothing out texture, and increasing the efficacy of the tyrosinase inhibitors.
The serum also has an elegant texture that leaves your skin looking healthy and glowy. It's a lightweight orange serum with a liquidy oil-like texture that quickly absorbs into the skin. It's surprisingly on the hydrating side, so I only need a weightless moisturizer or a hydrating sunscreen on top. The serum gives me a slight tingling sensation, especially around more sensitive areas (like my nose during allergy season), but that doesn't bother me at all.
How to Use the Dr. Dennis Gross Skincare Vitamin C Lactic 15% Firm and Bright Serum
You are supposed to use the Dr. Dennis Gross Skincare Vitamin C Lactic Serum once a day, either in the morning or at night. However, to truly show you the progress my skin has made by solely using this serum and the effectiveness of the serum, I used it as a part of both my morning and nighttime routine. The brand says to use four to six drops on your skin, and don't forget to bring it down your neck and chest as well. You can use this on cleansed, dry skin or after your toner. If you're a fan of the brand's bestselling Alpha Beta Peel Pads, you can use this serum on top of that treatment. I like to use the peel pads once a week as a deep exfoliation treatment and then follow up with this serum. Depending on my skin's needs, I sometimes prep my skin with a hydrating toner before going in with this serum and following up with a moisturizer. If you use this serum in your daytime skin-care routine, you can use another versatile ingredient like retinol or another targeted hyperpigmentation treatment at night.
What to Consider Before Trying the Dr. Dennis Gross Skincare Vitamin C Lactic 15% Firm and Bright Serum

A good amount of vitamin C serums have that infamous metallic or "hot dog water" smell, and this is, unfortunately, no different. With these results, I do not care at all about the scent, but if you are sensitive to certain fragrances, this is something to consider. Vitamin C serums are also known to oxidize at a quicker rate. To help prevent this, I like to keep this serum in my mini skin-care fridge, so it lasts for a longer time.
Since this has a blend of AHAs and a potent percentage of vitamin C, this might not be as sensitive skin friendly for frequent use. I highly recommend doing a patch test, or using it every other day and working your way up. However, the brand states that the combination of vitamin C and lactic acid can be tolerated by those with sensitive skin. "One common cause of sensitive skin is a weakened moisture barrier. Vitamin C on its own improves barrier resilience, but when it's paired with a soothing ingredient like lactic acid, the ingredients work synergistically together to strengthen skin barrier function, lock in moisture, and deliver results without causing irritation or redness," the brand says. You can also consider trying out the line's moisturizers for a gentler approach. Get the Vitamin C Lactic Dewy Deep Cream ($75) if you have a drier skin type or the Vitamin C Lactic Oil-Free Radiant Moisturizer ($72) if you have an oilier skin type.
Is the Dr. Dennis Gross Skincare Vitamin C Lactic 15% Firm and Bright Serum Worth the Splurge?
The tricky thing with dark spots and hyperpigmentation is that it takes a long time to fade, but this serum is effective in not only fading existing ones, but also preventing new ones from forming via breakouts. To see this much of a difference in a little over two weeks is worth every cent. Although it's a pricey serum, taking into consideration that it can tackle many concerns at once, it allows you to streamline your routine and save on unnecessary or extra serums. When I tested out this serum, I only used gentle, drugstore skin-care products, so this was truly the only splurge-worthy item in my routine.
Where is the Dr. Dennis Gross Skincare Vitamin C Lactic 15% Firm and Bright Serum Available?
The Dr. Dennis Gross Skincare Vitamin C Lactic 15% Firm and Bright Serum is available on the brand's site, at Sephora ($85), Nordstrom ($85), and Amazon ($85).
Rating: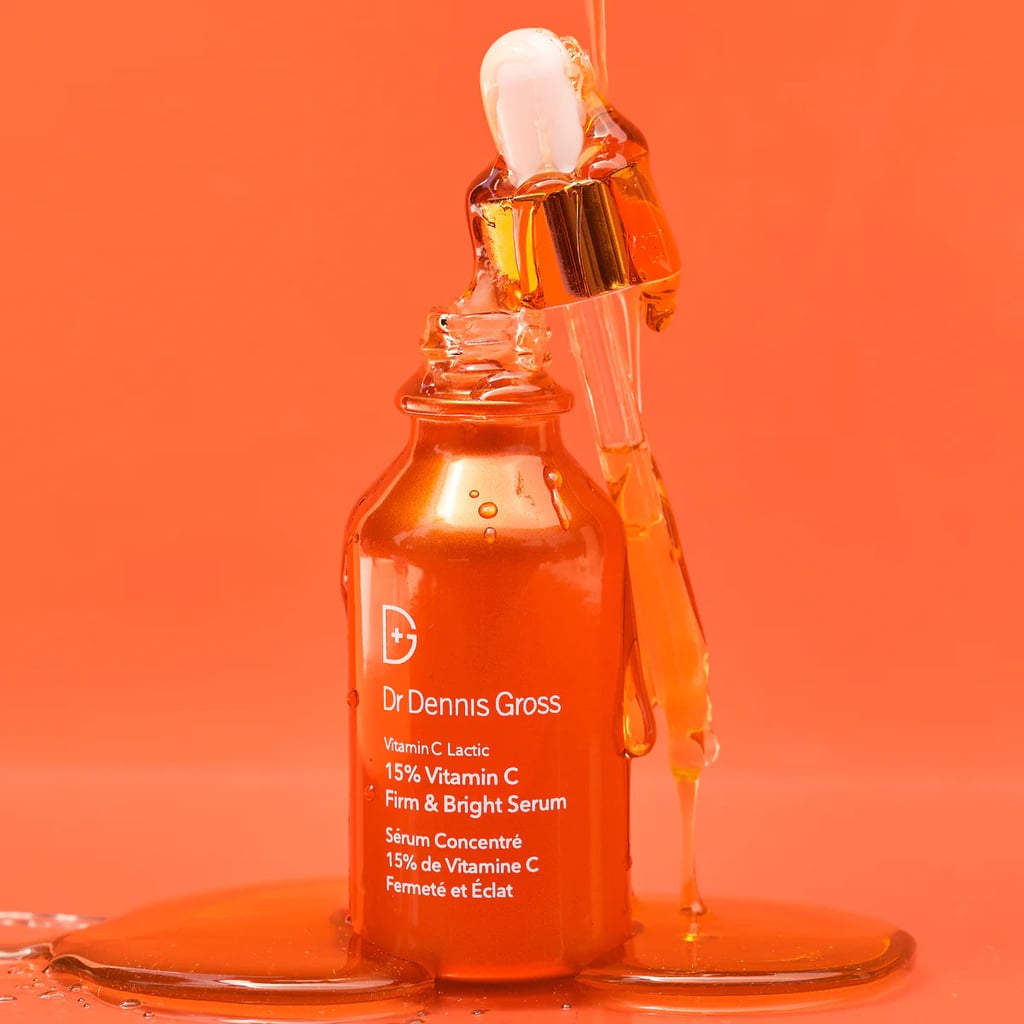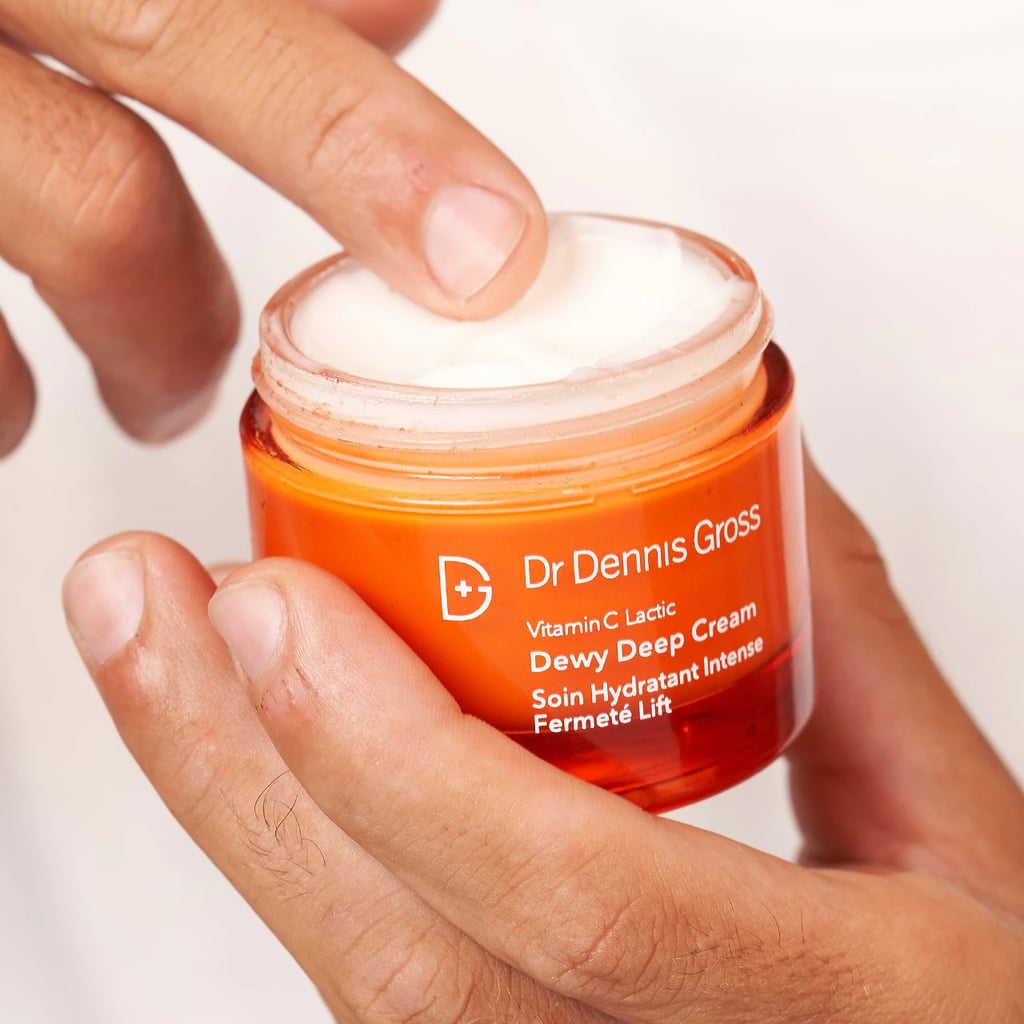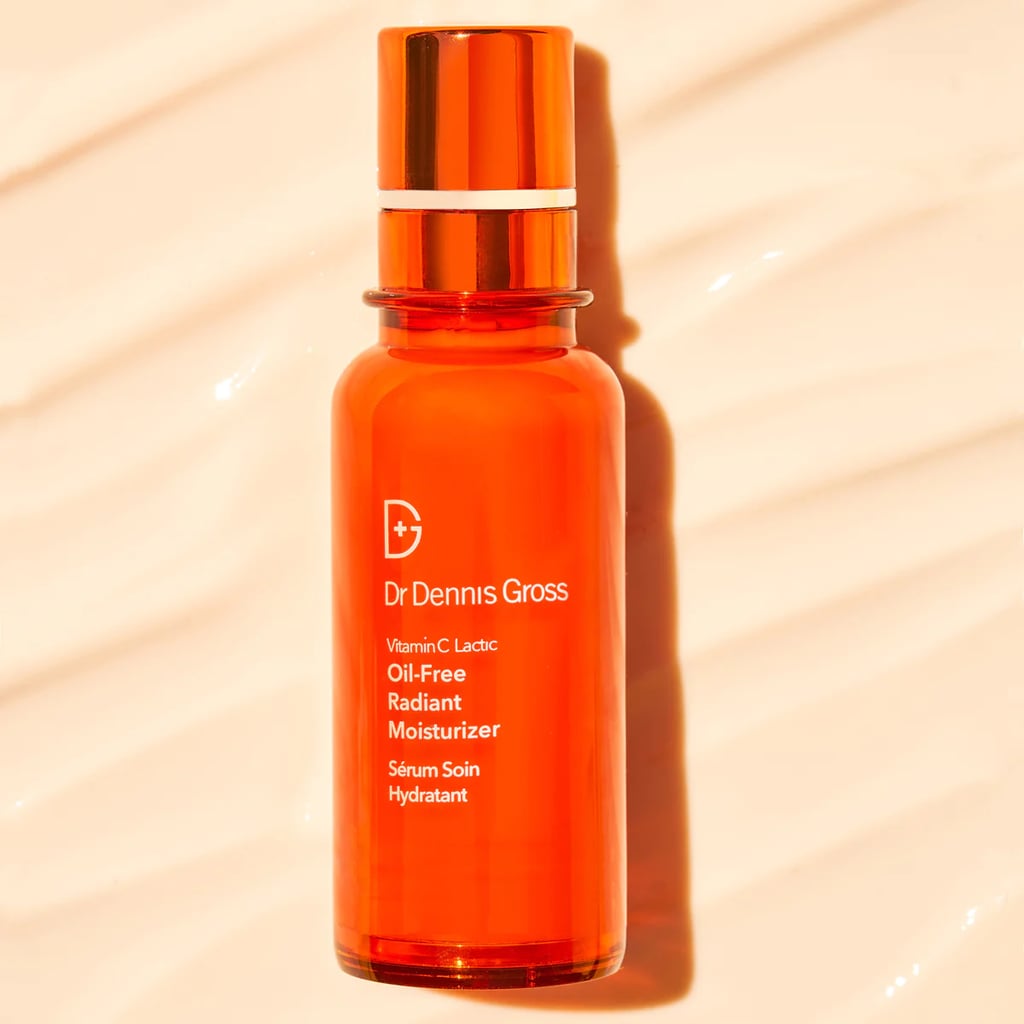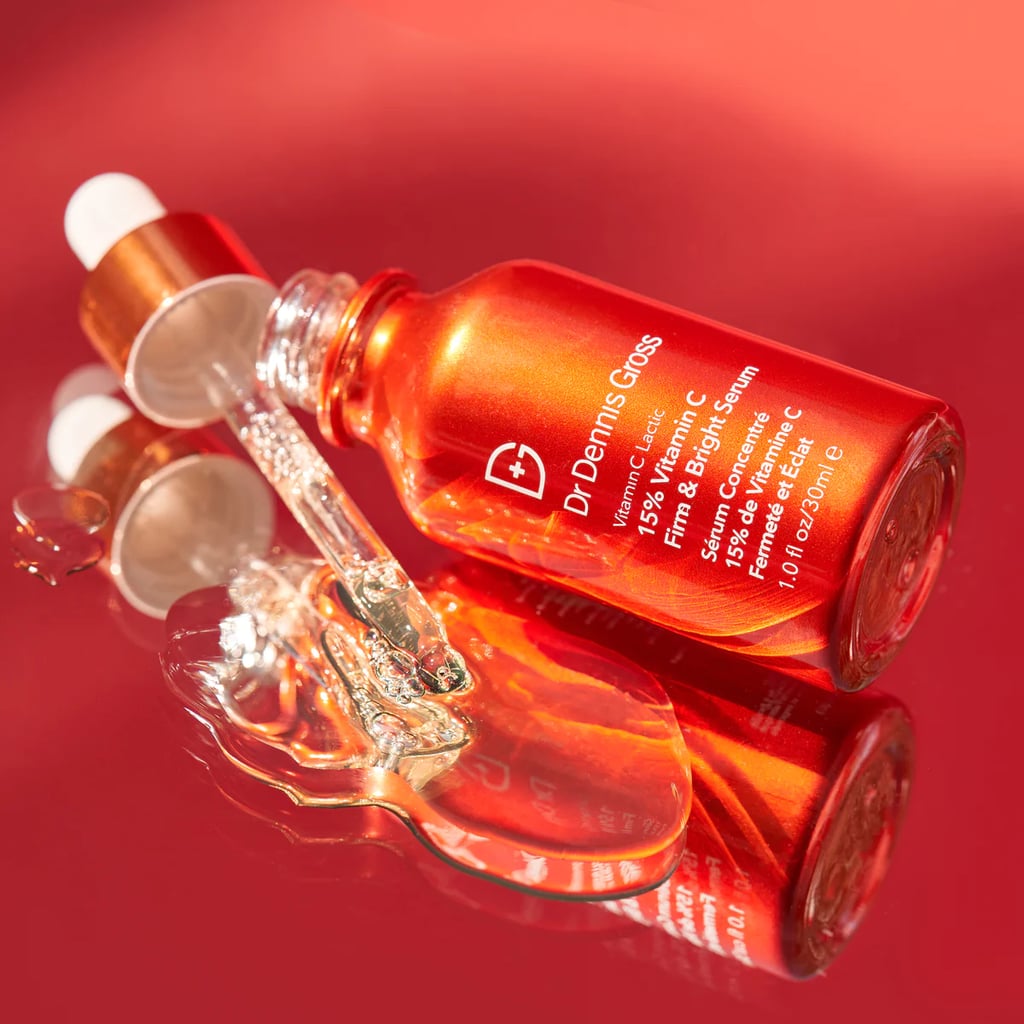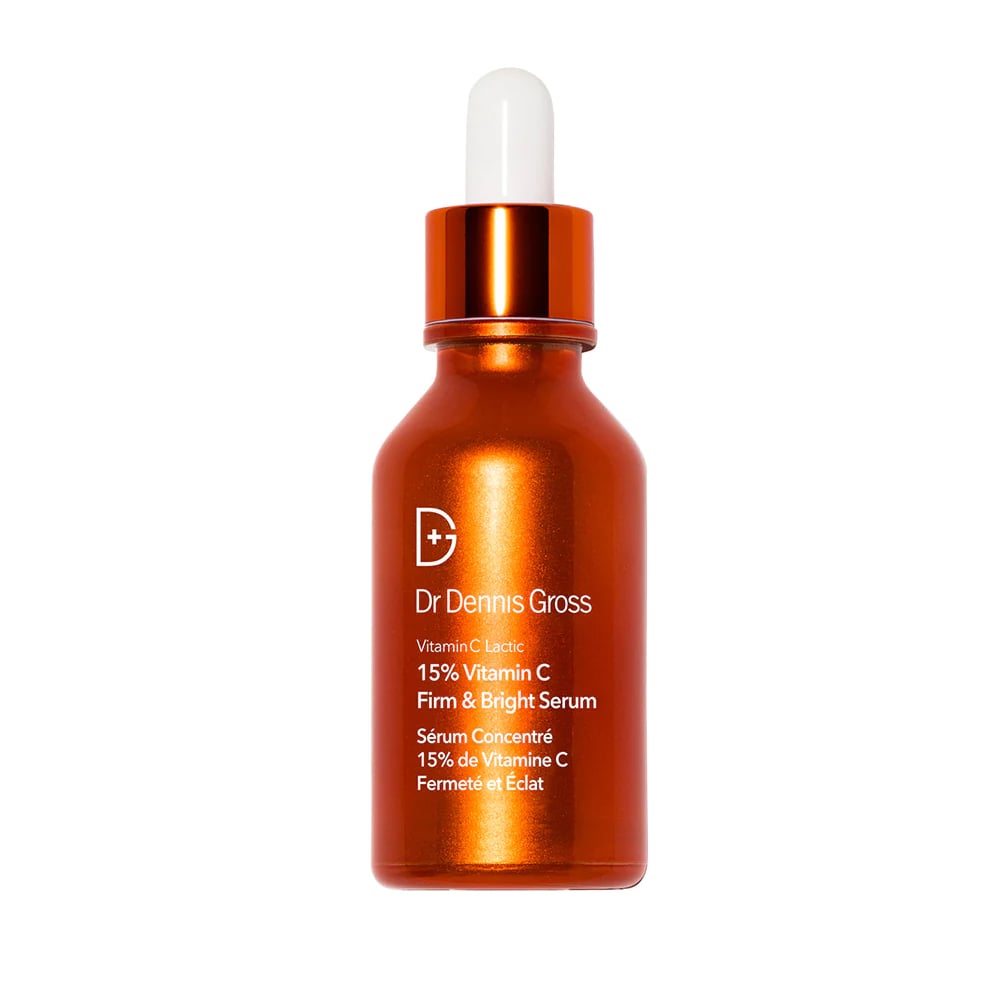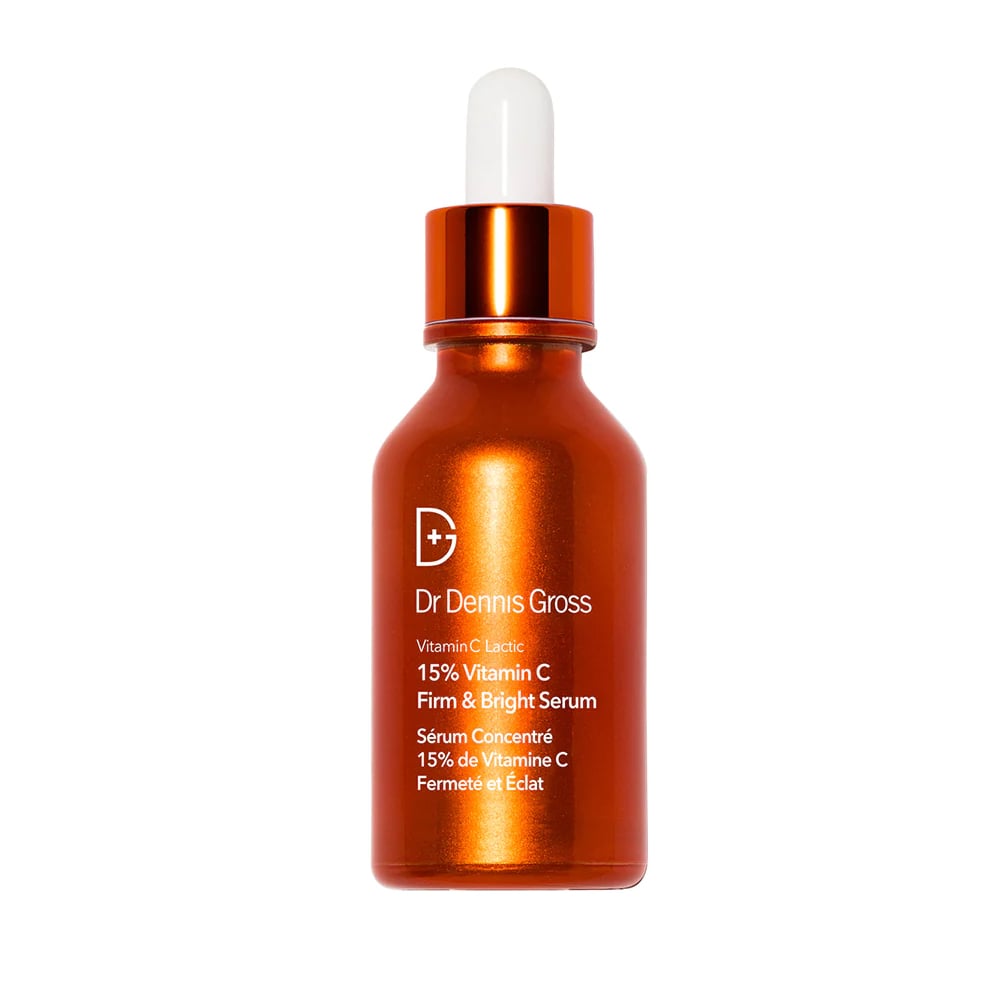 Source: Read Full Article