The Answers to All of Your Most Pressing Chin-Filler Questions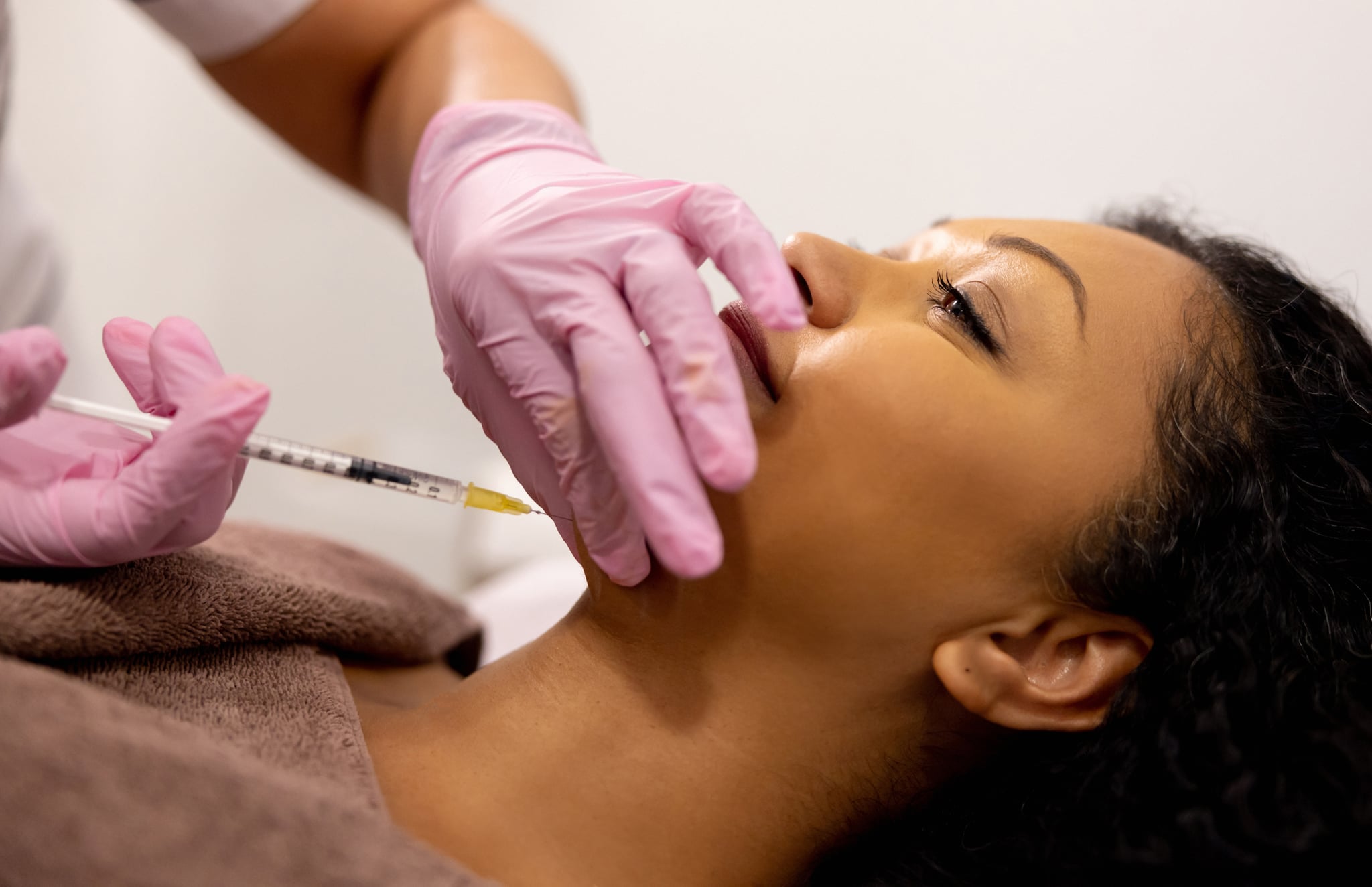 Chin filler is a nonsurgical enhancement that involves injecting dermal filler into the chin area.
It can be used to balance a receding chin, improve a sagging jawline, and shorten or elongate your lower face.
Chin filler can last anywhere from nine to 14 months.
If your first introduction to chin augmentation was Stassi Schroeder opening up about her chin-implant graduation gift in season one of "Vanderpump Rules," you wouldn't be alone. But in the decade since the servers of SUR graced our screens, the public's interest in chin enhancements have grown, as have in-office options. One treatment that is less invasive (and permanent) than an implant, and therefore has become increasingly popular in the last few years, is chin filler.
You might be wondering: What is chin filler, exactly, and what can it do? Does it hurt? How long does it last? Are there any side effects? If you have questions, we sought answers on all things chin filler from Florida-based, board-certified dermatologist Jordana Herschthal, MD, and Chantel Duffey, NP, a nurse practitioner and cosmetic injector at Beauty Lab + Laser in Salt Lake City. Keep reading for everything you need to know about the treatment.
What Is Chin Filler?
You are probably familiar with lip filler and have maybe heard about cheek filler. Well, chin filler works in a similar way. "Nonsurgical chin enhancement involves placing filler directly into the chin area to achieve facial balance and proportion and an improved profile," Dr. Herschthal says.
Hyaluronic-acid-based fillers, like Restylane and Juvederm, are the most common for chin filler, but there are also other options including The RHA Collection and biostimulator brands, like Radiesse. "I prefer hyaluronic-acid-based fillers, such as Restylane Defyne or Juvéderm Voluma, in this area for a variety of reasons, including reversibility and predictability," Dr. Herschthal says.
Talk to your injector about which route is best for you. "Having a variety of options is best in order to be able to pick the right product for each individual client," Duffey says. "Each filler has its own unique properties, including strength, stretch, cohesiveness, and more, to help [your injector] make the decision on which to use."
How Does Chin Filler Work?
Unlike other types of filler, which primarily focus on head-on results, chin filler is often all about an optimized profile. "By adding volume to the chin area, specifically and strategically depositing filler on the bony surfaces, you can cause projection of the overlying soft tissue," Dr. Herschthal says.
"For profile balancing, we are looking at a client's Esthetic Plane (E Plane and Ricketts E Plane are other names for this), and we're reshaping based on where the deficits are," Duffey says. Imagine a line drawn from the tip of your nose down to your chin. This is the Esthetic Plane. It also takes into account how far your lips protrude inside or outside the line to calculate an aesthetically beautiful balance. "This means that chin filler may only be one part of the journey," Duffey says. "Often, clients are getting lip filler combined with chin filler to obtain optimal results."
Overtly recessed chins are not the only thing filler can alleviate. Both Duffey and Dr. Herschthal see patients who are looking to improve other facial proportions by elongating or shortening the look of the lower face, as well as strengthening the jawline to help fix areas of scarring or sagging skin.
Someone "looking to enhance their profile or who has a recessed chin or does not want a surgical solution is a good candidate for chin filler," Dr. Herschthal says. "Chin filler is also a good way to show people what a more permanent result will look like without having to commit to that result." If you have a very strong chin profile already, have had a previous chin implant, have certain medical constraints to filler, or have had a chin surgery in the past, chin filler might not be your route.
What to Expect During an Appointment
For Dr. Herschthal, every client has the same initial run-of-show: After ensuring they are a suitable candidate for the treatment, doctors will discuss the patient's goals, followed by a full face assessment to determine the need for chin enhancement and to set expectations. The appointment should also include a discussion of the risks involved with filler (more on that below).
"I like to go over the aftercare while I am getting my product ready and try to soothe nerves by asking questions," Duffey says. The injection process can take anywhere from five to seven minutes. Duffey recommends you close your eyes as you lie back to help soothe any possible nerves. "Once the injections are done, we clean up the area and let you take a look. The tech will then get you some ice and an aftercare sheet."
Immediately after your injections, both Duffey and Dr. Herschthal say, you might experience a little soreness and swelling for a couple of days, but nothing that should interfere with your everyday life.
Does Chin Filler Hurt?
The short answer is yes, but not as much as you might think. Dr. Herschthal compares inserting filler into the chin area to the slight pressure you'd feel during a neurotoxin injection like Botox. If you're new to injectables altogether, Duffey has some advice: "I like to prep my clients by telling them the pain isn't terrible, but it is more of a mind game because you can feel the vibrations of the filler being placed on your chin bone. You can also hear some of the [crackling] sounds associated with the filler being placed."
Distractor tools, like small vibrating ones, can also be used during injections to help alleviate any uncomfortable sensations. "Compared to lip filler, the pain level for chin filler is very minimal," Duffey says. "Once you've done lip filler, you can tolerate any other filler or injections on the face."
How Much Does Chin Filler Cost?
There are a ton of factors that go into pricing out chin filler. This includes where you live, the training and skill level of your injector, the cost of the product, and so much more. "Every face needs a different amount of filler," Dr. Herschthal says. "Some cases may need less than one syringe to achieve a desirable outcome, while others may require four syringes." You can expect to pay anywhere from $800 to $2,500 for chin filler. Of course, if other filler (like lips or jawline filler) is wanted, those services would be added to your overall cost.
Chin Filler Before and After
https://www.instagram.com/p/CktW7vcMYI9/
How Long Does Chin Filler Last?
The good news is, chin filler will last you much longer than any neurotoxin injection. Your results should be good for anywhere between nine to 14 months before you'll need to have your filler redone or topped off. Each person metabolizes filler at a different rate, but it does have increased longevity over time, according to Dr. Herschthal.
What Are the Chin-Filler Side Effects or Risks?
The most common side effect immediately after your appointment is soreness. "Bruising is always possible, especially for those who naturally bruise easily," Duffey says. "You can cover bruising with makeup if needed, or masks are so common these days, you can hide under one of those. For full healing and/or follow-ups, we like to wait two weeks in order to ensure all the swelling and bruising is resolved."
The more serious risks associated with chin filler (and any other type of dermal filler, for that matter) are infection and vascular occlusion, or a compromised blood flow. Filler migration, when the filler spreads to another area outside of the injection site, is another possible risk. "Choosing a skilled, credentialed provider is the best way to mitigate serious complications," Dr. Herschthal says. She also advises patients to avoid alcohol; nonsteroidal, anti-inflammatory drugs (like aspirin and ibuprofen); and supplements that thin the blood at least one week before your injections to help minimize bruising.
Source: Read Full Article