The Best Blonde Hair Colors For Your Skin Tone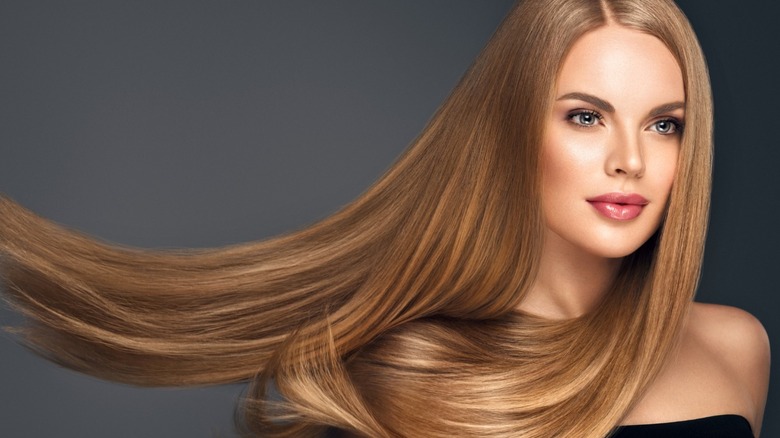 We have all heard the phrase "blondes have more fun." The saying was allegedly popularized by hair giant Clairol in the 1950s and '60s to promote their home hair dye line, but they may have been on to something (via Bach Hair). According to a British study from 2011, researchers found that blondes really do have more fun, or at least, are perceived that way when compared to their brunette and redheaded counterparts.
A survey also found that three quarters of bottle blondes immediately felt sexier after dyeing their hair (via Daily Mail). And according to Clairol, going blonde could add brightness to your look, soften up your facial features, make you appear more youthful, and even create the illusion of fuller locks. So if you're wanting to join the ranks of the lighter-haired, you'll not only get the benefit of a fun makeover, but you'll get a boost of confidence, as well! 
Still, there are many variants of blonde (strawberry, vanilla, caramel, honey, buttercream, ash, etc.), and choosing that perfect color requires an understanding of how each shade works with your skin tone. 
Fair complexion blondes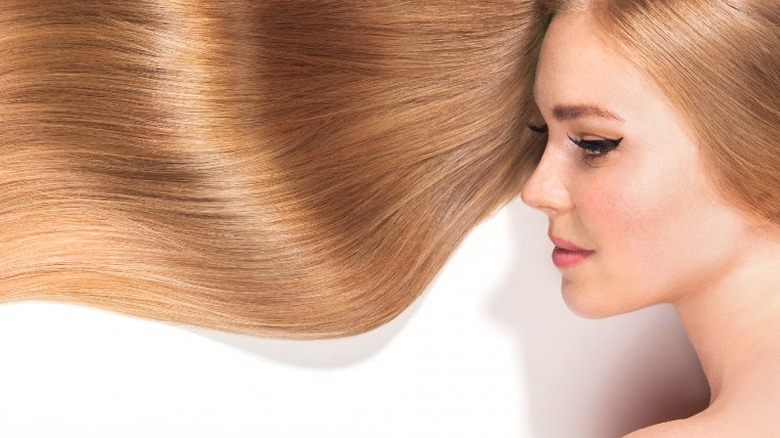 If you have fair or lighter skin tones, there are a number of blonde shades that will work for you. The rule of thumb, though, according to hairstylist George Papanikolas, is to go for cooler shades if you have warmer undertones, and vice versa (per Byrdie). This rule doesn't necessarily have to be followed, but works great if you want your hair color to really "pop" against your complexion.
On that note, strawberry blonde is an all-around good option for someone with fair skin, as it can help those with cooler tones achieve a high-impact look, or complement complexions with warmer undertones (via Byrdie and Ultimate Looks). Next up is platinum blonde. Not too many people can rock this look, but those with lighter skin tones (and cool undertones) have the best chance as it looks the most natural on them (via Byrdie). As Allure notes, don't fret if you have warm undertones and really want to get the platinum look, though, it's still doable and can look great (think: Lady Gaga). Lastly, a nice pearl blonde (which comprises subtle pale pinks and blues over an alabaster base) will not only highlight a fair complexion, but will also add a beautiful iridescent touch to the look (via Matrix).  
Try these blonde shades if you have medium skin tones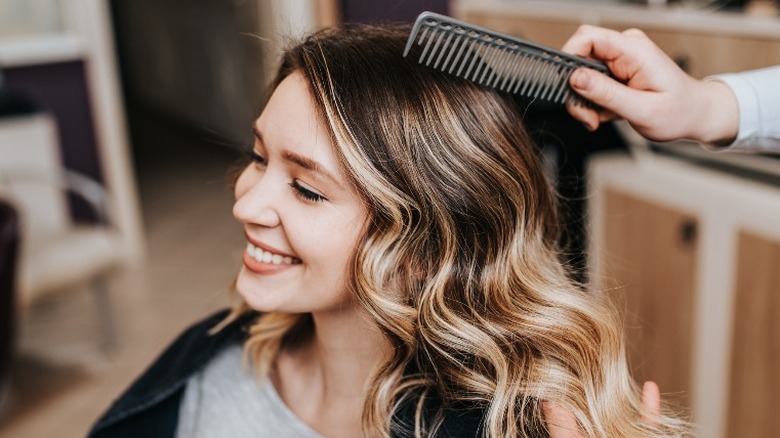 If you have a medium or olive skin tone, there are plenty of fun blonde options for you, as well. The key for medium complexions with warm undertones is to really play up different warm tones as they can help to create a nice multi-dimensional look (think: Blake Lively). Whereas, if you have medium skin with cooler undertones, then ashier shades like Taylor Swift's shade might work better for you (via Reader's Digest). However, warm colors can also look just as great on someone with cooler undertones, per Byrdie. 
One playful option for medium skin with warm undertones includes Living Coral, which won Pantone's Color of the Year award in 2019 (via Allure). This shade consists of multi-tonal peachy hues that can really help to brighten up someone's medium complexion. If you have cooler undertones and want to go for a more classic look, then honey blonde is the shade for you. This color, which also acts as a great base for highlights, is the go-to for medium skin tones who don't want to look washed out as it adds both warmth and sheen to their locks (via Ultimate Looks and Byrdie). It also works great to really bring out darker eye colors such as brown or black (via Matrix). A third option for medium skin tones (especially if you're wanting a high-impact look) is to go for a silver blonde, as it can help to accentuate olive complexions with any undertone (via Matrix and Allure).
These shades of blonde are perfect if you have deep skin tones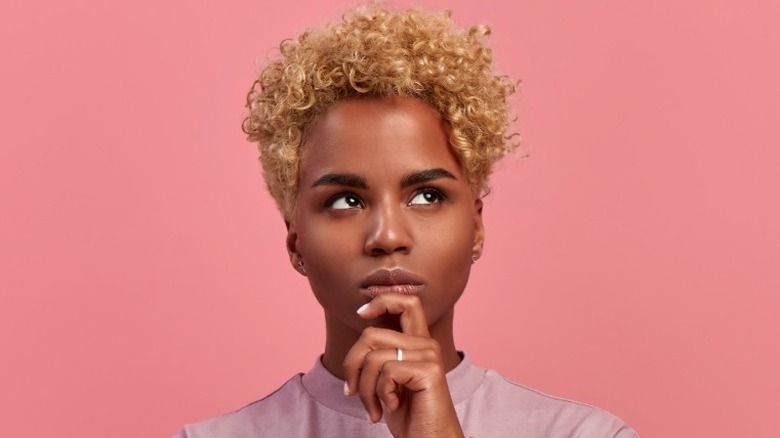 If you have a deep skin tone, then you're in luck, because there are numerous blonde hues that work great with darker complexions. One fail-proof color to go for is a dark golden blonde. While golden hues are less warm than honey hues, they are still quite rich in color and have a lower contrast against darker complexions, creating a more natural look, according to L'Oréal Paris. 
If you're looking for a more dramatic look, then a sandy champagne blonde might be for you! This beige blonde shade is soft enough to complement deep hues, but still high-contrast enough to give off supermodel vibes à la Iman (via Byrdie and L'Oréal Paris). 
Finally, you might want to consider a caramel blonde, especially if you have warmer undertones (think: Beyonce or Halle Berry). This color not only adds a beautiful richness to hair, it can also make a darker complexion glow (via Reader's Digest).
These blonde shades will look good with neutral undertones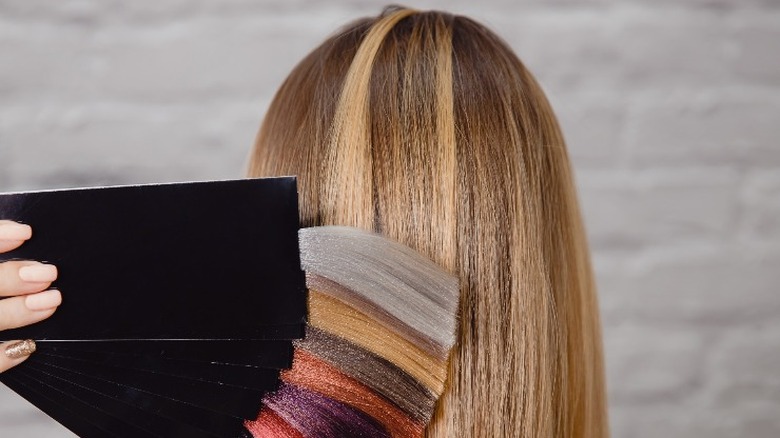 Of course, our list would not be complete if we didn't include some blonde shades that would look good with on just about anyone! First we have rose gold blonde. This trendy color, which is a mix of pink and peach, was a celeb favorite in 2020, according to Byrdie. This shade is not just a super popular choice, though, it can also easily be tailored to accent either warm or cool undertones, as noted by Matrix. 
Second up is bronde. If you're a natural brunette who's wanting to achieve a lighter, yet subtle look, or a natural blonde looking to add more dimension, then bronde (a combination of brunette and blonde) might be the option for you. This shade is considered one of the most flattering and versatile colors there is because you can blend a number of colors together that can accommodate any complexion and undertone (via Byrdie).
Source: Read Full Article