Angel Reese Shares Hug With Jill Biden During LSUs Visit to White House After Invite Debate
Meanwhile, Reese's teammate Sa'Myah Smith faints during the live stream of President Biden's speech celebrating the team's 2023 national championship, but her coach later assures she's 'fine.'
AceShowbiz –Angel Reese has completely left behind the drama with Jill Biden when the NCAA champion LSU Tigers visited the White House. Showing there's no bad blood between them, the athlete and FLOTUS shared a hug following debate over Mrs. Biden's wish to invite both the LSU and losing team the Iowa Hawkeyes to D.C.
On Friday, May 26, President Joe Biden and his wife hosted a celebration for the winner of the 2023 national championship. Along with her teammate Emily Hard, Reese had the honor to hand out the LSU jerseys with POTUS and FLOTUS on the nameplate to the President and the First Lady.
While President Biden spoke with Ward after receiving the gift, Reese was photographed having a sweet moment with the First Lady as they shared an embrace. They were also all smiles when posing together for photos.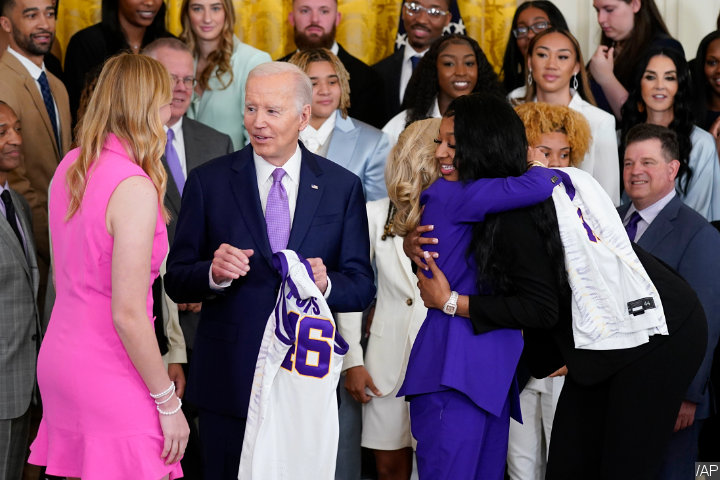 Angel Reese and Jill Biden shared a hug during LSU's visit to White House.
Another highlight at the event was when LSU's Sa'Myah Smith fainted during the live stream of President Biden's speech. The athlete was standing on the risers behind the podium with her fellow athletes when she lost consciousness.
Biden halted his speech as others rushed to help Smith, but she later flashed a thumbs-up sign to indicate she was all right. "She's okay," the President told the press after Smith received medical attention. "It's a lot of standing. I apologize. It's OK. It's happened lots of times."
LSU Women's basketball head coach Kim Mulkey later said that Smith had been placed in a wheelchair to be taken for further evaluation. "As you can see, we leave our mark where we go. Sa'myah planned that," Mulkey quipped.
"Sa'Myah is fine, for those of you who are concerned. Sa'Myah is fine, I'll assure you of that," she added. "She's kind of, right now, embarrassed. She doesn't want to leave. She wants to stand with us, but she needs to be checked out."
Speaking later to NOLA.com, Smith shared that the heat and the fact they were "standing for quite a while" were probably responsible for her fainting. "I quite don't remember how everything happened," she said before showing off a basketball that was signed by the President. "It's kind of worth it," she smiled.
You can share this post!
Source: Read Full Article