Cardi B Revealed Exciting Family News At The BET Awards
Cardi B clearly enjoys making public pregnancy announcements. The rapper revealed she was expecting her first child on "Saturday Night Live" in 2018 (via USA Today). The little girl, named Kulture, was born on July 10th of that year, according to the BBC.
Of course, Cardi B and Kulture's dad, rapper Offset, have ridden out a rollercoaster of ups and downs in their relationship, including filing for divorce, but then deciding to stay together. But as of September of last year, it seemed as if the couple was back together after she deleted her Twitter account to protect him from harassing messages from her fans who didn't like that they reunited.
No matter the past, the parents are expecting again, with Cardi B sharing the exciting news on Sunday night's BET Awards telecast, according to People. First, she emerged from a diamond chrysalis (via GQ). Then, wearing a Dolce & Gabbana bodysuit for her performance with Offset and Migos, the sheer midriff panel made Cardi B's pregnancy announcement for her.
Celebrity friends and fans react to Cardi B's pregnancy news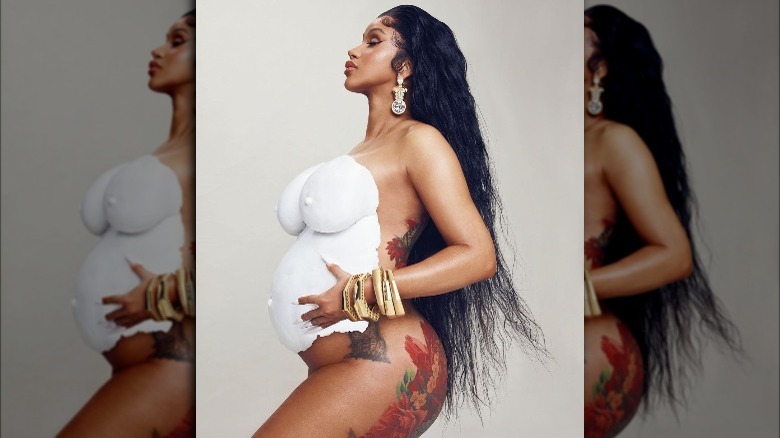 In addition to the big reveal on the BET Awards, Cardi B also shared her happy baby news over on Instagram, posting a photo of her bump in a belly cast. The star simply captioned the gorgeous image, which also showed off her tattoos, "#2!" In the comments section, Offset wrote, "God is good."
Many star friends jumped into the comments as well, with DJ Khaled writing, "Congrats more blessings!" Likewise, Khloé Kardashian shared her congratulations, while Lil Nas X commented, "wowwww."
Over on Twitter, fans were also reacting to the news that Cardi B and Offset are expecting their second baby. "Ain't nothing like a pregnant performance man lol," one person tweeted, referring to the rapper's high energy dance moves, despite sporting an ample baby bump. Echoed someone else in part, "She's a beast performing like that." And another fan commented, "Cardi b dropping it low while pregnant is amazing."
Source: Read Full Article