Chris Pratt Dubs Himself Hypocrite After Dissing UFC Champ Israel Adesanya
The 'Guardians of the Galaxy' star is applauded on social media after issuing an apology to the professional martial artist following his criticism over the latter's performance.
AceShowbiz –Chris Pratt is making amends with UFC champion Israel Adesanya. When issuing an apology on social media, the "Guardians of the Galaxy" star dubbed himself "hypocrite" after he criticized the athlete's performance.
On Wednesday, July 6, UFC fighter Israel called out Chris on Twitter. "Good morning. [smiley-face emoji]. I'm the man. You're just some fan," he tweeted along with a clip of James McAvoy smacking the "Jurassic World: Dominion" actor in the face with a keyboard, which later shattered into letters making the word "f**k you," from "Wanted (2008)".
Responding to it, Chris turned to his Twitter account on Thursday, July 7 to issue a sincere apology. "You're right. I'm sorry brutha. It bugs me when people criticize my work- having never themselves risked anything," wrote the 43-year-old actor. He went on saying, "It makes me a hypocrite to do exactly that to you. My bad. Keep on keeping on champ," before adding a folded hand and red heart emoji.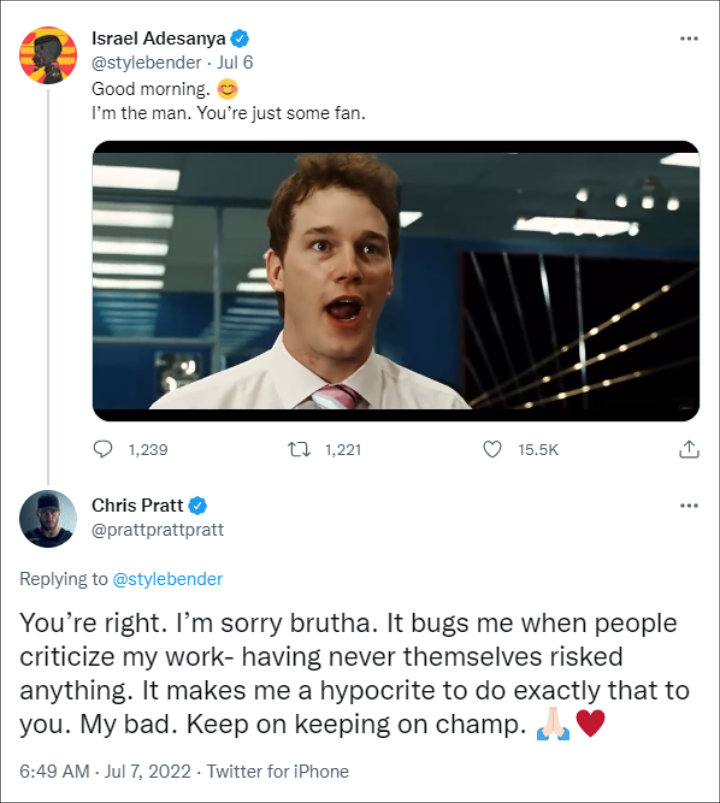 Chris Pratt apologized to UFC fighter Israel Adesanya after criticizing his performance.
This all started after Chris reportedly dissed Israel while he attended the Las Vegas match between the athlete and Jared Cannonier on Saturday, July 2. "I'm gonna say this as humbly as I can, as a guy who never stepped in the Octagon. I don't know this game, I'm just an actor. But I'm not a fan, man," the "Passengers (2016)" actor told ESPN.
Chris revealed that he had hoped "to see [Jared] Cannonier" earn the victory and expected to see a more thrilling fight. "I'm not a fan of coming out, all that talk and then just kind of putting on a little bit of a pitter-patter," he said to ESPN. "I'm like, 'Come on, man. Cash on that.' You've got to cash on that promise of being so bada**."
Upon learning of Chris' apology note, Twitter users applauded him. "The critisim [sic] you gave was entirely fair and valid. Izzy even said himself that he had an off night. I don't know why he's being insecure and coming after an actor lmao," one person replied to his tweet, with another saying, "Damn sad to see Chris Pratt fold like this lol, everything he said was true."
A third added, "No what you said was right , Israel's press conference performances have been better than his octagonal performance for the past year . Feels like his heart isn't in the game." Someone else even asked why Chris apologized to Israel. "Lol why would you apologize? Izzy, like you, makes millions of dollars because of the market he participates in — and that requires that he's a public figure being measured on performance. It's ok to criticize," explained the said person.
Source: Read Full Article