Doja Cats Thighs Hurt a Lot After She Gets Liposuction and Her Breasts Done
In her latest social media updates, the Grammy Award-winning artist reveals via Twitter that she has gone under the knife to get some procedures done to her body.
AceShowbiz -If Kittenz miss Doja Cat's social media presence these days, here's probably the reason why. The singer/raptress is apparently in recovery now after recently undergoing some cosmetic procedures to enhance her look.
In her latest social media updates after a few days of absence, Doja revealed that she has gone under the knife to get liposuction and her breasts done. "got my t***ies done and my c**t bedazzled," so she tweeted on Monday, March 19.
The "Say So" hitmaker said that her thighs "hurt a lot" due to one of the procedures, but she assured that she's "healing really fast." She added in a separate tweet, "feels ok. i got lipo so my thighs hurt a lot if i move too much. but im healing really fast."
It appears that Doja underwent the surgery last week. When a fan asked how she's feeling following the procedures, she replied, "4 days into recovery rn." She also responded to a commenter who claimed, "I just know her boobs bigger."
Confirming that she actually had a reduction instead, she replied, "nope, smaller." She also revealed her new bra size is "32C".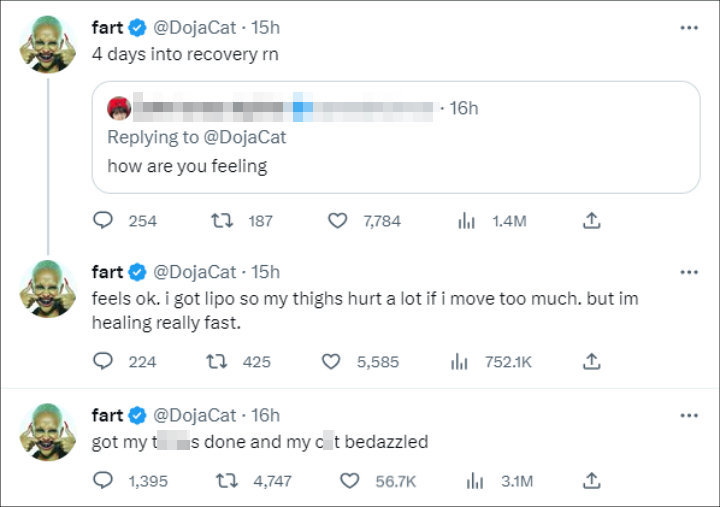 Doja Cat shared updates after having breast reduction and liposuction.
Back in November 2022, Doja revealed her plans to go under the knife because she wasn't happy with how her breasts looked in some outfits. "I'm literally about to get surgery this winter lmao," she told a fan on Twitter last year. "I just want my t**ies pulled up cuz some of my tops don't fit the way i want them to."
Someone opposed the idea as warning, "If you get surgery I'm no longer your fan." Unsurprisingly, the "You Right" singer shot back, "and i don't give a f**k." When someone asked what's all the fuss about the hip-hop star getting liposuction, she responded, "Because people need things to be upset about. because people are miserable and people need a job."
You can share this post!
Source: Read Full Article