Eminems Restaurant Faces Backlash After NFL Star Jackson Carman Jokes the Food Made Him Sick
The 'Lose Yourself' hitmaker is blamed by social media critics for making the Cincinnati Bengals guard sick during a game against the Detroit Lions after many suggested him to eat at the rapper's new eatery, Mom's Spaghetti.
AceShowbiz –Eminem's restaurant Mom's Spaghetti has come under fire after Jackson Carman joked the food made him sick. Many social media critics slammed Detroit's new hotspot after the NFL star said that he became ill during a game.
As he's going to have a match in Detroit, Jackson turned to his Twitter account to ask his followers about eateries in the town. "What's Detroit known for food wise?" he tweeted on Saturday, October 16. Many Twitter users went on to recommend Mom's Spaghetti in the replies.

Jackson Carman asked his followers what to eat in Detroit.
Shortly after, some sports fans shared via Twitter that Jackson vomited on the field during his game against the Detroit Lions. Jackson himself later tweeted, "Would not recommend eating [Mom's] spaghetti when you visit Detroit [laughing emoji]."
It didn't take much time for social media critics to call out Eminem. "@Eminem your spaghetti messed our guy up. You have the whole thing planned to try to get your team a win, or what?" one wrote, while another chimed in, "Look, I don't mean to be rude but like, what did you really expect to happen? Eminem literally vomited on his sweater after eating Mom's spaghetti, that alone should have been a warning to avoid eating there."
A third also said that Eminem himself threw up after eating at his own restaurant, "Eminem had that place opened weeks ago lol. He did throw it up on 8 Mile. There were so many other choices." A fourth quipped, "I was there Sunday and almost stopped to eat there. Glad I didn't."
After his tweet went viral with more than 4,000 likes, Jackson clarified that he was only joking. In a separate post, the footballer wrote, "FYI: I did not actually try the Moms Spaghetti Restaurant while I was in Detroit, I was referencing the @Eminem song lyrics."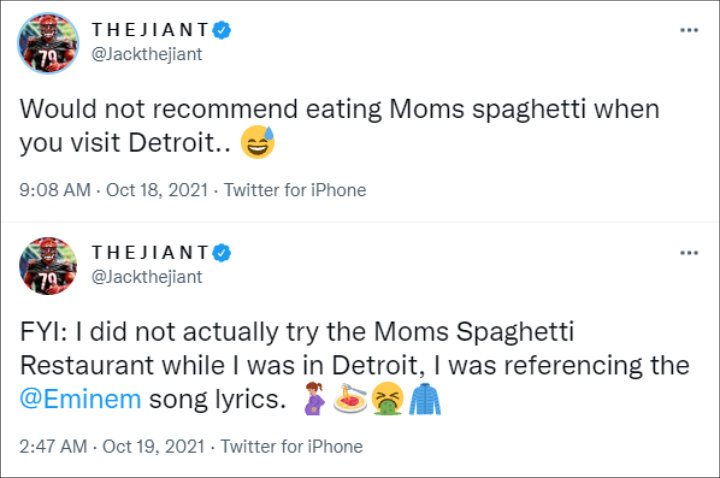 After suggesting his followers not to eat at Eminem's Mom's Restaurant, Jackson Carman clarified that he's only joking.
Eminem opened his new restaurant on September 29. At the grand opening of his eatery, the "Rap God" hitmaker surprised his fans by making an appearance at the joint's walk-up window. He also greeted the customers with a middle finger and personally served food to the first ten customers.
At that time, it was reported that the line for Mom's Spaghetti extended multiple blocks. It's also said that some patrons had been camping out at the site hours before the joint's official opening at 5 P.M. local time.
Source: Read Full Article