Every Time Meghan Markle Broke Royal Protocol & Tradition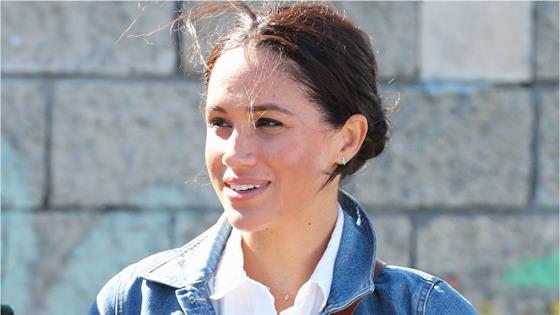 Since the start of her relationship with Prince Harry, Meghan Markle has made a point of doing things her way.
While Kate Middleton andPrince William adhere to Queen Elizabeth II's strict rules and etiquette, the former Suits star and her husband prefer to create their own path—and rules—adding a modern twist to the monarch. Meghan has ditched the seemingly stockings, kissed Harry in public and even celebrated her pregnancy with a baby shower. And, keeping with the tradition of breaking tradition, she and Harry announced on Wednesday a major change in their roles as royals.
"We have chosen to make a transition this year in starting to carve out a progressive new role within this institution," the parents of Archie Harrison posted on their Instagram. "We intend to step back as 'senior' members of the Royal Family and work to become financially independent, while continuing to fully support Her Majesty The Queen. It is with your encouragement, particularly over the last few years, that we feel prepared to make this adjustment. We now plan to balance our time between the United Kingdom and North America, continuing to honor our duty to The Queen, the Commonwealth, and our patronages."
"This geographic balance will enable us to raise our son with an appreciation for the royal tradition into which he was born, while also providing our family with the space to focus on the next chapter, including the launch of our new charitable entity," the statement continued. "We look forward to sharing the full details of this exciting next step in due course, as we continue to collaborate with Her Majesty The Queen, The Prince of Wales, The Duke of Cambridge and all relevant parties. Until then, please accept our deepest thanks for your continued support."
Though the move shocked and divided fans and followers alike—social media users have hailed it #Megxit—it's certainly not unlike Meghan to blaze her own trail. Keep reading for more ways the Duchess has broken with royal protocol.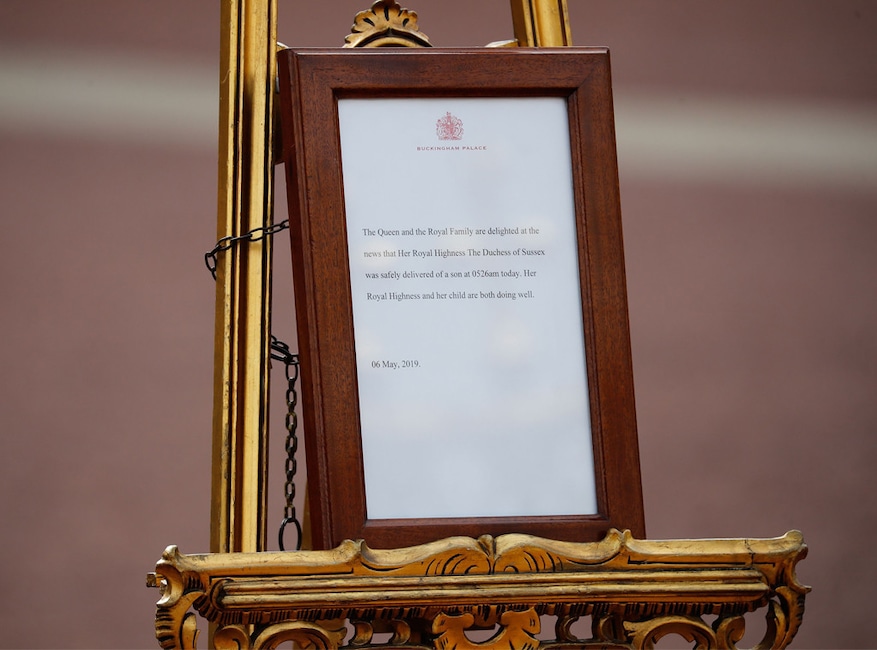 TOLGA AKMEN/AFP/Getty Images
Baby Sussex Is Here!
In a royal family first, the Duke and Duchess of Sussex announced the birth of their newborn son via their official Instagram account. Typically the news is shared at the same time a ceremonial easel is placed outside Buckingham Palace. The note about Baby Sussex was shared with the public in this way, thought not for a few hours.
Steve Parsons/PA Wire
PDA Alert
Meghan and Harry are probably the most outwardly affectionate couple in the British royal family, often embracing each other, exchanging looks of love and even—gasp—while in public. And judging from William and Kate's out-of-character behavior at their cousin Princess Eugenie's wedding in Oct. 2018, it looks like maybe the royal protocol of avoiding PDA may be a thing of the past.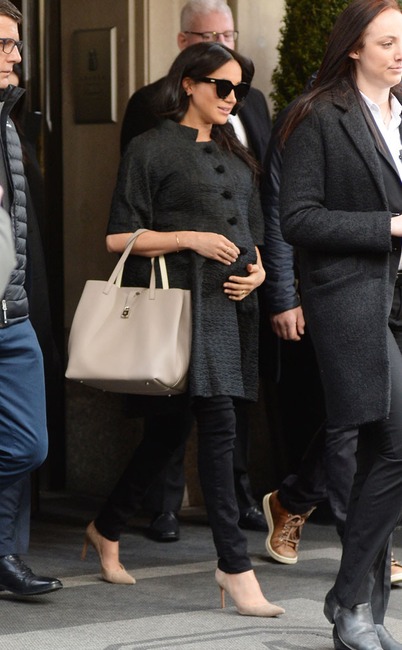 Elder Ordonez / SplashNews.com
Showered With Love
It's uncommon for the British royal family to celebrate a forthcoming newborn with a baby shower, so the Duchess of Sussex traveled stateside for an extravagant gathering hosted by Amal Clooney and Serena Williams in New York City.
Article continues below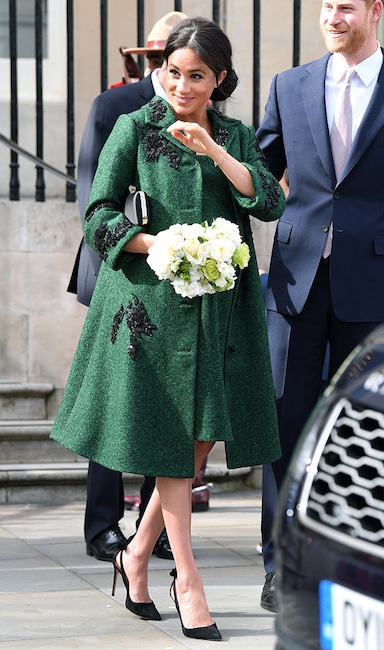 Karwai Tang/WireImage
No Ring, No Problem
During a Commonwealth Day youth event in London, many fans noticed Markle was not wearing the three-diamond engagement ring Harry popped the question with nearly two years ago. It has been suggested that the engagement ring previously appeared to be loose on the former Canadian resident.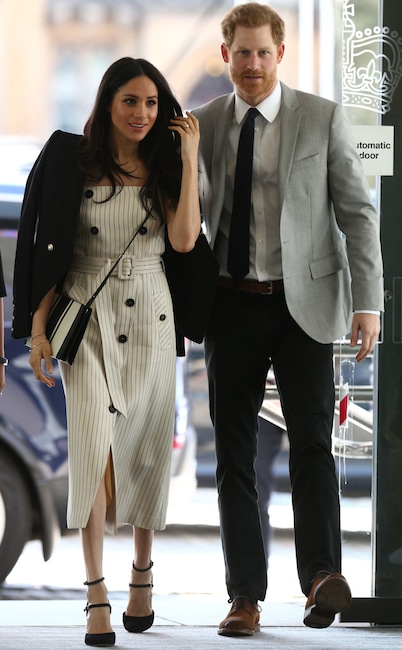 Associated Press
No Fiancées Allowed? Please…
In April 2018, Meghan joined Harry at the Commonwealth Youth Forum. Such events are typically reserved for royal family members, and she was just Harry's fiancée at the time.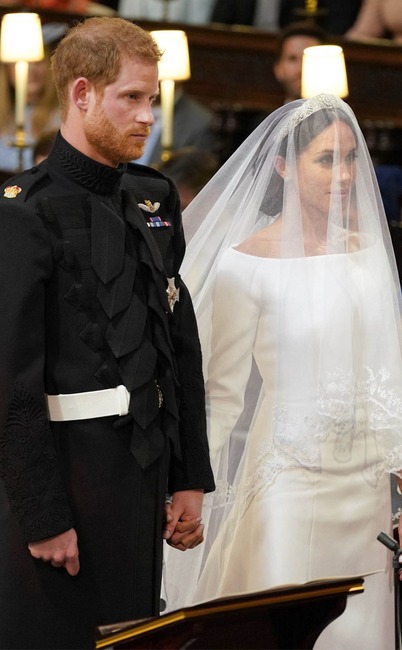 PA Images/INSTARimages.com
Wedding No-No
In her vows at her and Harry's royal wedding in May 2018, Meghan did not vow to obey her husband. His late mother Princess Diana and sister-in-law Kate also omitted such a declaration in their own wedding vows. Harry has also chosen to wear a wedding ring, another break from tradition.
Article continues below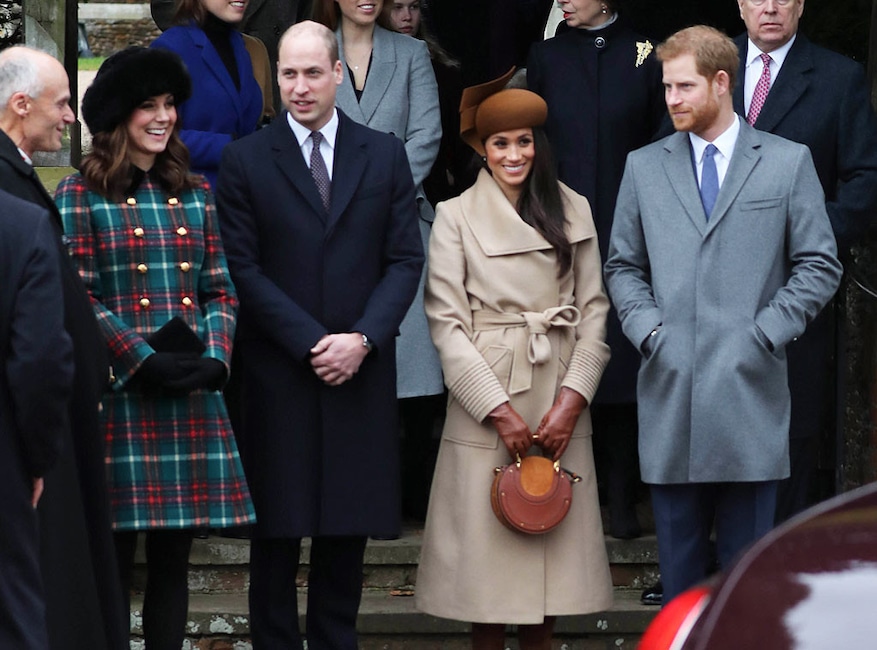 KGC-22/STAR MAX/IPx 2017/AP Images
Holidays Together
Meghan spent Christmas with Harry's family in 2017 just one month after they announced their engagement, becoming the first royal fiancée to celebrate the holiday with the British royals. Kate only spent the holidays with the royal family after her 2011 wedding to William.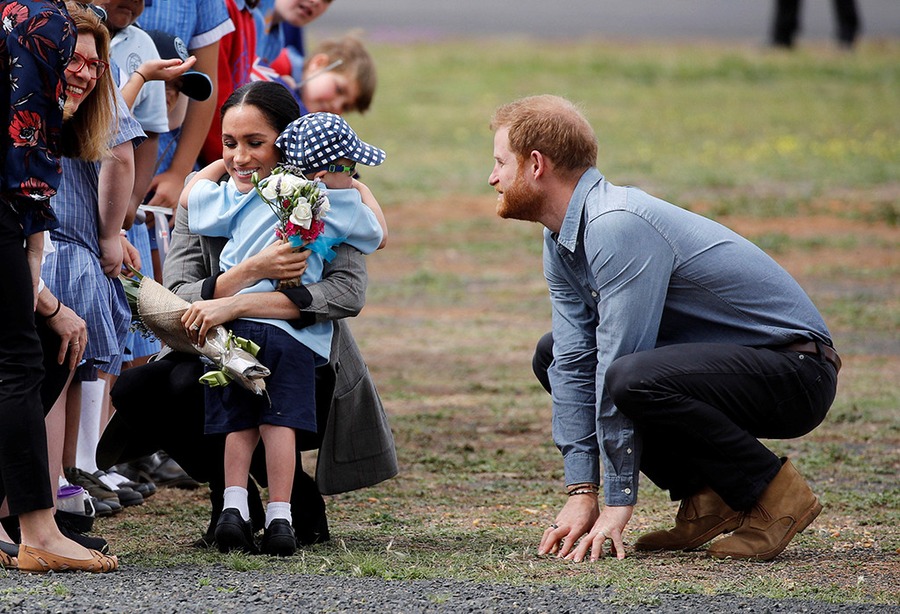 Phil Noble/PA Wire
Interactions With Fans
While the queen limits her physical interactions with fans to handshakes, Meghan and Harry will at times go so far as to hug their fans and even take photos with them—and photos of them! During a recent visit to Sydney, Harry encountered a young girl who bore a striking resemblance to his wife. He then called Meghan over and asked the girl if he could take a photo of the two, and she happily agreed. Meghan has in the past even granted fans autographs, another breech of royal protocol.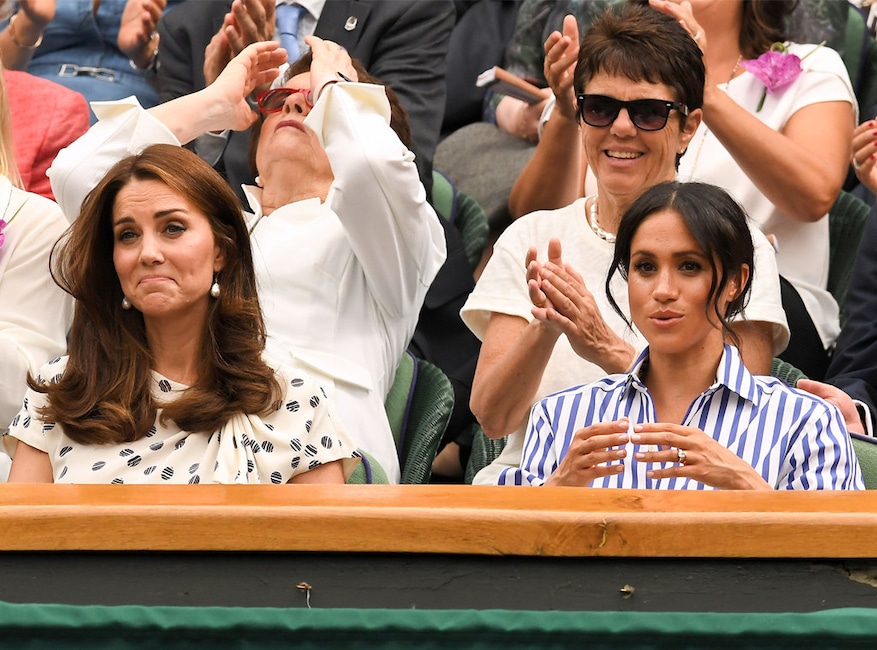 James Gourley/BPI/Shutterstock
The Hair Thing
Meghan tends to wear her hair in a messy bun while out and about, which again defies royal protocol. It has become her signature style.
Article continues below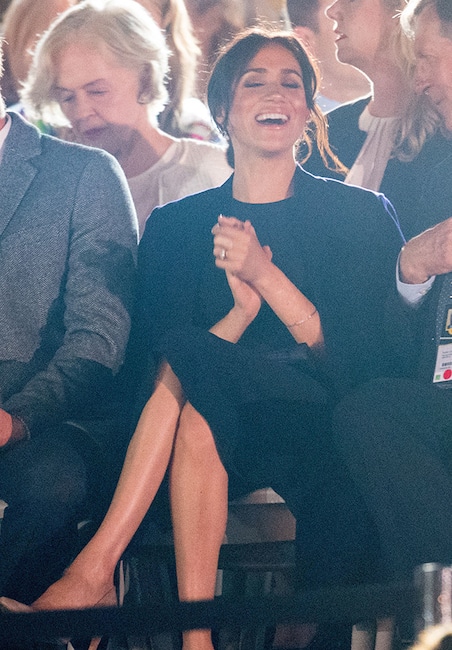 Dominic Lipinski/PA Wire
Seating Style
Royal women are supposed to sit with their legs and knees together, crossed at the ankle, again to preserve their modesty (especially if they are wearing an appropriate dress or skirt). Meghan has not always followed this tradition, nor have Diana and Kate. At the 2018 Invictus Games opening ceremony in Sydney, the duchess sat with her legs crossed at the knee.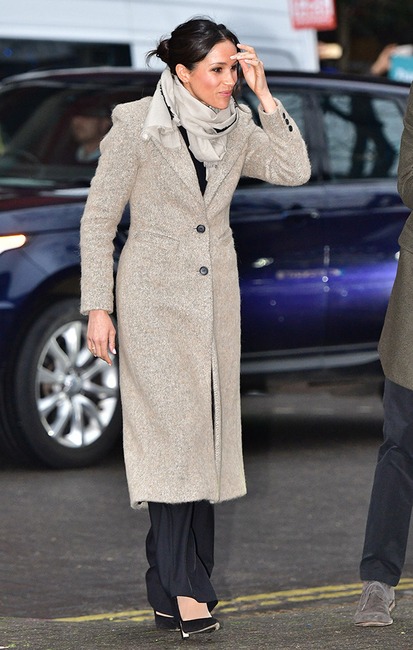 Dominic Lipinski/PA Wire
Outfit Choices
Royal tradition dictates that the women in the family wear dresses or skirts while out in public. Meghan cares not for this tradition. Even Kate, who typically adheres to royal protocol more often, has showcased some stylish pants herself.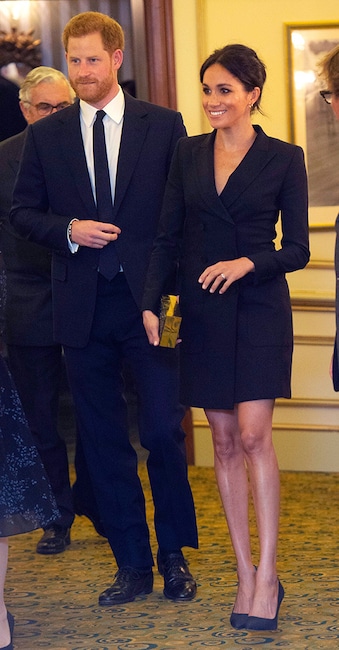 REX/Shutterstock
…But Not Too Short
Female royals must also ensure that their skirts are not too short. Many felt Meghan may have crossed the line a tad with the tuxedo mini dress she wore while attending a gala performance of Hamilton with Harry in August.
Article continues below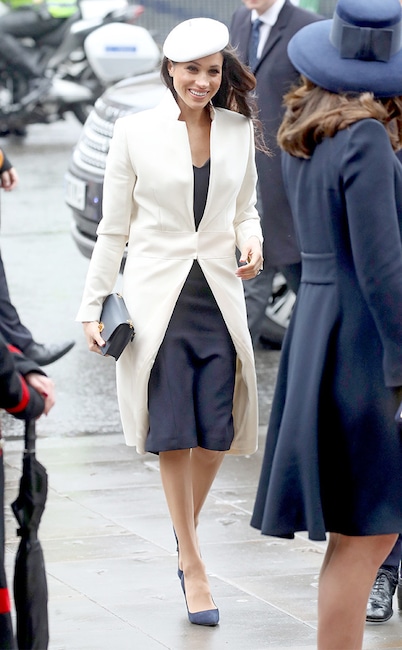 Chris Jackson/Getty Images
And Tights, Please
While not an official royal requirement, royal women are encouraged to preserve their modesty by wearing nude tights, aka pantyhose or nylons, with their dresses or skirts. Meghan has followed this protocol, but has also been like, This is the 21st century and you're going to see my legs.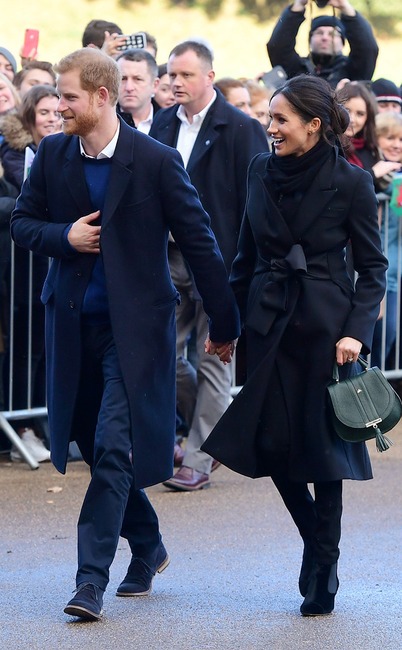 Samir Hussein/Samir Hussein/WireImage
All Black?
Royals are discouraged from wearing head-to-toe black unless they're going to a funeral or another somber event. To this Meghan says, whatever.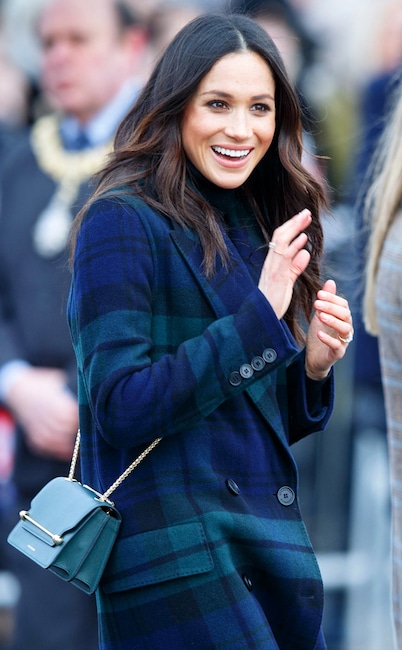 ROBERT PERRY/EPA-EFE/REX/Shutterstock
Purse Style
In July 2018, Meghan visited Edinburgh, Scotland wearing a cross-body bag, a style not typically worn by royals in a bid to avoid touching fans while greeting them.
Article continues below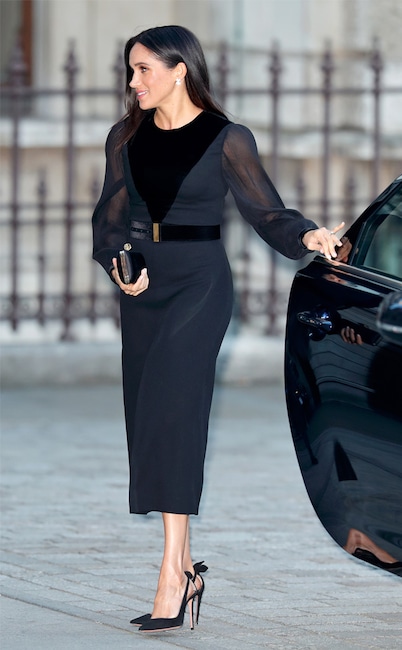 Max Mumby/Indigo/Getty Images
She'll Take It From Here
In September, Meghan attended her first solo engagement as a royal, visiting the opening of the new Oceania art exhibit at the Royal Academy of Arts in London. She was driven by a chauffeur and when she arrived, a man opened her car door for her. She emerged from the vehicle, shook his hand and then closed the door on her own.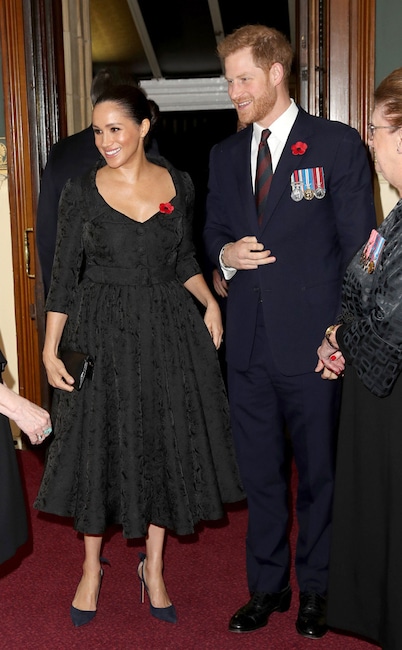 Chris Jackson/PA Wire
The Next Chapter
New year, new home: In January, Meghan and Harry announced on Instagram that they are stepping away from their roles as senior members of the royal family and plan to be financially independent. The duo also revealed they'll be splitting their time between the U.K. and North America in an effort to raise Archie "with an appreciation for the royal tradition into which he was born" while also giving them "space to focus on the next chapter."
Watch E! News weekday mornings at 7 a.m.!
Source: Read Full Article