Halsey Dubbed Crazy and Lazy Before Finally Getting Diagnosed With Multiple Syndromes
The 'Without Me' hitmaker says that they are 'celebrating' their multiple diagnoses after being called 'anxious' while they're 'trying to figure out' the sickness for 'eight years.'
AceShowbiz –Halsey has revealed how they were treated by their surroundings before they received their multiple diagnoses. In a candid social media post, the "Without Me" hitmaker unveiled that they were once called "crazy" and "lazy."
"I just want to clarify, for the benefit of friends of friends who may have any of the diagnoses that I recently shared, I didn't 'just get sick' I've been sick. For a long time. My sicknesses just have their names now," the "Eastside" singer wrote in an Instagram Story on Wednesday, May 11. "I went to doctors for 8 years. Trying to figure out what was wrong with me. I was called crazy and anxious and lazy amongst other things. I changed my entire lifestyle."
They further shared to their 29.4 million followers, "When I wasn't working I was essentially confined to my home for fear of how I'd feel when I woke up each morning. It took me a long time to get to even having a diagnosis so I'm celebrating!" The Grammy-winning musician later warned their fans not to "roll [their] eyes at [their] sick friends," noting that "they could be fighting a battle that they haven't named yet. Ya know?"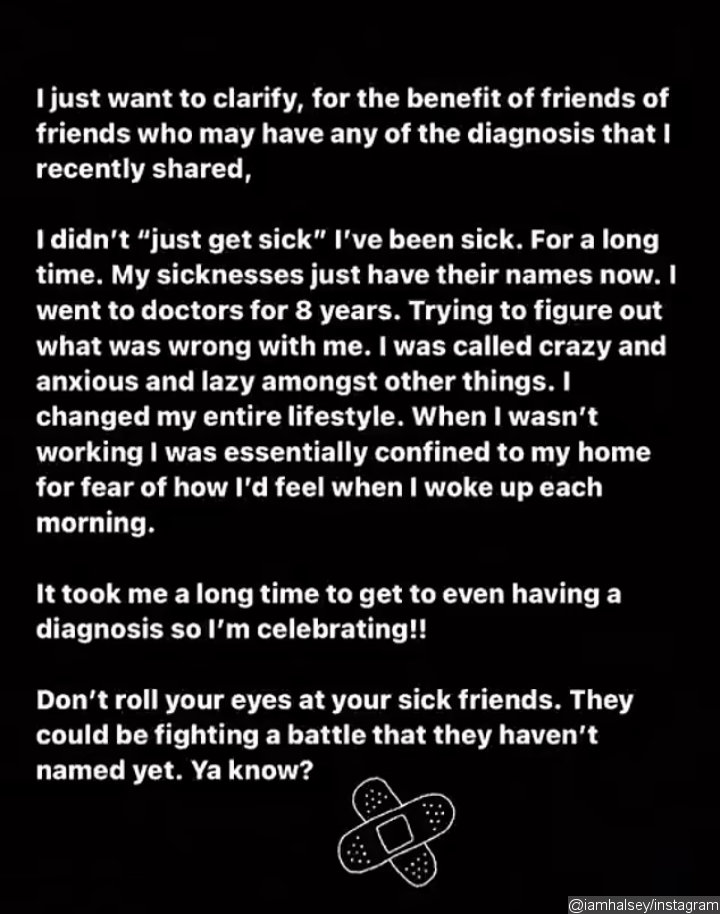 Halsey shared they were once called 'crazy' before getting diagnosed with multiple syndromes.
Halsey first revealed their health issues on Instagram on May 10, sharing that they're "allergic to literally everything." They penned, "Obviously my health has changed a lot since I got pregnant and gave birth. I started getting really, really, really sick," adding that they've been "kind of" sick for "most of [their] adult life, but it started getting really bad.
"I was hospitalized for anaphylaxis [a potentially life-threatening allergic reaction] a few times and I had some other stuff going on," Halsey explained. The mom of 9-month-old son Ender, went on to divulge that they've also been diagnosed with Ehlers-Danlos syndrome, Sjogren's syndrome, mast cell activation syndrome (MCAS) as well as postural orthostatic tachycardia syndrome (POTS) "after seeing a hundred thousand doctors."
"I've been looking for answers to the root cause of some of these things, which may be an autoimmune disease," Halsey continued. "And I know I've had autoimmune issues for most of my life, especially having endometriosis."
In their post, Halsey stressed that they "don't want anybody to be worrying" because they're "on a treatment plan right now." The "Sing 2" actress additionally assured their fans that they're doing just fine as they are still in rehearsals for the upcoming "Love and Power" tour.
Halsey previously hinted that they would be going "MIA" due to their "chronic illness." Taking to Instagram Story, they penned, "Trying my best to keep things normal; Grammys, Coachella etc… But my body is putting up a strong protest. And ultimately demanding that I slow down or stop foreal this time. Especially so I can be in the best shape for tour."
Source: Read Full Article