How Meghan Markle and Prince Harry Plan to Make Millions
Remember when everyone was freaking out about how Meghan Markle and Prince Harry would make money after distancing themselves from the royal family? LOL. Turns out, the royal couple is going to be just fine (no surprise there). Contrary to popular belief, their plans do not include Meghan returning to acting. Instead, the pair will give speeches to rake in the dough.
The duo recently signed with the prestigious speaking agency, Harry Walker Agency. They'll be in good company since the firm's clients include big names like Former President Barack Obama and wife Michelle, Bill Clinton, and Oprah Winfrey. Nbd.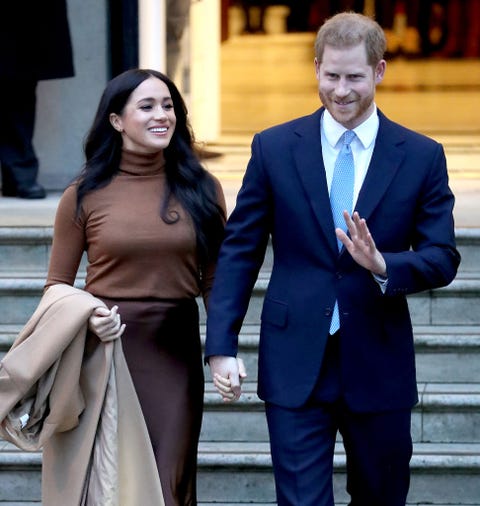 "Topics will largely relate to the social issues the world is facing now including racial justice and gender equity, mental health, issues impacting women and girls, and the environment—as well as the intersectional nature of these issues," a source told Town & Country. "Many of the areas and topics covered in these conversations will be related to the foundation and mission of Archewell, their new organization housing their philanthropic endeavors."
This venture fits with Meghan's outspokenness surrounding the murder of George Floyd. According to the Daily Mail, she wants to fight systemic racism in the United States. "Meghan said her work as a leader is more important than ever right now and that she's been speaking with Oprah and other community leaders on how she can be part of the solution," the source explained. "Meghan feels like her mission goes far beyond acting. She said she wants to use her voice for change and hasn't ruled out a career in politics."
Well, 2020 is sure looking bright for Meghan and Harry.
Source: Read Full Article