Inside The Breakdown Of Ivana And Donald Trumps Marriage
Ivana and Donald Trump had it all — a happy marriage (or so we thought), a beautiful family, and more money than they knew what to do with. Every guy wanted to have Donald Trump's wealth, but Ivana likes to remind everyone that their rise to the top was a team effort. "I was his partner. I was a very successful businesswoman," she told ITV's "Good Morning Britain." Donald enjoyed being the talk of Manhattan, but his relationship with Ivana wasn't picture perfect. It was a tale as old as time about ego, excess, and of course, Donald's very public affair with Marla Maples. 
That fairy tale eventually crumbled (primarily because of his extramarital affair), but there were a lot of pressures and components that went into the Trumps' personal lives falling apart. Ivana probably would have remained loyal to her husband, despite his infidelities, but a very public showdown in a snowy locale set the divorce in motion. 
Here's how the breakdown occurred and why the Trumps' failing marriage was a complete dream come true for the New York City tabloids — it's a pretty juicy tale. 
The Trumps' marriage was a New York tabloid dream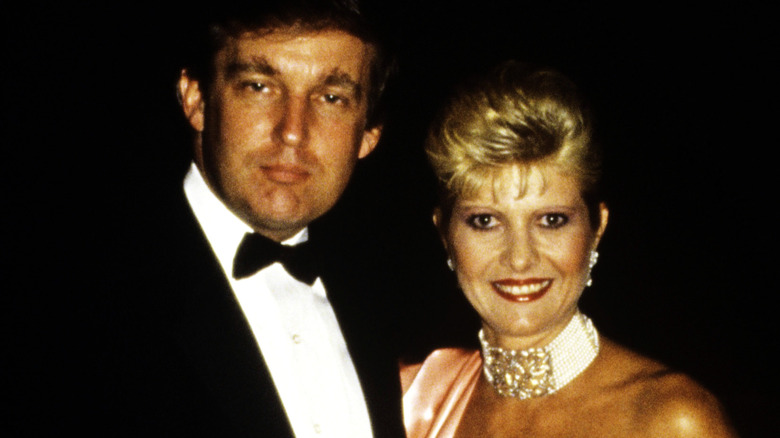 Ivana Zelníčková was a model from Czechoslovakia who emigrated to Canada and eventually made her way to New York City, where she met Donald Trump in 1976. According to the New York Post, the duo's first encounter was at an Upper East Side bar (weird location since Donald Trump doesn't drink). The entrepreneur was in a chivalrous mood, so he assisted the model in getting a table for her party: "I'm Donald Trump and I see you're looking for a table. I can help you," Ivana remembered him saying. After a whirlwind courtship, the couple married in 1977 and became the toast of the town in the 1980s, representing everything about the decade of excess.
When Trump Tower opened in 1983, it became a symbol of their marriage — a glitzy, shiny ivory tower of wealth sitting right there on Fifth Avenue. It brought a lot of attention to the couple, and they reveled in the adoration. But not everyone loved the new building. Frommer's described it as a "bold and brassy place" that's "definitely not your average shopping mall. The gold signage on the 1983 building practically screams, 'Look at me!'" 
And "look at me" is exactly what the couple wanted everyone to do. From the society columns in The New York Times to the gossip columns in the New York Post, the media soaked up every single thing the Trumps did — from charity events to business deals. 
The limelight was too intoxicating for Donald Trump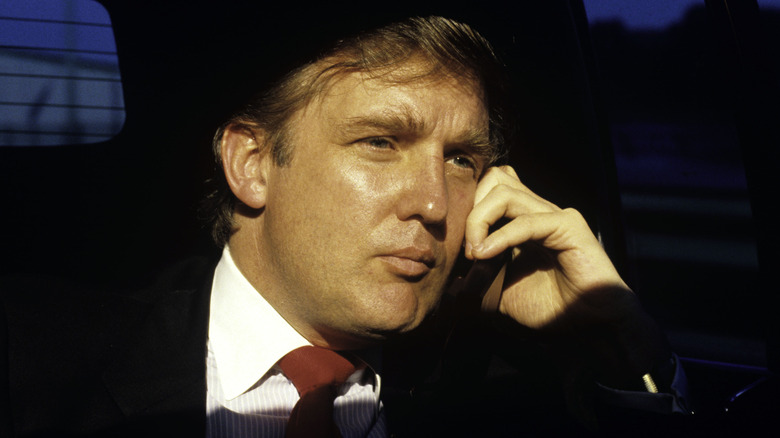 With the spotlight on him and his real estate holdings, Donald Trump was seduced by more than money. His ego got bigger, and there was no shortage of women who would throw glances at one of the most powerful men in New York. Several famous names were mentioned as rumored affairs: Peggy Fleming, Catherine Oxenberg, Robin Givens and Carol Alt. Oxenberg denied the gossip to People in 1990, saying, "It's a complete joke as far as I'm concerned. I hardly know the man." Alt's talent manager, Steve Gutstein, had a similar frosty reaction when asked about the reported dalliance. "Donald Trump is a fortunate man, but he's not that fortunate," Gutstein told the media outlet. 
But we have to remember that Donald was the one who loved to talk to the press and loved seeing his name in print. He went as far as having an alter ego named "John Barron" as a pretend publicist. So, maybe he was the one leaking those rumors to the tabloids? We may never know the real truth, but the former vice president of the Trump Organization, Barbara Res, told PBS' "Frontline," "I don't think Donald was necessarily evasive with the press when he used his alter ego John Barron. I think it gave him the opportunity to say things that he couldn't say as Donald Trump."
Ivana Trump, the secret to Donald's success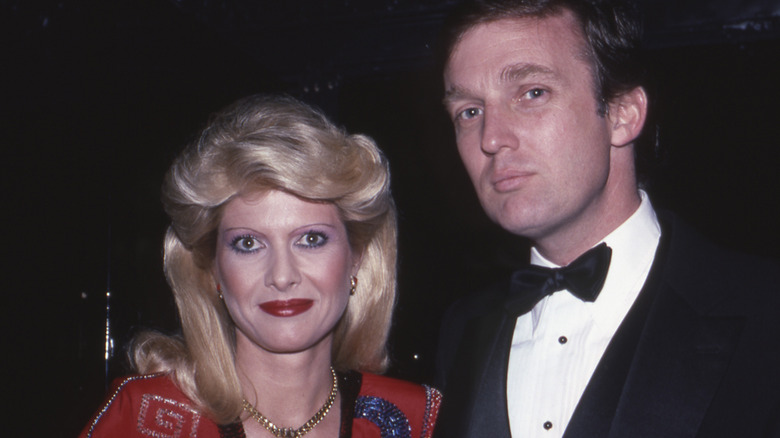 Ivana Trump was a hard worker who helped Donald put the Trump name on the map. She was smart as a whip, but Donald didn't want to share credit with his wife — he wanted all of the accolades for himself. Ivana bragged to Vanity Fair in 1988 that her husband called her "his twin as a woman." Even so, Donald certainly didn't give her enough respect. When she was running his Atlantic City casino hotel, Trump's Castle, he underpaid his wife by giving her $1 per year and an unlimited dress budget, per Newsweek. Ivana rarely complained, though, because she felt like they were creating an American dream together.
"We have nearly four thousand employees. A payroll of $1.2 million a week. Ten thousand people come every day to the Castle. We serve 13,000 covers — food and drink. It's like running a small city," she told Vanity Fair about the enormity of her job as CEO at Trump's Castle. "You have to know about housekeeping, laundry, entertainment, showgirls, orchestra, casino lounges, the health club. Plus hotel marketing, casino marketing…"
Ivana knew all of that and more as she continued to plug away at the Trump Organization to help build Donald's empire. 
Along came Marla Maples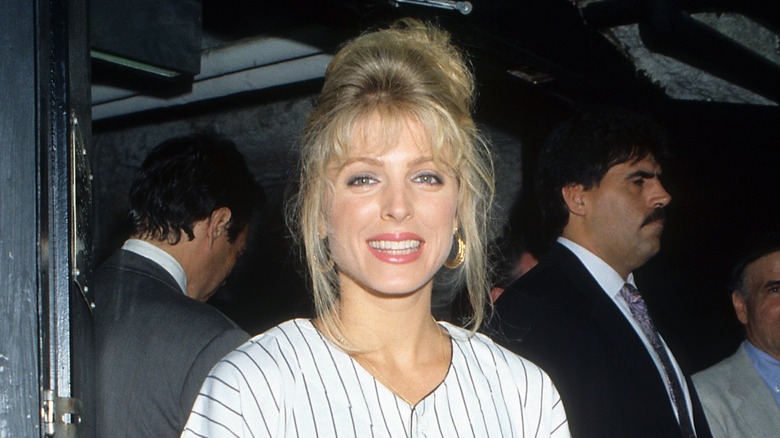 Donald Trump reportedly met Marla Maples when he "eschewed the limo and swaggered into Marla" on Madison Avenue. "I had seen him at different places throughout the years," the Southern belle told Vanity Fair in 1990, "and just said hello, I was just somebody he shook hands with." The duo would see one another at Marble Collegiate Church on Fifth Avenue — "Not that we went together, but we would both be there on occasion," Marla Maples said. At some point, it turned into a romantic situation. 
The Trump-Maples tête-à-têtes became a full-blown affair that Trump did not hide from his colleagues. "Donald was not really very discreet about it," said Roger Gros, Casino Journal's managing editor at the time. "He had her stay on the Trump Princess all summer except when Ivana came." Though Donald might have thought Marla Maples was just a fling, she told Vanity Fair that a more defined relationship was "something I've been praying for for a long time."
And on ABC News' "Journeys of Faith with Paula Faris" podcast, Maples said she "'never considered' herself the mistress" of Donald Trump. She felt they had a deep connection, and she relied on her faith to see it through. "Every step of the way, I was praying, 'God, please be in this. Please be in this,'" she told Faris. "'I do not want to be part of breaking anything up that has a chance.'"
Meanwhile, Ivana Trump was focused on raising her three kids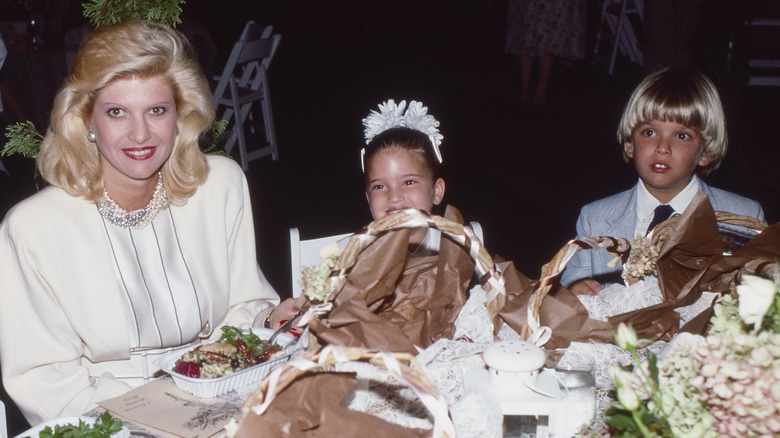 Ivana Trump's most important role in her life was being a mom to sons Donald Trump Jr. and Eric Trump and daughter Ivanka Trump. The kids spent most of their time with their mother because Donald was too busy with his career (and Marla Maples). Ivana claimed to the New York Daily News, "Donald wasn't really interested in the children until he could talk business with them. When they turned 21, I handed them over to him and said 'Here's the finished product, you can take them from here.'" And remember, Ivana was not only raising their children at that time, but she was also running parts of the Trump Organization — she was busy.
In her 2017 book "Raising Trump" (via Time), she explained that she was quite the disciplinarian when it came to her very privileged offspring. "I showed them dignity, diligence, and determination by example, and gave them age-appropriate responsibilities and rules, which they followed without question — or there'd be hell to pay," she wrote. Daughter Ivanka appreciated the way her mom raised her and gave her kudos in her 2009 book, "The Trump Card: Playing to Win in Work and Life." "People think she's all hard polish and elegance, a control freak and a little princess, but really, she's down-to-earth, empathetic, insightful, and vulnerable at times, and she cares deeply about the people she loves and the causes she supports," Ivanka Trump wrote.
Ivana Trump also became obsessed with looking young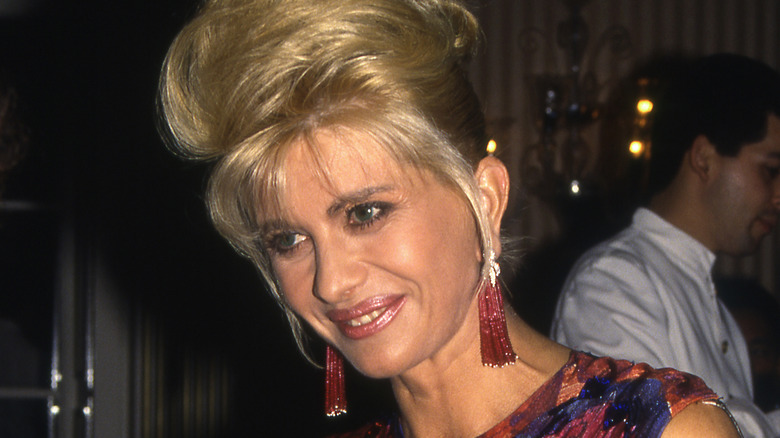 With Donald Trump allegedly running around with younger women, Ivana Trump wanted to make herself look better and underwent several surgeries to enhance her looks — and she made no secret about it. Ivana's plastic surgeon of choice was Dr. Steven Hoefflin, who was known to work with high-end celebrity clients such as Joan Rivers, Michael Jackson, Elizabeth Taylor, and more, per Vanity Fair. At the time of Donald's alleged affair with Catherine Oxenberg, Ivana reportedly chose to emulate Oxenberg's look. 
"Ivana knew Donald was serious about Catherine," a source told People in 1990. "Copying Catherine's face was the last desperate move. But it didn't work." Of course, Ivana stayed mum about that first major plastic surgery but slyly told the entertainment outlet that "if people can improve themselves, they should." Ivana did have an obsession with looking young, and she told Harper's Bazaar that while she enjoyed the wisdom that comes with age, she was often inspired by her daughter Ivanka Trump's youthfulness (and that of her then-husband, Rossano Rubicondi). "You take from them — the looks, in the clothing, in the dressing. The younger generation keeps you young."
But Donald contributed to Ivana's fixation with looking young. Harper's Bazaar alleged that it was her then-husband who told her, "Never look a day over 28." That must have been a lot of pressure on the mom-of-three in the public eye as she worked for the Trump Organization. 
The Aspen confrontation heard around the world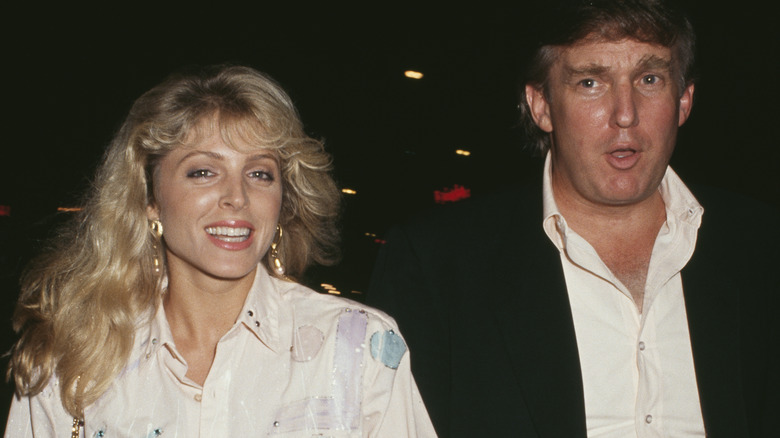 Marla Maples decided to take matters into her own hands when it came to her ongoing affair with Donald Trump. During the holiday ski season in 1989, she traveled to Aspen, Colorado, where Donald was vacationing with Ivana Trump and their three kids — what happened next is NYC gossip history. Ivana had already caught wind that her husband was canoodling with a woman in Aspen, but he told her that she was just "a girl which is going after me for [the] last two years," per Ivana's interview with Barbara Walters (via Gawker). However, it was something more significant than that.
Ivana confronted a friend of Maples' in a restaurant line and told her, "I understand from my husband that you have a friend which is after my husband for last two years," per her interview with Walters (via Gawker). "Will you give her the message that I love my husband very much." Of course, Donald's mistress was standing right next to the friend, and that's when this affair got a little too real. "This young blonde woman approached me out of the blue and said 'I'm Marla and I love your husband. Do you?'" Ivana wrote in her "Raising Trump" memoir (via the AP). "I said 'Get lost. I love my husband.' It was unladylike but I was in shock." That confrontation would stay in the New York City tabloid headlines for 11 days straight as the Trumps' marriage fell apart publicly.
Keeping a brave face for the press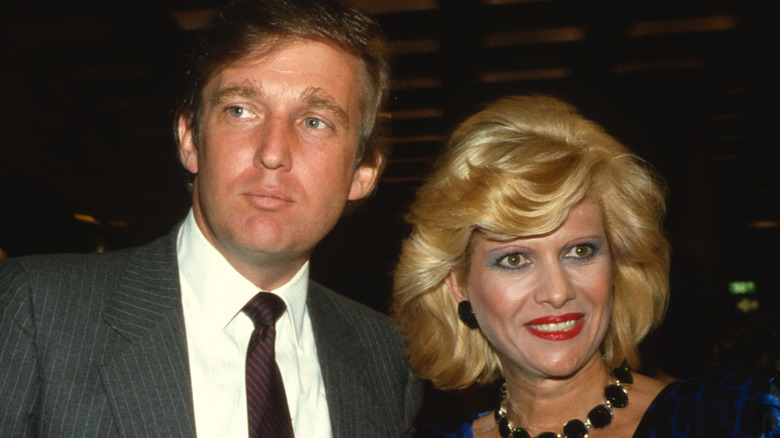 The return home from the Aspen, Colorado, vacation was not an easy one for Donald and Ivana Trump. The couple tried to stick it out for appearances and work on a half-hearted reconciliation, But they weren't fooling anyone. Friends and the press knew this marriage was over. "I can only shake my head at how it insane it was," Ivana wrote in her book, "Raising Trump" (via the AP). "I couldn't turn on the television without hearing my name."
Donald's business trip to Tokyo in early February 1990 was the game-changer in the relationship. Just before he left, Donald had his spokesperson relay a message to the media: "He told Ivana it just was not working out," per Newsweek. He hadn't told Ivana his definitive plans, but word got back to his first wife and she got to work. Ivana got her ducks in a row and started the divorce proceedings by hiring lawyer Michael Kennedy. She and Donald were separated that month, and she officially filed for divorce in November. 
Even though the couple would have a contentious fight over the prenuptial agreement, Donald displayed a rare moment of emotion. He told People, "I love my children and I will always love Ivana. Right now, our paths have gone in different directions, but I would never do anything to hurt her."
The Trumps fought over their prenuptial agreement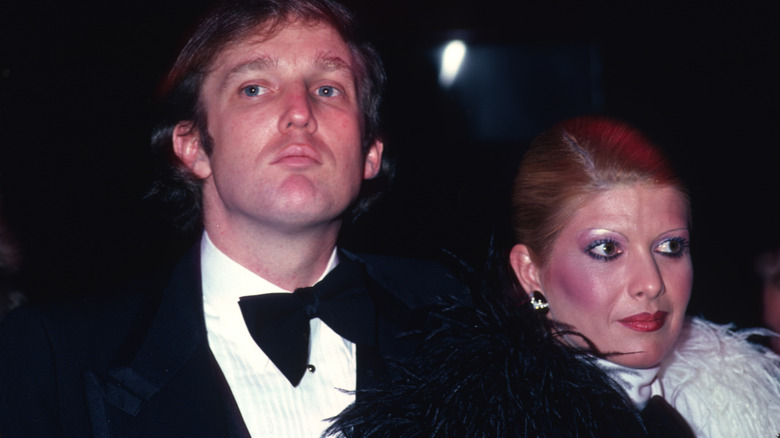 The couple fought over their prenuptial agreement because Ivana believed it needed to be nullified while Donald wanted it upheld. According to The New York Times, the prenup morphed over the years and was amended four times — likely from the marriage and the birth of their three kids. But the negotiations were anything but easy because Donald was deep in debt at the time and Ivana wanted to make sure she wasn't added to his long list of creditors. And she wanted to fight some of the stipulations in the agreement because it reportedly said "should the couple split, she return everything — cars, furs, rings — that Mr. Trump might give her during their marriage," per The New York Times. 
"I remember the part about the gifts. I had been very hurt. I had been confused by it…I didn't understand the whole concept, why I'm returning the gifts which are going to be acquired by my husband and given to me during our marriage," she said in a 1990 deposition, per the New York Daily News. Donald wasn't going to take any responsibility for that clause. He said it was his lawyer, Ray Cohn's, fault. The clause was removed. According to The New York Times, Ivana eventually walked away with $14 million, plus $650,000 in child support annually and their Connecticut estate, not to mention "an apartment in the Trump Plaza, and the use of the 118-room Mar-a-Lago mansion in Florida for one month a year."
Time heals old wounds — sort of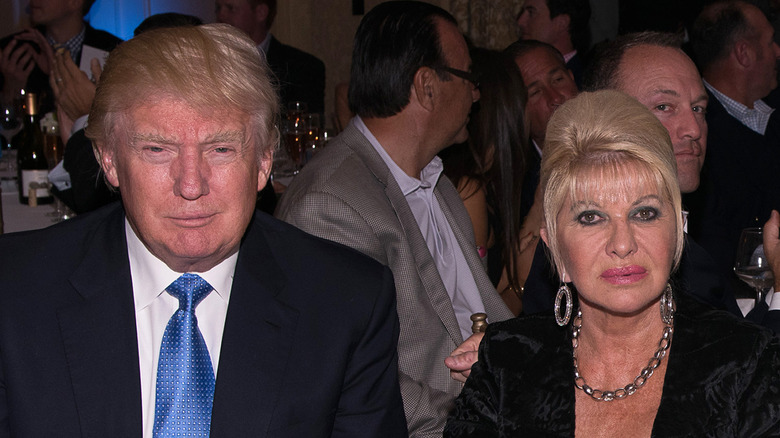 While Ivana Trump went on to make peace with her ex-husband and offer him support during his years in the White House, she never forgave Marla Maples for breaking up her marriage. During Donald Trump's time in the White House, she made it very clear that she was in communication with him after the tense prenuptial negotiations, telling ITV's "Loose Women" that they "had three wonderful kids to raise." And that relationship didn't really involve his third wife, Melania Trump. It was just about Donald and Ivana. "No, I speak directly to Mr. President," she explained. "We talk about our children, sometimes we talk about economics, but I don't give him really advice."
One person Ivana will never make peace with is Marla, since Marla came between Ivana and her husband (even though Donald made the choice to cheat, too). "She actively participated in humiliating me in the media and indirectly put my kids at risk for months," Ivana wrote in "Raising Trump" (via People). "I went through hell, and then I was expected to be okay with her being around my children? We all have deep scars from that period of our lives, in part due to her actions."
The two women will never be friends, but somehow Ivana and Donald have found a way to maintain a deep friendship that lasted far longer than their marriage ever did. So it wasn't a fairy tale, but the duo had a happy(ish) ending. 
Source: Read Full Article