Jonathan Dimbleby: Prince Harry was being led by the nose a bit by his wife
Embed from Getty Images
One of the strangest things about the recent kerfuffle about Princess Diana's 1995 Panorama interview was that few people brought up the fact that one of the primary reasons Diana wanted to give an interview was because Prince Charles had given a completely terrible interview to Jonathan Dimbleby in 1994. The Dimbleby interview was not as iconic as Diana's Panorama interview and the Windsors want everyone to forget about both interviews, frankly. The Dimbleby interview was famous (in its time) for Charles admitting that he had been banging Camilla for years, Charles blaming his cold, distant parents for the man he is, and it's absolutely remembered for Charles dithering when asked about whether he wanted to be king. The Dimbleby interview was largely thought of as a huge mistake for Charles. So it's very weird that Jonathan Dimbleby has some thoughts about the Sussexes' Oprah interview:
Prince Charles's biographer has accused the Duke and Duchess of Sussex of 'vicious, cruel and horribly self-serving' behaviour over their infamous interview with Oprah Winfrey. Jonathan Dimbleby said it was a 'great shame' that the couple went ahead with the broadcast earlier this year. Speaking at the Buxton International Festival in Derbyshire this week, the veteran broadcaster, 76, said: 'I think that the interview was a very great shame. I think it did great damage of a kind that was undeserved to the royal household and specifically to the Queen and her family.'

Mr Dimbleby, whose father Richard became the first journalist to interview a member of the Royal Family in a 1961 Panorama broadcast with Prince Philip, said he had met Harry 'in the past when he was young'. He said his recollections of Harry were of a 'charming, very nice' man 'who had served very well in the armed forces'.

But he said he was 'very disappointed' with his subsequent behaviour, adding: 'I felt he was being led by the nose a bit by his wife.' The Oprah chat, which drew in a worldwide audience of more than 50million, was 'vicious, cruel and horribly self-serving. Harry's remarks about his father, I simply fail to understand. I think there are certain things you should say and do in private. I believe a lot of the insinuations he made were not consistent with fact.'
[From The Daily Mail]
Dimbleby literally gave Prince Charles multiple showcases to whine about how his parents were terrible, but sure, shame on Prince Harry for basically doing the same damn thing. I guess the difference was that Harry did it for a rapt global audience and Dimbleby's dinky little interview with Charles is barely remembered. That's something that keeps coming up, frankly – journalists and interviewers barely being able to contain their jealousy of Oprah and her ability to conduct an interview watched by 50 million people. And I'm so completely tired of the sexist trope of "dumb Harry is being led around by his Black wife." Can we just stop. It's been abundantly clear for a while now that Harry is 100% his own man, making his own decisions and doing right by his wife and children. That's what upsets them even more.
It's been a while since I've watched any part of this interview. I forgot that Charles is exactly the kind of man who saves his deepest reserves of pity for himself.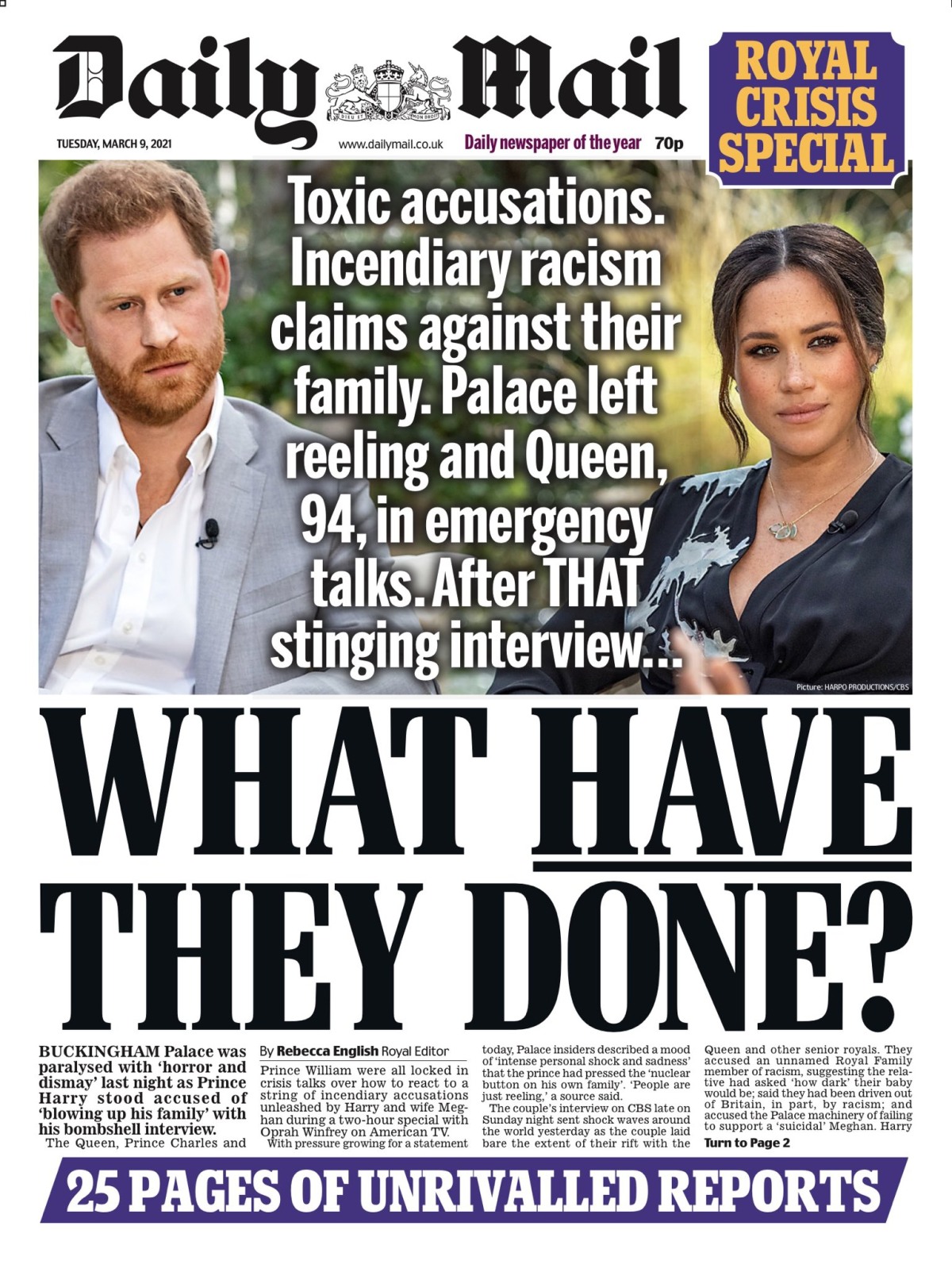 Embed from Getty Images
Photos courtesy of Getty, CBS.
Source: Read Full Article