Megan Thee Stallion's Net Worth Nearly Tripled in Just Two! Years!!
Megan Thee Stallion is truly one of the itiest It Girls of our generation and we all have no choice but to collectively stan. I do not trust you if there are not at least three songs of hers that you can recite word-for-word. Backwards.
Megan's career has been wildly successful ever since her 2018 EP Tina Snow dropped, and it's truly only been up from there. Pretty sure if Meg earned $1 for every time someone did the "Savage" TikTok dance in 2020, she'd be a billionaire—but honestly, just give it time because her current net worth is im-pres-sive. Especially for those of us whose personal net worth is, like, one chicken nugget.
Between multiple hits, a load of major partnerships, merch sales and a buttload of consistent streams, Megan is a hot girl and a very, very rich girl. Let's dig into her incredibly deep bag, shall we?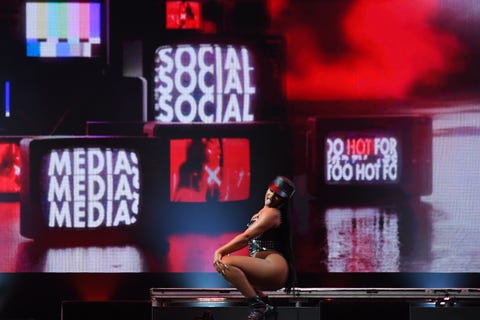 Her music still makes the money—mostly thanks to streams
Naturally, most of Meg's direct deposits are a result of her well-loved music. In 2019, Megan's hit "Hot Girl Summer" became pretty much everybody's personal anthem and solidified her as a household name. Then in 2020, she had a helluva year. Not only did she bless us all during the quarantine lockdown with "Savage (Remix)" featuring Beyoncé and then star on Cardi B's "WAP," which secured the coveted No. 1 spot on the Billboard Hot 100 chart, her track "Body" also absolutely dominated, and Time named her one of its most influential people.
To date, Megan has 28.6 million monthly Spotify listeners. On top of that, "WAP" has garnered more than 1 billion streams, and "Savage" has tallied nearly 365 million streams. And yeah, obviously all those streams have lead to a lottttt of cash. Cardi and Megan announced that they were partnering with Twitter and Cash App to give away $1 million. So…if they had $1 million to spare, let's go ahead and assume there was a lot more where that came from.
Source: Read Full Article