Queen Elizabeth Has a Buncha Grandchildren You Probably Forgot About
When you think of the royal family, you probably think of the Queen, some castles, the cuteness that is Princess Charlotte, and…IDK, a bunch of frolicking corgis. But the thing is, the royal family is truly huge. Queen Elizabeth and Prince Philip had four children (hi, Prince Charles, Princess Anne, Prince Andrew, and Prince Edward), meaning they have a ton of grandchildren. Yes, obviously, Prince William and Prince Harry are on this list, but Her Majesty also has grandchildren who are less in the spotlight—and don't even have titles. Let's get to know all of Queen Elizabeth's grandchildren real quick!
Prince William
Parents: Prince Charles and Princess Diana
I mean, duh! Prince William, 39, is second in line to the throne right after his dad, Prince Charles, and as such, he has a hugely important relationship with his grandmother. And according to the Sunday Times, scandal and drama in the royal family last year has brought William even closer to Her Majesty—a royal courtier said that "this has changed the way the Queen sees him and values his input" and that their views are "more aligned than ever."
William himself opened up about his close relationship with his grandmother in the ITV documentary Our Queen at 90, saying, "Growing up, having this figurehead, having this stability above me has been incredible.…I have been able to explore, understand, slightly carve my own path. I greatly appreciate and value that protection."
Also, watch this please, lol:
Prince Harry
Parents: Prince Charles and Princess Diana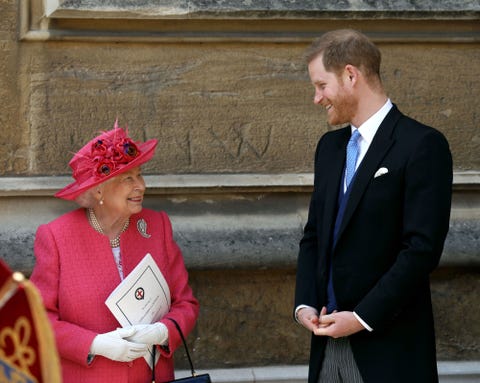 While 37-year-old Prince Harry is sixth in line to the throne (so pretty high in the line of succession!), he's no longer a senior working member of the royal family due to stepping away from his royal duties and moving to L.A. with Meghan Markle and their son, Archie. But Harry has remained super close to his grandmother, who he often chats with on Zoom. He also stressed that claims that he blindsided the Queen by leaving his royal duties were false, telling Oprah, "No, I never blindsided my grandmother. I have too much respect for her."
Sadly, Harry hasn't been able to spend much time with the Queen due to COVID-19 travel restrictions, but he did reunite with her at Prince Philip's funeral in April 2021 and more recently when he took a quick trip to London to visit the Queen and Prince Charles on his way to the Netherlands for this year's Invictus Games.
Zara Phillips
Parents: Princess Anne and Mark Phillips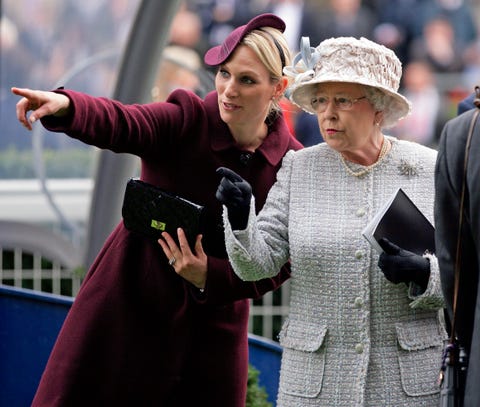 Zara Phillips, 41, is 20th in line to the throne now that Baby Sussex is born, and unlike a lot of her cousins, she's not a working royal. But she is a casual Olympian who won a silver medal at the 2012 Games in London! Another difference between Zara and her cousins? She doesn't have a title, which was a decision her parents made. Zara spoke in 2015 about how she's grateful for their choice, telling The Times, "I'm very lucky that both my parents decided to not use the title and we grew up and did all the things that gave us the opportunity to do."
Despite not being a working royal, Zara and her husband, Mike, are close to Her Majesty, and royal expert Ingrid Seward even told The Sun that the Queen has a "tighter bond with them than she does with Kate and William." She added, "The Queen has always adored Zara and is so proud of her riding success. They have a lot in common as they talk horses and the Queen has invested in several horses for her."
Peter Phillips
Parents: Princess Anne and Mark Phillips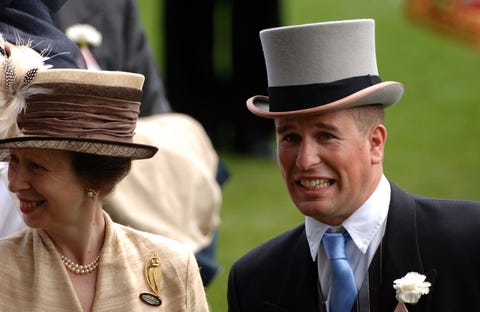 Lol, what to say about Peter Phillips? Anne's 44-year-old son (who is poised to be 17th in line to the throne) isn't exactly like the other royals, by which I mean he recently did an ad for literal milk. Like, no, he's not a working member of the royal family, but wow.
Source: Read Full Article