Rep. Matt Gaetz eloped with Ginger Luckey in CA, hes still under investigation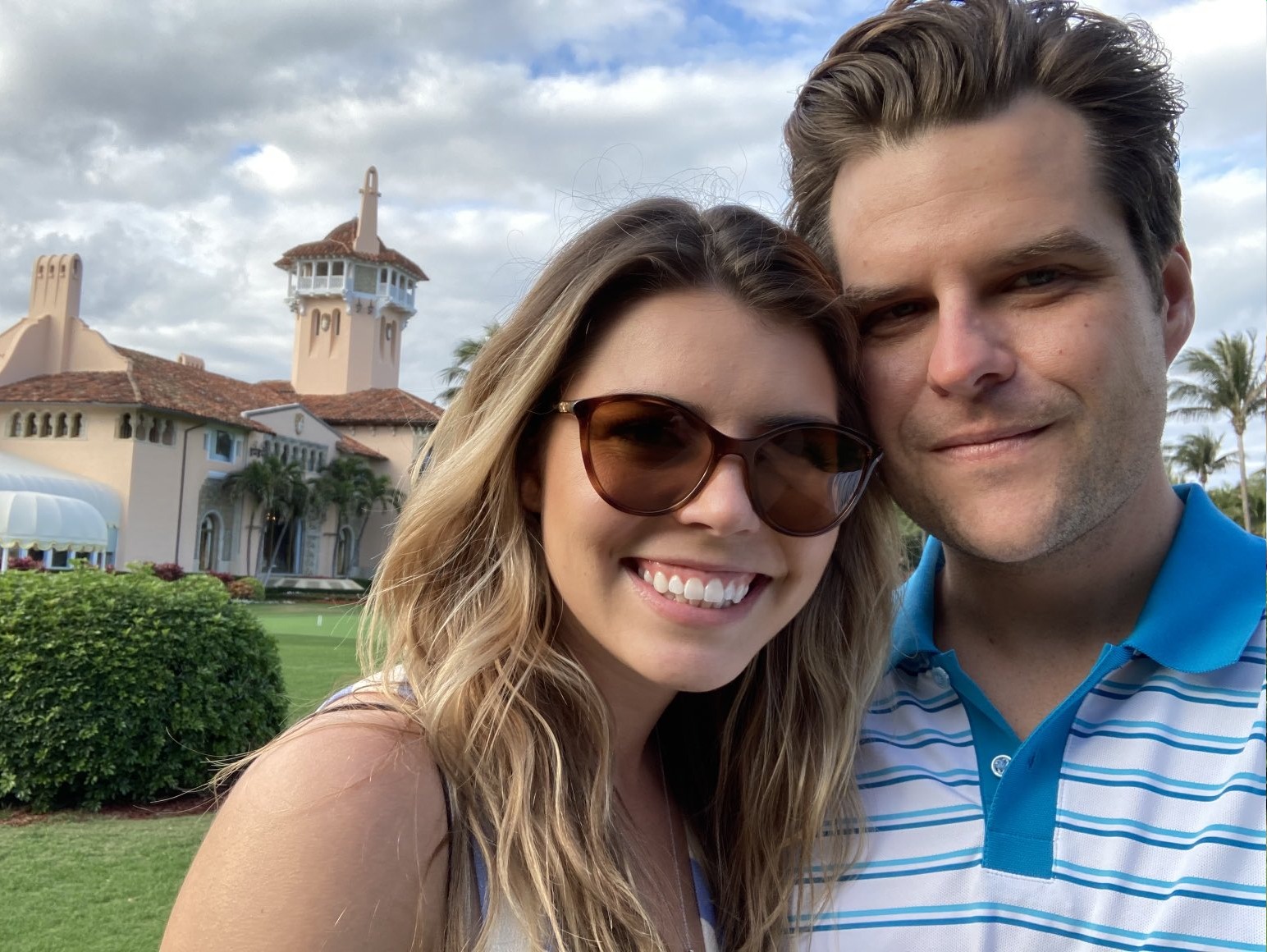 Matt Gaetz is currently under federal investigation for human trafficking and a lot more. We covered Gaetz's many disgusting criminal dramas throughout the spring, although I have not covered him much recently. I think everything has been in some kind of holding pattern – the criminal investigation is ongoing, Gaetz has not been arrested yet, and he's still in Congress. He was also still engaged to Ginger Luckey throughout this entire gross ordeal, and they just eloped in California. Vanity Fair had extensive coverage, including recent interviews with both Gaetz and Luckey. Some highlights from this VF piece:
A quiet ceremony on Catalina Island: For a guy who craves the spotlight, the event was uncharacteristically understated. Aside from former Rand Paul staffer Sergio Gor, who took up the dual role of officiant and DJ, and war room hosts Raheem Kassam and Natalie Winters, few political personas were in attendance. Luckey's brother, Palmer, and his partner, Nicole––who arrived on the former's decommissioned naval vessel—and Nestor Galban, Gaetz's adopted son, represented the family. About 30 other friends "from normal life" rounded out the party. Gaetz cooked for the group, serving up a menu of BBQ chicken legs, grilled vegetables, and a watermelon salad.

On the criminal investigation into human trafficking: Gaetz has denied all wrongdoing. He will tell you, emphatically, as he sits at a high-top table at the Ace Hotel, "I have fewer on-record accusers than Joe Biden." As the investigation continues, he's taking cues from the former president. "I have seen so much in politics: people distracted, dismayed, disoriented by bad coverage," he said. "In a way Trump was an inspiration for me because despite whatever they were saying about him—with foreign intelligence services, with the DOJ—he had a determination to say what he was gonna say and share his vision for the country."

Luckey was carefully apolitical. She presented her own form of bipartisanship, one minute noting that the Trump she is closest with is Tiffany (who told Luckey where to get her hair done in D.C.), the next saying she respects Jill Biden because she continues to teach writing at Northern Virginia Community College, even as first lady. Asked whether she's become more political since slipping a ring on that all-important finger, Luckey responded, "I admire AOC as well as Lauren Boebert. They both speak their mind. They're both effective in things they want to drive forward. And I think too often, [there's] so much of this red team, blue team. There's just gotta be so much more common middle ground."

Gaetz asked Donald Trump's permission before proposing to Luckey: They started seeing each other, and on December 30, after less than a year, Gaetz proposed—at Mar-a-Lago. Before popping the question, Gaetz, cognizant that "you never want to upstage the big guy," asked Trump for his approval. According to Gaetz, doing a passable Trump impression, the former president said, "You two are a dynamic duo." When Luckey said yes, Trump sent a bottle of his eponymous Champagne to their table.
[From Vanity Fair]
She sounds like an idiot who has no business being so stupid. She comes from a "good family," she's well-educated, she has her own money and family money, she has access to power beyond Gaetz… and she's still choosing to be ride-or-die for a human trafficker who paid women and girls for sex after grooming them on sugar-daddy sites. She still chose to marry him, even though she has plenty of options beyond this mess. And of course Nestor was there… Nestor is his not-really-adopted son. The same Nestor who lived with Gaetz for some reason for years. Whew, I cannot.
— Matt Gaetz (@mattgaetz) August 22, 2021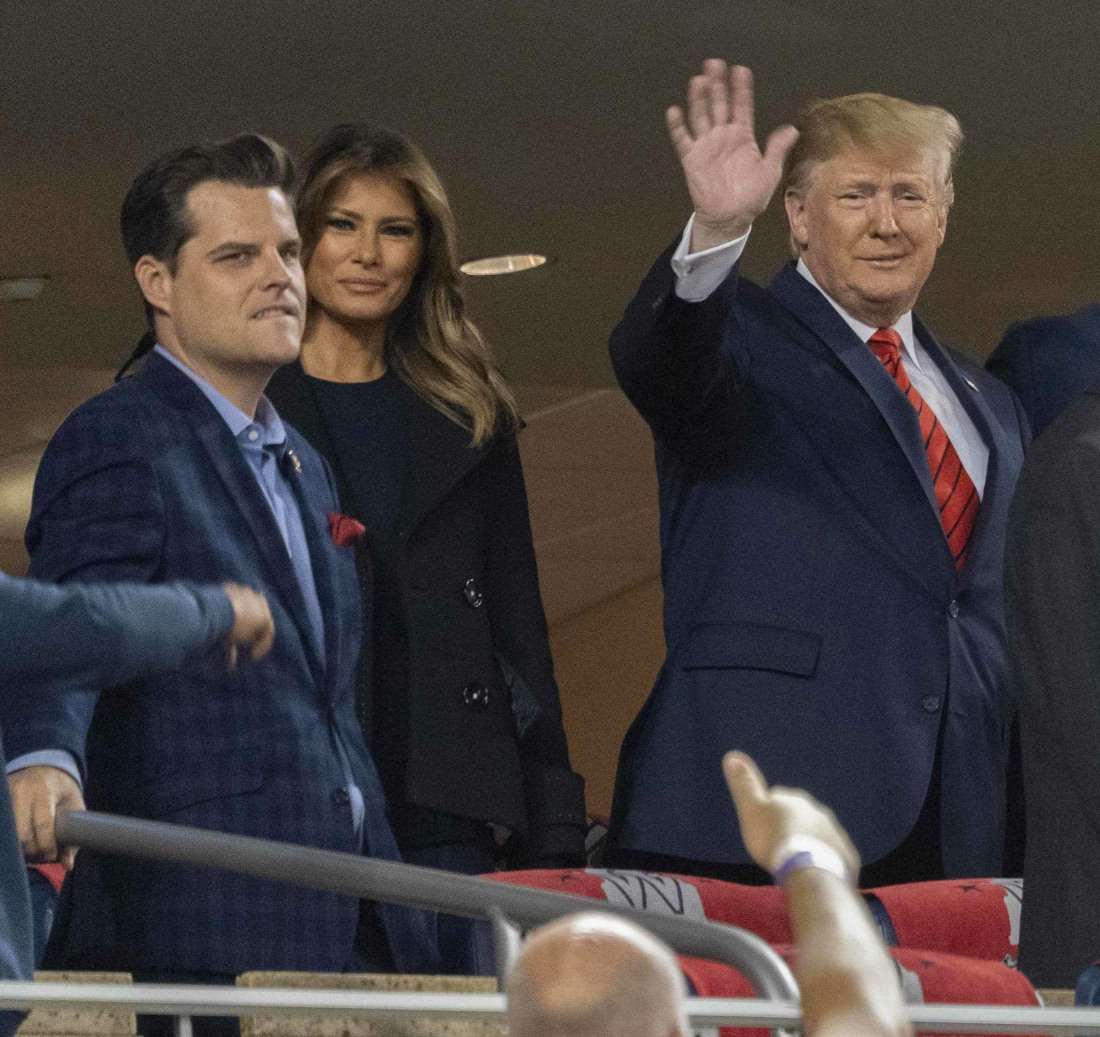 Photos courtesy of social media, Avalon Red.
Source: Read Full Article