Scott Disick Drops a 'Cute' Comment on New Picture of Kourtney Kardashian
Ever since Scott Disick and Sofia Richie broke up, fans have been hoping for a reunion between Disick and his on-off girlfriend Kourtney Kardashian.
The couple split back in 2015 after nine years and three kids together. But they have remained close and still appear to have the chemistry that made fans fall in love with them years ago on Keeping Up With the Kardashians.
So far, they have not said anything about getting back together, but they've done things that have convinced fans something's going on. Kardashian was recently seen wearing a shirt that people say belongs to Disick. Then she posted a sweet note to him on Father's Day, followed by Disick leaving a flirty comment on her social media.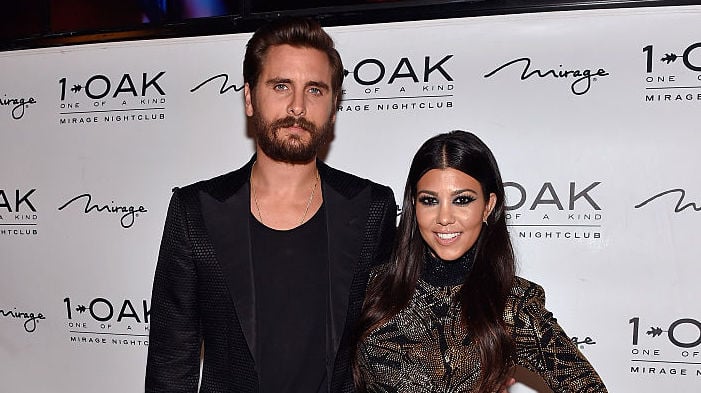 Scott Disick commented on a new picture of Kourtney Kardashian
Disick's comment came after Kardashian posted a photo of herself on Instagram on June 22. It shows her wearing knee-high boots and an oversized flannel with a white tank top and matching skirt underneath, along with the caption, "DESERTed."
Disick was among the many people who commented on the photo, writing, "cute shirt." Although it is short and simple, it's the timing of the comment that has fans talking. As the dating rumors continue to spread, Disick and Kardashian have been keeping quiet.
RELATED: Scott Disick Caught Liking Photos of Him Kissing Kourtney Kardashian
Scott Disick is newly single
Disick split from Richie in May after spending some time in a Colorado rehab facility a month earlier for "emotional issues," per People. E! News insiders said that Richie called it quits so Disick could focus on himself, but sources told Us Weekly that his alleged feelings for Kardashian contributed to the breakdown of the relationship.
"Scott is always going to be in love with Kourtney, and that's something Sofia has had to face since even before she got serious with him," said the Us Weekly source. "It's been an ongoing thing. It just became more apparent that his family was more of a priority than she was, and his family would be his main priority over anything and anyone."
The couple had been together for nearly three years before their breakup.
RELATED: Kourtney Kardashian and Scott Disick's Kids Want Them to 'Get Back Together,' Source Reveals
Scott Disick and Kourtney Kardashian have seemingly been hanging out more ever since
Sources also noted to E! News that Disick had started to lean on Kardashian while dealing with the issues that led to his rehab stint. Over Memorial Day weekend, he reportedly joined Kardashian and their kids — Mason, 10, Penelope, 7, and Reign, 5 — for a vacation to Utah and also jetted off with them in June to Wyoming.
"Kourtney knows how to handle Scott … She has really been there for him since his rehab exit, and has had a lot of sympathy towards him," said the insider.
But the source also noted that Disick and Richie could reconcile, so maybe we should all just take this with one big grain of salt until more information comes out. We'll share updates as they become available.
Read more: An Update on Kylie Jenner and Travis Scott's Relationship Status After They Were Seen on a Dinner Date
Source: Read Full Article