Seriously Convincing Rumors Point to an Iconic Marvel Villain Joining the MCU for 'Black Widow'
Ever since the devastating events of Avengers: Endgame, Marvel-heads have been left wondering what's in store for Black Widow's solo film.
Having sacrificed herself in exchange for the Soul Stone, Scarlett Johansson's original Avenger is written out of the current timeline altogether, transforming the fandom's excitement into apprehension.
As well as directing duo Joe and Anthony Russo defending their decision to off one of the MCU's few female superheroes, Marvel boss Kevin Feige attempted to offset the backlash when discussing the prequel.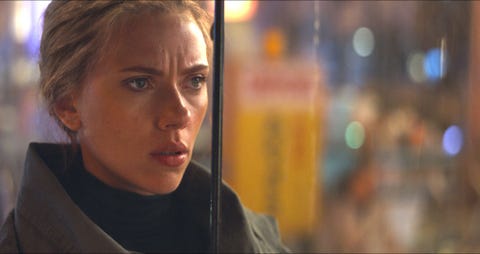 Marvel Studios
"There's a method to the madness. There's always a method and doing things in an unexpected way is something we find fun," he told Cinema Blend.
"There are ways to do prequels that are less informative or answer questions you didn't necessarily have, and then there are ways to do prequels where you learn all sorts of things you never knew before."
The question now is whether the movie will have any impact when we already know our leading lady is done and dusted.
The answer? New characters, people – or new villains. Thanks to set photos released this week, we have our first behind-the-scenes look at a new armored character set to join the MCU – and he looks suspiciously like the famed Marvel antihero Taskmaster.
UPDATE | June, 25
Budapest, Hungary #BlackWidow set pics. Guys, it's so surreal!!! pic.twitter.com/c8lzGYTCqs
Although none of the production team have denied or confirmed the debut of the supervillain, sources have pointed towards Taskmaster's presence as the central foe in Black Widow since March, rumors which are bolstered by these new set snaps.
Given his ability to imitate opponents' powers using photographic reflexes, Taskmaster would make an excellent antagonist, matching Natasha Romanova's fighting skills – and it could set the character up as a new mainstay of the MCU's Phase 4.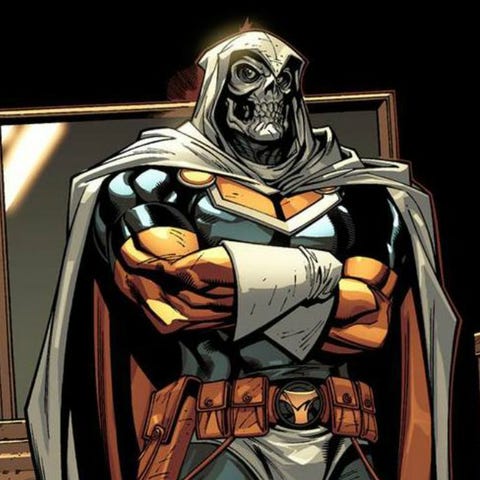 Marvel Comics
In the books, Tony Masters (as he was known then) first appeared briefly in The Avengers #195, making his full debut in Avengers #196. Although he chose the path of crime early on in life, adopting the mantle of Taskmaster, he eventually moved on to become an antihero and a sleeper agent.
Masters' frequent enemies are Captain America, as well as Deadpool, the only character whose moves he can't replicate due to the Merc's unpredictability.
Another drawback to his powers is that there's a cap to how many moves he can memorize at any given time and he forgets personal memories as a result of taking on new codes.
The character has ties to Hydra and the Secret Avengers, and was even recruited by Nick Fury at one point.
Then, there's his long-running history with the superhero team Thunderbolts, whose MCU debut – like Taskmaster's – has been rumored for quite some time. As in, over ten years.
Way back in 2008, the year the MCU was born with the release of Iron Man, The A-Team and The Blacklist director Joe Carnahan signed on to direct an adaptation of Taskmaster. At the time, Carnahan stated that the film would "literally build this character's origin" and that it would "commence with the events following Taskmaster's severe beat down at the hands of Moon Knight".
The project never saw the light of day and a lot has changed since then, including the MCU's storytelling process. Rather than giving Taskmaster his own standalone film, it would make sense to weave his arc into an established narrative and set up his future in the cinematic universe moving forward.
And yet, while the character has a rich history in the books for director Cate Shortland and Co. to draw upon, his interaction with Black Widow is minimal – the most notable being a confrontation with Natasha, Black Panther, Batman and Huntress in JLA/Avengers #4, part of the Marvel/DC crossover series. So how would he fit into the film's timeline?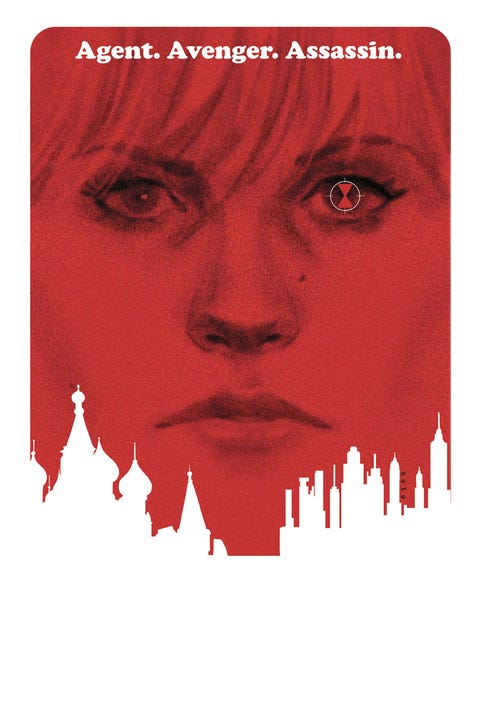 Marvel Comics
The missing link could be Yelena Belova, another character rumored to feature in the film – one who was groomed and trained at the Red Room Academy alongside Natasha in the comics.
In the same way that Steve Rogers passed the Captain America moniker to Sam Wilson, so did Black Widow to Yelena Belova, leaving many to speculate whether this is how the character will continue in the MCU past Natasha's death in Endgame.
Certainly, Yelena's character is hinted at in set photos, which show Johansson working side-by-side with a blonde-haired Florence Pugh (whose role is yet to be officially revealed).
If this turns out to be true and Yelena sides with Natasha, it could be that Taskmaster is hired as an assassin to take them both out.
black widow (2020) set photos pic.twitter.com/ckgiPk1tkc
Another entry point could be with regards to Hydra, an organization featuring significantly in both Yelena's and Taskmaster's storylines in the books.
In fact, at one point Hydra recruits Natasha's successor and transfers her mind into a new version of Super-Adaptoid, meaning she's more or less able to mimic the powers of other characters in a similar way to Taskmaster.
Like most Marvel properties, the details are being kept under wraps, but ultimately there are numerous hints to suggest Taskmaster and Yelena, aka Black Widow 2, will be the fresh faces in the Black Widow movie.
It would certainly generate feelings of optimism about Phase 4. Not only by bringing in a long-awaited fan fave, but also providing a way for Black Widow to continue in the MCU well into the future, no Soul Stones required.
From: Digital Spy
Source: Read Full Article