Take Style Inspiration From These Fashionable Gemini Celebrities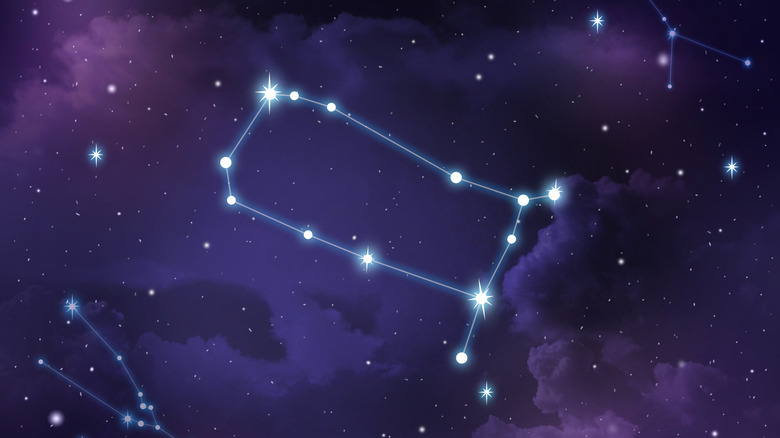 In the midst of Gemini season, who better else to look at for fashion inspiration than our favorite stylish spring babies? Geminis are those born between May 21 and June 21, right at the turn of spring to summer. According to Astrology Zodiac Signs, Geminis are known for being quick-witted, sociable, and fun-loving, and can represent two different personalities. Their at-times eclectic personality transcends perfectly onto their fashion style.
"Geminis love the gypsy effect of piling on tons of pieces," the ladies of Astrotwins.com told Glamour. Whether that be layering jewelry or acquiring multiple closet staple pieces, Geminis see fashion as another way to express their own creativity.
So if you're looking for some style inspiration as you revamp your closet for the summer, here are five fashionable Gemini celebrities.
Angelina Jolie's chic minimalist style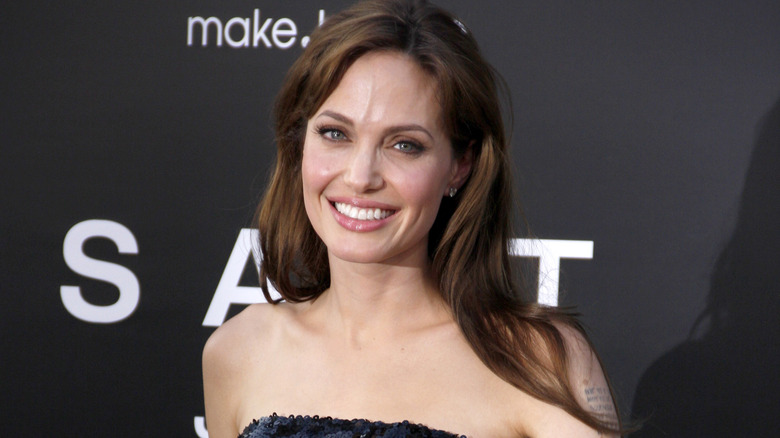 Born on June 4, 1975, Angelina Jolie embodies the perfect Gemini activist (via Page Six). The actress, filmmaker and humanitarian certainly has a busy schedule, but that doesn't stop her from serving major fashion inspiration for all working Geminis. Despite astrology-zodiac-signs.com saying that Geminis struggle with "being confined" and "repetition and routine," it seems Jolie thrives in a chic minimalistic style.
When she's not dazzling us with stunning red-carpet gowns, Jolie sticks to simple and elegant pieces as she travels the world fighting for the most vulnerable. Whether she's speaking at a UN forum, attending a movie opening or premiere, or simply spending time with her children, Jolie sticks to comfortable yet stylish pieces.
Relying on classic silhouettes — think trousers, loose button downs, and blouses — Jolie compliments the elegance of her outfits with dainty jewelry. Some of her favorite looks, per WWW, included rolled turtlenecks, anything satin, creamy blazers and court heels.
When she's looking to add some flair, the mother of six pairs a neutral look with a bold red bag, or adds a funky feather trim to a sleek silhouette. And when in doubt, Jolie is not afraid to stick with a classic black dress.
Naomi Campbell's 'second nature' maximalism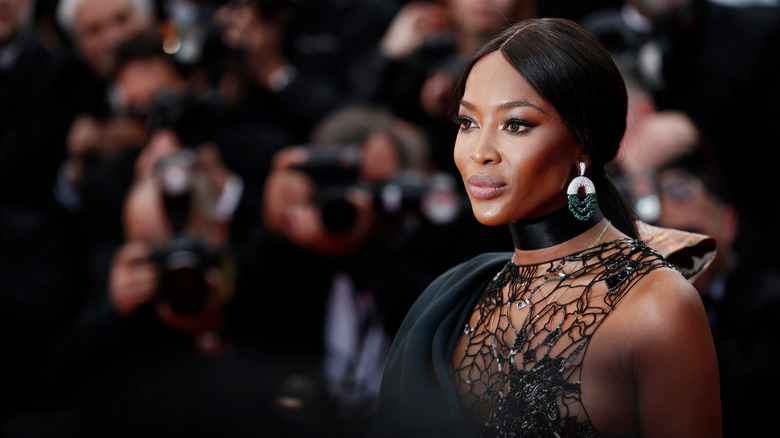 Who else better to serve fashion inspiration than world-renowned supermodel Naomi Campbell herself? Born on May 22, 1970, this May Gemini is not only a style icon on the runway but on the streets as well.
Modelling for some of the biggest names in fashion — including Versace, Dior, Louis Vuitton and Alexander McQueen — has certainly influenced her own personal style. Unlike Jolie who thrives on closet staples, Campbell is drawn to the flash so much so that it becomes like "second nature," writes Janelle Okwodu of Vogue.
Upon her 50th birthday last year, the fashion world couldn't help but celebrate Campbell's influence and impact on models' styles. Whether rocking a maximalist flower look at Jean Paul Gautier's 2015 Spring/Summer couture show, or walking down the runway at the closing ceremony for the 2012 London Olympics, Campbell has been gracing us with powerful looks since before the millennium (via CR Fashionbook)
The finishing accessories to any outfit in Campbell's book? Perfectly styled hair and flawless make-up at all times, both when she experiments with a daring "campy" look, or is logging on for a day of zoom press calls.
Aly Raisman is empowering herself and others to speak up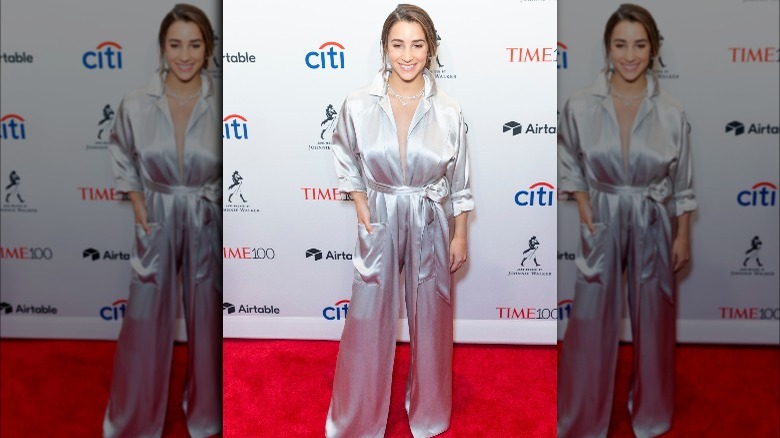 When former Olympian Aly Raisman is not winning medals for Team USA's Gymnastic team, or advocating for survivors of sexual abuse, you can find her rocking activewear from her newest partnership with Aerie (via StyleCaster).
After a powerful testimony on the abuse she suffered at the hands of former USAG team doctor Larry Nassar, Raisman has been incredibly outspoken about the following healing process. Like a true Gemini team player, she's used her own platform to raise awareness for victims of sexual abuse and assault (via Page Six).
In an interview with InStyle, Raisman's daily style is simple and comfortable — sitting by her pool, she wore denim shorts and a simple black t-shirt, paired with her signature high ponytail.
In her more formal looks, Raisman has been known to favor silhouettes with sharp V cut-outs. Whether wearing a satin jumpsuit, a powerful color-blocked pantsuit, or a sequined short dress, the gymnast is not afraid to add texture and color to her red-carpet looks (via E! Online). As for her hair, Raisman is no stranger to a good side-swept wavy look, or a tight updo reminiscent of her go-to bun at the olympics.
"Sometimes I feel like I want to wear a turtleneck and sometimes I want to wear a sexy dress. And that's ok. Confidence in your body isn't something that comes overnight," Raisman told InStyle. Raisman shows that finding comfort in yourself is just as important as finding comfort in your skin.
If you or anyone you know has been a victim of sexual assault, help is available. Visit the Rape, Abuse & Incest National Network website or contact RAINN's National Helpline at 1-800-656-HOPE (4673).
Kanye West is the king of streetwear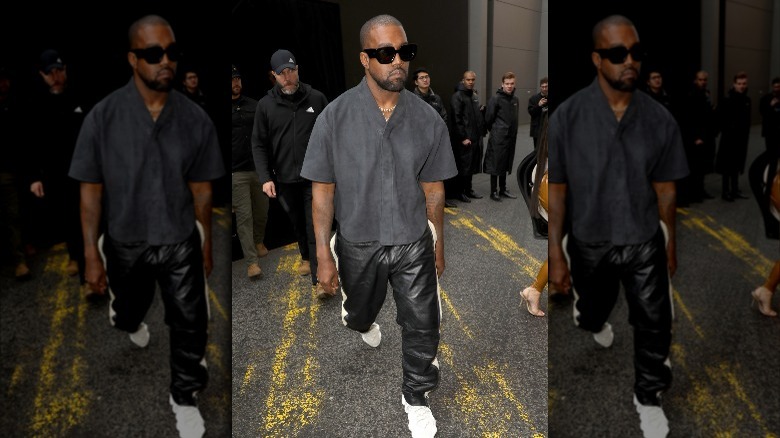 Renowned rapper and fashion designer Kanye West has been a source of fashion inspiration since he became a world-known name.
Although Geminis are known for their dislike of routine, West's own personal style is more uniform-like than not. Impeccable tailoring, futuristic silhouettes with sweats and leather and of course Yeezys on his feet, West sticks to full colors and textures and rarely wears patterns (via GQ).
Starting his fashion journey with his first shoe collaboration with Adidas, West has slowly but surely built a fashion empire with Yeezys. What first started out as limited edition sneaker collaborations are now select drops of streetwear drops. Most recently, West partnered up with GAP for a 10-year contract, the first line scheduled to drop during the fall 2021 season, per the New York Times.
Kendrick Lamar's ever-changing style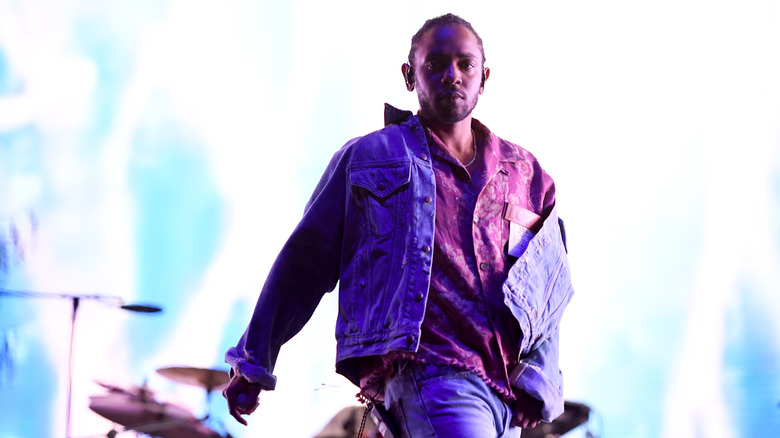 Much like Naomi Campbell, rapper Kendrick Lamar is one of those Geminis that just can't sit still with their fashion style. Although he's constantly changing his looks, one thing is for sure — the Pulitzer-winning rapper's style is the epitome of cool. 
As YourTango reports, "Geminis are profoundly creative, and their work is typically fueled by the idea that what they can create or build is better than anything else that exists yet."
Past creating iconic music, Lamar has also created some iconic looks in his career. From monochromatic outfits at award shows, like his dark all-maroon look or an all-white set (via Esquire). 
His one staple combination, hoodies under everything, means he can quickly elevate a perfectly-worn sweatshirt or make a fancy blazer appropriate for just a day around town . Even at the beginning of his career,  Lamar wasn't afraid to dress-down designer pieces and experiment with mixing prints and textures to create a style that is uniquely his own (via GQ). While re-creating his exact same style may be intimidating, grab some inspiration from Lamar's experimentation to add to your own wardrobe.
Source: Read Full Article