The Best DIY Shows Of 2021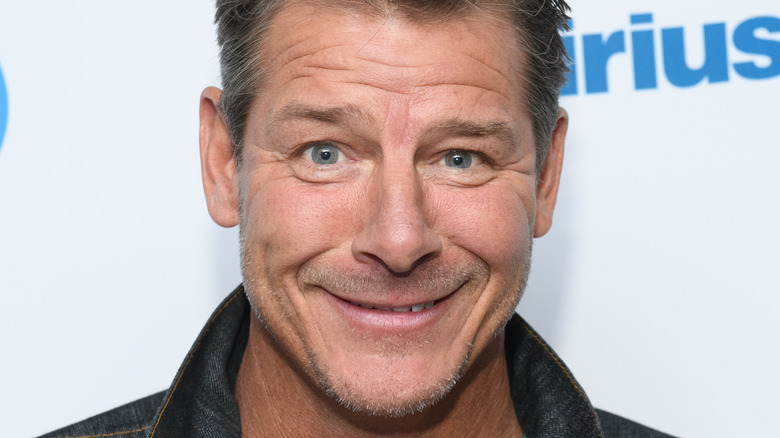 Home renovation has been top of mind for a lot of people throughout 2020 and 2021, as those who found themselves more-or-less housebound during the pandemic decided to make use of that time under lockdown to give their abodes a DIY refresh. Not only did this lead to a home-renovation boom, it also resulted in television DIY shows hitting new heights of popularity as homeowners looked to their favorite HGTV experts and other TV renovation gurus for inspiration. 
In addition to such fan favorites as Drew and Jonathan Scott of "Property Brothers" fame, Mina Starsiak Hawk and Karen E. Laine of "Good Bones," and the return of Chip and Joanna Gaines to resurrect their wildly popular "Fixer Upper," 2021 has ushered in a number of new series aimed at the DIY enthusiast. Some of these series re-established familiar faces in new formats, while others introduced personalities who were new to television, some of whom quickly established themselves by generating big viewership for their respective shows. 
With that in mind, keep on reading for a roundup of the best DIY shows of 2021.
Home Again with the Fords brings established HGTV stars to a new format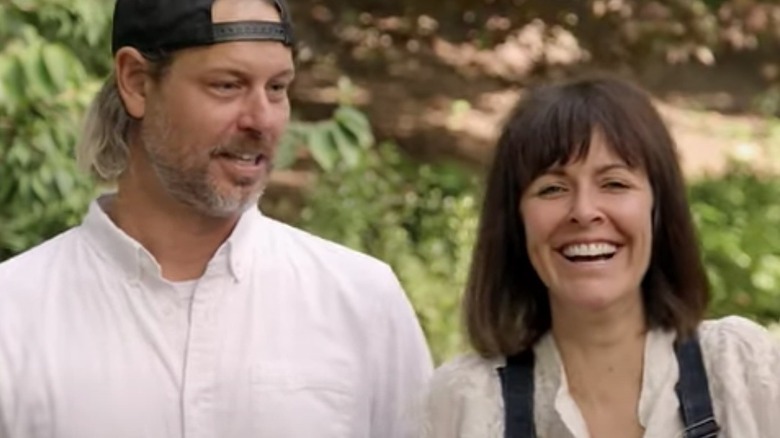 Sibling home renovators Leanne and Steve Ford are well known to television viewers from their HGTV hit "Restored by the Fords," following the exploits of the brother-sister duo as they renovate historic homes in their native Pittsburgh. 
In February 2021, HGTV launched the duo in a new series, "Home Again with the Fords," which added a twist: According to HGTV's press release announcing the series, the Fords consult with former Pittsburgh residents who've decided to move back, utilizing their "imaginative style" to update these Pittsburgh returnees' dated heritage homes. "People all over the country are now returning to the places they grew up. And what a wonderful place to be," said Leanne in a statement. "It truly is a privilege to help people come home again, and to create a space they love."
Throughout the course of the series' seven-episode first season, the Fords meld the modern updates requested by their clients with the charming elements that already exist within these vintage properties — including a farmhouse that's been owned by the same family since 1880.
Farmhouse Fixer reflects host Jonathan Knight's passion for historic farmhouses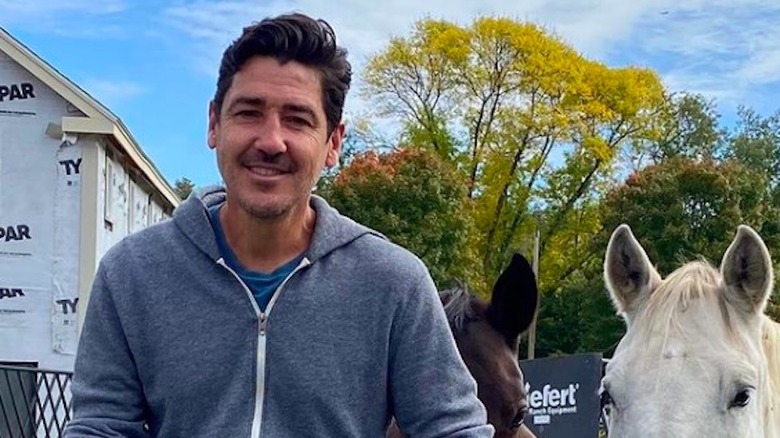 HGTV debuted its new series "Farmhouse Fixer" in March 2021. While the series and its concept of restoring historic farmhouses may have been new, its host had certainly been around the block — as in New Kids on the Block. As viewers discovered, Jonathan Knight of NKOTB has long had a passion for restoring old farmhouses that have seen better days, and has even formed his own company specializing in renovating rundown farmhouses (according to his network bio, Knight has renovated in excess of 200 such structures). "Restoring the American farmhouse is not just a hobby for me — it's my passion, my obsession and I've been doing it for more than 25 years," said Knight in HGTV's announcement for "Farmhouse Fixer." 
The show proved to be a hit with viewers. A subsequent press release crowed about the show's ability to attract "a large upscale audience," with total viewership of the first season exceeding 19 million. As HGTV president Jane Latman noted in the release, the show was "a consistent ratings performer that drove double-digit increases over the prior six weeks and it was a must-watch show during its six-episode run. Once again, we have a winner."
Ty Pennington brings competition to DIY television with Ty Breaker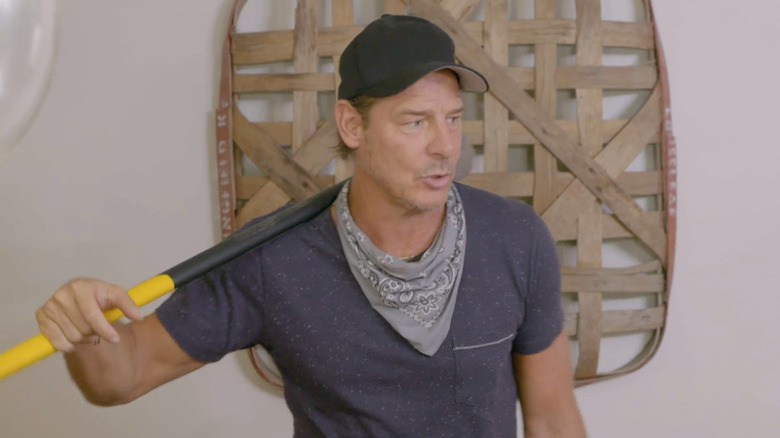 Ty Pennington has a long and distinguished career in front of the camera in home-improvement television thanks to stints on TLC's "Trading Spaces," and ABC's feel-good hit "Extreme Makeover: Home Edition."
In January 2021, Pennington debuted his new DIY series, "Ty Breaker." Not only did this mark Pennington's first venture with HGTV, it also placed him in a different kind of format, reminiscent of "Love it Or List It." As HGTV's announcement explained, each episode pairs Pennington with one of three HGTV design experts: Alison Victoria ("Windy City Rehab"), Grace Mitchell ("One of a Kind") or Sabrina Soto ("The High Low Project") — with each designer trying to persuade a family to let them customize a new home for them. Pennington, on the other hand, hunkers down with the homeowners to find out what they don't like about their property, and then convinces them "to stay put and enjoy a whole-home renovation." 
"What I love about this show is you have to choose which side to go with, but we do find a way to team up and add a little bit of my ideas and her ideas," he told TV Insider. "You get a mixture."
No Demo Reno introduced viewers to social media sensation Jenn Todryk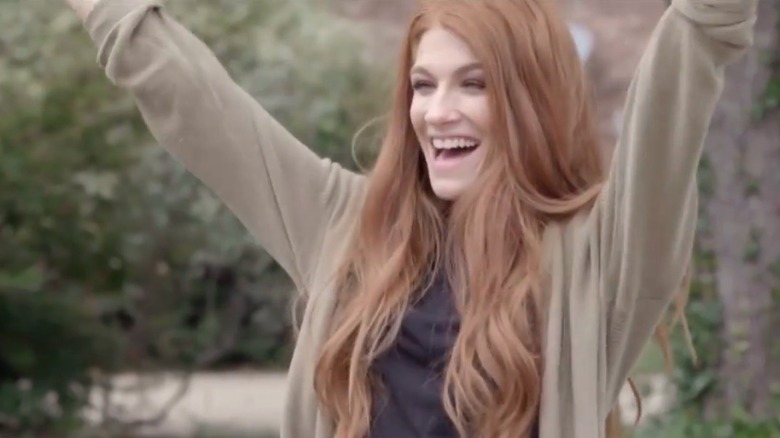 Before coming to HGTV, Jenn Todryk had already established herself as a noteworthy blogger and social media influencer, thanks to her The Rambling Redhead website and popular Instagram feed. Given that her social media had long demonstrated her penchant for chic and sleek interior design, Todryk was tapped to star in her own show, "No Demo Reno," which launched in March 2021.
As the network's press release explained, the premise of "No Demo Reno" gears the show toward those with minimal DIY skills, demonstrating how to completely transform a space in one's home with no (or possibly minimal) demolition. "Changing a house's floorplan takes time and money," said Todryk in the release. "It adds up quick and sometimes you don't need it. You can fall in love with your house all over again, but without the sweat and money that goes along with a full demolition."
Viewers who tuned in loved what they saw; a followup press release from HGTV declared the show to be a ratings hit, with the first season delivering 13.3 million total viewers. Describing Todryk as "a cyclone of energy and creativity," HGTV president Jane Latman declared that "viewers can't get enough of her."  
Inside Out forces homeowners to prioritize interior vs. exterior renovations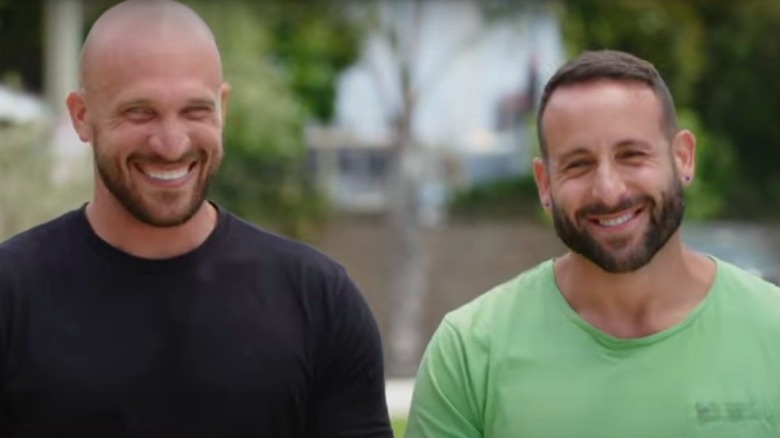 Making its HGTV debut in April 2021, "Inside Out" follows the dynamic duo of Carmine Sabatella and Mike Pyle as they embark on a home-renovation spree. As the network announcement explained, Pyle is in charge of transforming the home's exterior in order to improve curb appeal, while Sabatella is tasked with overhauling the home's interior. "They work together balancing client priorities and budgets to create stunning spaces from the inside out," reads the announcement. 
As the show's title indicates, there's also an element of competition between the two men. Each episode follows a different set of homeowners, who are first asked to determine what they feel is more important, the home's inside or outside. Once that decision is reached, they must then prioritize the budget accordingly by determining how much goes to external renovation vs. interior work. "In my 20 years of experience, I think the most important element of any renovation is what happens on the inside," declared Sabatella, making no secret of the bias he brings to his projects. Pyle, on the other hand, jokingly accused him of "living a lie for two decades," insisting that "curb appeal is THE most important thing!"
Life Under Renovation offers a self-shot look at actual DIY projects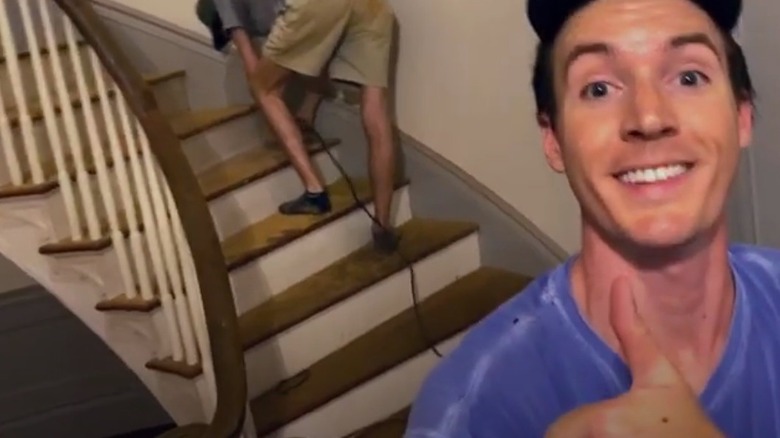 Making its debut on streaming service Discovery+ before premiering on HGTV, "Life Under Renovation" offers viewers a more documentary-style approach than typical HGTV fare. As detailed in HGTV's announcement, the series focuses on five families in various parts of the U.S. as they embark on the Herculean task of transforming their dilapidated properties into stunning dream homes. With no camera crews on hand — each family films their own footage using smartphone cameras — the resulting series provided a raw and intense viewing experience that leaned "into the emotional highs and lows" faced by each of the families. Each episode, the press release explained, "will capture the unique stories and challenges behind the personalized renovations."
One of the five families is the Norths, who — according to the series' trailer — purchased their fixer-upper home "sight unseen, based on photos on the Internet," which led to unanticipated challenges to overcome. Another family, the McAllisters, point out that they're "desperate for more space in this house," perfectly understandable give that there are eight children in the family. 
Tiffany Brooks gives homeowners a trio of choices in $50K Three Ways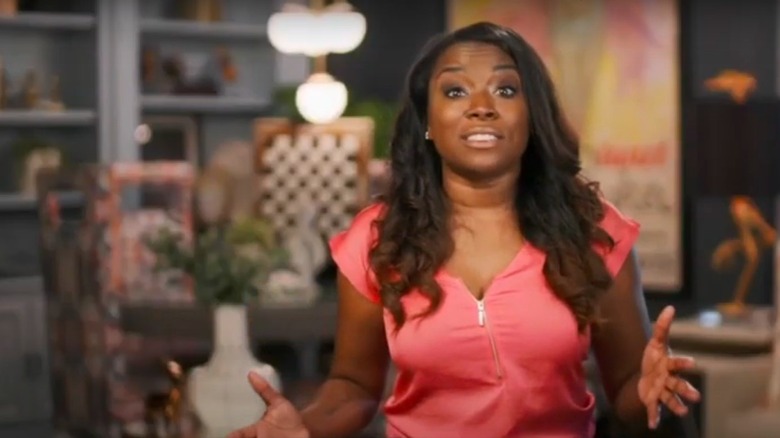 Tiffany Brooks is certainly no stranger to viewers of HGTV; the winner of the 2013 edition of the network's "HGTV Design Star" competition, she's hosted the network's annual "Smart Home" sweepstakes series for years.
In April 2021, Brooks struck out on her own as star of her own show, "$50K Three Ways." As the network press release explained, the show's premise finds Brooks meeting with homeowners who are looking to undertake a renovation within a tight $50,000 budget. She then offers three vastly different concepts, each staying within that strict budgetary confine. "Everyone has a million things in their house they'd like to change, but few people have the budget to fix it all at once, and that's why they call me," she said. 
Speaking with the Chicago Tribune, Brooks admitted she's set the bar high when it comes to her own personal hopes for the long-term future of "$50K Three Ways." "My dream of all dreams is for it to be a franchise, and for it to be one of HGTV's most-watched shows in history," Brooks proclaimed.
Secret Celebrity Renovation showcases the DIY skills of various stars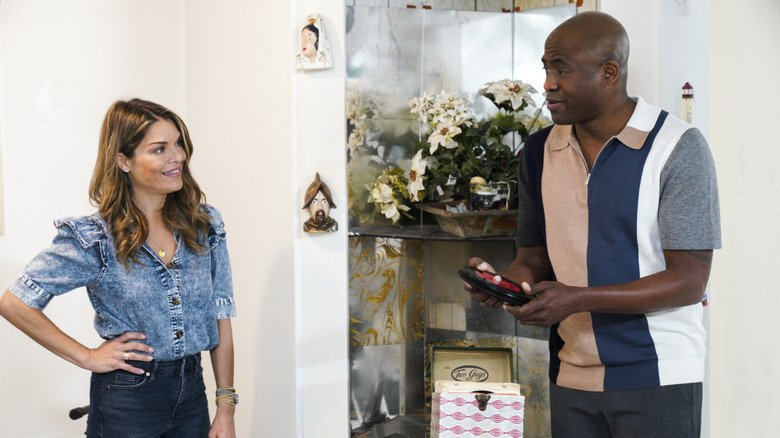 While HGTV understandably tends to dominate the DIY category on television, by no means is the network the only player in that particular game. Case in point: "Secret Celebrity Renovation," making its debut July 9, 2021 on CBS. Each episode focuses on a different celebrity, who undertakes an emotionally charged home renovation for a special person whose guidance and mentorship laid the groundwork for that star's eventual success. 
These dream renovations are performed by the celebs themselves, notes CBS's announcement, with the help of interior designer Sabrina Soto (of "Trading Spaces" and HGTV's "The High Low Project") and TV contractor Jason Cameron of "While You Were Out."
The first episode features actor-comedian Wayne Brady spearheading a reno for his Aunt Lily. Other celebs participating in the first season include: singer and former "American Idol" judge Paula Abdul; singer-songwriter Lauren Alaina; former NFL star and CBS sports analyst Boomer Esiason; singer and TV host Eve; former "Modern Family" star Jesse Tyler Ferguson; "Survivor" winner "Boston" Rob Mariano; Phoenix Suns player Chris Paul; singer Anthony Ramos; and NFL legend Emmitt Smith.
The best upcoming 2021 DIY shows to look out for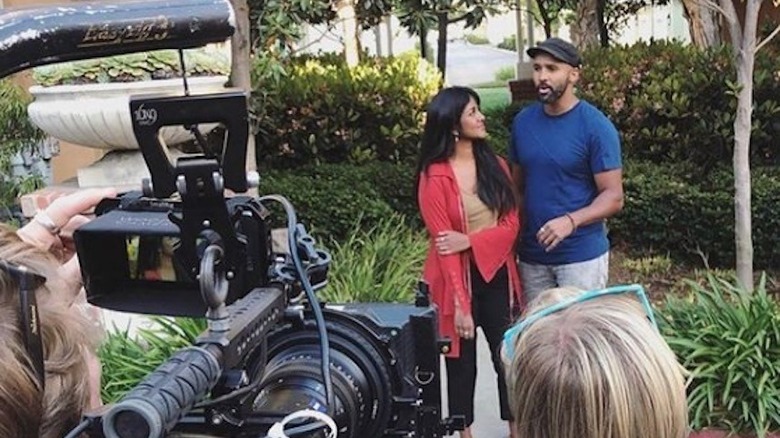 Fans of DIY shows have plenty to look forward to throughout the rest of 2021, and a press release from HGTV lists the array of new shows coming up. For example, "Divide and Design" follows sisters Courtney Robinson and Leslie Antonoff as they assist homeowners reinventing "struggle spaces," with Robinson renovating the space while Antonoff shows them how to undertake their own DIY projects for a fraction of what they'd pay a professional. 
Also on the horizon is "Fresh Starter," with design team (and real-life spouses) Austin Coleman and Raisa Kuddus undertaking custom-designed renovations for "awkward spaces" under restrictive budgets. Another husband-and-wife team is featured in upcoming series "Cabin Crew," in which Ben and Loana Sargent transform run-down Vermont cabins and cottages into "stylish, cozy escapes."
Then there's "Unfinished Business," featuring builder Tom Reber helping deserving families complete DIY projects in their homes that they started but have been left to languish. Finally, "Save This House" will introduce viewers to the team of carpenter Rich Soares, designer Jen Macdonald and history enthusiast Mike Lemieux, who team up to renovate historic properties in Plymouth, Massachusetts — described as "one of America's first hometowns" — that are at risk of being demolished.
Source: Read Full Article