The Pioneer Woman: Ree Drummond Shares the Secret to Perfect Stew
Ree Drummond knows plenty about comfort food, including the secret to a perfect hearty stew. The Pioneer Woman star shared the one easy ingredient that's a total game-changer with the flavor of her stew recipes.
Ree Drummond shares her easy secret for hearty stew
Drummond has a number of beef stew recipes with a variety of different spins, but she said one of the secrets to a delicious hearty pot of stew is the addition of one small ingredient.
While demonstrating how to make her hearty short rib stew recipe on an episode of The Pioneer Woman, she browned beef chunks in a pot, removed the meat, and added onions, carrots, and garlic.
Then Drummond added tomato paste, a seemingly small ingredient that she guarantees makes a huge difference.
"Tomato paste is one of the best tips I can give whenever you're making any pot roast recipe," Drummond said. "Just add a couple of tablespoons of tomato paste. It doesn't really give it a tomato sauce or base but it just adds depth. And interest. And passion. Mmm, it's so good."
The Pioneer Woman star added beer, beef broth, Worcestershire sauce, salt, pepper, rosemary, bay leaves, and the meat. "So easy," she said. "You just want to be sure to start this much earlier than you need it because stew does take a while."
Drummond reduced the heat and simmered the stew with the lid on for two and a half hours "until that meat is fall-apart tender."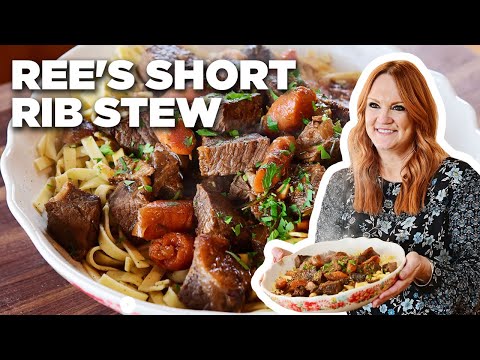 'The Pioneer Woman' star serves stew with egg noodles
Drummond's stew recipes are often served alongside mashed potatoes, but she served her hearty short rib stew with egg noodles.
"I like to serve it with egg noodles," she explained as she drained the cooked noodles. "Usually I use wide egg noodles but these are the skinny ones."
Drummond continued, "I am never content just to serve noodles plain," so she added butter, parsley, salt, and pepper. "I think buttered noodles with salt and pepper are the ultimate comfort food." She tossed everything together and noted that lemon zest is a nice addition as well.
She removed the bay leaves and rosemary from the pot and ladled the stew on top of the noodles. "That meat is so tender," she said. It is absolutely falling apart. That is a bowl full of marvelous right there."
The full recipe is available on the Food Network website.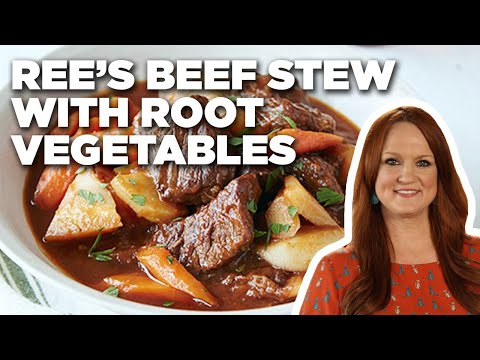 Ree Drummond's beef stew with vegetables recipe earns 5 stars
Drummond demonstrated how to make her beef stew with vegetables recipe on an episode of The Pioneer Woman as well. She started by browning cubes of chuck roast in a pot. "It's by no means cooked," she said when she removed the meat. "It looks like it is, but in the stew, it's going to simmer for a couple of hours and this chuck roast gets so tender."
She added chopped onions and garlic to the pot and cooked them for about a minute, then added beer to the pot, explaining, "This gives the stew really great flavor." Drummond poured in beef stock, a few dashes of Worcestershire sauce, paprika, sugar, and tomato paste for "tang" and "richness."
The Pioneer Woman star added the meat back into the pot, placed the lids on top, and simmered the stew for an hour and a half. She added vegetables — carrots, parsnips, turnip — and cooked it for another 30 minutes.
"I didn't want to add these at the beginning because the vegetables would be pretty much disintegrated so this is the perfect time to add them," she explained.
To thicken the stew, Drummond whisked together beef stock and flour and added it to the pot, allowing it to cook for another 10 minutes.
You can find the full recipe on the Food Network website.
Source: Read Full Article