The Truth About RuPauls Relationship With His Husband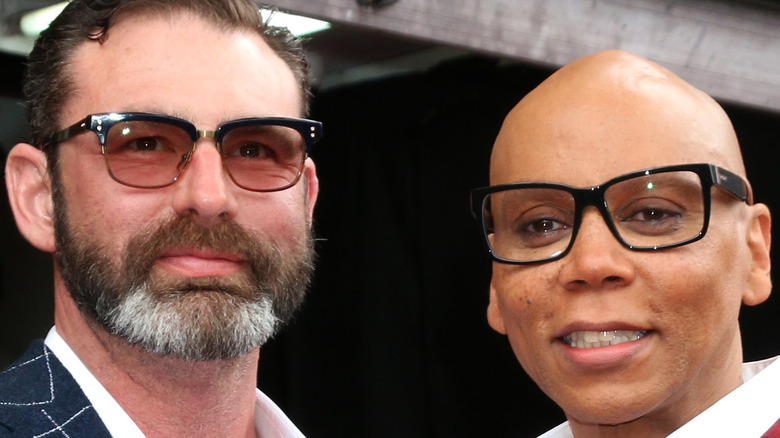 If there is one person who dominates the world stage, it's RuPaul. Not only does the queen of drag need only one name to be identified, but Mama Ru has defined the artistry that is drag in a groundbreaking way. To use his words, "We're all born naked and the rest is drag." If one thing is clear, it's that RuPaul has excelled in a way that many of us only dream of.
To be synonymous with an entire industry is a feat that few of us dare to achieve, but RuPaul is a living legend with a pretty massive net worth. "RuPaul's Drag Race" has made Mama Ru a household name — he has, without question, expanded and redefined the boundaries of drag and has pushed the artistic form into the mainstream. 
But with all this success and noteworthiness come many questions about RuPaul's personal life. We know Ru in suits, we know Ru in drag, but who is RuPaul when the cameras aren't rolling? It might come as a surprise, but RuPaul has been with the same romantic partner in a loving relationship for almost three decades. You have questions, we have answers. Here is the truth about RuPaul's relationship with his husband, Georges LeBar.
RuPaul casually revealed he was married to Georges LeBar during this appearance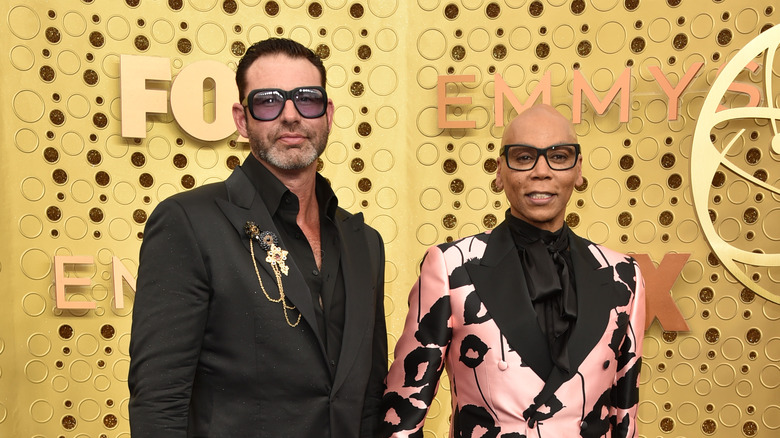 RuPaul is known for his dapper suits, amazing laugh, and, of course, for the dazzling appearances in drag. What RuPaul isn't well known for, however, is being forthright and open about his personal life. For a celebrity who has spent many years in the spotlight, very little is known about Ru's day-to-day life, and the way in which he announced his marriage to his husband, Georges LeBar, was, as such, very on-brand.
As noted by Out, "RuPaul's Drag Race" judge Ross Mathews casually brought Ru's relationship into conversation and asked, "Are you getting married?" Without missing a beat, Ru responded, "We are married," which, subsequently, shocked his fans — but in a good way. In fact, the news was met with so much love and support that Ru took to Twitter to thank fans. He posted a photo of himself and LeBar from their younger years together and captioned the photo, "Thank you all for the love & kindness," before including a quote from The Supremes' song "I Hear A Symphony." 
Fans rejoiced in the comments, with one writing, "You have brought us so much joy it's only right you get a little for yourself."
RuPaul basically manifested his happy relationship with his husband Georges LeBar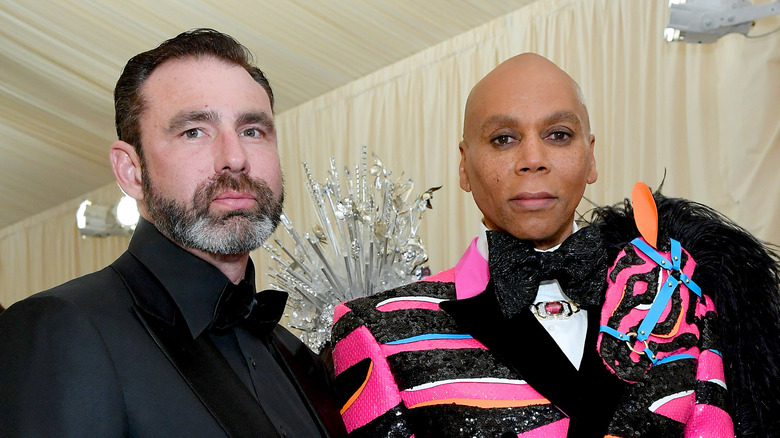 When it comes to the drag scene and LGBTQIA+ culture, freedom of expression and limitless love are central themes. For someone like RuPaul, who has existed at the center of that culture for decades, many fans have assumed that he's been romantically linked to a number of different people. But, as noted by Affair Post, Georges LeBar is the only person whom RuPaul has ever publicly confirmed to be in a relationship with, and it sounds like the queen of drag basically manifested the perfect partner for himself.
In an interview with Buzzfeed News, RuPaul shared that his husband is not just his partner, but the answer to his prayers (which is just about the most heartwarming statement that can be made about a person). "He's so kind and funny," the "Sissy That Walk" singer shared. "I remember praying, 'I want a sweet, sensitive man,' and I got an Australian who's just lovely." RuPaul and LeBar, Ellen DeGeneres and Portia de Rossi, Nicole Kidman and Keith Urban — needless to say, if you're looking for a love that'll last, take a trip down under to find your person.
This is how Georges LeBar feels about the limelight in which RuPaul thrives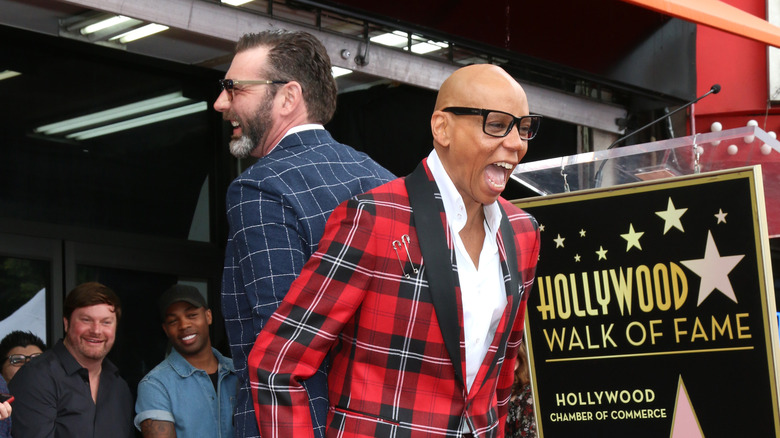 Not only is the drag scene full of bold and dynamic artists and performers, but RuPaul is, without question, the heartbeat of the community. Through his work, songs, and hit show "RuPaul's Drag Race," Mama Ru has pushed drag into the mainstream and has created a community that is welcomed and celebrated. As such, RuPaul has spent decades in the Hollywood spotlight, but his husband, Georges LeBar, couldn't be less interested in the glamorous scene. If you're surprised at such a statement, you're not alone.
As noted by Marie Claire, RuPaul dished on just how disinterested his husband is when it comes to the limelight, something that shocked us just a little bit. "He doesn't care about show business at all. He could care less," RuPaul shared. "Most of the time, he's on the ranch in Wyoming. He has a 60,000-acre ranch — it's in two states, it's in South Dakota, too. When I go there, I dress up in Western wear and nobody cares." Sounds like a dream, and we have more on the couple's Wyoming/South Dakota ranch below.
RuPaul and Georges LeBar, a notoriously private couple, have been together for years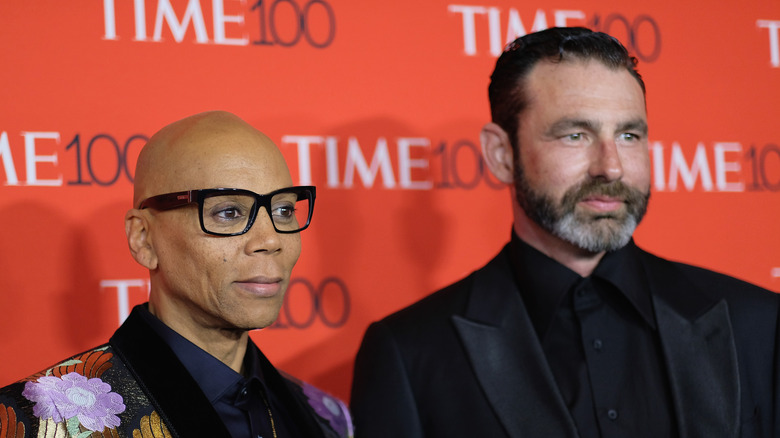 RuPaul and his husband, Georges LeBar, have been together for 27 years, as of publication. Before we completely shock you with news, it should be noted that they've only been married since 2017. But, yes, throughout all seasons of "RuPaul's Drag Race," throughout hit songs like "Sissy That Walk" and "Cover Girl," RuPaul has been happily in love — and it almost makes all of his success feel that much more heartwarming. 
As noted by the Daily Mail, RuPaul and LeBar have been together for just shy of three decades, but the amount of time they've been together hasn't been the subject of RuPaul's career. While their meet-cute moment is to die for, it should be noted that the two met all the way back in 1994, before RuPaul was RuPaul. The couple have grown together, and while RuPaul went on to create a drag dynasty, LeBar has sought inspiration from within his marriage. A talented artist, LeBar has turned to his husband for artistic expressiveness and has shared some of his original paintings of Ru on his website. It's safe to say that these two are to die for.
This is why RuPaul and Georges LeBar took so long to get married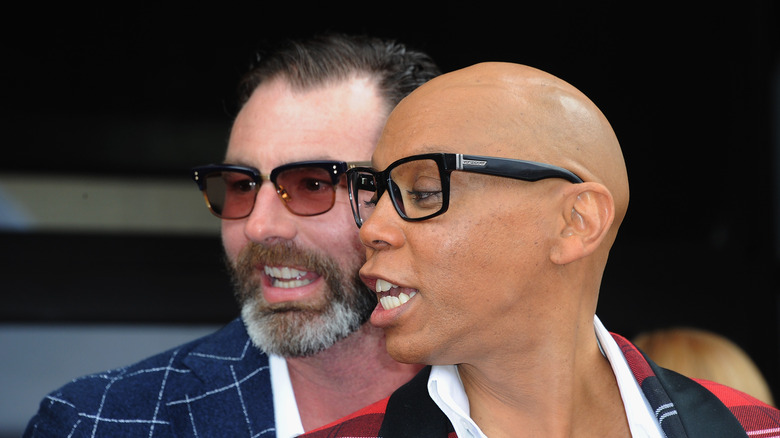 If RuPaul is known for one thing, it's going against the grain. As a Black man in New York City in the 1980s, he made a name for himself as an artist and performer who broke down barriers and expectations. He crossed paths with the likes of Andy Warhol, became an "overnight downtown star," and spent a portion of his early career couch surfing (via the New York Post). It's fair to say that Mama Ru has never been one to conform, and that was exactly his approach when it came to his relationship. 
In a sit down with Buzzfeed News in 2015, RuPaul shared that marriage wasn't really what he saw for the future of his relationship. Why? Because he was never down to do the same thing as everyone else. "I don't stand on ceremony, I never want to conform to anything," RuPaul said. "We looked into it if we could get a tax break and stuff but not because … Is he devoted to me? Am I devoted to him? Oh, hell yes. [But] I never want to be like everybody else." Sounds very on-brand, indeed.
RuPaul claimed that there has never been public interest in his love life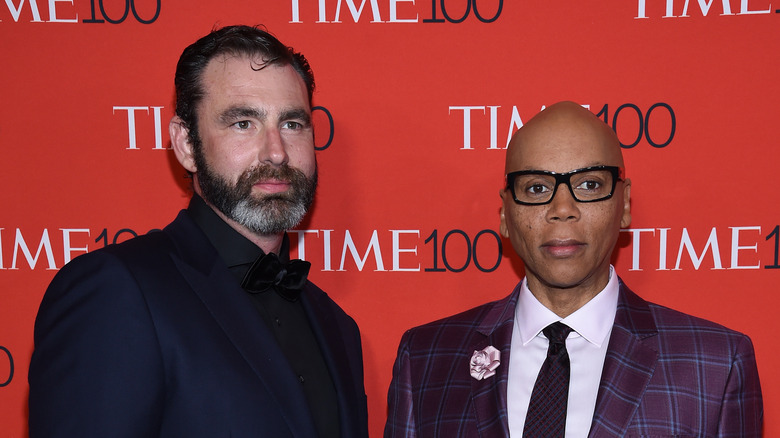 For someone who has such presence, there isn't a whole lot known about RuPaul's private life. But the queen of drag has maintained that there has never really been curiosity from the public about his romantic history, and during an interview segment with the Oprah Winfrey Network in 2013, he doubled down. "My love life has never been of interest to people because that's not something they're interested in," he said with a laugh. "You know, of course, I have a love life. I have a real life outside of show business. And, you know, I've been with this man for the past 19 years." 
It's safe to say that there's at least a little bit of public curiosity surrounding RuPaul and his marriage to Georges LeBar, but it doesn't look like Mama Ru is letting up any time soon. On RuPaul's official Instagram account, a spectator might think that the "Drag Race" star and host isn't in a relationship at all, since the account is mostly home to professional shots, behind-the-scenes pics, and promotional material for "RuPaul's Drag Race." If one thing is clear, though, it's that RuPaul likes to keep his marriage private.
This is what RuPaul had to say about his relationship with Georges LeBar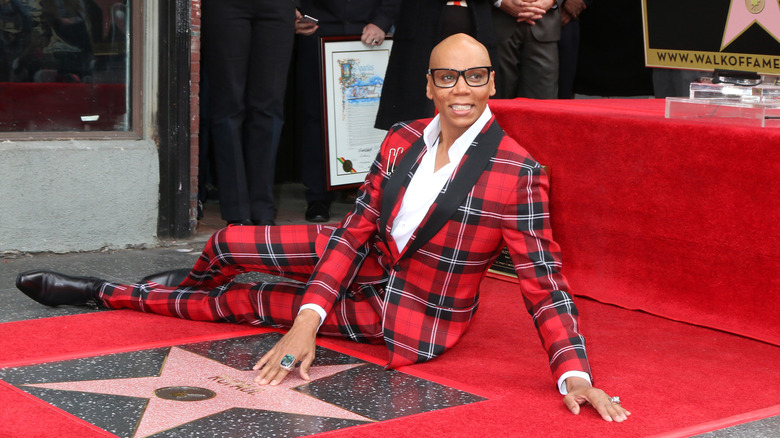 RuPaul is known for a number of things — gorgeous outfits, wigs, a face beaten to the Gods — but he is also known for being upfront and honest. This approach applies to not only "RuPaul's Drag Race," but also to Ru's personal life, and when asked about his relationship with Georges LeBar, RuPaul has been rather blunt. In an interview segment with the Oprah Winfrey Network in 2013, RuPaul shared that LeBar "is devoted to me, I'm devoted to him, and that's the end of the story." 
With a little bit more time, RuPaul opened up about the relationship. In a sit down with The Guardian, RuPaul revealed that to have what he shares with LeBar "is crazy. It's rare," and during the interview, the "Cover Girl" singer teared up and "sob[bed] softly" when talking about his romantic partner. "The truth of the matter is that there aren't many people that I like," RuPaul said. "I'm usually bored by people, you know. I'd rather be alone reading a book or something." But it looks like LeBar is the one person that Mama Ru can be himself around.
This is how RuPaul and husband Georges LeBar met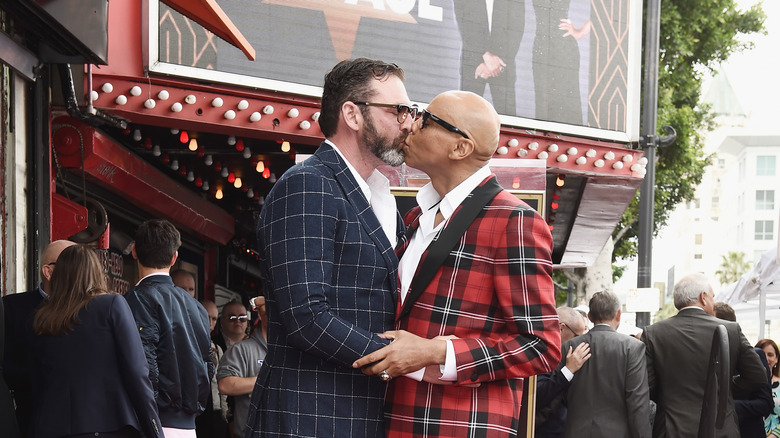 We all have that dream of going out onto the dance floor, singing the night away, only to look up and see the person of our dreams standing there. It's the quintessential meet-cute moment that so many of us have hoped to happen (why do you think we all keep going to the clubs?), but, for RuPaul, it actually did happen this way. As noted by the Daily Mail, RuPaul and his husband, Georges LeBar, met in a nightclub in 1994, and the rest is history. 
As revealed during an interview segment with the Oprah Winfrey Network in 2013, RuPaul shared that his now-husband caught his eye because of his outrageous dance moves. "I met Georges on the dance floor at Limelight in New York City, at the disco," Mama Ru shared. "He was on the dance floor, dancing like a maniac. I had to go over and say, 'What are you going through?'" The initial meeting must've gone well because, as far as we can tell, RuPaul and LeBar have been together ever since. In fact, the pair married on the anniversary of their meeting — talk about a full-circle moment.
RuPaul and Georges LeBar own a lot of land, which they use for this controversial purpose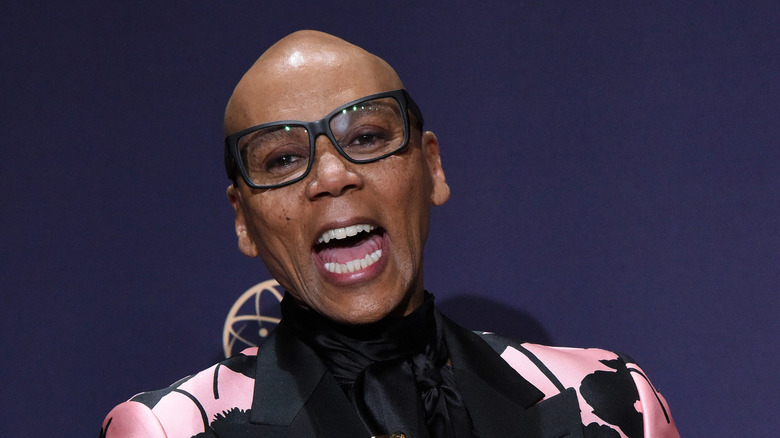 This is a part of RuPaul's marriage to Georges LeBar that is a little less comforting. During an interview with NPR's Terry Gross, RuPaul revealed that a lot goes on at the ranch that he shares with LeBar. But we're not talking about chickens and kitties, we're talking more along the lines of fracking. Gross asked RuPaul how the farm operates, and the queen of drag responded by saying, "A modern ranch … is really land management. You lease the mineral rights to oil companies. And you sell water to oil companies. And you then lease the grazing rights to different ranchers." Not exactly the answer we thought we were going to hear.
As noted by Gizmodo, doctoral student Rory Solomon was listening to the interview and decided to look into the issue further. He shared via Twitter that during the last five minutes of the interview, RuPaul "dropped that line about selling mineral rights and Terry Gross didn't follow up! So I had to do a little research." It turns out that RuPaul and LeBar's property is a "fracking hot spot," as noted by FracTracker.
RuPaul's early relationship with Georges LeBar was a whirlwind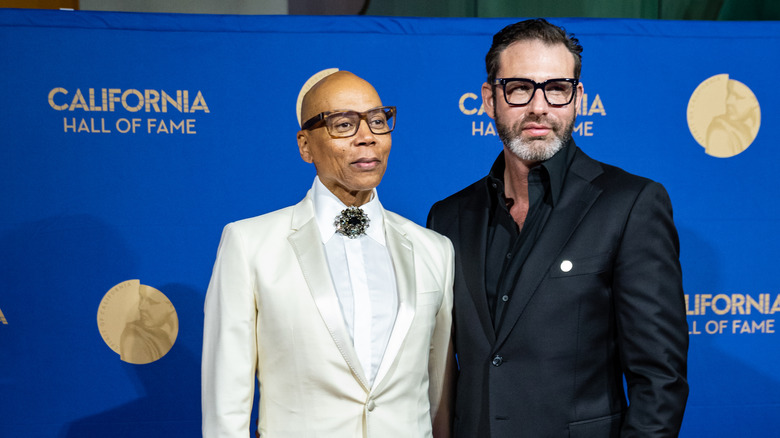 If you watched the iconic musical biopic "Rocket Man," you'll at least have a bit of an idea of what a whirlwind life in the spotlight can look like. Of course, "Rocket Man" tells the story of famed musician Elton John and his spiraling journey to success, but, bear with us, we'll come full circle.
As you now know, RuPaul and his husband, Georges LeBar, met in 1994, and, as noted by Screen Rant, the beginning of the relationship was a quintessential whirlwind romance. In fact, the early days of their union were described as a "torrid affair," and after just a week of meeting each other, the pair were reportedly traveling on pop star John's private plane — yes, you read that correctly. RuPaul and LeBar flew from Düsseldorf to London on the private jet, as RuPaul shared on his Instagram, as noted by Screen Rant. See how we came full circle? 
Given that circa 1990s John was sober, yet still surrounded by sequins and music icons and life at its largest (via Biography), we can only guess that the early days of RuPaul and LeBar's romance felt like something out of a movie.
RuPaul and Georges LeBar have an open marriage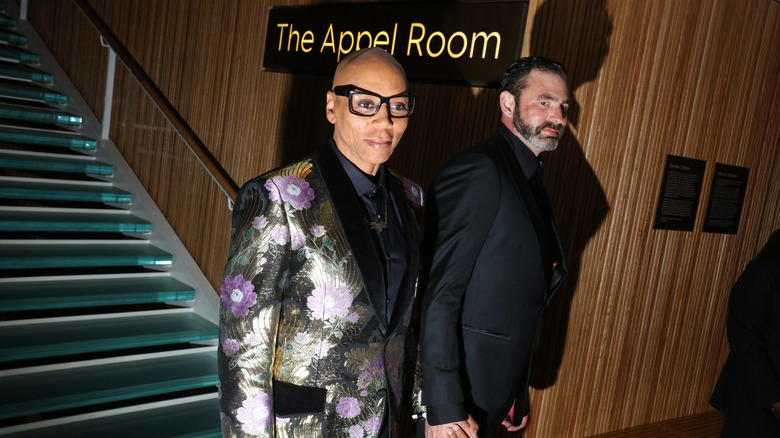 Georges LeBar and RuPaul have been together for almost three decades, but one aspect of their relationship that has slipped under the radar is that their marriage is open. RuPaul got candid in an interview with The Guardian, where he spoke about their relationship dynamic. In fact, he credited their open relationship as the reason they've been together for so long. "He and I are very respectful of one another. He and I know that on this planet where there are millions and millions of people, the person I have found on this planet that I like the very most is him," he shared. 
RuPaul went on to say that he knows the feelings are mutual and that there is "no doubt" in his mind that LeBar always has Ru's best interest in mind. "If he needs to do something else somewhere else, I'm fine with that," he continued. "He is respectful of me. He would never turn it into something that would make me feel uncomfortable, and I wouldn't do that to him either." Seems like the duo have certainly found what works, and more power to them.
This is what initially attracted RuPaul to Georges LeBar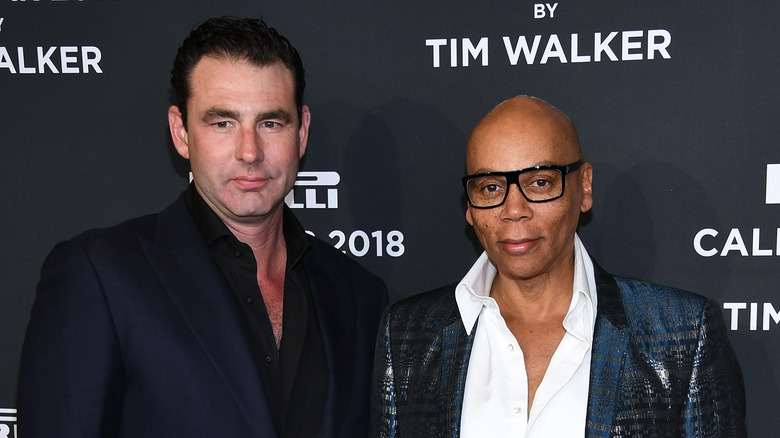 You're scrolling through Hinge or Bumble, and you find yourself saying, "It'd be great to be with a guy who's tall," so you set the dating app filter to 6 feet 2 inches and taller — we've done it, too. Well, as it turns out, Georges LeBar's height — 6 feet 7 inches — was one of the first things that RuPaul noticed about him, and RuPaul shared what that moment was like with Vanity Fair. "I had to go over and say, 'Who are you? What are you doing? Can I put my arms around you?'" Mama Ru, who is 6 feet 4 inches, told the outlet. "I've never been able to put my arms around someone's shoulders who was taller than me."
Of course, the height was just the icing on the cake — there must have been an amazing initial spark and subsequent chemistry for the two to continue their decades-long romance. But RuPaul, in this one way, is like a lot of the rest of us. "He's taller than I am. So, of course, I had to notice him," he said during an interview segment with the Oprah Winfrey Network in 2013.
This is how often RuPaul and Georges LeBar see each other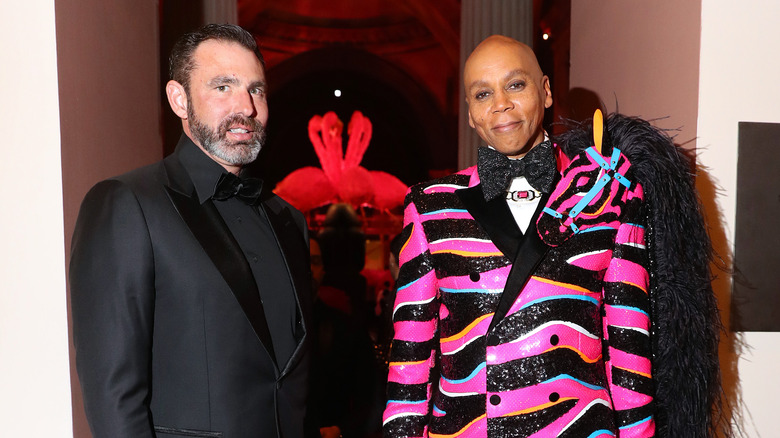 The typical line about long-distance relationships is that they don't work — but that doesn't seem to be the case for RuPaul and Georges LeBar, because for the bulk of their relationship, they've been apart. RuPaul did a sit down with Judge Judy for Interview Magazine (we know, iconic), and the topic of his relationship with LeBar came up in conversation. Ru revealed that he and LeBar only see each other "about every three weeks," but added, "We're adults. We can handle it." 
Due to Ru's work schedule, the couple spend ample time away from each other, but, as Judge Judy put it, they serve as each other's "home anchor." Ru went on to share that it's LeBar who always has his best interest in mind, no matter the situation. "That's really key. And if you actually like each other, even better," Ru shared. The queen of drag went on to say that his relationship with LeBar is like "traveling cross-country with someone" — after all that time together, if you still want to talk to them, "you are friends forever." Sounds like Ru and LeBar are in it for the long haul.
This is why RuPaul and husband Georges LeBar don't have children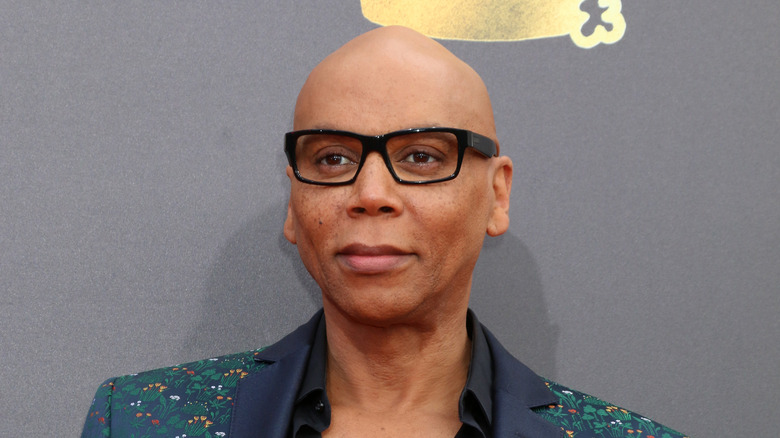 RuPaul and Georges LeBar never had children, and, in fact, the two are actually on opposite sides of the spectrum when it comes to the topic. During a sit down with The Guardian, Ru revealed that LeBar "loves kids," but admitted that he, himself, doesn't have the time to give children what they need to "prosper and grow." 
RuPaul shared that if he and LeBar did have children, being a parent would be his full-time job — but he simply doesn't want to do it. "I've never wanted to do it. I love kids, but it's mainly because I'd have to deal with the other parents," Ru said about why he wouldn't want to become a parent himself. "People are f***ing insane, and it would be terrible for my kid, because I would be telling off the other parents," he went on to say in the interview.
However, it doesn't seem as though Ru is completely against the idea. "But who knows? It could still happen, sure. … If [Georges] wanted to do it tomorrow, I would do it," he added. But, as far as his legacy is concerned, Mama Ru was confident. "My legacy is set in stone."
Source: Read Full Article