Trisha Paytas Addresses Wild Conspiracy Theory That Their Baby Is Queen Elizabeth IIs Reincarnation
The social media star takes to their social media accounts to respond to speculations that they has given birth to a reincarnation of Queen Elizabeth II, who passed away on September 8 at the age of 96.
AceShowbiz –Trisha Paytas has responded to a crazy conspiracy theory about their pregnancy. The social media star took to their TikTok account to address speculations that they has given birth to a reincarnation of Queen Elizabeth II, who passed away on Thursday, September 8 at the age of 96.
Shared on Friday, the TikTok clip saw Trisha shutting down the theory as they made it clear that they is still "very much pregnant." The influencer, who came out as non-binary last April and uses they/them pronouns, went on to say that they felt "embarrassed" to see their name trending under the late Queen's.
"Yesterday on the internet, I, for some reason, was trending," Trisha explained. "And I was so scared because I've been trying to stay out of drama and everything, and I realized the ultimate internet troll got trolled. And not in a good way. This was attention I did not want."
They also said that the reason they didn't comment on the rumor when it was trending because it "felt weird to say anything about anything for a number of reasons," adding that it would've been in "poor taste." Trisha continued, "There was a great tragedy, it felt weird. I'm a millennial so I felt weird that people were meme-ing this death. I didn't want to make it about me. I'm so sorry to the royal family that my name was even trending under the Queen's, I was just so embarrassed."
Additionally, Trisha, who is married to husband Moses Hacmon, shared that they "felt like a disappointment" after telling people who texted or called them with congratulations about the baby's birth that they is still pregnant.
People appeared to assume that they gave birth after they wrote in a September 7 tweet, "1 cm dilated! Woo hoo!" Of the matter, the 34-year-old said, "I still don't get the correlation between the two," Trisha said, referring to the dilation and the Queen's death. "But I did not have my baby and there is no reincarnation of the Queen in my baby."
"My baby is not even born and she's just like this joke of the internet. Please be kind to my baby. She deserves love and respect," they concluded.
Trisha doubled down on their sentiment in a Twitter post. On Friday, they wrote, "I'm still so confused by yesterday. Truly. Like it feels like I'm in a simulation fr fr. Like the actual Truman show or something. Imagine all this speculation of your unborn daughter coming out of nowhere. I truly, for the first time ever, don't know how to handle this."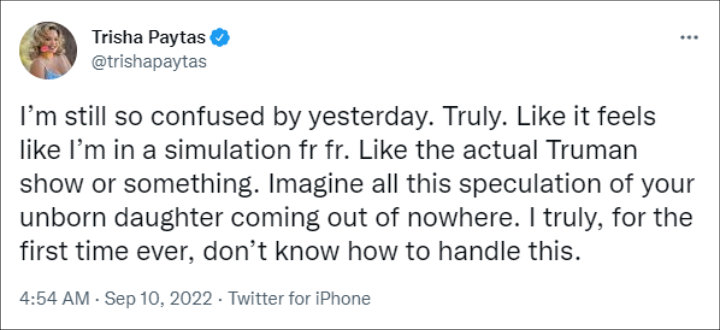 Trisha Paytas addressed conspiracy theory about their pregnancy.
Source: Read Full Article