Mindy Kaling's Guests Served Up a Style Feast at Her Star-Studded Diwali Dinner Party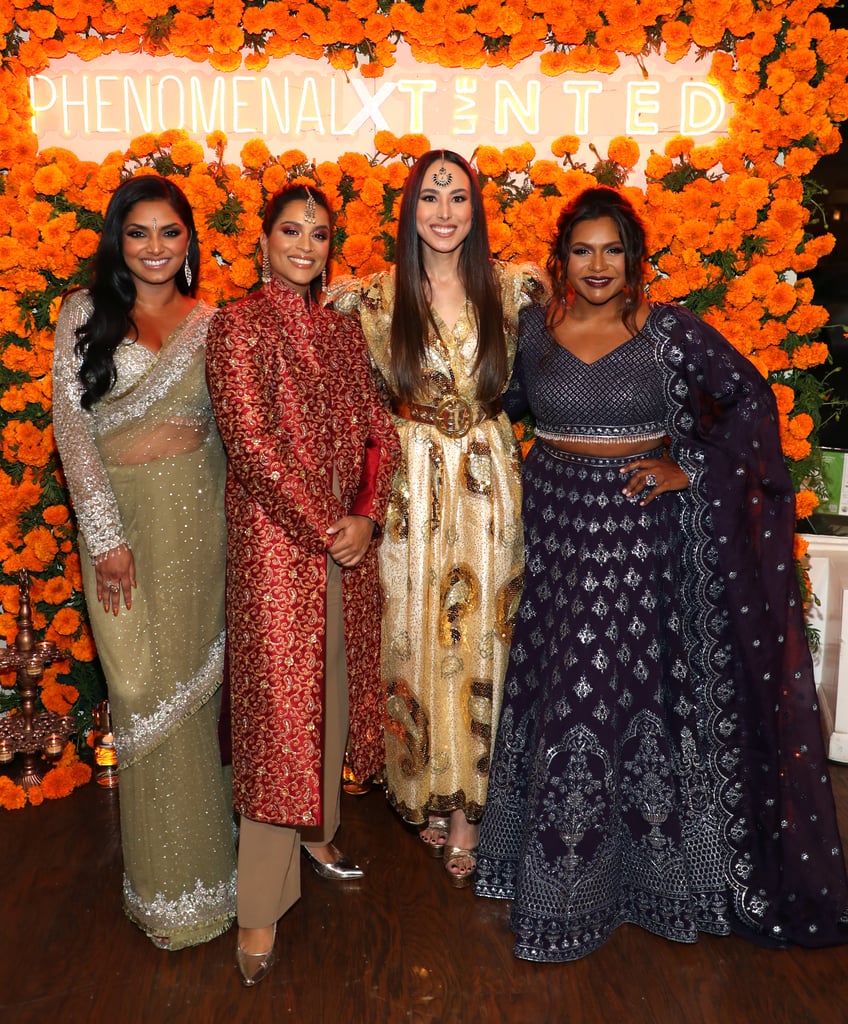 The stars shone brightly on Nov. 3, and Mindy Kaling's pre-Diwali dinner party added to the sparkle thanks to the well-dressed guests attending the celebrity-packed event on Wednesday. Prepared for an evening of all things decadent and divine, Priyanka Chopra, Lilly Singh, Meena Harris, Deepica Mutyala, and more incredible women were dressed to the nines as they toasted in celebration of their accomplishments and friendships.
Held in honor of the festival of lights celebrated by the Hindu community, which takes place on Nov. 4, the joyful event was presented at Bombay Palace in LA, where every corner of the room was illuminated by embellished saris, sparkling accessories, and smiles as bright as the lights on the ceiling. "Who am I, even? I could not be more in love with my Diwali look, starting with my lehenga," Mindy captioned a post on Instagram.
As the night's host, Mindy dazzled in a custom outfit from Falguni Shane Peacock India. Priyanka Chopra stunned in an Arpita Mehta Floral Print Tiered Georgette Skirt Set, and Meena Harris wore a custom paisley print dress designed by South Asian fashion designer Nina Sarin Arias. While the party was packed with unforgettable looks, the wildly successful women were honored to celebrate friendship, representation, and community.
"Last night I was so proud to host a Diwali party with my friends @meena at @phenomenal and @deepica at @livetinted," Mindy wrote on Instagram. "We hosted some amazing women from our community and got to share stories and celebrate each other (with delicious food and major fashion moments). This couldn't have happened when I first moved to LA over a decade ago, but now we are HERE! Next year will be even bigger." Grateful for the invitation, Richa wrote on her own Instagram account, "Thank you @meena @deepica @mindykaling for bringing all of us together to bask in each other's luminosity and to encourage solidarity and genuine connection in our community that has historically been divided and where we've been pitted against each other by systems not for us, (especially in industries like Hollywood)."
Equally moved by the powerful women in attendance, Deepica wrote, "I'm so proud of this room. This group of women. These trailblazers who are charting new paths for ALL OF US across media, arts, and entertainment. What a dream to have this all at one table sharing meaningful conversation about the power of US as a collective working together towards a shared goal: representation . . . Happy Diwali everyone. To new beginnings, love and light."
Sneak a peek at the event and take a closer look at each celebrity attendee's glamorous Diwali outfit ahead.
Source: Read Full Article