Of All Of Britney Spears Looks – This Stands Above The Rest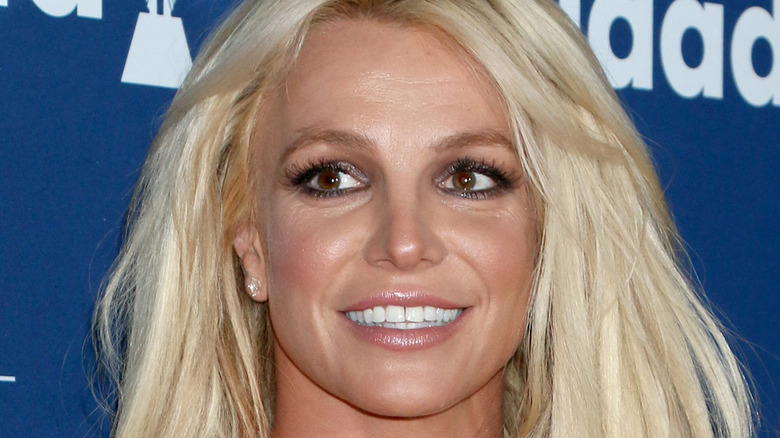 Britney Spears doesn't play by the traditional rules of fashion — she makes her own. Considering her eye-popping stage costumes, gorgeous red carpet looks, and casual street style, it's clear the Princess of Pop knows a thing or two about turning looks. The "Toxic" siren is one of the only people on the planet capable of wearing a velour tracksuit and a couture gown and looking comfortable in both. It's a seriously enviable skill.
Because of her status as one of the biggest pop stars in recent memory, Spears' fashion is constantly up for debate. And it's worthy of a closer look. Insider notes that the trends she helped popularize in the late '90s and early aughts set the standard for what is trending today. Like it or not, it's all about the low-rise jeans again! Even publications like Vogue laud the lasting impact of her style.
With so many years in the public eye, Spears has delivered plenty of memorable looks. She established herself as one to watch with the schoolgirl uniform from the "…Baby One More Time" music video and proved to be anything but a one-hit wonder when she donned the equally iconic red vinyl catsuit for "Oops!… I Did It Again." Fans across the globe continue to associate these fashion moments with Spears decades later.
Of course, those lewks are unforgettable. However, there's another outfit that is quintessentially Britney Spears.
Britney Spears introduced the nude bodysuit at the VMAs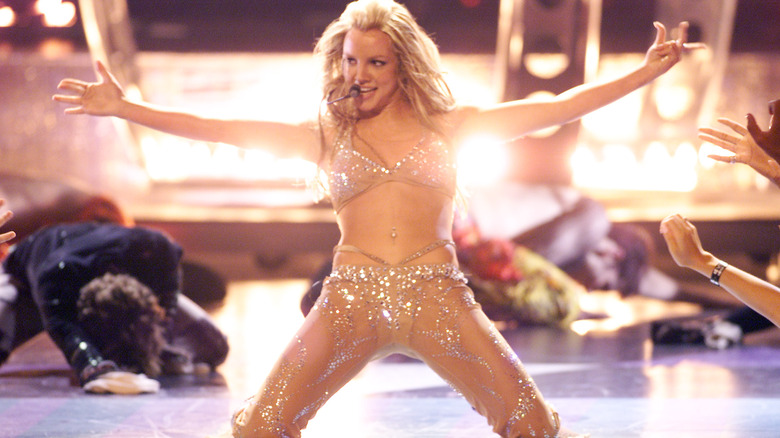 No one rocks the nude bodysuit like Britney Spears. Like many things in Spearstory (that's the history of Britney Spears, in case you were wondering), the nude bodysuit's history can be traced back to the MTV VMAs. BuzzFeed does refer to her as the "iconic queen of the VMAs," after all, and she certainly earned that title based solely on her performances there in the early aughts. Before the hitmaker strutted down the stage with a python wrapped around her shoulders in 2001 or, ya know, made out with Madonna in 2003, she executed a particularly surprising costume change in the middle of the stage in 2000.
Opening her set with a cover of The Rolling Stones' "(I Can't Get No) Satisfaction," Spears shocked the world when she ripped off a pinstriped suit and fedora. At first glance, she appeared nude. In reality, she revealed a flesh-toned pair of low-rise pants and a matching bra top — both bedecked with crystals — as the music transitioned to "Oops!… I Did It Again" (via YouTube). Letting her hair fly freely and displaying her insanely toned body (and a sparkling navel piercing), she proceeded to execute a tightly choreographed dance routine. 
In a retrospective on the show, Billboard noted that the provocative performance and shocking costume marked a new era in the rising star's career and image. "She made it clear that the coquettish teen Britney was in the rearview, and Britney Spears — a confident, commanding pop presence with her eye on the long game — had arrived."
The look became instantly iconic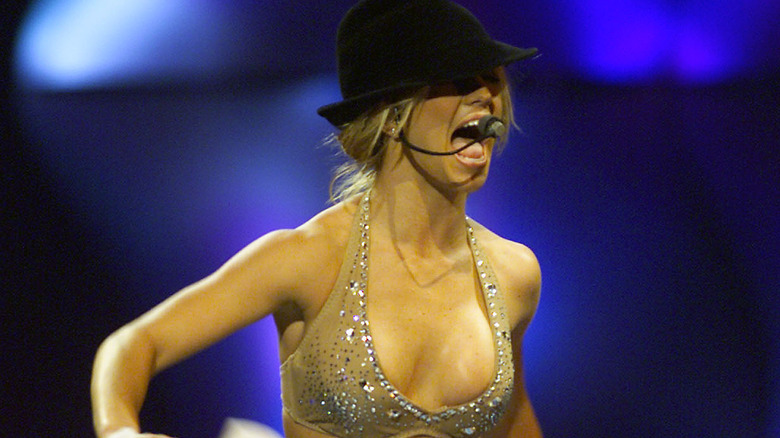 That performance and its accompanying look established Britney Spears as a certified pop icon. It also attracted the attention of Cleveland Ohio's Rock & Roll Hall of Fame, which went on to acquire the body-baring costume. "We saw the performance and were immediately like, 'Wow, this is clearly an iconic moment in her career,'" assistant curator Meredith Rutledge-Borger told Cleveland.com in 2018. "We contacted her people and they said, 'Sure we can send it.'" It has since been on display in the museum several times. "With [Britney's performance], it was crystal clear in everyone's mind we were watching a special moment," Rutledge-Borger added. "It's still such a sign post in the road map of her career." 
The costume has also been lauded by publications. "The outfit combines all the elements that we love about Britney's performance style," Glamour gushed in 2016. "She's bold, glittery, and comfortable in her own skin." The publication ranked the body-baring look as her most iconic costume to date. Cosmopolitan, meanwhile, ranked it as her second-best look in VMAs history behind only the jungle-princess-inspired ensemble from 2001.
While the look would be iconic for this moment alone, it's not the only time Spears donned something like it.
She upped the ante with the "Toxic" music video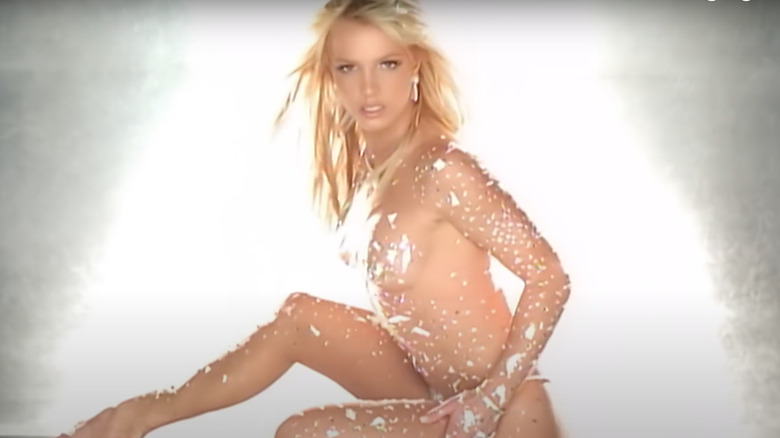 Britney Spears made headlines for her performance at the 2000 VMAs, and she did it again with the release of the "Toxic" music video in 2004. In the video, she pulls off an impressive heist and murder, wears a variety of costumes (including different colored wigs), and shows off her impressive dance skills (via YouTube). The standout look features Spears writhing and posing seductively, sporting her signature blond locks, a lot of crystals, and not much else.
At first, it appeared she was wearing another bodysuit, perhaps in a reference to the VMAs, but director Joseph Kahn revealed that Spears wore even less to achieve this moment. "That's just her naked with diamonds on," he told MTV in 2004. What's more, he revealed the video treatment was her idea. "I'm not sure what I was thinking about when she told me about that scene, maybe those intros to James Bond movies, but every video needs an iconic image to remember, and that's it."
Khan commended Spears for the idea and her intuitive understanding of her brand. "She has this weird awareness of her appeal," he said. "She totally understands that she's naughty and nice, that she's the girl next door gone bad who is constantly titillating you. She's not like most artists who flaunt their pure sexuality. She toys with you and leaves you conflicted."
Clearly, she got it very right. PopSugar ranked "Toxic" as her third-best music video and called the diamond look one of its iconic moments.
Britney Spears seemed to start a trend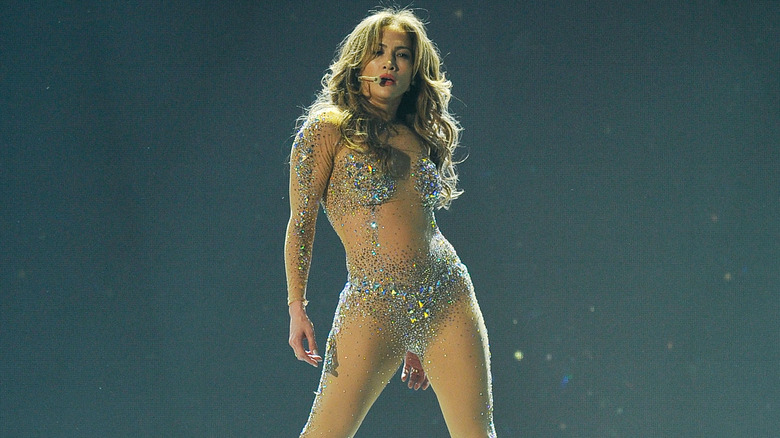 Britney Spears may not have invented the nude bodysuit, but the look definitely became associated with her after the VMAs and her "Toxic" video. Possibly inspired by the media attention she garnered, many of her peers and fellow celebrities went on to pull off similarly scintillating looks. Both Glamour and InStyle compared Jennifer Lopez's diamond-encrusted nude look at the 2011 American Music Awards to Spears.
Lopez is hardly the only celebrity to draw comparisons, either. Kylie Jenner (via E! Online) and big sister Kim Kardashian (via HuffPost) also showed out in similarly inspired outfits — as did Gemma Collins (via The Sun). The nude look had a moment, and Spears got a lot of credit for the trend. Glamour was officially over the bedazzled nude bodysuit by 2012. However, they recognized Spears as the pioneer — and a bold one at that. "Eight years ago when this video debuted, it was provocative, sexy, and downright daring to plaster your nude body in juuuuuust enough sparkles to cover your naughty bits," they wrote.
Hopefully, they gave her a pass on continuing to reference the look as its pioneer because the "Stronger" singer has done just that.
Britney Spears still loves a diamond-encrusted nude look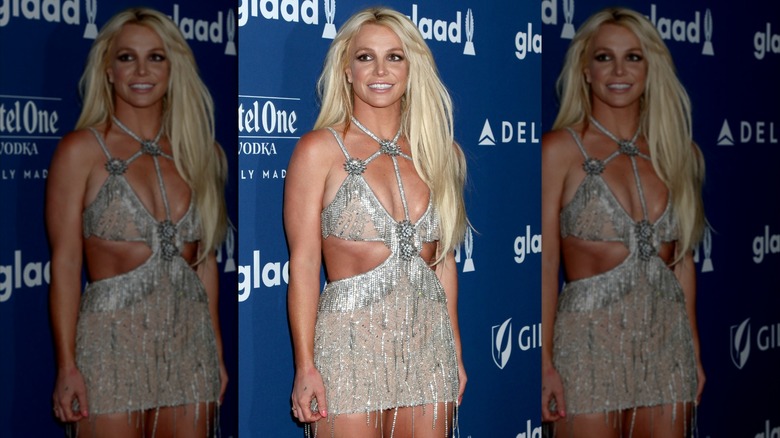 Since she was largely responsible for birthing the trend, it may not surprise you to learn that Britney Spears continues to pull off the nude-inspired look. Cosmopolitan compared her to an "incredibly fit Roman gladiator" when she turned up to accept the Vanguard Award at the GLAAD Media Awards in 2018. Her outfit of choice to earn the honorific? A cut-out nude dress with no shortage of rhinestones. Of course, the dress could easily draw comparisons to "Toxic" and the VMAs performance.
What's more, she made headlines in 2013 when she referenced the iconic and often replicated bodysuit during the first performances of her Las Vegas residency, Britney Spears: Piece Of Me, by wearing a similar look (via Us Weekly). The lore associated with this 'fit and the sheer amount of times it has been referenced makes it even more iconic than the schoolgirl uniform or any other Spears look from the archives.
Source: Read Full Article