Rihanna Covers Vogue in a Red Lace Catsuit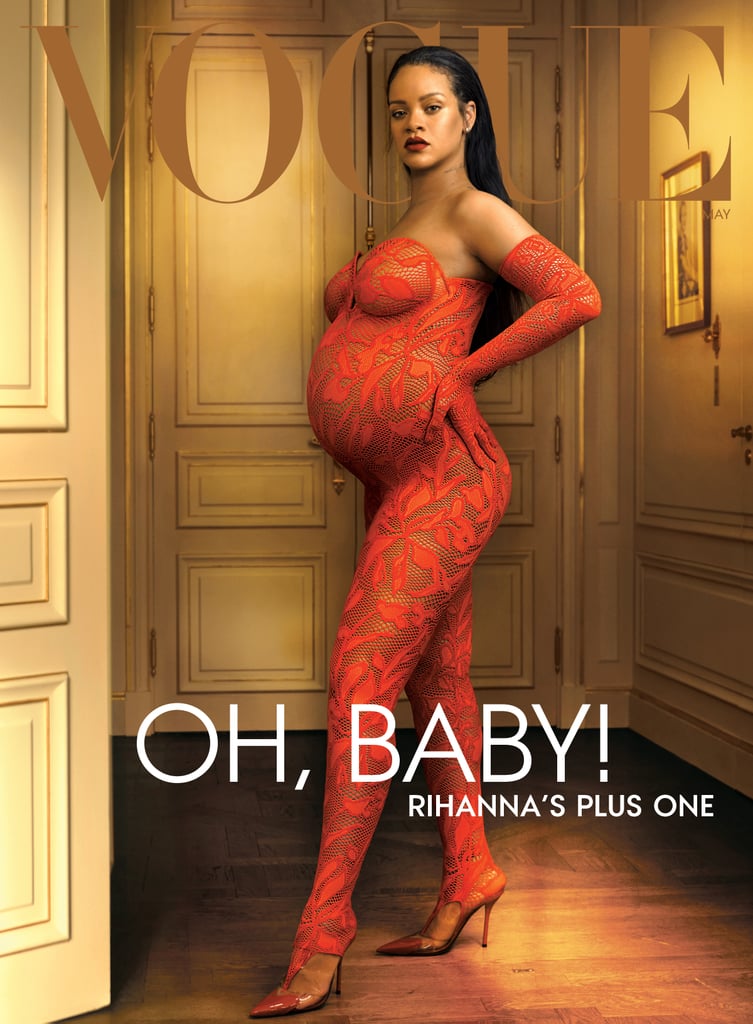 Rihanna Covers Vogue in a Red Lace Catsuit

Rihanna's affect on maternity style is at the forefront of her May 2022 Vogue cover, for which she wears a red Alaïa catsuit and matching opera-length gloves. The look, a mesh masterpiece embroidered with floral stitching and lined with a boned, bustier-like piping at the bust, comes complete with stirrups, leading us straight down to her patent stilettos that are also from the Maison Alaïa fashion house. Rihanna's outfit, finished with simple Chopard diamond studs, was constructed by her own stylist, Jahleel Weaver, in collaboration with Vogue's Alex Harrington.
Merely two hours after the feature was revealed to the world, a 191-percent surge in search for "lace bodysuits" and 110-percent increase for "lace gloves" was reported by fashion data research company LoveTheSales. And while catsuits are certainly a recent trend reckoned among celebrities — Miley Cyrus, Dua Lipa, Lizzo, and Lori Harvey, to name a few — it's safe to say Rihanna's stardom is the one with maximum impact, especially in this moment when she is, quite literally, basking in her glow.
Rihanna dined with editor Chioma Nnadi at Caviar Kaspia during Paris Fashion Week for her interview, the city where she also sat front row with partner A$AP Rocky at the Off-White show in a latex dress and freshly debuted shearling Diesel coat and, most memorably, exhibited a body-confident moment in lingerie at the Dior show. "To me that dress is actually the closest thing to maternity clothes that I've worn so far," Rihanna told Vogue of the moment, for which she proudly displayed a self-designed Savage x Fenty G-string under her sheer babydoll. "They were going to see my panties regardless. So they'd better be mine," she said.
Rihanna touched on her feelings about maternity jeans (hard no), explaining, "When I found out I was pregnant, I thought to myself, There's no way I'm going to go shopping in no maternity aisle. I'm sorry — it's too much fun to get dressed up. I'm not going to let that part disappear because my body is changing." She continued: "I'm hoping that we were able to redefine what's considered 'decent' for pregnant women. My body is doing incredible things right now, and I'm not going to be ashamed of that. This time should feel celebratory. Because why should you be hiding your pregnancy?"
Rihanna and Weaver have created many a buzzed-about street style moments during her pregnancy, starting with the vintage pink Chanel puffer she wore open on the streets of Harlem to reveal she was expecting. Of course, boyfriend Rocky was by her side, complementing her outfit as he is known to do. She describes their aesthetic together "like iron sharpening iron," which is a spot-on description. But with the addition of a baby to their family, the coordination will only get more impressive. While at the time of Rihanna's meeting with Nnadi she had secured nothing but a miniature bathrobe for her child, shopping trips to Bonpoint and Baby Dior were planned for the following day. "That is the day that I will have a problem, if my child don't like fashion? What?? You've got me so nervous!" she said, when Nnadi teased her about the unimaginable possibility that her child would take no interest in clothes.
If Rihanna's steadfast commitment to breaking boundaries in the industry is any inclination, then her offspring will have just as distinctive taste. Naturally, Rihanna already knows exactly what she wants in a baby shower: "No brunch, no blush tones. And no animal-shaped nothing," she outlined. We'll just have to keep our eyes peeled for the knockout look she and Weaver dream up for that event. Surely, just like her Vogue getups ahead, the shower outfit is bound to cause a spike in demand for something.
Source: Read Full Article