Taylor Swift's Post-Breakup Outfit Has All Sorts of Hidden Messages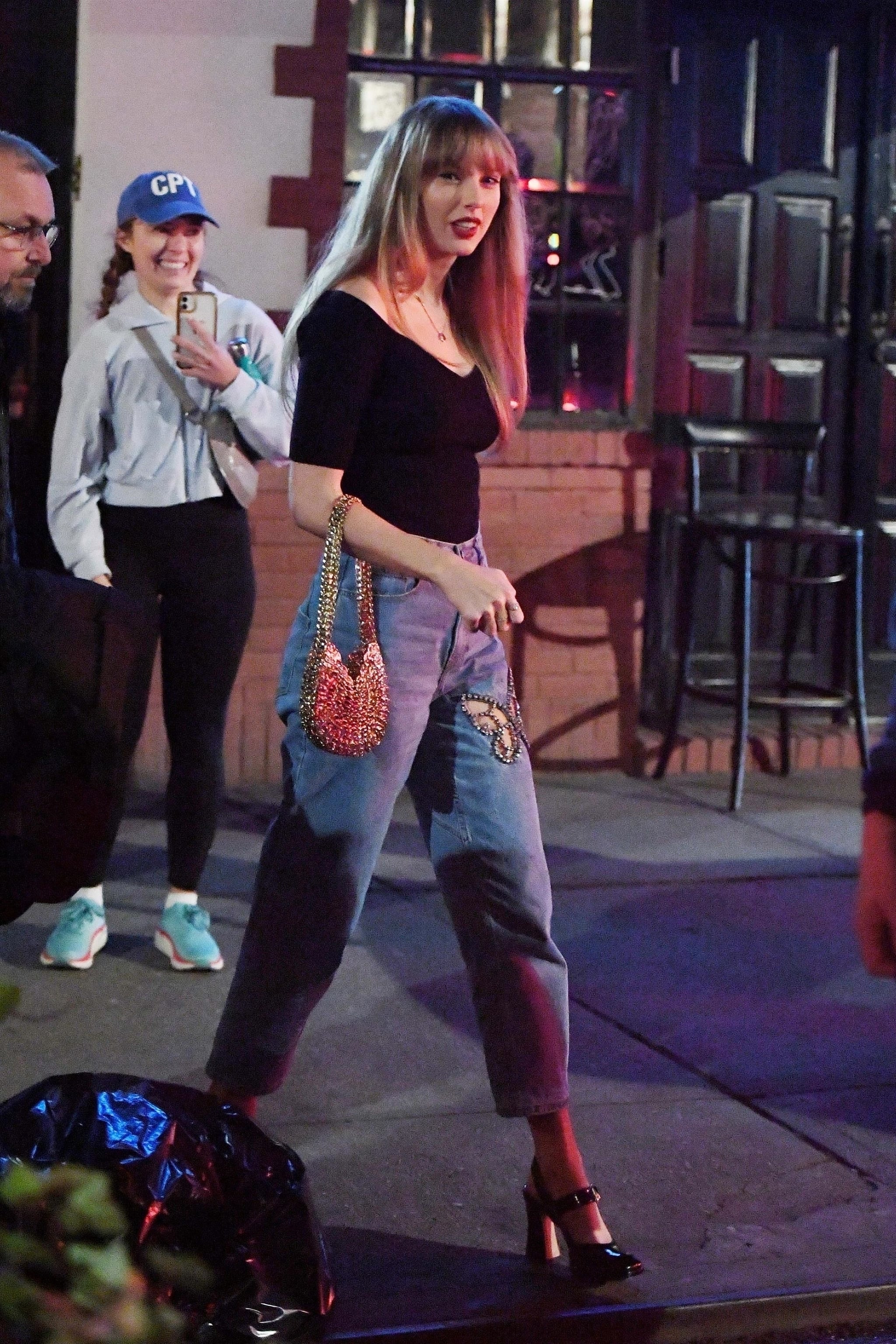 A few days after news broke of Taylor Swift and Joe Alwyn's surprising split, the "Midnights" singer was spotted out at dinner with friends Jack Antonoff and Margaret Qualley on April 10. Just blocks from Cornelia St., where she once lived in New York City, Swift was seen wearing a casual black, off-the-shoulder top and straight-leg jeans from Area with a butterfly-shaped crystal cutout on the thigh. Complete with her classic red lip, she accessorized with a matching embellished purse and Mary-Jane slingbacks from Sam Edelman. While seemingly a simple dinner ensemble, fans instantly theorized her latest outfit acknowledged her recent breakup and hinted at a new chapter in her life.
Now, that's a lot to infer from a pair of cute jeans, but Swifties know by now that Swift, a lover of Easter eggs, is no stranger to sending subtle messages through her clothing. Not only do butterflies symbolize rebirth and transformation, but the motif is also reminiscent of the cover of Swift's eponymous debut album. Released in 2006, "Taylor Swift" features the musician in a white dress surrounded by illustrations of butterflies. Based on this notable reference, fans think she's signaling a new, single era.
One self-proclaimed Swiftie on TikTok also noted Swift's black shirt is evocative of the iconic revenge dress Princess Diana wore after Prince Charles went public with his affair. Swift's top and Diana's famous LBD share the same flattering, off-the-shoulder silhouette. Furthermore, Swifties noticed she was wearing a dainty "J" necklace, though it's unclear whether it's the same Tiffany & Co. pendant she's sported in the past for Alwyn.
All in all, it seems Swift wants to let fans know she's doing just fine.
Source: Read Full Article