25 Secrets About the OG Party of Five Revealed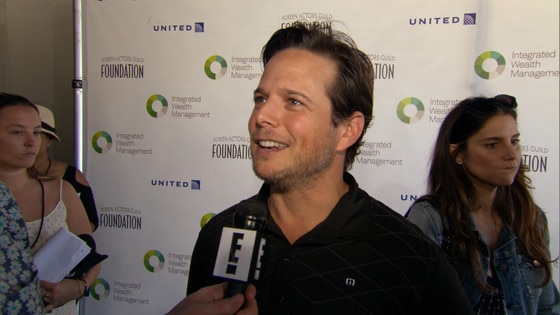 Get ready to fall in love with a new quintet of siblings.
Freeform's highly anticipated modern reimagining of the classic series Party of Five, which ran on Fox from 1994-2000, debuts tonight, introducing viewers to the Acosta siblings as they are forced to come together to run their household (and raise their infant sibling) after their parents are deported. The very timely revival hails from original Po5 creators co-creators Christopher Keyser and Amy Lippman, and stars newcomers Brandon Larracuente, Emily Tosta, Niko Guardado, and Elle Paris Legaspi. Judging from early scenes of the new series that have been released, the new Party of Five is going to hit us in the feels, break our hearts and make us cry the same way the original did for so many years.
And adding to the new series' launch's timeliness is the fact that the original Party of Five, which launched the careers of Matthew Fox, Neve Campbell, Scott Wolf, Jennifer Love Hewitt and Lacey Chabert, recently celebrated its 25th anniversary. Yes, we are all really that old now.
In addition to giving you an update as to what the OG stars are up to now, we also dug up some secrets you might not know about the iconic series, including which A-list star made their acting debut in a small role, which co-stars dated and the spinoff that almost happened.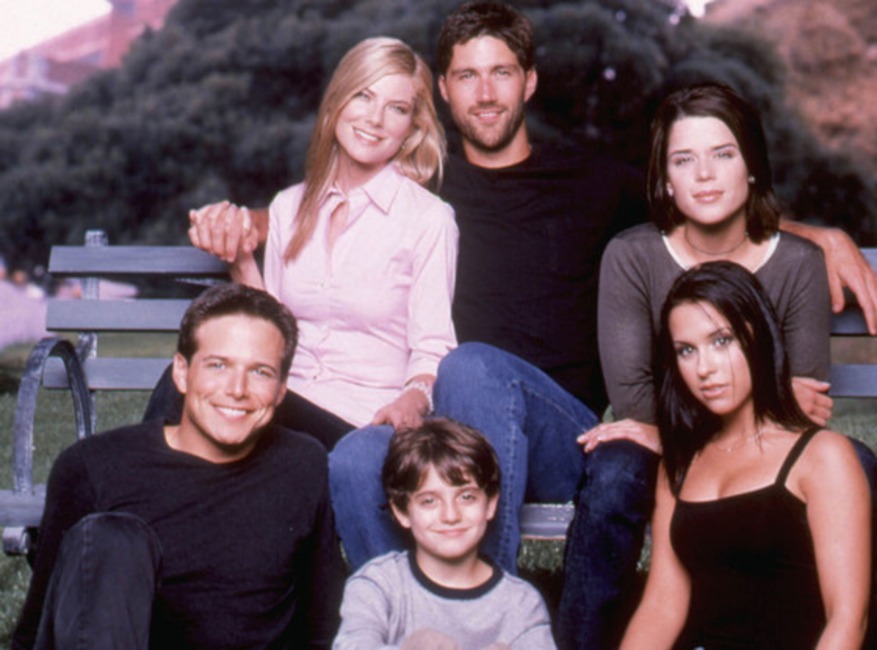 FOX
1. Fox originally wanted a successor to their first hit series, with Keyser telling Vulture, "The network wanted a companion piece to Beverly Hills, 90210, something that might be able to take over when it was done. [The idea was] 'Don't tell the babysitter that Mom and Dad are dead!'" But Keyser and Lipman were more interested in the darker reality of a family of orphaned children.
2. While Fox was hesitant, they agreed to the tonal shift, but had one issue: "We even had a conversation that the oldest sibling would be a girl, but the network said, 'No. No one would accept that,'" Keyser revealed, with Charlie ultimately becoming the head of the family.
3. Jerry O'Connell was this close to being Bailey Salinger, the second oldest sibling…until he couldn't resist going the sci-fi route in Sliders. Scott Wolf, of course, ended up in the role, and was actually the first of the siblings to be cast.
"We cast Scott first and we cast him on the first day," Lippman told EW. "He's such a warm person that he seemed completely right for the character."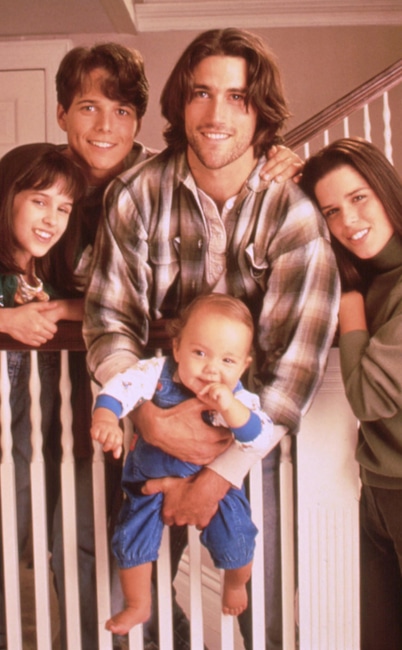 Moviestore Collection/Shutterstock
4. 20 years-old at the time the show began, Campbell landed the part of Julia, despite producers wanting to find someone younger to play the 15-year-old. Going up against Campbell, who was the last person cast, for the role? Tara Strong, her then-roommate who would go on to have a small part in episode two.
5. Like her character Claudia, 11-year-old Chabert played the violin, with Lippman admitting, "It didn't hurt that Lacey played violin…we went with Lacey very early on. Her eyes were really smart and had a sparkle. We went, 'There she is!'"
6. From the moment they were all told together that they were hired, the four actors cast as the four eldest siblings had a close bond, with Wolf telling Today, "Amy said, 'Congratulations, you're the Salingers.' We all looked around at each other, and it was this moment I've never had before or since, where it was just like, yeah, we are. Like we had been it for our whole lives. It just felt like a real family from day one."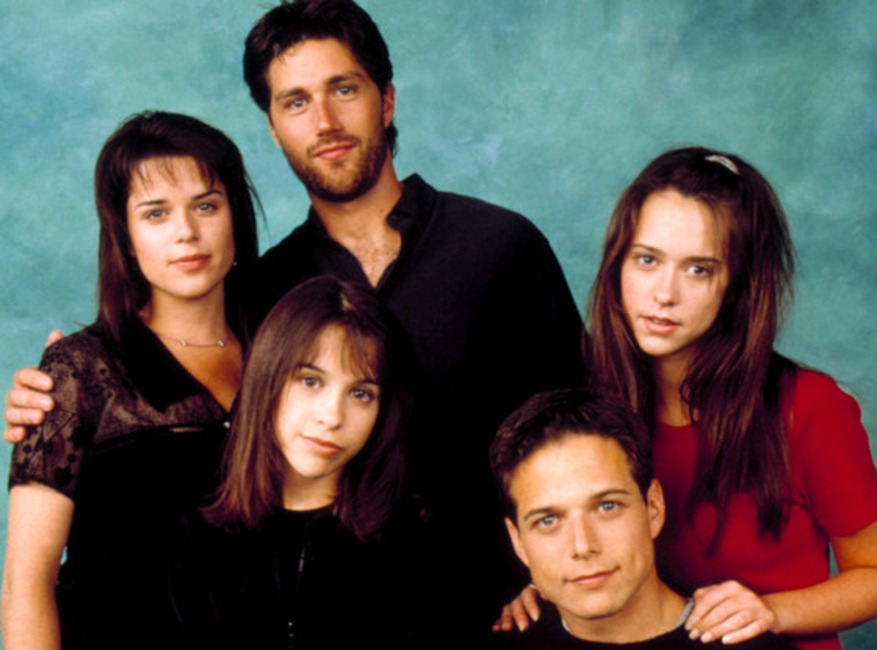 FOX
7. Over the course of the show's six-year run, multiple actors took over the role of Owen, the youngest Salinger who was just a baby when the show began, played by twins Brandon and Taylor Porter. Another set of twins then took over, Andrew and Steven Cavarno before Jacob Smith finished PO5's run in the oft-overlooked role.
8. Originally cast for a nine-episode arc, producers (and viewers) liked Jennifer Love Hewitt so much that she became a series regular.
"Sarah was supposed to be in nine episodes," JLH said in an interview in 2000. "When it got picked up, they asked me to stay on for another 13, and I thought it was only going to be 13, and then they asked me to do another season so it keeps going and going. I am so incredibly grateful for it."
9. Kate Hudson actually made her acting debut on the drama, appearing as a worker at a TV station in a season two episode.
Article continues below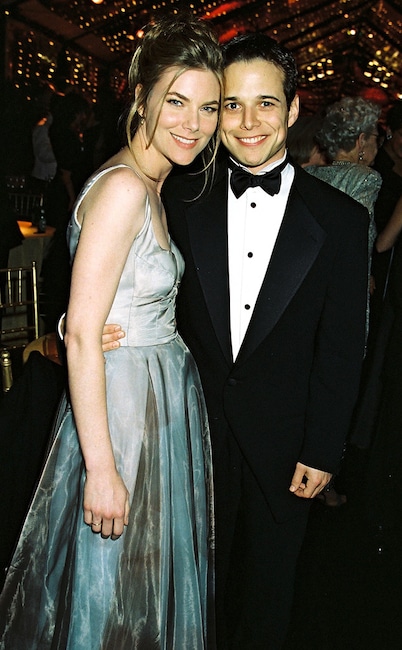 Bei/Shutterstock
10. Another actor who got his start on the show was James Marsden, with Westworld and 27 Dresses star playing Griffin Holbrook, one of Julia's love interests, before Jeremy London took over the role.
11. During a joint appearance on Watch What Happens Live, Wolf and Campbell dropped some behind-the-scenes nuggets, including who was the biggest partier (Fox), who got the most action (Wolf), who hooked up with fans the most (JLH), and who was the most like their character (Chabert).
12. Wolf also revealed he dated one of his co-stars: Paula Devicq aka nanny Kirsten, who would end the series married to Charlie. "There's an openness to her that I like to live with," Wolf, who was engaged to Alyssa Milano when the series first debuted, gushed while they were together to People.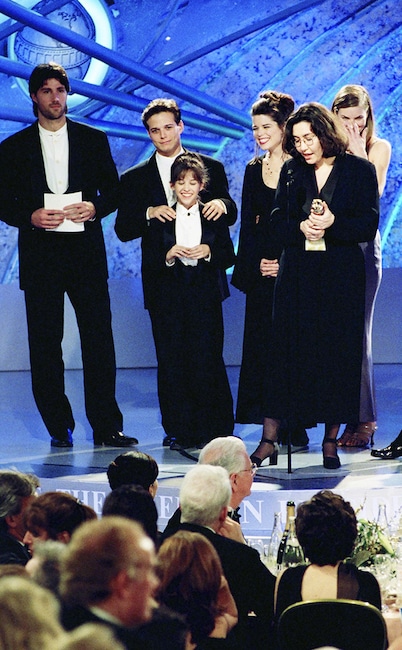 Joseph Del Valle/NBCU Photo Bank
13. While it went on to become a hugely successful show and a defining family drama, Party of Five almost didn't make it beyond its first season, barely holding onto any viewers from its lead-in, Melrose Place. "We came so close to being canceled so many times that I would get up in the morning and I would call in for the numbers," Lippman recalled, "and I would think, 'That can't possibly be … Are they incomplete?' I couldn't believe that people would not hang around to watch our show."
14. So what changed? First, they moved the show, and second: Party of Five won the Golden Globe for Best Drama in 1996, beating heavyweights like ER and NYPD Blue in the biggest shocker of the night.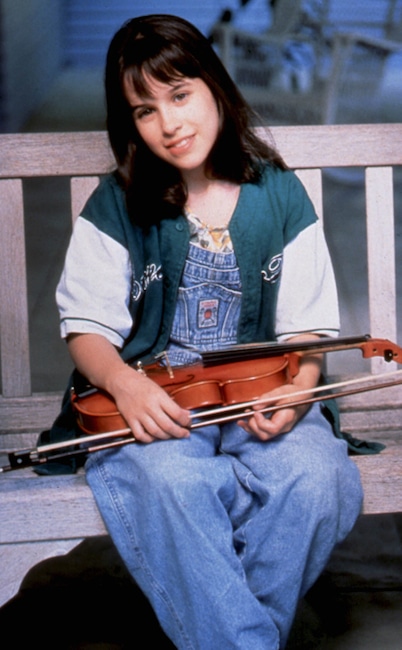 Moviestore Collection/Shutterstock
15. Just 11 when the show started, Chabert later admitted to having a huge crush on her on-screen big brother. "When I was 12, I wanted to marry Scott. Didn't every 12-year-old want to marry Scott Wolf? [Laughs.]" she told Vulture. "It's not my fault! I think my adolescent heart was a little confused."
16. "It was particularly embarrassing having everyone watch me kiss a boy when I had never kissed a boy before in real life!" Yep, Chabert's first kiss happened on-camera.
Article continues below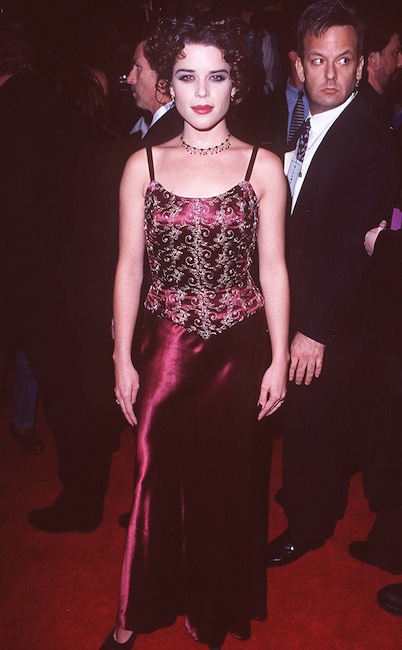 SGranitz/WireImage
17. While Julia suffered a miscarriage during the show's run, the writers had initially made the decision that she would get an abortion. However, the network stepped in and said they couldn't air the storyline. "That was the only time that we really had to rethink something we believed in because of the suits," Lippman told Vulture.
18. While never a ratings juggernaut, Party of Five received the most fan mail of any of Fox's shows and had one of the highest number of fansites at the time (50).
19. News broke that Campbell, who had since become a major star thanks to her roles in Scream, The Craft and Wild Things, was leaving the show after her contract was up via an interview she gave to Jane magazine, starting, "April 2000 and I'll have a life and take time off whenever I want and do movies if I want."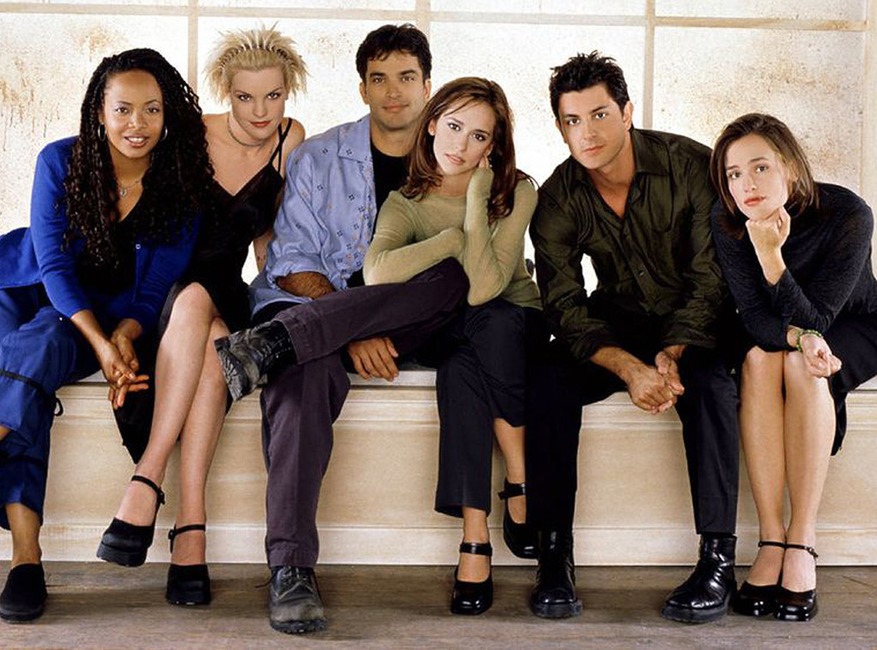 FOX
20. While Campbell and Wolf had told producers they would not return full-time, the show was setting itself up to go on without them, focusing on Charlie and Claudia. "It was going to be about Charlie's new family," Keyser told the LA Times, adding the exiting stars had agreed to return for special appearances. "Sort of a new generation and the way in which the old family led into this new family." Fox admitted to having "some reservations" about the new direction, admitting "it would have been a very different show." Ultimately, viewers never got a chance to see the siblings separate as Fox canceled the show just weeks after Campbell made her exit official.
21. Party of Five attempted to launch a spinoff called Time of Your Life, starring JLH, following Sarah as she moved to NYC. The drama, which also starred Jennifer Garner and Pauley Perrette, aired for just one season on Fox.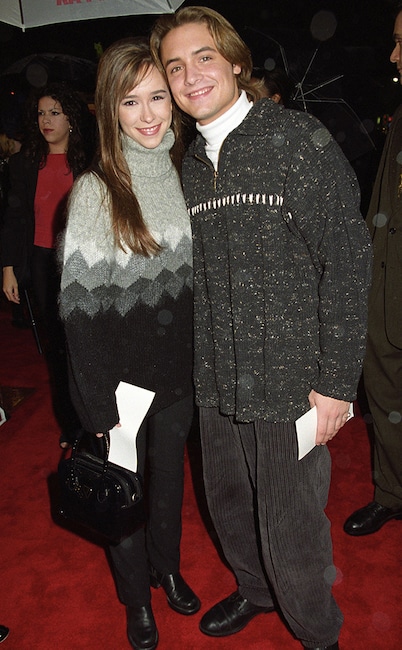 Berliner Studio/BEI/Shutterstock
22. During Party of Five's run, Hewitt dated Boy Meets World star Will Friedle, telling People, "We go to McDonald's and eat Happy Meals. We talk on the phone a lot." The Can't Hardly Wait and I Know What You Did Last Summer star also romanced Joey Lawrence, Andrew Keegan, Carson Daly and Wilmer Valderrama and during the show's run. Talk about a '90s line-up.
23. You know the iconic scene where baby Owen takes his first steps? A stunt baby was used, along with some hilarious measures. "We found a stunt baby, and we put double-sided tape on his feet, on his shoes. And he took one step, sat down, peeled the tape off his shoes, and ran off across the room," Lippman recalled.
Article continues below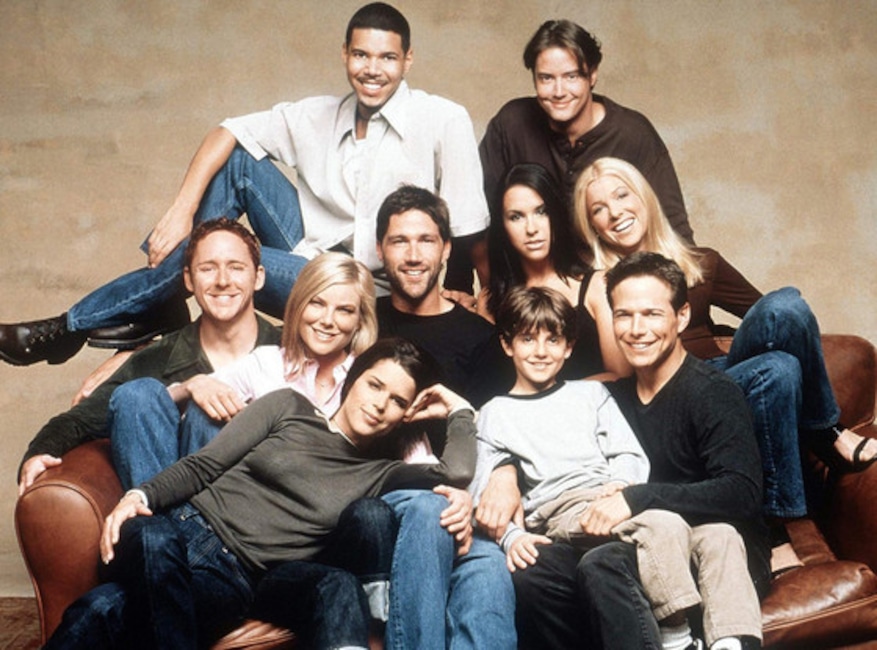 FOX
24. In February 2019, Freeform officially announced they were rebooting the iconic series with Lippman and Keyser at the helm, but this time it will follow a group of immigrant siblings who take care of each other after their parents are deported to Mexico.
Brandon Larracuente, Emily Tosta, Niko Guardado, and Elle Paris star in the new series as the four older kids in the Acosta family.
25. Just don't expect another revival of the series starring the original Salinger siblings, as Wolf and Campbell shot down the idea during their joint WWHL appearance in 2017.
"It wouldn't make any sense whatsoever. If we haven't gotten over the death of our parents 20 years later we have a serious problem," Campbell said.
Party of Five premieres tonight at 6 p.m. on Freeform.
Source: Read Full Article