'Animal Crossing: New Horizons': A Complete Guide to the 2022 Bunny Day Event
Love it or hate it, Bunny Day has come around once again in Animal Crossing: New Horizons. The Nintendo game's annual egg-themed celebration coincides with Easter and features the somewhat creepy but lovable Zipper T. Bunny mascot. Here's a complete guide to the 2022 Bunny Day event in Animal Crossing: New Horizons, including when to expect Zipper on your island and what to do once he arrives.
'Animal Crossing: New Horizons' Bunny Day date and start time — how long does Bunny Day last?
The date of the Bunny Day event changes every year based on Easter's date in real life. In 2022, the event falls on Sunday, April 17, as Animal Crossing's Twitter revealed (below). When the day begins at 5 a.m., Zipper will start hopping his way around your island to hand out rewards for the egg hunt.
While Bunny Day itself is technically on April 17, the event really begins one week prior, on April 10. Zipper will visit your island to hide several eggs — you should see some on the pink non-fruit trees. When you speak to him, he'll explain that he's hidden six different egg types around the island. For the next week, you can collect as many eggs as possible and craft all the Bunny Day recipes in preparation for Zipper's return the following Sunday. He should stick around until the new day begins on Monday, April 18.
What happens on Bunny Day in 'Animal Crossing: New Horizons'?
On Zipper's second visit to your island in Animal Crossing: New Horizons, he'll have four Bunny Day 2022 items/recipes to hand out. When you first speak to him on April 17, he'll give you the Bunny Day arch recipe — craft this to work toward completing another mission for Zipper. Then, you can give him one of each egg type to receive the Bunny Day Basket. If you don't have enough eggs from the week leading up to the event, you can still collect them on Bunny Day.
The island may seem flooded with eggs all week long, but every egg counts, so keep collecting them! You'll need dozens of each egg type to craft 40 Bunny Day recipes, which include furniture items, flooring, wallpaper, fencing, and clothes.
Once you've crafted all the recipes (clothing can be excluded), talk to Zipper again on April 17 to receive the Wobbling Zipper Toy recipe. Finally, you'll need to craft the Wobbling Zipper Toy to receive the Bunny Day Wand recipe from Zipper.
In addition to collecting rewards from Zipper, you can grab some non-craftable Bunny Day items from Nook's Cranny all week long. These include the Bunny Day Garden Flag, Bunny Day Planter Box, Bunny Day Candy, Bunny Day Topiary, and Bunny Day Tree.
How to get Bunny Day recipes in 'Animal Crossing: New Horizons'
So, you can receive four items Zipper on Bunny Day, but what about all those other recipes? Just like collecting eggs, you'll have to collect recipes throughout the week leading up to Bunny Day.
There are quite a few places to find Animal Crossing recipes. For starters, you'll see striped balloons floating in the sky and striped bottles washing up on the shore. Both of these contain Bunny Day recipes! Additionally, some villagers will give you Bunny Day recipes if they see you around the island. Finally, you can automatically receive outfit recipes by collecting several of the same egg type.
Here's a full list of Animal Crossing: New Horizons Bunny Day 2022 recipes, per IGN:
Furniture
Bunny Day Bed
Bunny Day Glowy Garland
Bunny Day Table
Bunny Day Wall Clock
Bunny Day Stool
Bunny Day Lamp
Bunny Day Flooring
Bunny Day Wall
Bunny Day Wardrobe
Bunny Day Fence
Bunny Day Wreath
Bunny Day Rug
Bunny Day Vanity
Bunny Day Festive Balloons
Bunny Day Merry Balloons
Bunny Day Arch
Wobbling Zipper Toy
Bunny Day Wand
Outfits
Earth-Egg Shell
Earth-Egg Outfit
Earth-Egg Shoes
Leaf-Egg Shell
Leaf-Egg Outfit
Leaf-Egg Shoes
Sky-Egg Shell
Sky-Egg Outfit
Sky-Egg Shoes
Stone-Egg Shell
Stone-Egg Outfit
Stone-Egg Shoes
Water-Egg Shell
Water-Egg Outfit
Water-Egg Shoes
Wood-Egg Shell
Wood-Egg Outfit
Wood-Egg Shoes
Egg Party Dress
Egg Party Hat
Bunny Day Bag
Bunny Day Crown
Where to find each Bunny Day egg type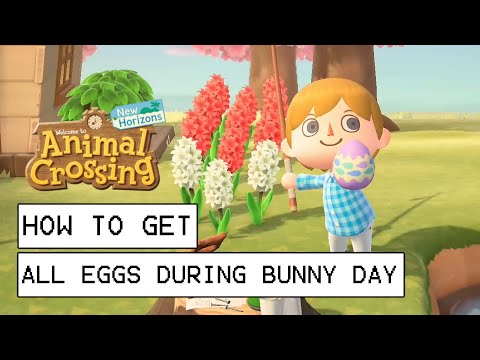 Lastly, you'll need to know where to locate all the egg types. Use your tools to collect these:
Sky Eggs: Bunny Day striped balloons
Water Eggs: Rivers and oceans — they resemble fish shadows
Stone Eggs: Inside rocks
Wood Eggs: inside hardwood trees
Leaf Eggs: On fruitless trees
Earth Eggs: In the ground
In addition to their hiding spots, you might receive eggs from villagers. You can also trade eggs for different types when Zipper visits on April 17.
Animal Crossing: New Horizons is available now on Nintendo Switch, as well as the Happy Home Paradise DLC.
Source: Read Full Article