Bystander Smashes Knifeman's Head with Rock After Grandma and Dog Fatally Stabbed in Park
"True hero. That guy was out to kill anybody and everybody — Who knows how many more people he would've taken?"
A grandmother and her dog were stabbed to death on Thursday afternoon while walking in a park outside Los Angeles.
Jeanne Edgar, 66, and pet Sachi died at the scene of the attack in Lone Hill Park in the city of San Dimas. The knife-wielding suspect was brought down by a bystander who threw a rock at the suspect's head, knocking him unconscious, according to ABC7.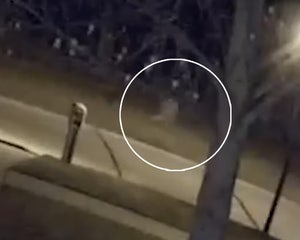 'Ghost Child' Caught on Video Shocks Ohio Community and Cops
"Jeanne was a beautiful and big-hearted person and she didn't deserve this," Jeanne's friend, Linda Sanders, told the outlet. "I've known her for so long and she's one of my best friends in the whole world."
The Los Angeles County Sherriff's Department said the 23-year-old suspect, Ricardo Saldivar, was carrying a knife when he approached Joe Page, who was in the park on his work break. Page immediately ran back to his truck. Saldivar then turned his attention to Edgar, grabbed the dog by the leash and stabbed it. He eventually began stabbing Edgar as well.
As the horrific attack unfolded, Page jumped out of his truck, scrambled to find something to use as a weapon, and finally picked up a rock and lobbed it at Saldivar's head, who was knocked unconscious.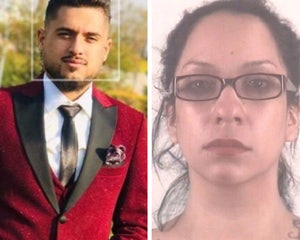 Texas Man Forced to Get Girlfriend's Name Tattooed on Neck Before Being Shot Dead
"He was able to basically subdue and hold the suspect until authorities arrived," Page's father-in-law, Tony, told ABC7. "True hero. That guy was out to kill anybody and everybody — Who knows how many more people he would've taken?"
Saldivar was transported to a local hospital for head injuries. He is now being held on a $2 million bond and will appear in court on March 29.
"It's just kind of a shock to us because it's been such a nice quiet, safe area," said a local resident. "Our hearts are broken."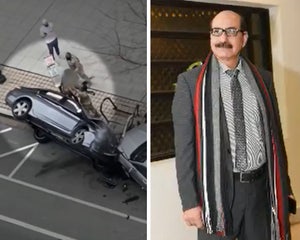 Teen Girls Arrested for Murder of Uber Eats Driver in Botched Stun Gun Carjacking
Source: Read Full Article