'Counting On' Fans Slam Josh Duggar After He Teases The Gender Of Baby No 6
Josh Duggar and his wife, Anna Duggar aren't a part of Counting On like the majority of his married siblings because fans have zero interest in what's going on in his life. His sexual molestation and cheating scandals resulted in TLC canceling his parents' show 19 Kids & Counting, and fans begged Anna to leave the disgraced Duggar. But she stayed with him, and now the couple is expecting their sixth child.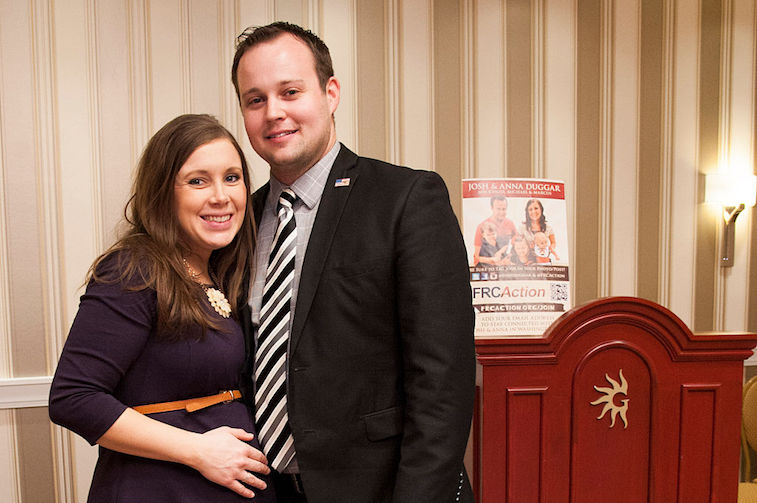 After a long absence, Anna returnedto social media last year to keep her fans up-to-date on her life as a mom offive. And, slowly but surely Josh has started to pop up on her Instagram.However, fans don't want to see Josh there, either and they aren't afraid tolet him know.
Anna and Josh Duggar know the genderof baby number six
Anna recently posted a pic ofherself alongside Josh as he held sonogram pictures, and she included a poll."Just had our gender reveal ultrasound! What's your guess?" asked the30-year-old. As one would expect, she gave "boy" and "girl" as the two answeroptions in her poll, but fans came up with some interesting responses.
"Ivote intersex so we can see how they handle that. Though I wouldn't wish thaton any child with ignorant fundie parents," wrote one follower.
Another added that they hope Josh and Anna's baby is a velociraptor so it would eat Duggar when it's born.
'Counting On' fans are still telling Anna to leave Josh Duggar
In 2015 it was revealed that Joshsexually molested four of his sisters when he was a teenager, and later thatsame year he got busted for cheating on his wife after someone leaked hisprivate Ashley Madison account.
Since then, fans have repeatedly told Anna that she should get out of the marriage and keep him away from their daughters. But, instead of filing for divorce, Anna stayed with Josh Duggar and has gotten pregnant two more times.
At the time of the scandal, Josh andAnna had four kids – Mackynzie, Michael, Marcus, and Meredith. But, afterJosh's stint in rehab for sex addiction, Anna got pregnant with their fifthchild, Mason. And now, they are expecting baby number six to arrive this fall.
In the comments section of herInstagram poll, one fan wrote that Anna looked "terrified" in the picturebecause she is expecting her first girl since finding out about Josh Duggar'shistory with the female members of his family.
Some fans believe Anna Duggar istrapped in her marriage
The Duggars are fundamentalistChristians who don't believe in divorce or birth control, and some fans believethat Anna couldn't leave the marriage even if she wanted to.
Still, people continue to plead withher, writing that he shouldn't be around children and warning her that sheshould get rid of Josh before it's too late. However, if Anna hasn't left bynow, chances are she never will.
When Josh Duggar's infidelity becamepublic knowledge, he confessed that he was living a double life and asked fansfor their forgiveness.
"Ihave been the biggest hypocrite ever. While espousing faith and family values,I have secretly over the last several years been viewing pornography on theinternet, and this became a secret addiction and I became unfaithful to mywife," Josh wrote in a statement on the family blog. "Iam so ashamed of the double life that I have been living and am grieved for thehurt, pain and disgrace my sin has caused my wife and family, and most of allJesus and all those who profess faith in Him,"
Josh Duggar's scandalous OKCupidprofile
More likely than not, Josh wrote those words because he got caught. According to Patheos, his old OKCupid profile recently resurfaced via screenshots on Reddit, and his answers to some of the survey questions were shocking.
He proudly shared that he was a right-wing conservative who doesn't believe in gay marriage, cannabis legalization, or abortion, and that's to be expected.
He also revealed that he wasn't against sleeping with someone on a first date, he was ok with an open relationship, had no problem with his partner having a sexual experience, and that he needed to sleep with someone before considering marriage.
Josh Duggar also made it clear thathe was on the dating site because he wanted sex, not a relationship. Still,Anna stayed with him after all of this, and she continues to have his babies.
Source: Read Full Article