Hoda Kotb Tears Up Revealing 3-Year-Old Daughter's ICU Stay
The mother of two shared with viewers the private family health matter that kept her away from the morning show
Hoda Kotb got emotional while returning to TODAY Show on Monday morning as she explained her two week absence.
The mother of two, with the support of Savannah Guthrie by her side, told viewers her three-year-old daughter Hope was hospitalized after the breakfast TV show had previously said she was dealing with a family medical matter.
"My youngest, Hope, was in the ICU for and then in the hospital for a little over a week," the relieved parent told Guthrie. "I'm so grateful she's home, she is back home. I was waiting for that day to come, and we are watching her closely."
"You know what I realized too, Savannah? It's like, when your child is ill, the amount of gratitude you can have for people who helped you out," Kotb said. "So I'm grateful for the doctors at Weill Cornell who were amazing and the nurses. And I'm grateful for my family and I'm grateful to friends like you who were there every single day. So I want to say thank you for that. I love you."
Guthrie told Kotb, "I love you too. You have a lot of friends out there. We are right there with you, lifting you up and holding you. So let's do this."
Previously, Kotb shared cryptic messages about the situation to fans on her social media including "choose hope" and "sometimes miracles are just good people with kind hearts."
Another post showed a child being told "one day you will see just how brave you have been."
Kotb is also mother to daughter Haley Joy, six. She adopted both children with ex-fiancé Joel Schiffman.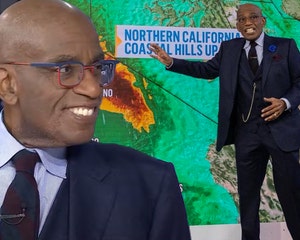 Al Roker Returns to TODAY After 2 Months Away, Details 'Frightening' Health Journey
Source: Read Full Article