How Taylor Swift, Katy Perry Went From Friends to Frenemies and Back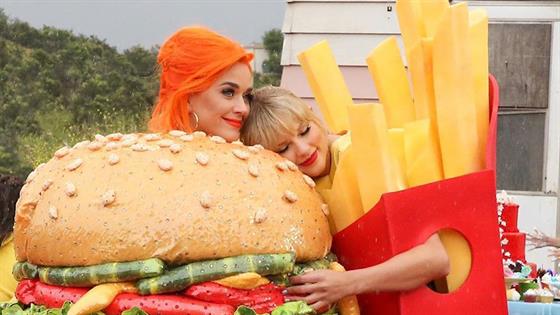 Taylor Swift and Katy Perry are friends again!
The superstar duo, who recently collaborated on Swift's "You Need to Calm Down" music video, had been in a feud for several years, reportedly over backup dancers. However, after Perry extended a (literal) olive branch to T.Swift in 2018, the two singers decided to make amends.
Swift recently opened up about reconciling with Perry, explaining how the two came together for her new music video.
"She and I have really been on good terms for a while. She sent me a really nice note and an olive branch to the – like an actual olive branch – to my tour when it started, the Reputation Stadium Tour, a while ago," Swift explained during a call with the UK's Capital Breakfast. "From that point on we've been on good terms."
"Then we saw each other at a party and walked up to each other and hugged it out and talked about things, and then we saw each other again and hung out at another party and it was just like something felt so much lighter about my life when things became really good between us," T.Swift went on to share. "And, you know, she and I have been fine for a while and really on good terms but we didn't know if we were ever gonna really tell people about it."
Swift added, "We wanted to make sure that was solid between us before we ever made the public aware."
Now that Swift and Perry are on good terms, let's take a look back at their friendship over the years. See below to find out how the superstar duo went from friends to frenemies and back again!
Kevin Mazur/WireImage
BFFs
Prior to any public bad blood, Perry and Swift appeared to be friends. The duo often spent time together at award shows and celeb events, like at the Grammy Awards – Salute to Icons Honoring Doug Morris event in Jan. 2010.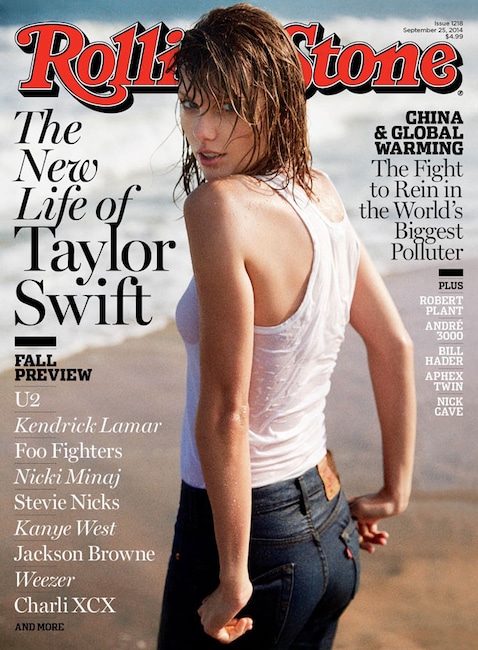 Theo Wenner/Rolling Stone
Let the Games Begin
Before releasing her album 1989, Swift did an interview with Rolling Stone. In the 2014 interview, T.Swift hinted at a feud with a fellow female artist, not saying Perry's name specifically.
While explaining the story behind "Bad Blood," a song featured on 1989, Swift shared, "For years, I was never sure if we were friends or not."
That changed, Swift said, when the woman "did something so horrible."
"I was like, 'Oh, we're just straight-up enemies.' And it wasn't even about a guy! It had to do with business," T.Swift told RS. "She basically tried to sabotage an entire arena tour."
Shortly after the interview was released, Perry infamously tweeted, "Watch out for the Regina George in sheep's clothing…"
YouTube
"Bad Blood"
In "Bad Blood," Swift addresses the feud—still not naming names. "Oh, it's so sad to/Think about the good times/You and I," the lyrics state. "'Cause, baby, now we've got bad blood/You know it used to be mad love."
In May 2015, T.Swift dropped the star-studded music video for the track, featuring Kendrick Lamar, Selena Gomez, Gigi Hadid and more celebs.
Article continues below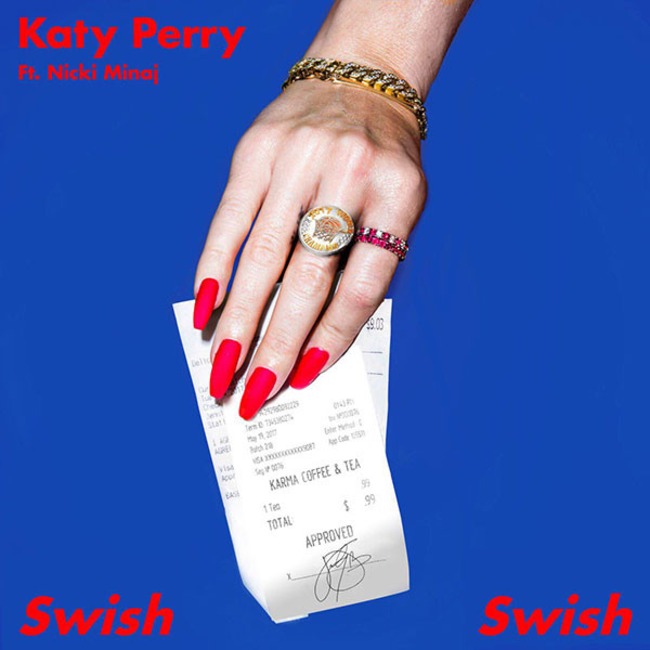 Capitol
"Swish Swish"
In May 2017, Perry released a new song called "Swish Swish," featuring Nicki Minaj. The track's lyrics—which include a sheep reference—sparked theories that the song is about Swift.
When asked who the track is about, Perry replied, "I think it's a great anthem for people to use whenever somebody's trying to hold you down or bully you."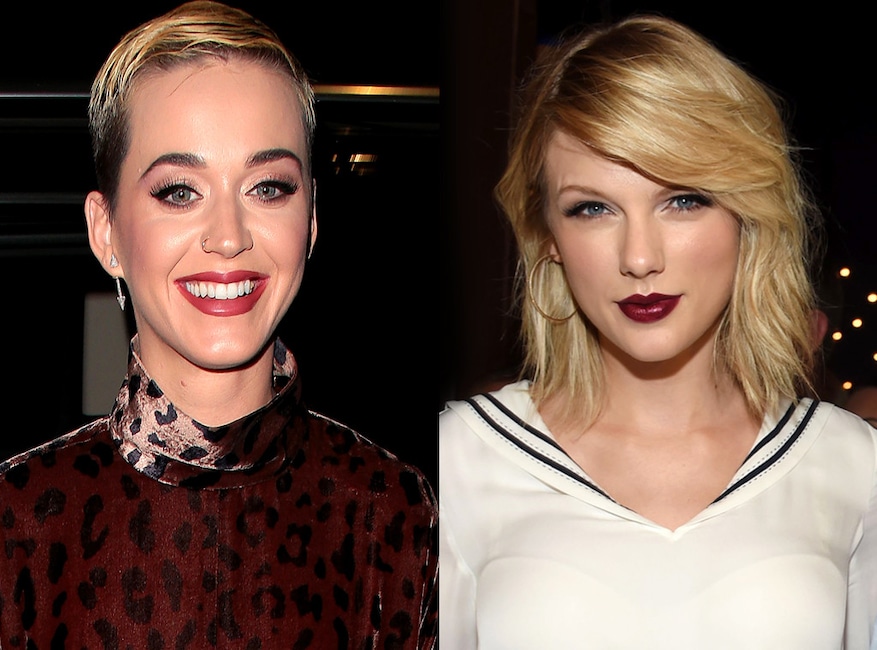 Ricky Vigil M/GC Images; REX
Carpool Karaoke
That same month, Perry addressed her feud with Swift during Carpool Karaoke with James Corden. During her chat with the late-night host, Perry said she's ready for the feud "to be done."
She went on to add, "I think personally that women together, not divided, and none of this petty bulls–t, women together will heal the world."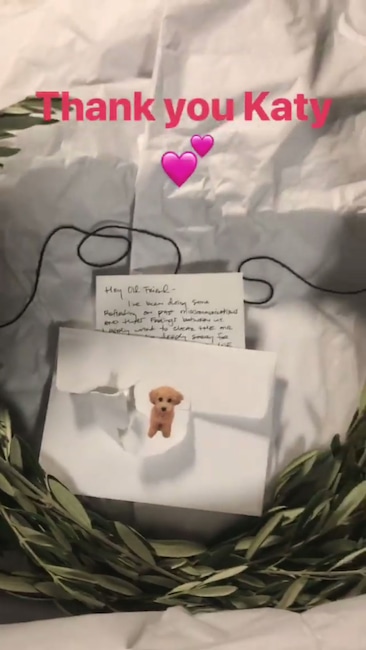 Instagram
A (Literal) Olive Branch
In May 2018, a year after the release of "Swish Swish," Perry sent Swift an actual olive branch ahead of her Reputation Stadium Tour kickoff.
"So I just got to my dressing room and found this actual olive branch," Swift said in an Instagram video at the time. "This mean so much."
Swift captioned the video, "Thank you Katy."
Article continues below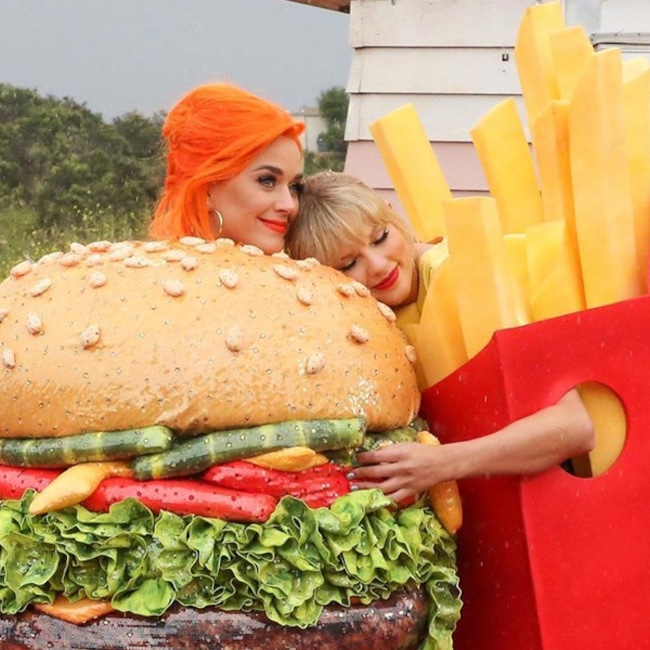 Instagram
A Happy Meal
Perry and Swift appeared together in the "You Need to Calm Down" music video, dressed as a burger and fries.
"The ending of the video is actually pretty emotional," Swift shared on the Heart Breakfast radio show. "Katy Perry is in the video and she and I definitely like have been on very good terms lately, but I don't think anybody knew it, 'cause we just kind of reconnecting privately and just wanted to make sure that everything was really good with us and that it was like a very real before we let anyone know, like, we're not only good but we're friends again."
T.Swift added, "So it was really wonderful to get to sort of unveil it to the world in like a cheeky sort of fun way. But it ends up being sort of emotional."
Don't miss E! News every weeknight at 7, only on E!
Source: Read Full Article