Katie Maloney Wants to Light Ex Tom Schwartz and Raquel Leviss 'On Fire' After Vanderpump Rules Kiss
"Please, guys. One f–king request. You f–king drunk imbeciles," Maloney exhaled in the teaser clip ahead of this week's episode.
Katie Maloney erupted over her ex Tom Schwartz and Raquel Leviss' drunken kiss in a new preview clip of "Vanderpump Rules."
In footage from this week's episode of the Bravo reality show, Maloney, 36, appeared to share her reaction to her ex-husband and her 28-year-old co-star locking lips during the cast's trip to Mexico in August 2022 in celebration of Scheana Shay and Brock Davies' wedding.
Schwartz, 40, and Maloney had previously agreed to refrain from dating or hooking up with any of their cast mates after their 2022 split. In recent episodes, however, Schwartz and Leviss have been very flirty … and started making out last week.
"I want to light them both on f–king fire," Maloney expressed to her co-stars at dinner. While none of them directly address the kiss, it seems that — paired with James Kennedy making it sound like they were now dating — is what set her off.
"What he did crossed every f–king line. There's no coming back from this. I've sat them both down, tears in my eyes," Maloney continued, as a flashback showed a conversation between Katie and Raquel in which Maloney confessed she felt her boundaries weren't respected.
More flashback footage also showed her speaking with Schwartz, where she admitted she was uncomfortable with their new relationship.
"Please, guys. One f–king request. You f–king drunk imbeciles," Maloney continued to vent.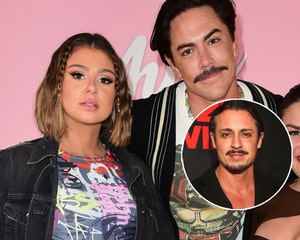 Why Peter Madrigal Believes Tom-Raquel Affair Started Even Earlier Than Everyone Thinks
Earlier this month, the TomTom co-owner admitted he had regrets over his kiss with Leviss during an appearance on "Watch What Happens Live with Andy Cohen."
"In hindsight, I don't think it was [worth it]," he explained. "I never wanted to hurt Katie. The fallout I got, the blowback I got from that kiss, my God!"
Though "Vanderpump Rules" fans have speculated that the makeout session was purposely calculated to distract from Leviss' months-long affair with Schwartz's best friend and co-owner Tom Sandoval, who was in a long-term relationship with Ariana Madix at the time. Schwartz dispelled rumors, however, and claimed the connection was genuine.
"I just feel like there was so much of a buildup," Schwartz said. "The chemistry was building … It wasn't planned; it wasn't a decoy kiss. It was a real kiss."
New episodes of "Vanderpump Rules" air Wednesdays on Bravo.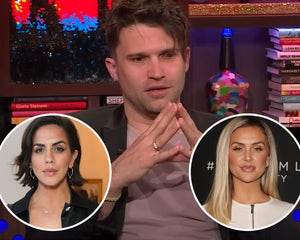 Katie Maloney, Lala Kent Slam Tom Schwartz for Saying This on WWHL About Tom Sandoval
Source: Read Full Article