Michelle Obama shares sweetest tribute to 'Sesame Street'
Former first lady Michelle Obama celebrated the magic of "Sesame Street" with a sweet memory of her daughters' first visit to the long-running children's show.
"I'll never forget the first time my daughters came to Sesame Street with me back in 2010," Obama wrote on Instagram of her daughters, Malia, a student at Harvard, and Sasha, now a graduating high school senior.
"As Malia, Sasha, and I walked onto that street with the brownstone, the grocery store, and the famous trash can, we were totally overwhelmed, in awe, our faces filled with wonder, and our spirits soaring," she wrote. "But it wasn't just us—my staff was mesmerized. Even the Secret Service agents had big goofy grins on."
The former first lady shared was honored Wednesday by "Sesame Street" with the Joan Ganz Cooney Award, named for the show's creator.
Obama received the award in New York City at a benefit dinner celebrating the show's 50th anniversary.
"No one connects with kids better than you all do And that's why, when I became First Lady, and I knew that I wanted to help kids reach their potential, my first question was a simple, but familiar one: 'Can you tell me how to get to Sesame Street?,'" she said in her speech. "Over the years now, we've done so much together—I've planted seeds with kids on set in New York… invited Elmo and Abby to read stories on the South Lawn… slow-danced with Big Bird in the produce aisle of a supermarket."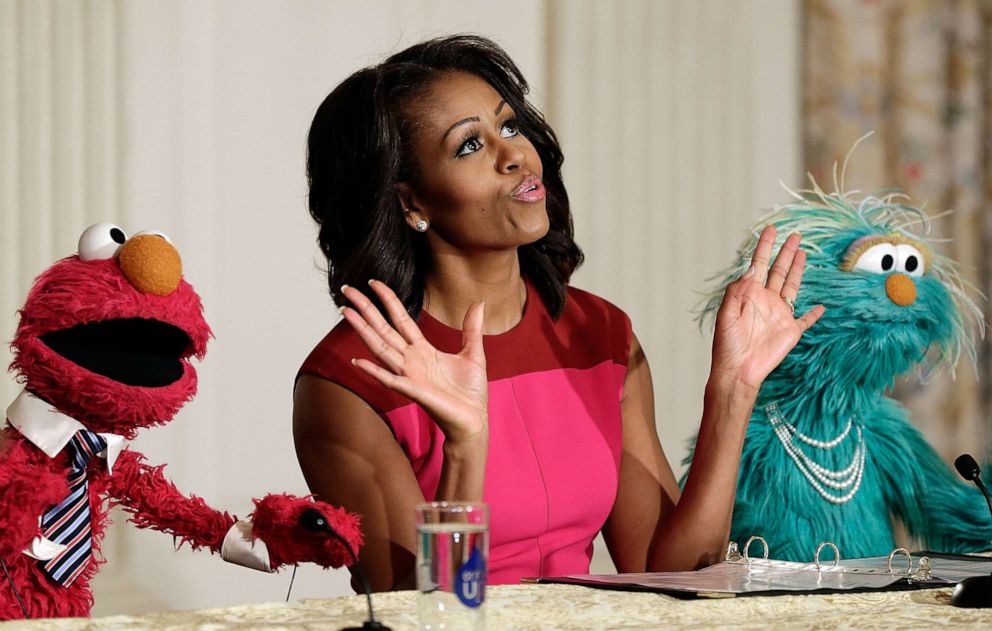 Obama also recalled watching "Sesame Street" as a child in the South Side of Chicago, a childhood she recounted in her bestselling memoir, "Becoming."
"I was 5 years old when the show first aired, one of thousands of little girls on the South Side of Chicago sitting cross-legged in front of the TV," she said. "Before iPads and Disney XD and the Cartoon Network, there was only one kids channel—and in our house, it was Channel 11, PBS."
Obama also spoke about the diversity she saw on "Sesame Street" as a kid, saying, "And there were all sorts of kids, some who looked like me, and some who didn't—a wonderful group of friends where it didn't matter if you were black or white or fuzzy and living in a trash can."
"Sesame Street" reaches children and families in more than 150 countries, according to Sesame Workshop, the nonprofit media and educational organization behind the show. This month the show debuted a new character, Karli, a young Muppet in foster care.
Source: Read Full Article