The 1 Piece of Parenting Advice Meghan Markle Can Take From Kate Middleton
Ever since Meghan Markle married into the royal family, there have been rumors that she and Kate Middleton don't get along. Thankfully, for the most part, the media has moved on and hasn't continued badgering the women about whether they best friends or not. Truthfully, there likely never was a feud, and if anything, Meghan has actually leaned on Kate a bit for advice since becoming a member of the royal family. After all, Kate once had to adapt, too. But Meghan can also take a major piece of parenting advice from the Duchess of Cambridge.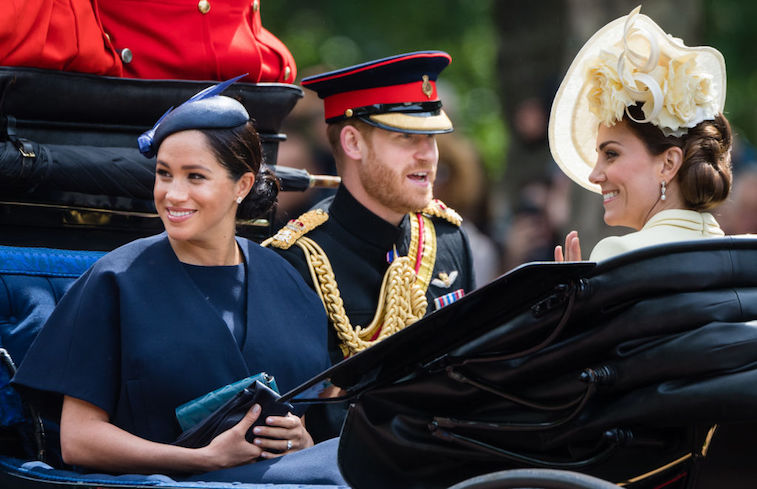 Meghan and Prince Harry recently welcomed their first child
It didn't take long for Meghan and Harry to get pregnant once they wed. The couple had previously gushed about wanting to start a family right away, and those close to the two said they were hoping to have children as soon as possible. They were married in May 2018, and less than one year later, they welcomed their first child: A son named Archie Harrison Mountbatten Windsor. They chose not to give Archie a royal title, since they're doing their best to raise him with as normal a life as possible.
Kate and Will were excited to welcome Harry and Meghan to the world of parenting
When Kate and Will heard the news that the baby had arrived, the press was dying to know their thoughts on the couple's new little one. Will said he's happy to welcome his brother to the "sleep deprivation society" that is parenting. Kate said that May is the perfect month to have a baby, and that she is incredibly excited for them to start their journey as a family. Will and Kate took their three children to meet Archie shortly after he was born, but it's unclear how much time the cousins actually spend together now. After all, Archie is hardly six weeks old.
Kate always speaks to her kids at eye level, and Meghan can learn from that
We've been able to watch Kate be a parent for quite some time now. Will and Kate's oldest son, Prince George, is nearly six, while Princess Charlotte just turned four and Prince Louis just turned one. And one thing that has stuck out about Kate's parenting is the way she speaks to her kids. Whenever Kate has a conversation with her little ones, she always communicates with them at eye-level. It signifies that she isn't speaking down to the kids and wants them to better understand what she's saying. If there's anything Meghan can learn from Kate as a mother, it's that communicating with your kids is crucial to raising them in the best way.
Meghan reportedly did lean on Kate a bit for advice before welcoming baby Archie
When Meghan was getting ready to welcome her first child,she didn't have too many people to lean on. She'd only been in the royal familyfor a little while, and her friends and her mother were all back home in theUnited States. Meghan reportedly did ask Kate for some parenting advice, sinceKate is still navigating motherhood herself and the two women have similarroles in the royal family. Now that Meghan'smother is reportedly staying with her, she might not need to lean on Kate,but she can still take a few tips from the Duchess of Cambridge here and there.
Check out ShowbizCheat Sheet onFacebook!
Source: Read Full Article