Top 5 films: best of the big screen
TERMINATOR 2: JUDGEMENT DAY (133 minutes) M
The menacing cyborg famously played by Arnold Schwarzenegger received a family-friendly makeover in James Cameron's big-budget 1991 sequel to his original The Terminator. The most thrilling scenes belong to a shapeshifting rival (Robert Patrick) brought to life through then-novel digital effects. Digitally projected. Rooftop Cinema, Sunday, 9.30pm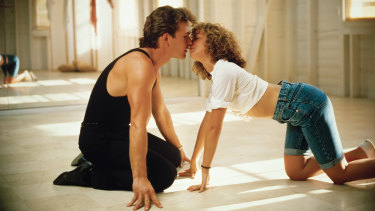 Dirty Dancing.
DIRTY DANCING (100 minutes) M
Set in a Catskills resort in the early 1960s, Emile Ardolino's beloved quasi-musical coming-of-age story was a commercial smash in 1987 but nearly qualifies as art cinema by the standards of today. Eleanor Bergstein's dialogue is sharp and Jennifer Grey and Patrick Swayze make the central romance a frankly physical one. Digitally projected. Mov'In Bed Outdoor Bed Cinema, St Kilda Beach, Sunday, sunset (about 8.45pm). Booking advised.
DUMBO (112 minutes) PG
The baby elephant with the giant ears takes flight once again in this recent live-action remake of one of the greatest of all Disney cartoons – which doesn't top the original, but has all the visual flair expected of director Tim Burton, as well as his sympathy for outsiders and his feeling for the horrific underside of showbiz. Werribee City Centre Pop Up Park, Saturday, 6pm (arrive from 3pm for children's games and activities). Free.
GIRL, INTERPRETED (45 minutes) Unrated
This new web series about a well-meaning young interpreter (Jenny Zhao) makes light but pointed comedy from the perils of cross-cultural communication. Melbourne-based writer-director Grace Feng Fang Juan is a witty talent to watch. Special launch screening. National Gallery of Victoria, Saturday, 1pm. Booking required. Free.
FINDING NEMO
This 2003 computer-animated adventure about a lost clownfish tugs on the heartstrings with an efficiency worthy of vintage Walt Disney. Set against the colourful backdrop of the Barrier Reef, it's one of the most visually pleasurable Pixar films – and one of the funniest, with a voice cast featuring everyone from Barry Humphries to Albert Brooks. Digitally projected. Wilson Botanic Park (Berwick), Saturday, sunset.
Source: Read Full Article