Wild Bodycam Video Shows Arrest of Naked Florida Man Covered In Grease, Peppermint Oil and Blood
"We definitely know he doesn't have anything on him," said one arresting officer — after the man allegedly broke into two homes, before hopping into a pool and jumping on a trampoline while attempting to flee.
It's no secret Florida has some of the most bizarre arrests in the country — but even authorities seemed shocked when they arrested a naked, greased-up man in DeBary in the early morning hours of Friday, April 7 this week.
Bodycam footage from an arresting deputy showed the wild scene as police responded to a report of a burglary in process. Upon arrival, the first deputy spotted a man later identified as Blake Tokman fleeing naked into the backyard of the second home he stands accused of breaking into. As the officer chased him down, Tokman hopped into a pool … before getting out and running toward a nearby trampoline, jumping onto it and playing dead.
Unable to render YouTube Video.
In a statement to Facebook, Volusia Sheriff's Office says Tokman "resisted the deputy's attempts to secure him in handcuffs," as video appears to show him asking for the deputy's name repeatedly instead of putting his hands behind his back.
"He's slippery," one deputy noted, as another said the man was covered in a "paste." Someone was also heard saying, "Well, we definitely know he doesn't have anything on him," before noting that it "smells like toothpaste" Authorities later confirmed Tokman was covered in wheel bearing grease, peppermint oil and blood.
As the owner of the home came out to possibly identify the alleged intruder, Tokman appeared to exclaim, "I'm a lifeguard, that's what I am." While the owner had no idea who he was, it seems some of the deputies on the scene recognized the suspect, however, and started to refer to him as Blake. A quick search of Volusia County Jail records show 11 arrests from 2017 through January 20 for a "Blake Tokman" with the same date of birth as the suspect; he was most recently released on March 14.
"I think that's him, I don't know, he has all this weird s— on him," said one deputy, as they all expressed mild disgust over whatever was on Tokman rubbing off on them as well.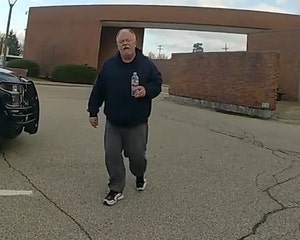 Watch Moment Man Calmly Approaches Police & Admits to Shooting, Killing Woman
According to the Sheriff's Office, Tokman allegedly "smashed out the windows of one house to make entry, then left and broke into another home." They added "both homes were occupied at the time of the break-ins."
"Tokman appeared to be under the influence of unknown substances," the statement continued, saying it took "four deputies to get him into custody, plus three more medical professionals to secure him on a stretcher for evaluation and treatment of injuries he caused himself."
He's accused of also kicking or striking three of the deputies, one of whom they said sustained a laceration to his arm.
Tokman was charged with 2 counts of occupied burglary, 3 counts of battery on a law enforcement officer, 2 counts of criminal mischief, and resisting arrest with violence. He was reportedly transported for further medical evaluation and treatment before he's taken to the Volusia County Branch Jail. As of Friday afternoon, there was no new booking sheet for the suspect.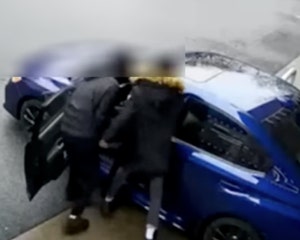 Video Shows Moment Stick Shift Foiled Teen Carjacking Attempt
Source: Read Full Article