AFL 2021 LIVE updates: Giants forward Hogan a late out for Geelong semi-final
Key posts
Tackles vital for Giants
Selwood breaks Cats record
Hogan out for Giants, medical subs named
Geelong's ball-magnet
Flashback: Giants, Cats draw in 2017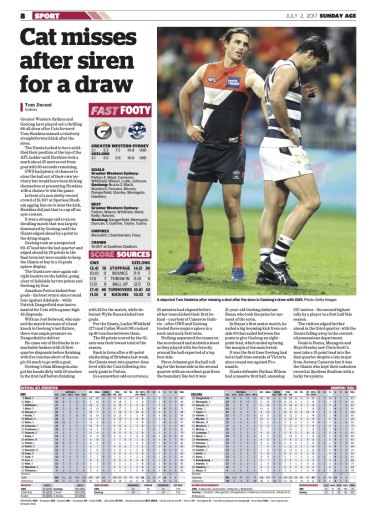 How the Age and SMH reported the draw between the Cats and Giants in July 2017.Credit:The Age
Giants tell Cameron to watch his back
Geelong forward Jeremy Cameron spoke to Channel Seven before the game…
Q: You've been behind barbed wire, how's the week been?
Pretty good, where we are saying is pretty nice so it's been a relaxing week. Clearly a little bit bigger focus on the build-up but it has been a good week all in all.
Q: A relaxing week but last week was a bit of a horror show. What did you take out of that?
There are some learnings from that one. Port came and played a good brand of footy against us. We realise there is a few things we could have done to control the game a bit better and we have worked on those this week and look forward to taking that into this game.
Q: Your relationship with Tom Hawkins, how do you see the relationship working?
Definitely has been talked about over the season but it has come along nicely. We are always looking for ways to improve and to help each other out so it is not only just us down there, it is the other four boys, all five forwards rolling through that forward line as well and we all have a really big part to play and hopefully we can show that night.
Q: Last one, your old mob, any communication or cut ties?
Spoke to a few of the boys. Nothing too extreme at this stage. Sort of spoke to Toby Greene a little bit around the week that he has had, to support him and let him know that I am here if he needs and, a few of the other boys have said to watch my back on the field as well so looking forward to that.
Tackles vital for Giants
Selwood breaks Cats record
Geelong captain Joel Selwood becomes a club immortal tonight when he breaks the Cats' all-time games record, previously held by premiership teammate Corey Enright.
Enright retired on 332 games at the end of 2016, but he has only been able to hold the record for five years, as Selwood plays game No.333 tonight.
And what a remarkable career it's been. Not only has he played in three flags, but he has only been involved in 90 losses from his 332 matches – that's a winning percentage of 72.6, if you don't mind!
The 33-year-old also has six All-Australian jumpers to his name (three times as captain) as well as three best-and-fairests.
He will be lining up in his 36th final tonight, placing him second all-time in the VFL/AFL behind only the great Michael Tuck (39).
Joel Selwood.Credit:Getty Images
Hogan out for Giants, medical subs named
GWS Giants have suffered a significant late withdrawal with key forward Jesse Hogan (calf) out of the side after playing an important role in last week's win over Sydney.
Giants veteran Phil Davis has come into the side for Hogan and while he will give them a steady head, no one can replace Hogan's ability to take contested marks and kick goals.
The medical subs are Zach Guthrie (Geelong) and James Peatling (Giants).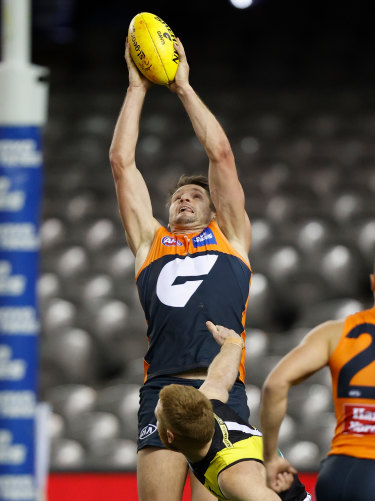 Jesse Hogan is out with a calf problem.Credit:Getty Images
Geelong's ball-magnet
Good evening
G'day everyone and welcome to tonight's AFL elimination semi-final live blog. I'm Roy Ward and I'll be leading the line tonight along with the great man Ronny Lerner.
We have a big night of knockout finals action to come as Geelong and GWS Giants fight to keep their seasons alive and book a preliminary final spot for next weekend.
Please feel free to leave a comment on the blog at any time and we will have plenty of coverage from pre-game until first bounce art 7.50pm and we'll also have post-game reaction from both coaches.
Enjoy the night to come.
Most Viewed in Sport
Source: Read Full Article