Grand National 2023 LIVE: Runners, odds, tips and latest updates ahead of big race at Aintree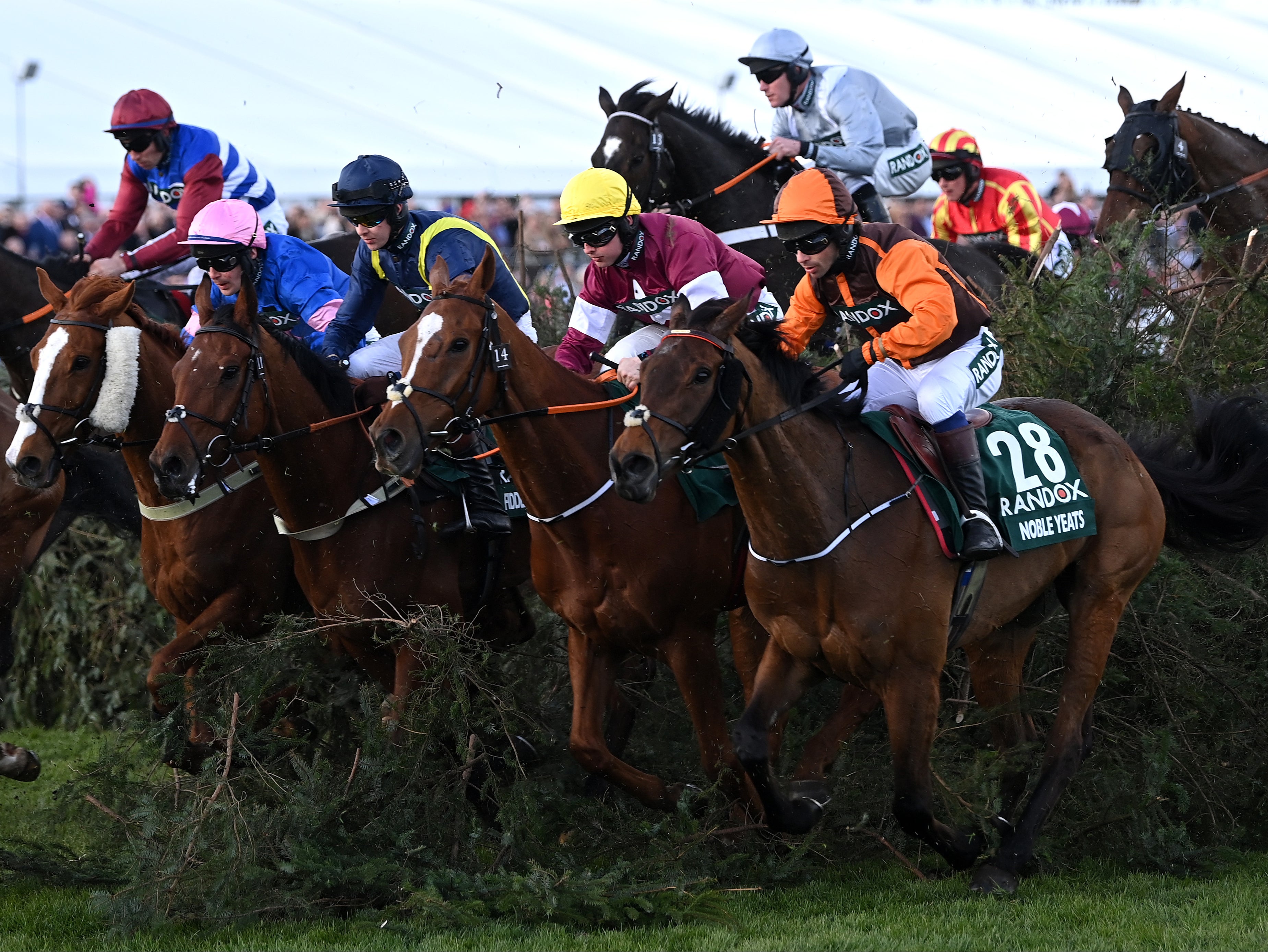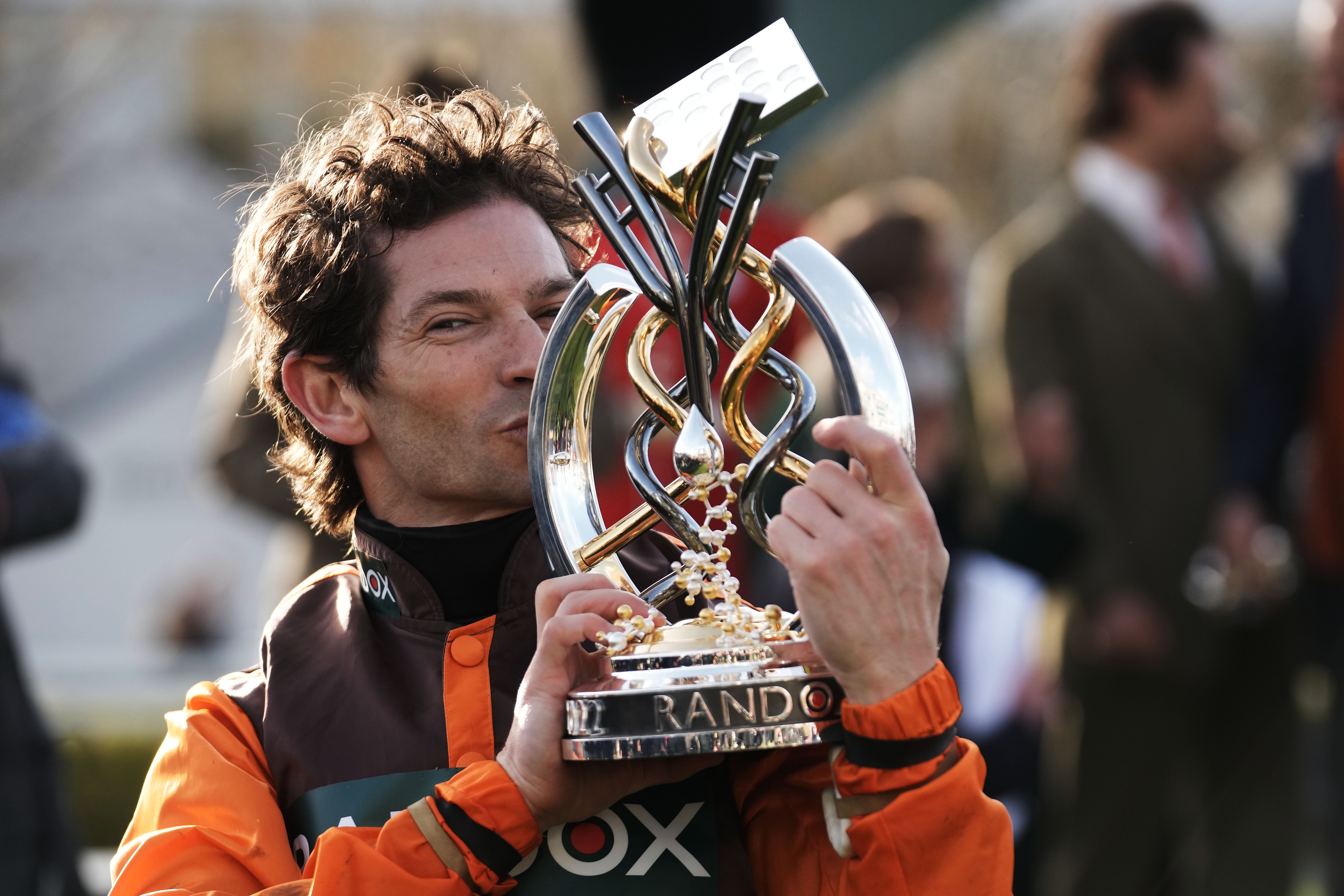 Grand National runners and odds
Odds provided by Betfair
Corach Rambler (T: Lucinda Russell; J: Derek Fox) – 9/1
Delta Work (T: Gordon Elliott; J: Keith Donoghue) – 9/1
Ain't That A Shame (T: Henry De Bromhead; J: Rachael Blackmore) – 10/1
Gaillard Du Mesnil (T: Willie Mullins; J: Paul Townend) – 10/1
Noble Yeats (T: Emmet Mullins; J: Sean Bowen) – 11/1
Mr Incredible (T: Willie Mullins; J: Brian Hayes) – 12/1
Any Second Now (T: Ted Walsh; J: Mark Walsh) – 14/1
The Big Dog (T: Peter Fahey; J: Aidan Coleman) – 16/1
Le Milos (T: Dan Skelton; J: Harry Skelton) – 16/1
Vanillier (T: Gavin Cromwell; J: Sean Flanagan) – 16/1
Capodanno (T: Willie Mullins; J: Danny Mullins) – 16/1
Longhouse Poet (T: Martin Brassil; J: JJ Slevin) – 20/1
Galvin (T: Gordon Elliott; J: Davy Russell) – 22/1
Our Power (T: Sam Thomas; J: Sam Twiston-Davies) – 22/1
Roi Mage (T: Patrick Griffin; J: Felix de Giles) – 22/1
Back On The Lash (T: Martin Keighley; J: Adam Wedge) – 28/1
Enjoy D'allen (T: Ciaran Murphy; J: Simon Torrens) – 33/1
Coko Beach (T: Gordon Elliott; J: Harry Cobden) – 33/1
Velvet Elvis (T: Thomas Gibney; J: Darragh O'Keeffe) – 33/1
Mister Coffey (T: Nicky Henderson; J: Nico de Boinville) – 33/1
The Big Breakaway (T: Joe Tizzard; J: Brendan Powell) – 35/1
Fury Road (T: Gordon Elliott; J: Jonjo O'Neill Jr) – 40/1
Eva's Oskar (T: Tim Vaughan; J: Alan Johns) – 40/1
Lifetime Ambition (T: Mrs John Harrington; J: Sean O'Keeffe) – 50/1
Minella Trump (T: Donald McCain; J: Theo Gillard) – 50/1
Dunboyne (T: Gordon Elliott; J: Jack Tudor) – 50/1
Fortescue (T: Henry Daly; J: Hugh Nugent) – 66/1
Carefully Selected (T: Willie Mullins; J: Michael O'Sullivan) – 66/1
Gabbys Cross (T: Henry De Bromhead; J: Peter Carberry) – 66/1
Cloudy Glen (T: Venetia Williams; J: Charlie Deutsch) – 66/1
Sam Brown (T: Anthony Honeyball; J: Jonathan Burke) – 66/1
Recite A Prayer (T: Willie Mullins; J: Jack Foley) – 80/1
Hill Sixteen (T: Sandy Thomson; J: Ryan Mania) – 80/1
Darasso (T: J P O'Brien; J: Luke Dempsey) – 100/1
Diol Ker (T: Noel Meade; J: Kieren Buckley) – 100/1
A Wave Of The Sea (T: Joseph O'Brien; J: Shane Fitzgerald) – 100/1
Cape Gentleman (T: John Joseph Hanlon; J: Jody McGarvey) – 100/1
Francky Du Berlais (T: Peter Bowen; J: Ben Jones) – 100/1
What happened in last year's Grand National?
Talk about incredible sporting stories and this one should be up there.
Amateur jockey Sam Waley-Cohen enjoyed a fairytale finale to his career as he steered Noble Yeats to victory in the Randox Grand National at Aintree.
The 39-year-old announced his intention to retire two days before the race, nominating Emmet Mullins's charge as his farewell ride in the world's most famous steeplechase.
Sent off at 50-1, few would have expected Noble Yeats to strike in the extended four-and-a-quarter-mile showpiece – but he ran a magnificent race as he fended off the 15-2 favourite Any Second Now for a famous National success.
Coming to the last they were the only pair in contention and under a strong drive, Noble Yeats kept finding more to prevail in the colours of Waley-Cohen's father, Robert. Delta Work (10-1) was third with Santini (33-1) in fourth.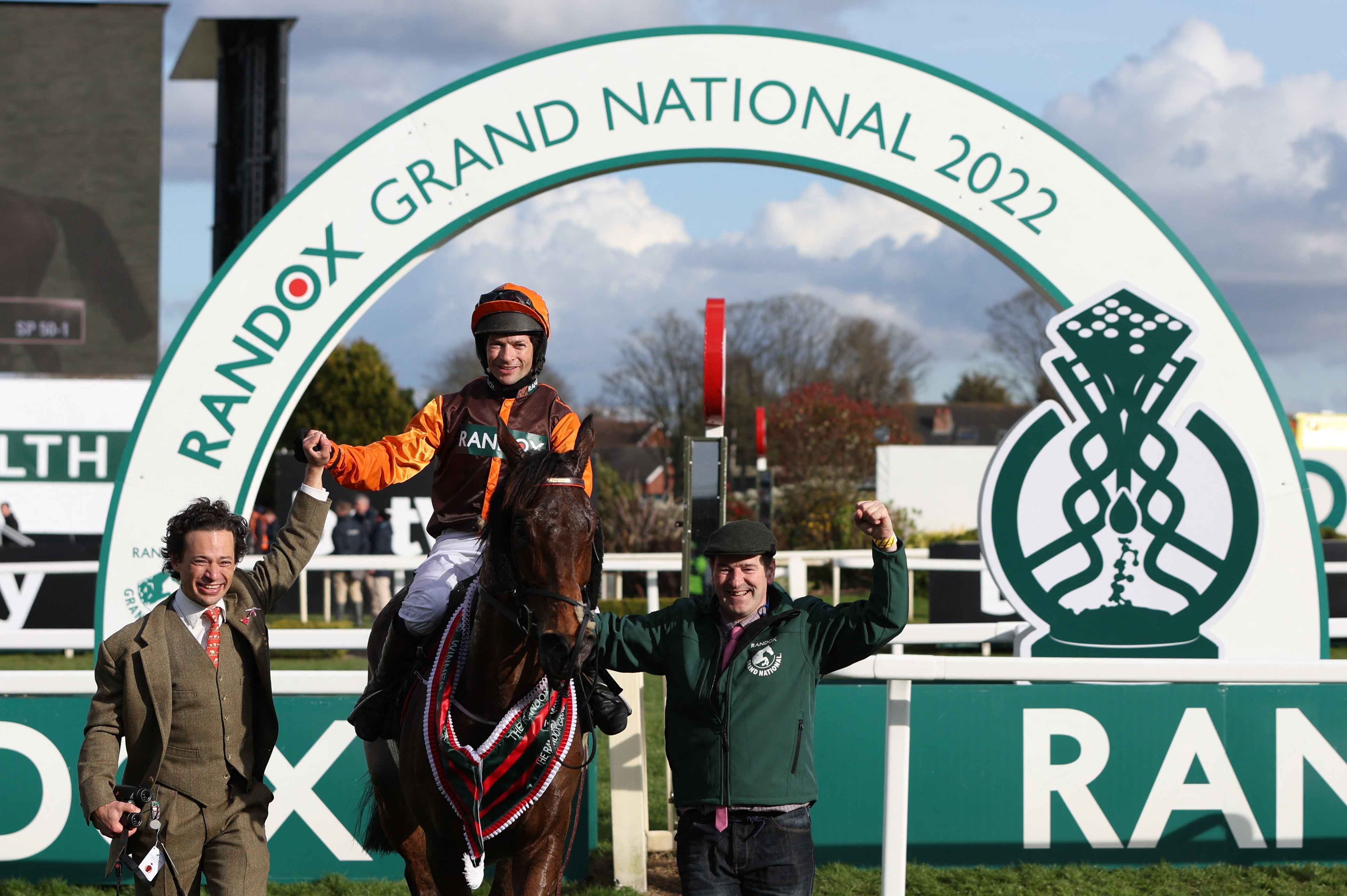 Noble Yeats gives Sam Waley-Cohen fairytale finale in Grand National at Aintree
Last year's winner Rachael Blackmore fell early on, riding Minella Times
Grand National 2023
Today's race will be the 175th edition of Britain's most famous horse race and is set to get going around 5.15pm this afternoon.
40 runners have been selected to tackle the four and a bit mile course with plenty of variation in the betting. There are favourites who recently performed strongly at Cheltenham such as Corach Rambler and Gaillard Du Mesnil as well as Delta Work who runs for trainer Gordon Elliott.
Rachael Blackmore – the first female jockey to win the Grand National – will draw interest atop Ain't That A Shame and Noble Yeats is hoping to win again after his victory last year.
Dan Skelton's Le Milos may both worth a look at whilst the recently un-retired Davy Russell rides Galvin, another Cheltenham favourite.
This is a strong field and there's a feel about this race that maybe one of the more outside chances will pull off a victory today.
Grand National 2023: Full list of runners and odds
The most famous event in British racing returns in 2023 with the Grand National set to be held for the 175th time at Aintree on Saturday.
Noble Yeats took victory in 2022, becoming the first seven-year-old horse to win in more than 80 years and he is hoping to join an elite group of back-to-back National winners
40 runners are ready to tackle the four-and-a-bit mile course, with a trio of favourites heading the betting.
Here are the runners and current odds for the 2023 Grand National: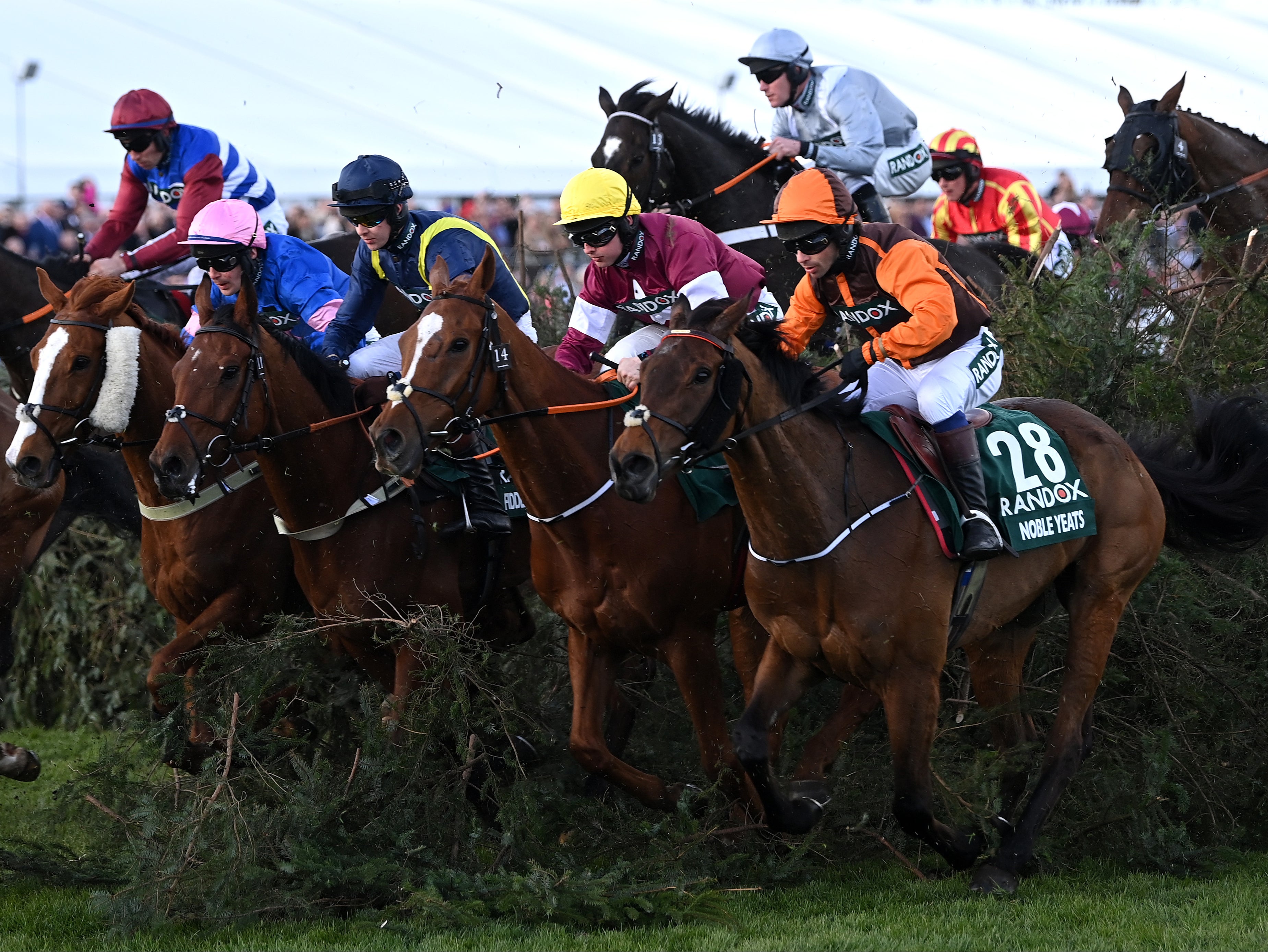 Grand National 2023: Full list of runners and odds
Aintree Grand National 2023 runners, odds and tips
Grand National 2023
First run in 1839, the steeplechase sees the competing horses and jockeys clear 30 fences in the hopes of joining the likes of Red Rum and Tiger Roll in horse racing history.
Each year 40 runners are selected to tackle the four-and-a-bit mile course after a longer list of entrants is narrowed down before the start of the race.
Gordon Elliott's Delta Work is among the favourites for this afternoon's race. He's from the same stable as two-time National winner Tiger Roll and even beat the famous horse in the Tiger's last race at Cheltenham in 2022.
Will he be in the winner's enclosure later on today?
Grand National 2023
Welcome to The Independent's live coverage of the 2023 Grand National – the biggest day in UK racing.
A nation will be tuning in, and betting on the action, as 39 horses take on the famous old course at Aintree looking to etch their name in history.
The likes of the Rachael Blackmore-ridden Ain't That A Shame, two-time Cheltenham winner Corach Rambler and defending champion Noble Yeats are towards the top of the betting and the race should prove to be a fascinating watch.
Stick with us for full live coverage.
Source: Read Full Article