Spain vs Argentina LIVE: Tokyo 2020 team news, line-ups and more today
Spain face Argentina in the men's football at the Tokyo Olympics on Wednesday, with both nations needing a positive result to ensure they continue their journey in Japan.
The Europeans have so far won and drawn, but despite dominating long stretches of their matches they have been unable to click in attack, scoring just once so far – they are top of the group heading into the final 90 minutes, and need just a draw to guarantee a top-two finish. Argentina have it slightly more difficult, after defeat to Australia earlier in the group stage. They did recover to beat Egypt, but the lay of the group means they have to win this match to go through – anything less and they will be out, regardless of the result from the other match.
The race for medals looks set to be a tight one and there have already been plenty of surprise results – but to even have a chance at success, a big performance from both sides is required here.
Follow the latest updates from Spain vs Argentina and all the big news at Tokyo 2020 below:
Recommended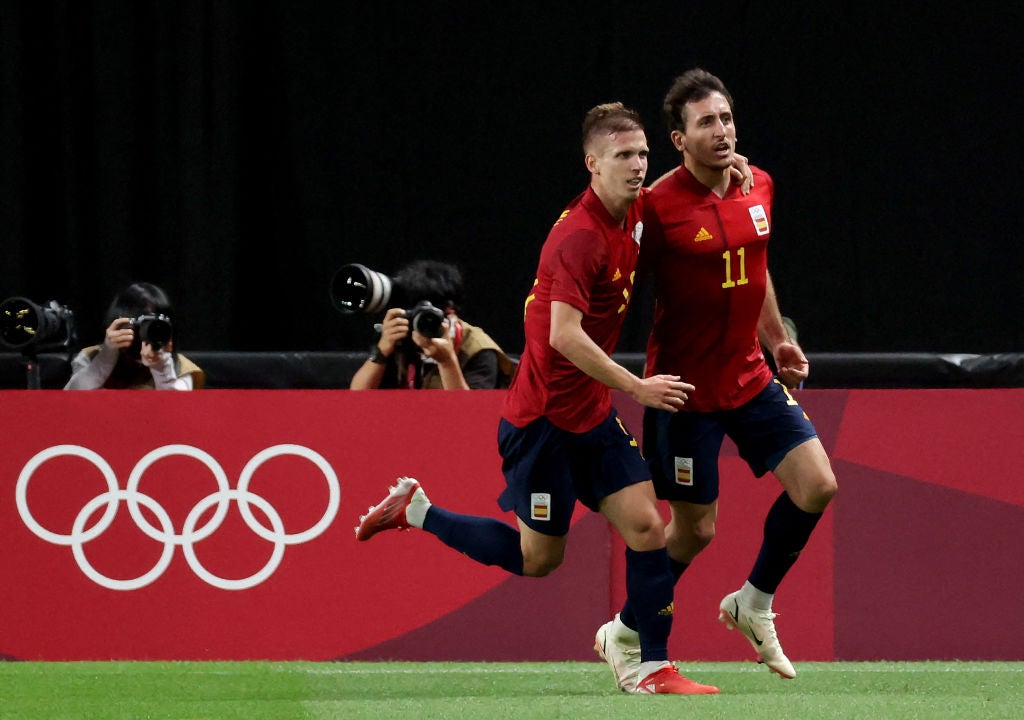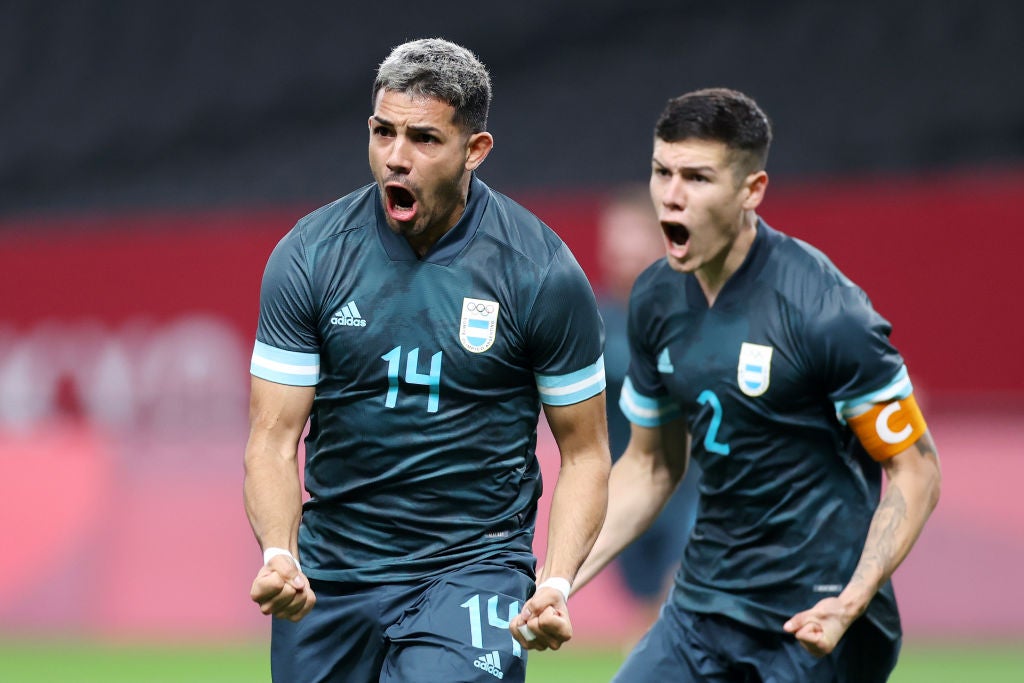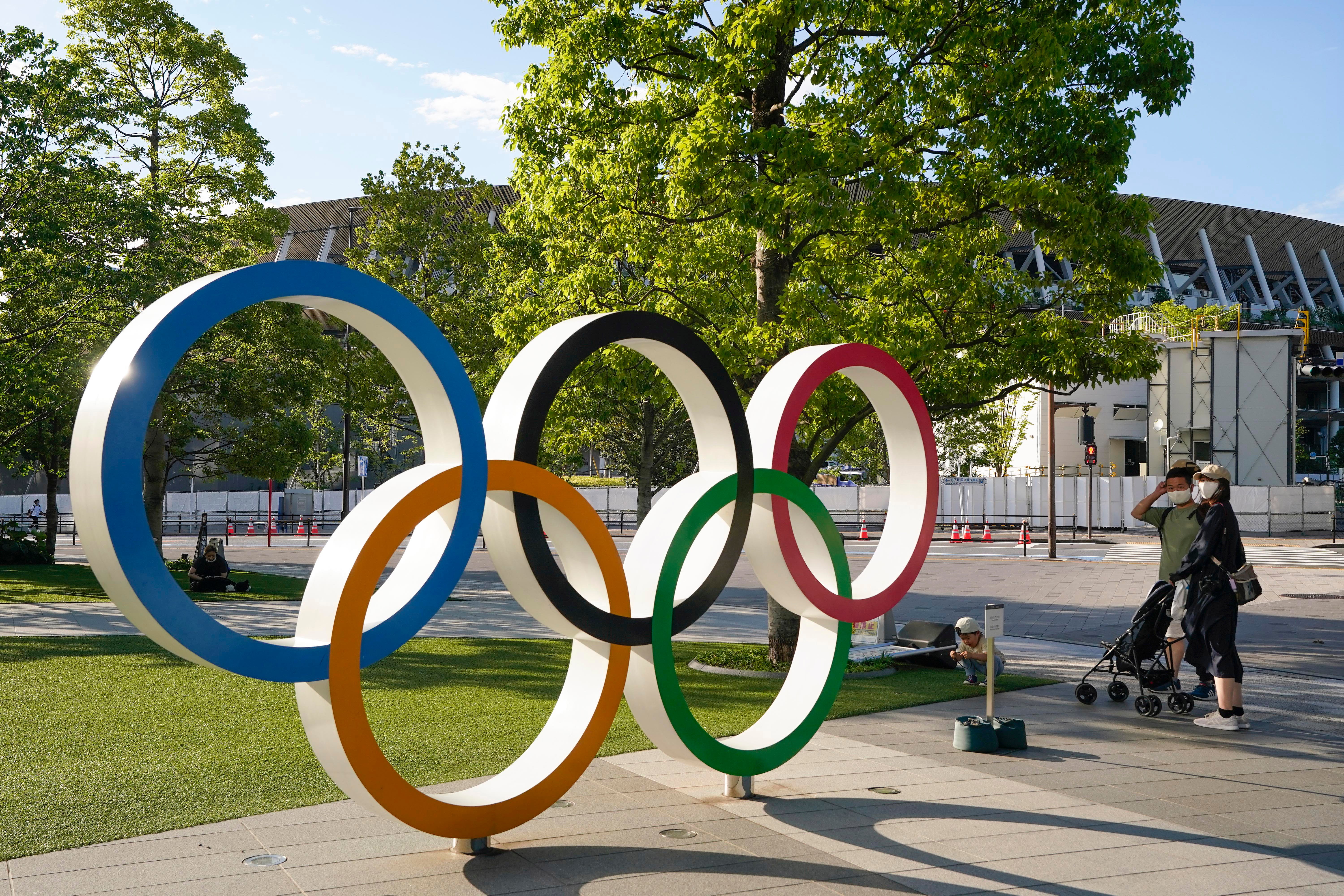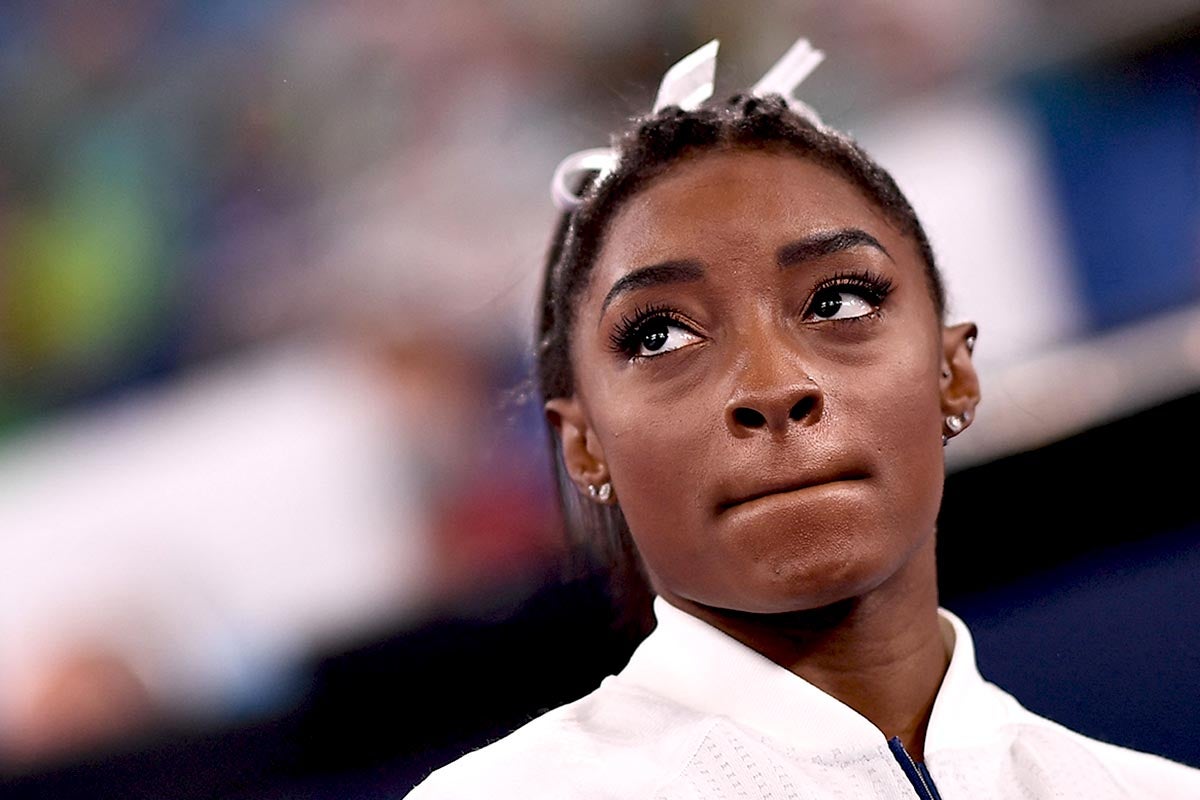 Tokyo 2020: Spain vs Argentina confirmed line-ups
The team news is in for this afternoon's big match in the men's football, as Spain face Argentina – the Europeans need a point to guarantee passage to the knockouts, while the South Americans need nothing less than a win.
Spain XI: Simon, O Gil, Garcia, P Torres, Cucurella, Zubimendi, Pedri, Merino, Olmo, Asensio, Oyarzabal
Argentina XI: Ledesma; Herrera, N Perez, Medina, Bravo; Barco, Vera, Belmonte, Mac Allister; Urzi, Gaich
Tokyo Olympics: Men's individual all-around latest
Joe Fraser lands a sensational double twisting double back to finish his floor routine – and that's an opening score of 14.100 for the 22-year-old. That's an increase on his score in qualifying.
Fraser has the pommel horse to come next, followed by rings, vault and parallel bars, before finishing on the horizontal bar.
Tokyo Olympics: Medal interest for Team GB
Coming up this late morning/early afternoon, there is plenty of British medal interest between the men's individual all-around gymnastics final and the equestrian dressage individual final.
Joe Fraser and James Hall are about to begin their rotations, with Fraser starting out on the floor and Hall on the pommel horse.
In the dressage, Carl Hester is currently in bronze medal position after setting a score of 81.818 on En Vogue, but he looks unlikely to remain there for long.
Charlotte Dujardin on Gio and Charlotte Fry on Everdale have their performances to come.
Tokyo Olympics: USA stars dominate Iran in bounce-back win
After suffering defeat to France in their opening match of the Olympics, the USA's men's basketball team ran up the score and they thrashed Iran 120-66 earlier this morning.
Damian Lillard led the way with 21 points, with all his points coming from beyond the arc, while Devin Booker and Jayson Tatum added 16 and 14 respectively.
The team still have plenty to prove if they are to compete for a gold medal, however.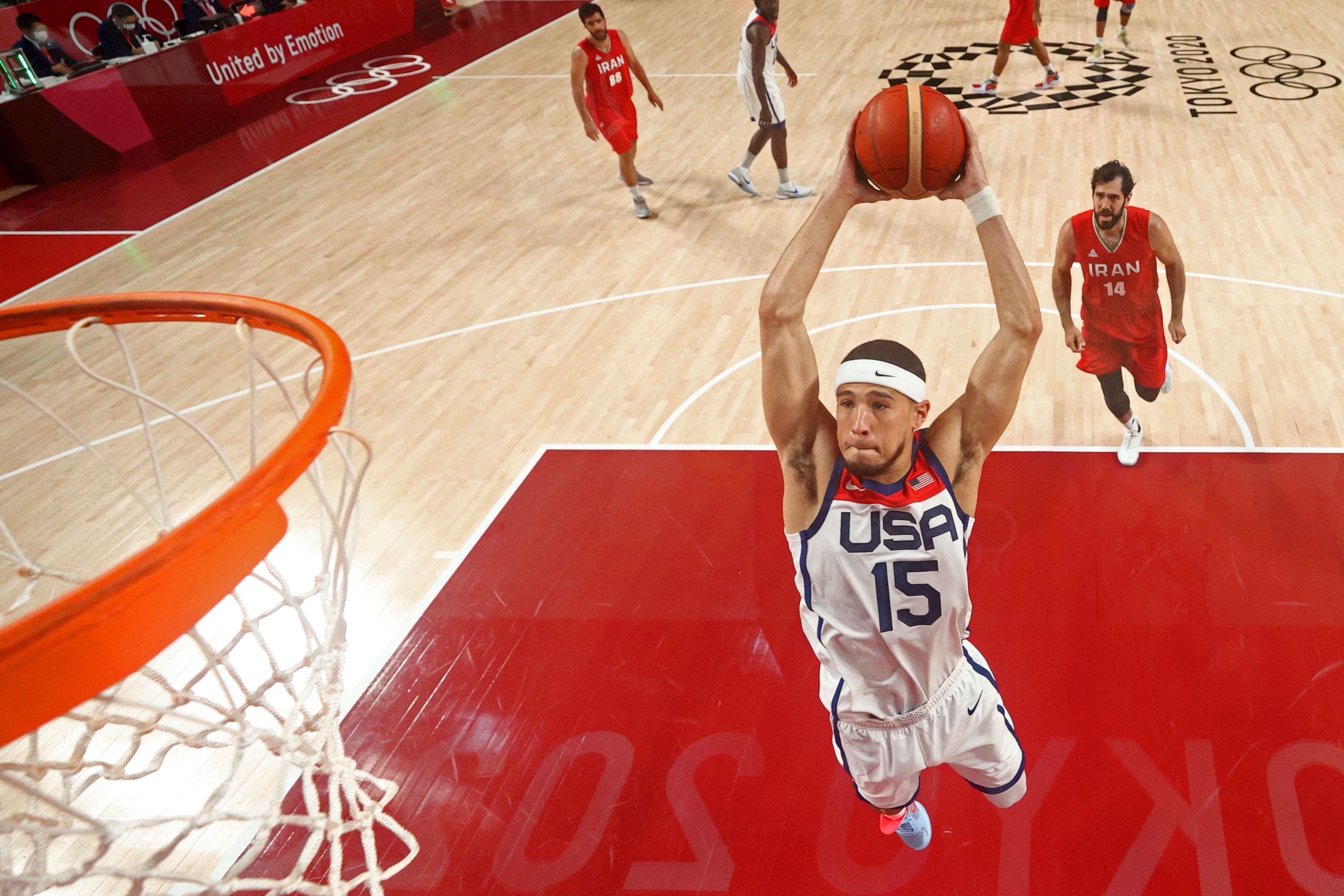 Tokyo Olympics: Simone Biles put her mental health first and showed that you can too
"The truth is untouchable. The greatest gymnast there has ever been decided that, for now, two of the gold medals she had won five years go were not worth defending. That putting her mind and body at risk for the pursuit of glory she had previously dedicated her life towards were risks too far. Only someone of immense moral fibre could find clarity in such a moment.
"Simone Biles realised she matters more than gymnastics, the Olympics and the expectation heaped onto her. And it might be that her greatest accomplishment, indeed her legacy, might be that, in the space of 24 hours, she showed the rest of the world that there is nothing wrong with putting your mental health first. Unlike a lot of what Biles has done, if she can do this, you can too."
By Vithushan Ehantharajah in Tokyo.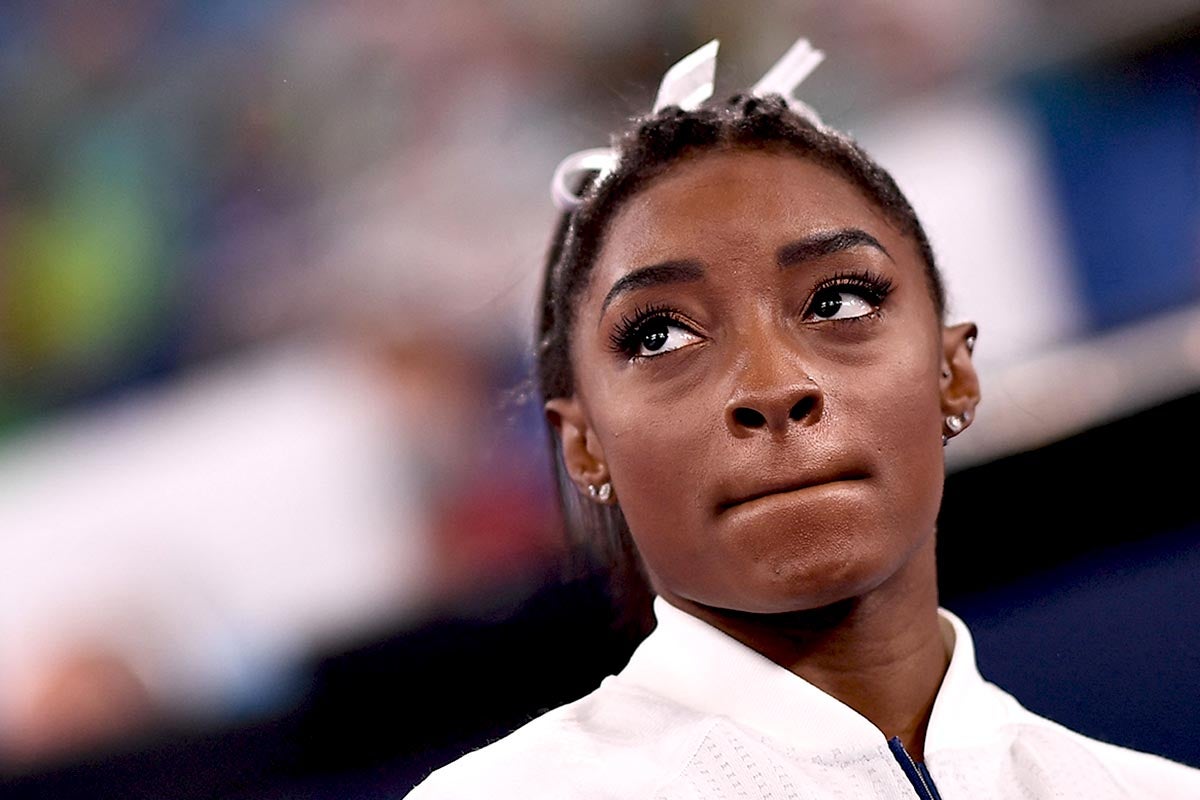 Simone Biles put her mental health first and showed that you can too
The world's greatest gymnast has realised putting her mind and body at risk for the pursuit of glory she had previously dedicated her life towards were risks too far
Tokyo Olympics: Germany crash out of men's football tournament
Germany have been eliminated from the men's football tournament at the group stage after being held to a 1-1 draw by the Ivory Coast.
Germany, silver medallists in 2016, needed to beat the Ivory Coast to advance to the quarter-finals alongside group winners Brazil but finished third in group C.
Brazil topped the group after Everton striker Richarlison scored twice in their 3-1 victory over Saudi Arabia.
Tokyo Olympics: Jack Laugher on diving 'stinker'
Jack Laugher blamed a "bad day" as he lost his Olympic gold medal in the men's 3m synchronised diving alongside partner Dan Goodfellow.
The GB pair were one of the favourites ahead of the event but finished seventh, well behind winners China.
"We've worked really hard but unfortunately people at home just see this, rather than the hard work we've put in," Laugher said.
"Today is a bad day. Everyone has them. The errors we made were not errors through nerves – they were almost too much adrenaline, too much speed, too quick on our somersaults, which isn't necessarily a bad thing. It's just how it goes sometimes.
"It was a tough day. So far, we have competed two other times [this year]. We had a brilliant event here in the World Cup in May and then we had an absolute stinker at Budapest in the Europeans.
"Today is another one. I just apologise to everyone at home that we didn't get the result we wanted."
Women's Sevens action to begin tomorrow
After the drama of the men's sevens, the women's competition could be even better when it kicks off tomorrow. New Zealand's star-studded squad rightly enter as favourites, but with sides largely unable to travel and face one another in the last 18 months due to Covid-19, there could be a shock or two.
Great Britain's women have also been training up at Loughborough since the start of the year. It looks a strong squad selected by Scott Forrest, led by co-captains and close friends in the cerebral Abbie Brown and maverick Meg Jones, while Wales' Jasmine Joyce might be the fastest woman in a pair of rugby boots in the world. They start their campaign against ROC at 3am BST before a mouthwatering encounter with the Black Ferns Sevens – Great Britain vs New Zealand kicks off at 10.30 tomorrow morning.
Tokyo Olympics: GB's Artingstall prevails to secure boxing medal
Karriss Artingstall is through to the women's featherweight semi-finals after edging Australia's Skye Nicolson on a split decision, guaranteeing at least a bronze medal for Great Britain.
Artingstall was ahead on three on the five judges' scorecards after the three-round contest and she will now take on Japan's Sena Irie on Saturday, with a victory advancing her to the gold medal fight.
Earlier, there were wins Lauren Price and Ben Whittaker. They're both through to the quarters.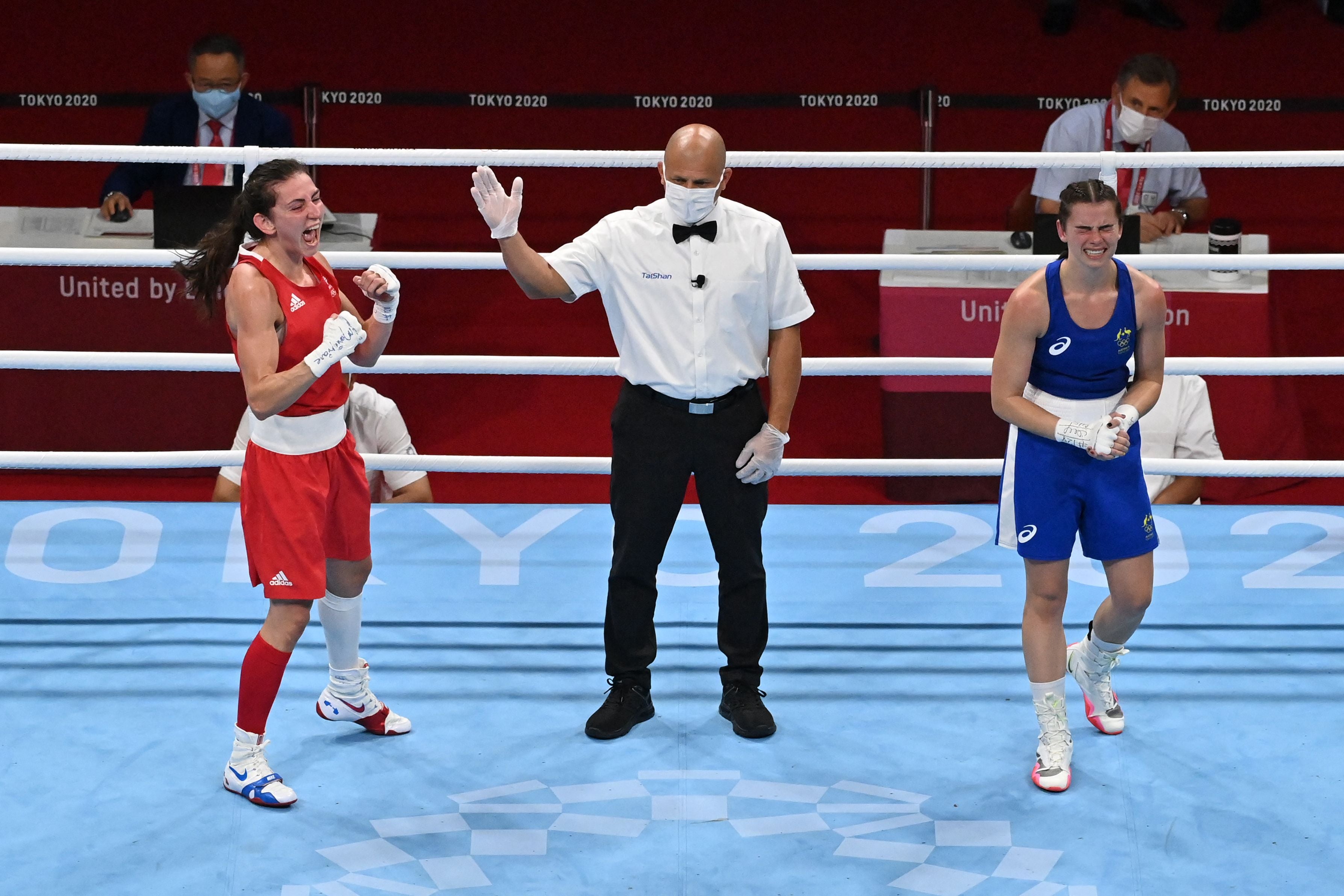 Fiji gather in prayer after winning rugby sevens gold
The Fijian players come together in a huddle in prayer, down on a knee with coach Gareth Baber and his assistants. It is a powerful moment. A second Olympic gold medal for the Pacific Island as they defend their crown.
Rugby sevens – what a sport! With a little bit of doubt about the viability of the sport's marquee Sevens Series, a few days of spectacular men's action at Tokyo 2020 will have done it's commercial hopes no harm – and there's still plenty more women's action to come.
Dan Bibby reveals that only eight limited contracts have been offered post-Tokyo. For unions with significant financial clout, can that really be deemed good enough?
Source: Read Full Article