Annual Sun Valley Conference is a 'Summer Camp for Billionaires'
Secrecy is paramount at the retreat that counts Apple's Tim Cook and Comcast chief Brian Roberts among its attendees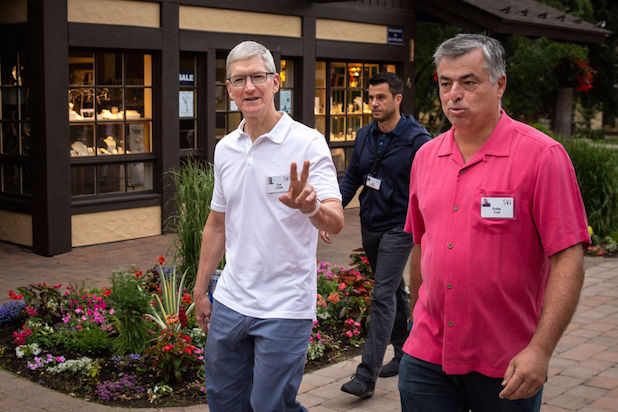 The biggest names in tech and media, from Tim Cook to Shari Redstone, have descended upon Sun Valley, Idaho once again on Wednesday for an exclusive annual conference put on by boutique investment firm Allen & Company.
That's about all we know. Details on the event — including panel topics and the exact amount of invitees — are guarded about as closely as the nuclear codes.
"It's a rare opportunity for these [executives] to gather together and meet in person, all at the same time," a former Allen & Co. executive told TheWrap. "They don't want what they're talking about to be heard."
Even the chosen few media members that have been blessed with an invitation, like Tom Brokaw and Andrew Ross Sorkin, are on hand to moderate panels, rather than report on the event.
"It's sort of a summer camp for billionaires," Don Day, a Boise Dev reporter that's covered the event about half a dozen times, said. "It's next to impossible to get anyone to tell you anything."
Still, there are some bits of information worth pointing out.
This year's attendees include: Facebook chief operating officer Sheryl Sandberg; former Oath CEO Tim Armstrong, Apple CEO Tim Cook and SVP Eddy Cue; Google chief business officer Philipp Schindler; Comcast CEO Brian Roberts; National Amusements presidents and CBS chairwoman Shari Redstone; LinkedIn co-founder Reid Hoffman; entertainment executive Casey Wasserman; Uber CEO Dara Khosrowshahi; Discovery CEO David Zaslav; Verizon CEO Hans Vestberg and Fidelity CEO Abigail Johnson, among others.
The event will run through the end of the week and takes place at the Sun Valley Resort, where pictures of former presidents and star athletes playing golf line the hallways. This year marks the 37th retreat. Panels will take place in conference rooms with audiences ranging in size from a few dozen people to more than 100. The former Allen & Co. executive said the panels can resemble Hollywood awards shows at times, with seat-fillers rushing to grab a spot if someone gets up to go to the bathroom.
While the event has been the genesis of several deals in the past, including the AOL-Time Warner merger in 2000, its just as much a venue for executives to discuss changing industry dynamics and looming challenges, according to the ex-Allen &. Co. executive. Two potential topics this year, considering the attendees, could be Apple's upcoming streaming service and the growing pressure from U.S. lawmakers on Silicon Valley.
As for the press, access continues to grow tighter. Day said that while at one time it was "pretty easy" for the media to hangout in the resort's lodge, those days have passed, with the hotel making the event's privacy paramount. It now operates in a "cone of secrecy," Day said, with reporters now quarantined to a tiny bit of real estate outside the resort  — the reason all photos of executives entering and exiting the event come from the same exact angle.
"They put you in these little pens," Day said, "and I have no desire to sit in a pen."
Both Day and the ex-Allen & Co. executive said Sun Valley makes for a prime location for the event — it's remote, and the locals aren't starstruck by the occasional executive or celebrity. The city and neighboring Ketchum offer several good dining options, but a conference favorite is Michel's Christiania, a French restaurant where you can often find chef Michel talking to patrons, with his trademark French accent, at the bar.
And if you're looking to hobnob with the Sun Valley elite, it'll cost you, with a last minute condo at the resort will run you $1,500. Rooms for next year's conference are already 100% booked.
Source: Read Full Article