Lol, the Teens in the 'Dash & Lily' Cast Haven't Been Teens in a Long Time
You know that complex you had in high school because everyone that was supposed to be your age on TV looked so much older than you? That's not just the professional make-up and hairstyling, that's because they're literally all older than you. The cast of Dash & Lily may be charming and full of holiday cheer, but they're no exception. These aren't just sophisticated city kids, they're actual adult actors.
Here are the alleged teens in Dash & Lily and how old those phonies (jk jk jk) are really.
Austin Abrams plays Dash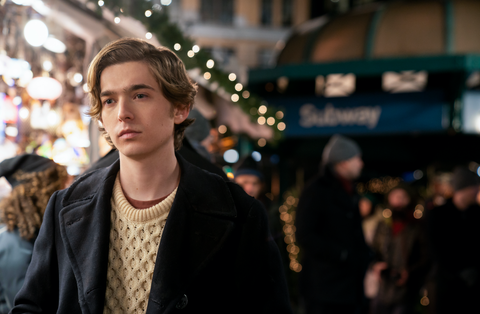 Age in the show: 17
Age IRL: 24
You know him from Euphoria as well as The Walking Dead, but Abrams is only a teen on television. Spoiler alert: pretty much all of the actors portraying teenagers on this show are in their 20s.
Midori Francis plays Lily
Age in the show: 17
Age IRL: 26
Francis is a theatre actor who got some awards attention from the play The Wolves, (about a girls' soccer team) and played another teenager named Lily in the 2019 movie Good Boys.
Dante Brown plays Boomer
Age in the show: 17
Age IRL: 21
One of the youngest members of the cast with a major role, you might know Brown from the Lethal Weapon series or Mr. Robinson. He was also on an episode of Law & Order: Special Victims Unit, which is funny only because his character in Dash & Lily befriends a Macy's elf he recognizes from SVU.
Troy Iwata plays Langston
Age in the show: 18 or 19
Age IRL: 29
Lily's older brother doesn't have to worry about moving out of the country if their parents relocate, and they mention him dropping out of NYU, so that would lead us to assume he's at least 18. Iwata was recently on Broadway understudying three main roles in Be More Chill.
Glenn McCuen plays Edgar

Age in the show: 17
Age IRL: 29
As a former Nickelodeon star from Bucket & Skinner's Epic Adventure, he's got teen culture experience, but is almost 30! You gotta love a youthful face.
Keana Marie as Sophia
Age in the show: 17
Age IRL: 25
The French actress (seriously, she was in a show called Huge in France) is new to Hollywood, but not new to Netflix (you can watch Huge in France on the streaming platform).
Source: Read Full Article