'Minari' Star Yeri Han on Why Her Role as Monica Helped Her Understand the Women in Her Life
Every year, there's that one film people can't stop raving about, drumming up Oscars buzz waaay before awards season comes along. And in 2021, that film is Minari. Written and directed by filmmaker Lee Isaac Chung, the movie is semi-autobiographical and tells the story of a Korean immigrant family chasing the American dream in the early '80s on a farm in Arkansas. And at the heart of the story is Monica, played by actress Yeri Han, a young mom doing her best to care for her kids and her own mother and keep her husband, Jacob (played by Steven Yeun), grounded.
Yeri has already made a name for herself in South Korean cinema, but American audiences are finally catching on to her greatness because of her nuanced performance in Minari. Cosmopolitan sat down with the actor (via Zoom) ahead of the Oscars to talk about the film.
What was it about the script for Minari that you connected to, that made you want to do it?
It's hard for me to say the script made me choose this movie, because when it was first brought to me as a translated version, it was rough and it was difficult for me to understand the entire story out of that rough version. That's why I felt like I needed to meet the director, Isaac, as soon as I could. And as soon as I met him, it just occurred to me that I needed to work with him no matter what. When he shared his experience growing up, the story wasn't too different from my own story, so that made me feel like, I can play Monica. With Isaac there, of course.
Other than that conversation, what was it about working with Isaac that appealed to you?
He is very smart and kind. He had an aura about him that made people around him feel so happy. If you meet him, you'll probably feel the same way. He looks trustworthy. I don't know what it is about him that I just trust. It's hard to explain.
And how did you find yourself drawn to the character of Monica?
I felt like I knew her. Alongside my mom, I also have six aunts. The script reminded me of their faces. The hard time they lived in the past and the lack of communication women had with men. And because I'm from a generation that understands that and has grown up watching that happen, it made me feel like I could portray the role well. At moments, I felt that maybe I knew how they felt—my mom, my aunts, the women in my life. So I could relate to how Monica must have felt raising her children, the lack of communication she experienced with her husband.
What are the things you admired in her as a character?

Monica is strong. Monica is stronger than me, a lot stronger than me. I want to learn from her to be strong. And I wonder if motherhood makes her strong. Although I was sad because there is a Monica who is a mom, but there is no Monica who is a woman.
What do you mean by that?
I think there were many women who lived through that generation who had a loss of identity as a woman. I think that's what they experienced. I haven't lived that life, personally, but now I understand. When I tell my mom too, "Do what you want to do." You know, we tell women that, "Do what you want to do." So often, they can't. And now I understand.
Yeah, there's this sense of duty. I think a lot of Asian women from that generation, especially, can relate. What do you think Monica would have been if she were given a choice?
I think she'd choose to be a mom anyway. She just loved Jacob so much. His dreams became Monica's dreams.
I guess it was the sort of thing people did at that time.

She became a mom at such a young age, and that's something common that a lot of people chose to be in the past. They got married young, so they became parents young. Their growing up coincided with their children's growing up. They were all growing up together, and there was a growing pain for everybody in the family.
But there's power in that, too, don't you think?

Because of the sacrifices that Soonja (the grandmother in the film) and Monica made, there's David and Annie. Without their sacrifices, so many people's lives would have been different. It's important for us not to forget that it's because of what our mothers have done that we have what we do.
Second-generation immigrants, I'm sure there are communication difficulties within the family. Immigrant family mothers say that what they've done is a sacrifice to hold the family together and it might have been just inevitable. We just need to be grateful for their sacrifices. Even they themselves want us to live a different life than their lives. Because they want us to make a choice and make a different life. And that's where you see their strength.
We don't get to see what Jacob and Monica's relationship was like before they moved.
I felt like Jacob was similar to my mom, Soonja, in the movie. He must have been fun. He was bright. I'm sure he was like that. So that's what I thought, why Monica loves him so much. I'm sure they both miss how they used to be.
How was it sharing scenes with Steven? How did you work on your chemistry together as husband and wife?
I knew, to Steven, his role was very important. He gave his all to this movie. He was very honest about his role. That helped me focus on my role, too, and that was helpful to shoot together. He was a great partner, great energy. We didn't prepare anything, we didn't set up anything but we just went right into the mode and we focused.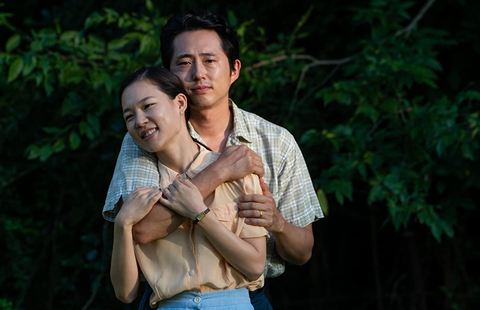 Some of your scenes were so intense!

When we had fighting scenes, we felt bad afterward. We just hugged each other because we were feeling sorry.
Did you eat minari when you were on-set? Do you personally like eating it?
Yes, of course! A lot of Koreans love minari. So in Korea these days, samgyeopsal, or pork belly, wrapped in minari is really popular.
What's the best thing that came out of this movie for you?

This movie has been great. It's gaining popularity and if we do get awarded for it, it'll be great. But if not, this movie itself brought so many great people into my life, and for that, I'm just grateful. That in and of itself is the greatest award I could ask for.
And what do you hope audiences from all over the world take away from Minari?
Yes, life is difficult. It has its downsides, but if you look very carefully, there are happy moments made in dots here and there. I don't want people to miss those happy moments. And that happiness, we cannot have it by ourselves. Those moments are created with people around us.
Source: Read Full Article