The Biggest SNL Controversies Of All Time
The following article contains references to child abuse.
As regular viewers will be very aware, anything and everything can happen after the immortal words of, "Live from New York, it's Saturday Night…," initiate the start of a "Saturday Night Live" episode. Sometimes, anything and everything can happen behind the scenes, too. The iconic comedy sketch show has managed to rack up an impressively long list of controversies since it premiered on NBC in 1975 under the name "NBC's Saturday Night." And though much has changed about the show over the many decades that it's been on the air, one thing has always remained true: There's never been a shortage of "SNL" scandals. 
From the profane and the offensive to the political and the polarizing, "SNL" has always positioned itself between the explosive poles of political satire and done so on the unpredictable stage of a live show. But there's also the issue of managing such a large team of comedians, as well as the hustle of bringing in guest hosts and musical acts who may not entirely reflect the ethos of the series' core audience, or who may not respect the rules of live television. 
There are plenty to pick from, but these might just be the biggest "SNL" controversies of all time.
Kristen Stewart's triple threat of a monologue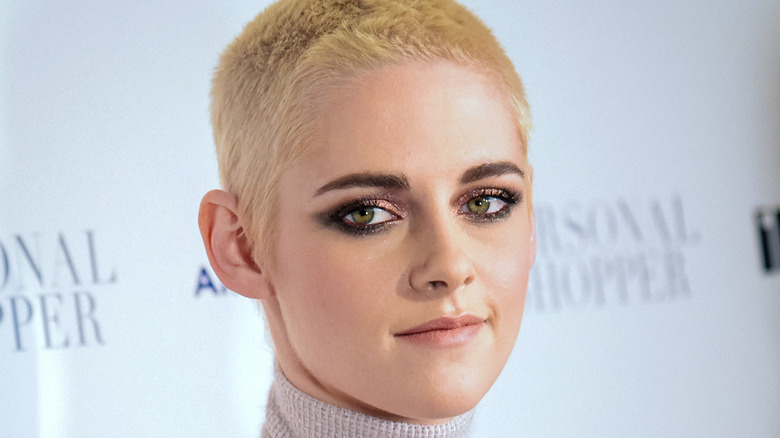 Not content with simply dropping one controversial statement within her opening monologue, Kristen Stewart showed up for her 2017 "SNL" hosting gig and dropped three without barely breaking a sweat. For controversy one, Stewart took aim at the newly inaugurated President Donald Trump. Her target? The bizarre set of 11 tweets he'd made years earlier urging Stewart's rumored ex-boyfriend and "Twilight" co-star, Robert Pattinson, to dump her because "she cheated on him like a dog and will do it again" (via ET). During the monologue, Stewart said, "To be fair, I don't think Donald Trump hated me. I think he's in love with my boyfriend."
For controversy two, she followed up this statement by calling out the president's anti-LGBTQ+ policies and accused him of homophobia. "Donald, if you didn't like me then, you're really probably not going to like me now," she said, "Because I'm hosting 'SNL' and I'm, like, so gay, dude." Now, there's obviously nothing controversial about coming out, and we applaud Stewart's openness. But as explained by Vox, though Stewart had "been open about dating women," this marked the first time she had actually confirmed her sexuality publicly — and she did it while openly trolling POTUS.
But the actor wasn't finished. Stewart went for the controversial home run by ending her monologue with an accidental F-bomb when she got overly excited about being on "SNL," which she called "the coolest f**king thing ever." By this point in the show's history, though, far worse had been said and done.
Louis C.K. cracked jokes about child abuse on SNL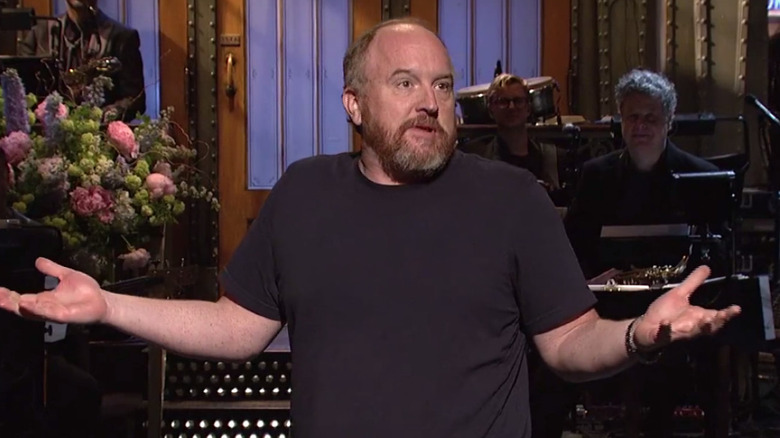 Two years before he confessed to allegations of sexual misconduct by five different women (via The New York Times), the ever-provocative Louis C.K. drew the wrath of the internet with an edgy "SNL" monologue that cracked jokes about child molestation. (Yep.) In 2015, the comedian recalled a child abuser who lived in his neighborhood during the '70s when he was a teen, and shared his disappointment that he wasn't targeted by him. "He didn't like me," C.K. said. "I felt a little bad."
As The Guardian described, the stand-up comic appeared to express "some sympathy for child predators" while "rendering the abuse they cause insignificant" by suggesting they "risk" losing everything if caught. "You can only really surmise that it must be really good … from there point of view … to risk so much," C.K. jibed to a gasping audience, before going on to make a comparison to the joy he experiences while eating Mounds bars. At the audience's reaction, he also briefly lamented, "This is my last show, probably."
Predictably, people were incensed by the, um, jokes. Numerous publications, including Deadline, asked whether C.K. went "too far" with the material, while folks in the Twittersphere argued amongst themselves about whether the jokes formed "the unfunniest, most offensive" monologue that had been on the show, or whether C.K. was simply a "comedic genius exploring human nature." Either way, it didn't kill his "SNL" career: C.K. returned to host again two years later.
If you or someone you know may be the victim of child abuse, please contact the Childhelp National Child Abuse Hotline at 1-800-4-A-Child (1-800-422-4453) or contact their live chat services.
Adam Sandler's provocative Canteen Boy sketch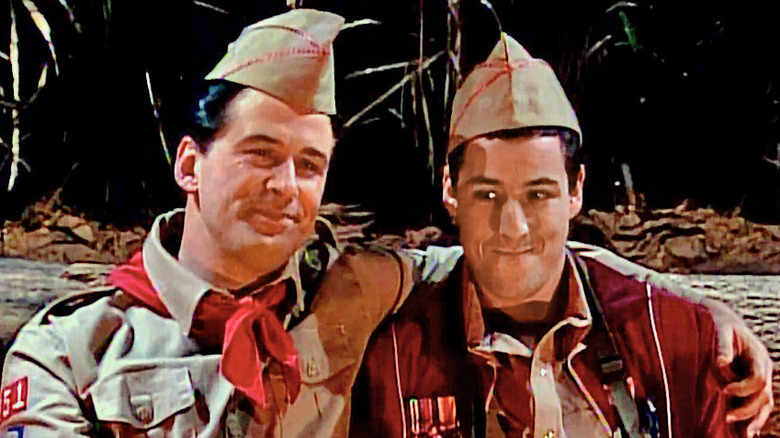 During his time as a core cast member of "Saturday Night Live" in the early '90s, Adam Sandler cultivated his "Canteen Boy" character — a dim and cowardly assistant scoutmaster with a childlike disposition. And Sandler really pushed the boundaries of the character during a Valentine's Day episode in 1994, wherein guest host Alec Baldwin played his troop's scoutmaster.
In the sketch, Sandler's character is shown to be extremely uncomfortable with the intensifying sexual advances being forced his way by his scoutmaster. Baldwin's character coercively pushes wine on Canteen Boy and forces Canteen Boy to share a sleeping bag with him after he "accidentally" spills wine all over his bedding, for example.
The Boy Scouts of America were largely unimpressed, with a rep telling the Chicago Sun Times, "We see nothing funny about child molestation, and are surprised that this unfunny subject would be selected for a comedy sketch" (via The Washington Post). For his part, Baldwin revisited the sketch later that same year during his fifth time hosting the show and reframed the jokes as being about a "perfectly intelligent 27-year old — not a child," adding that "some people got the wrong idea." Describing how "all hell broke loose," he shared how "the NBC switchboard handled over 300,000 angry phone calls that night alone." According to The Washington Post, however, NBC denied that they'd received "an abundance of complaints" for the sketch. 
If you or someone you know may be the victim of child abuse, please contact the Childhelp National Child Abuse Hotline at 1-800-4-A-Child (1-800-422-4453) or contact their live chat services.
Martin Lawrence got too raunchy for TV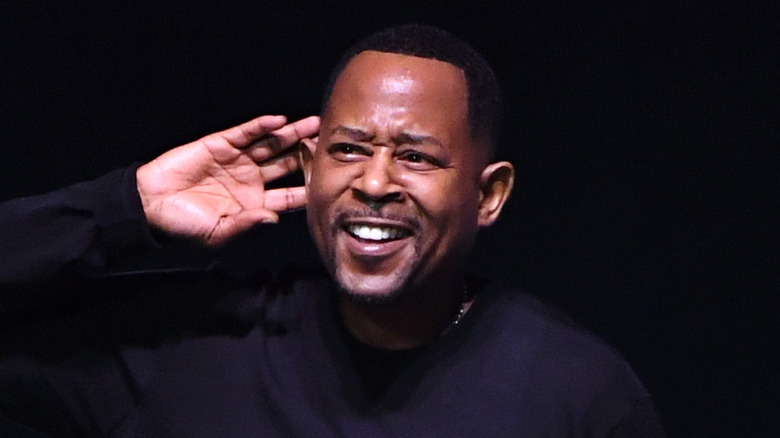 As Louis C.K. discovered, it's something of an unspoken rule that there are just some topics that remain off-limits for comedic sets on television. Martin Lawrence learned this the hard way back in 1994, when he delivered a salacious monologue on "SNL" critiquing the genital hygiene of women and how they needed "to wash properly." (Major yikes.) While the East Coast was hit with the full force of the set, the West coast received a heavily-edited version, from which these jokes were cut. To this day, it's almost impossible to find an uncensored version of it online.
The Los Angeles Times reported that NBC "received almost 200 complaints" regarding the monologue, with the network barring Lawrence from "NBC programming for the time being" because of it. The newspaper reported that Lawrence didn't seem angry about the response, but did question whether it fell into the realm of "bad taste." In reference to the abovementioned "Canteen Boy" sketch, Lawrence later said, "I saw Alec Baldwin playing a camp counselor and licking a little boy's fingers. That seems worse to me than what I had to say."
In 2020, Lawrence appeared on "The Breakfast Club," where he jokingly commented that he "don't give a damn" about whether he's banned from "SNL," but also added, "I'm not banned" (via The Source). He said, "[NBC] realized the way it went down wasn't what they thought and then they sent me an apology letter."
Chevy Chase and Richard Pryor's legendary race riff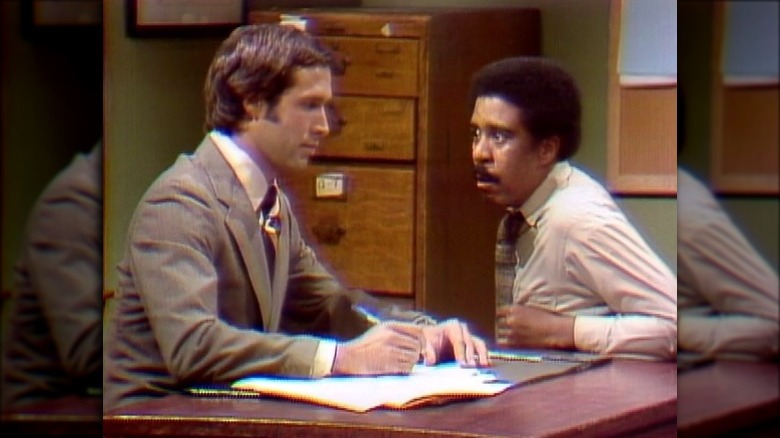 In the middle of "SNL's" first season, co-creator and producer Lorne Michaels booked a guest host who would boost the show's rookie ratings: the ever provocative and hilarious Richard Pryor. His 1975 guest hosted episode remains legendary, but at the time, one sketch proved to be too shocking for America. Starring Pryor opposite Chevy Chase, the "Word Association" sketch saw an employer (Chase) doing a word prompt test exchange with a job applicant (Pryor), which escalates to the point that the two exchange a slew of tense racial slurs against one another. It ends with Chase casually dropping the N-word and Pryor responding, "Dead honky."
In his memoirs, writer Paul Mooney — who penned the sketch — reflected on the sketch's impact and importance. "It's like an H-bomb that Richard and I toss into America's consciousness," he wrote (via The Washington Post). "The N-word as a weapon, turned back against those who use it, has been born on national TV." As Salon reported, the sketch is often brought up in relation to Chase and Pryor's tense rivalry, but it's also recognized as being a significant cultural turning point. 
Decades later, Michaels confirmed to The New York Times that the sketch "defined" the show and put it "on the map." So, it remains divisive yet influential, with comedian Dave Chapelle once noting, per The Washington Post, how watching "a Black man on TV, holding his own with a White man … changed everything."
Inside Chevy Chase and Bill Murray's backstage brawl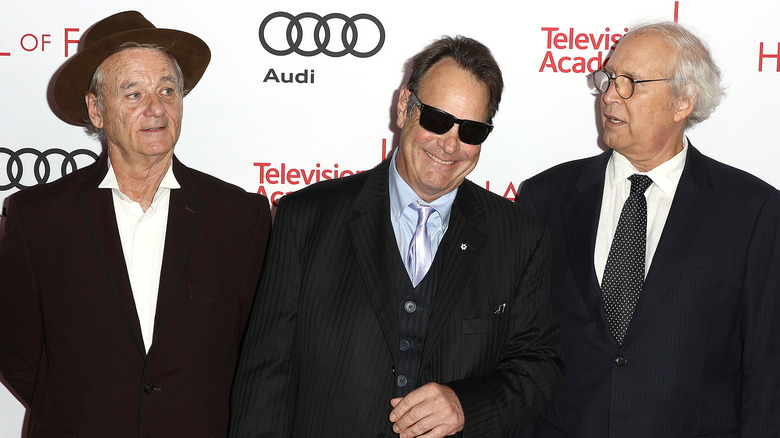 One of the most legendary controversies in "SNL" history actually took place entirely off-screen between "SNL" legends Chevy Chase and Bill Murray. The story goes that a "heated exchange" went down between the two in 1978 before Chase, who was a guest host that week, was due on stage. As Chase later revealed on "The Howard Stern Show," the late John Belushi may have been feeling a little overshadowed by his former co-star's sudden success after leaving the show, and had supposedly "worked Bill up" by telling stories about him "that simply hadn't occurred."
"I think that Billy probably wanted to knock me down a couple of rungs," Chase said. The verbal exchange got physical, with the two exchanging fisticuffs instead of words. "Billy jumped up from [the] couch … and charged me," he added. "… And I immediately got into a fight stance!" Chase explains how Belushi — "guilty" from having stirred the point — tried to break the fight up and got caught in the crossfire.
Over time, the two comedians kissed and made up and even worked together on the comedy classic, 1980's "Caddyshack." Chase told Howard Stern, the two have been "very friendly" since: "We've made an effort over the years to get to know each other better and to put that stuff behind us." But on an episode of "Watch What Happens Live," contemporary "SNL" cast member Laraine Newman, who'd "witnessed" the fight, called it "very sad and painful and awful."
Jimmy Fallon's blackface incident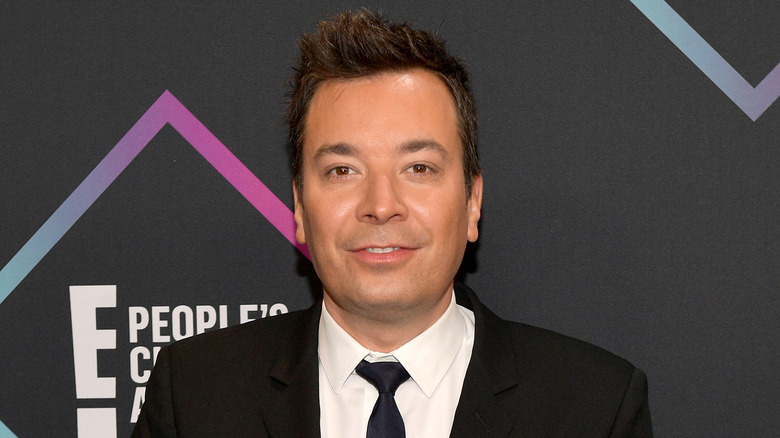 In 2020, a long forgotten "SNL" sketch, where Jimmy Fallon wore blackface while performing an impersonation of Chris Rock, surfaced online to tremendous outrage. In the actual sketch itself, the audience can be heard clearly gasping when the comedian enters the stage looking and acting how he does.
Fallon issued an apology on Twitter, calling it a "terrible decision." He added, "There is no excuse for this. I am very sorry for making this unquestionably offensive decision and thank all of you for holding me accountable." Fallon even took a week out from hosting "The Tonight Show" to deal with the controversy, and immediately returned with an episode addressing it. "I was horrified," he said, "Not of the fact that people were trying to 'cancel' me … The thing that haunts me the most was, how do I say I love this person?"
Clearly, Rock heard and understood this sense of "love" and called Fallon "a great guy" in an interview with The New York Times. The actor and comedian confirmed that he and Fallon are "friends," and even defended his actions: "I don't think Jimmy Fallon intended to hurt me, and he didn't." Rock likewise told The Hollywood Reporter that Fallon "doesn't have a racist bone in his body" and that he'd dismissed the impression as "bad comedy." We can probably all agree that these were classy responses from both sides of the issue. 
Sinead O'Connor publicly challenged the church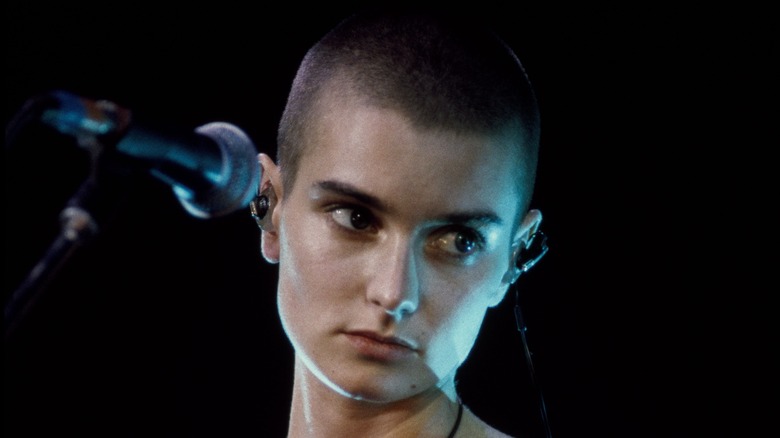 Nine years prior to Pope John Paul II publicly acknowledging sexual abuse within the Catholic church, Irish protest singer Sinéad O'Connor sang a powerful a cappella rendering of Bob Marley's "War" on "SNL" in 1992, with an intent to protest the church's incidents of child abuse. To top off the performance, O'Connor tore a photo of the Pope while singing the word "evil" and implored her American audience to "fight the real enemy." Her message was not well received.
According to the New York Daily News, "NBC said it received more than 4,400 calls of protest" and several celebrities clamored to attack O'Connor for her performance. Frank Sinatra, for example, reportedly said he wished to "punch her in the mouth," while Joe Pesci announced during his own "Saturday Night Live" monologue the following week that he "would have gave her such a smack" if she'd done it during his show.
O'Connor revisited the performance in a 2021 "Today" interview with Carson Daly, where she admitted that she struggled with complex PTSD "from things that [she] went through growing up," and added that the photo she tore up belonged to her abusive mother: "It was a way of ripping her up, as well, I guess." Speaking to The New York Times, she likewise revealed that though she suffered for what she did on live TV, she has no regrets. "I'm not sorry I did it. It was brilliant," O'Connor said. "But it was very traumatizing." She added, "It was open season on treating me like a crazy b**ch."
If you or someone you know may be the victim of child abuse, please contact the Childhelp National Child Abuse Hotline at 1-800-4-A-Child (1-800-422-4453) or contact their live chat services.
If you or someone you know is struggling with mental health, please contact the Crisis Text Line by texting HOME to 741741, call the National Alliance on Mental Illness helpline at 1-800-950-NAMI (6264), or visit the National Institute of Mental Health website.

Wayne's World got gross about Chelsea Clinton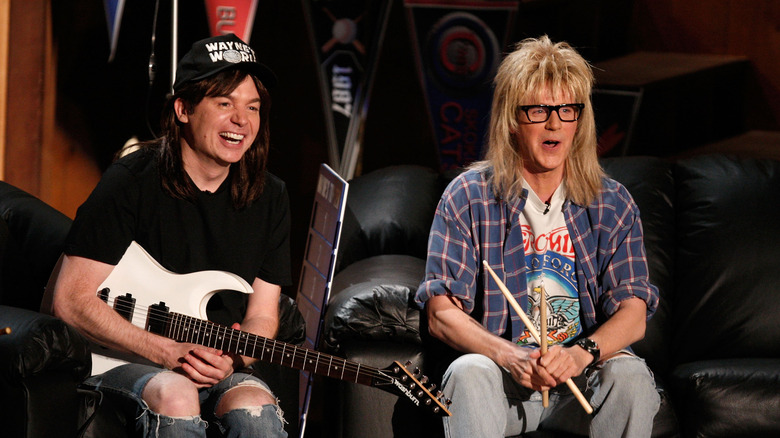 In 1993, the basement dwelling babe connoisseurs of "Wayne's World" aimed an unpleasant stonewash-clad "Schwing" in the direction of a then-13-year old Chelsea Clinton. According to Gawker, the sketch in question had Wayne and Garth — depicted by Mike Myers and Dana Carvey, respectively — rating the daughters of politicians. While Al Gore's daughters were bigged up and referred to as being "Babe-raham Lincoln" if they were to ever become president, Bill and Hillary Clinton's teen daughter was called "a babe in development."
As reported by The Baltimore Sun, the sketch drew "boos from the TV community and public criticism from Hillary Rodham Clinton," which the team immediately responded to. Myers reportedly "wrote a letter of apology" to the Clintons, while Lorne Michaels scrambled to serve up an apology. "We felt, upon reflection, that if it was in any way hurtful, it wasn't worth it," he said. "She's a kid, a kid who didn't choose to be in public life." 
At the time, the Clintons were understandably extremely protective of their daughter and her right to enjoy a personal life out of the public eye. The Tampa Bay Times reported that in the week following the sketch, then-President Clinton even commented on Chelsea not accompanying him to a summit meeting in Japan, saying, "She didn't want to be a big object of public interest."
Pete Davidson mocked Dan Crenshaw's eyepatch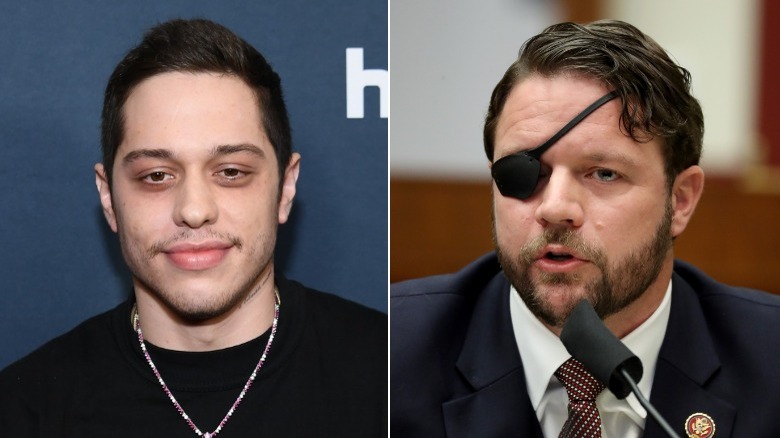 As proven by the "Wayne's World" debacle, sometimes the cast of "SNL" can go a little too far in their jokes about public figures. Pete Davidson opened just such a can of worms in 2018, when he chose to mock the eyepatch of Dan Crenshaw, who was a congressional candidate at the time. According to CNN, Davidson threw the jibe on "Weekend Update," where he compared Crenshaw to looking like "a hit man in a porno," before adding, "I'm sorry, I know he lost his eye in war, or whatever."
For his part, Crenshaw is a decorated Navy SEAL who lost his right eye in an IED blast while serving in Afghanistan, per People, and he understandably didn't take well to Davidson's cheap shot. In a Twitter post, the Republican congressman stated that he hoped NBC understands "that vets don't deserve to see their wounds used as punchlines for bad jokes." A week later, Crenshaw made a guest appearance on "SNL," where Davidson told him (via Slate), "On behalf of me and the show, I apologize." The two shook hands and they appeared to be civil with each other.
Crenshaw then went on to win the midterms — and Davidson eventually went on to rescind his apology. In "Alive From New York," his Netflix special released two years later, the comedian credited himself for making "that guy famous and a household name" and called the joke "harmless," according to The Daily Beast. Davidson added that his act of contrition wasn't sincere and said, "I kind of got forced to apologize."
Rage Against the Machine's 'censored' protest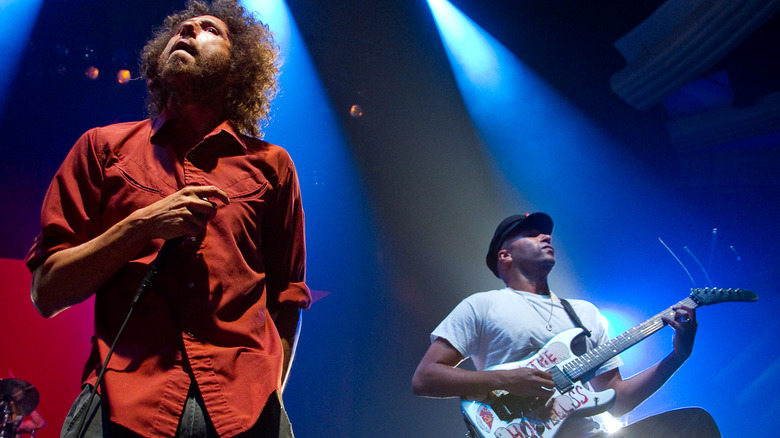 Back in 1996, the "SNL" team somehow didn't anticipate that an openly political band by the name of Rage Against the Machine might just clash with the episode's guest host, Steve Forbes. The billionaire publishing executive was hustling a Republican presidential campaign that year, and basically represents everything the band abhors. Inevitably, Rage Against the Machine came ready to do what their name suggests, and they'd hung upside down U.S. flags from their amplifier grilles as a protest against Forbes. …It was not well received.
Speaking to the Los Angeles Times, guitarist Tom Morello said how the band "wanted to stand in sharp juxtaposition" to Forbes, whose appearance on the show he described as "a billionaire telling these jokes and promoting his flat tax." According to the musician, stagehands ripped down the flags just seconds before they entered the stage to perform "Bulls on Parade," and "officials asked them to leave the building" directly after their performance.
The group was so livid that bassist Tom Bob threw torn up pieces of one of the flags into Forbes' dressing room, and Morello accused "SNL" of censorship. He told the Los Angeles Times that "they could not have sucked up to the billionaire more." He furthermore alleged that those working on "SNL" were "cowards" and "bootlickers to their corporate masters." 
Responding to the controversy, Lorne Michaels simply said, "We really enjoyed having Rage Against the Machine on our show."
Did SNL 'help' Donald Trump get elected?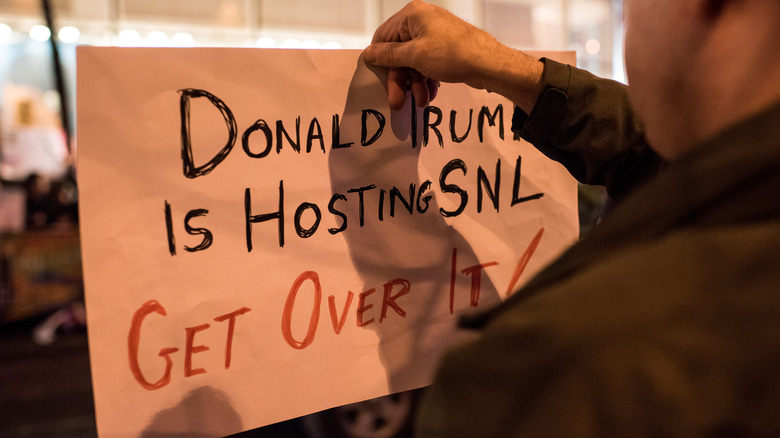 In 2004, during the peak of his "The Apprentice" ratings, Donald Trump did his first "SNL" guest hosting stint and bragged (via The New York Times), "Nobody's bigger than me." Eleven years later, he returned to the show — only now he was less reality TV star and more combative presidential candidate whose recent statements regarding Mexican immigrants allegedly "bringing drugs" and being "rapists" had NBC cutting "business ties" with him, per NBC News. "SNL," however, instead chose to make him a guest host.
As HuffPost reported, the decision drew such furor that protests "erupted" outside the NBC Studios at 30 Rockefeller Center, and following the broadcast, reviews were not kind. USA Today called the episode "a disaster" and "an hour-long campaign commercial," while Vox described it as "bland and boring and toothless," with sketches seemingly "unwilling to satirize the host or celebrate him." After Trump was elected in 2016, many rallied against "SNL" and accused the show of helping to contribute to his success. Comedian Anthony Jeselnik, for instance, told The Daily Beast outright, "I think Lorne Michaels helped get Trump elected."
Meanwhile, then-cast member Taran Killam called the episode "embarrassing and shameful" and suggested that Trump was "not an enjoyable person to be around" during filming. However, while he refuted the idea that the episode helped "him become president" in an interview with NPR, Killam added, "But there's definitely something where it normalizes him and makes it OK for him to be part of the conversation."
Kanye West's bizarre rant in support of President Trump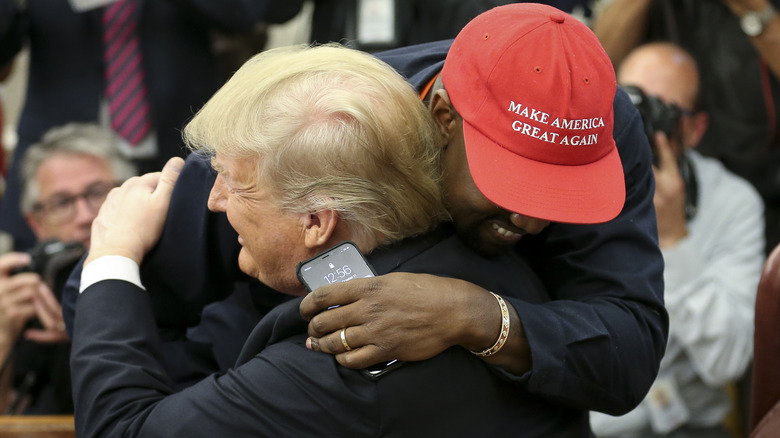 Naturally, the Donald Trump "SNL" controversy still had plenty of life in it midway through his only term as president, this time courtesy of Kanye West whilst he was a musical guest in 2018. At the time of his appearance, West was already courting controversy online due to his outspoken support of Trump (via Billboard) and his reported friendship with him at that time, per Business Insider. The artist reportedly went on a "rant about President Trump as 'SNL' went off the air" while wearing a "Make America Great Again" hat, according to CNN. And though the rant didn't make the broadcast, Chris Rock captured the moment from the audience and shared it on his Instagram Stories.
As reported by ET, West could be seen "pacing the stage" as he unloaded the rant at the audience whilst "an organ played behind" him. The rapper said, "So many times I've talked to a white person about this, and he'd say, 'How could you love Trump? He's racist.' Well, if I was concerned about racism I would have moved out of America a long time ago." 
Following the unaired moment, cast member Kenan Thompson joked on "Late Night with Seth Meyers" that West held the cast "hostage" by indulging the rant after the cameras had cut off. "He voiced his opinion. Very loudly. For a long time," Thompson said. "We're all entitled to our opinion, I don't know if that's the [right] moment, necessarily."
Elon Musk hosted SNL at his controversial peak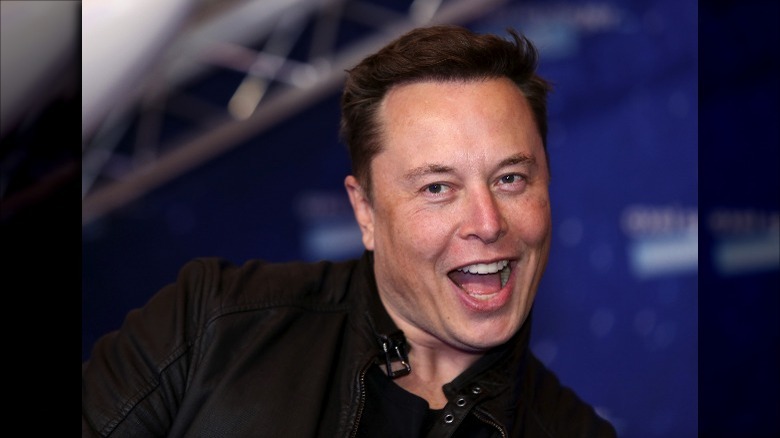 In 2021, Tesla billionaire Elon Musk had fully established himself as a polarizing figure, receiving widespread criticism for infractions including fighting Tesla staff over unionization (via Vox), promoting coronavirus misinformation online, per Business Insider, and mocking the use of pronouns on Twitter. So naturally, the announcement that the so-called "Space Karen" was going to host "SNL" caused immediate uproar online, with cast members even voicing their disdain for the decision in social media posts which were later deleted, according to the New York Post.
Despite opposition from the show's cast and audience, Musk hosted the show as planned, and the episode was deluged with negative criticism afterwards. The Guardian stated that it'd go down in history "as one of 'SNL's worst episodes ever," while The AV Club mused that it was "a 90-minute exercise in host-exonerating interference" featuring "a long run of ego-fluffing humblebrags" for Musk. Ouch.
While the episode was panned critically, it was a huge ratings hit, attracting an average of 7.3 million viewers, making it the "3rd most-watched of the season," according to USA Today. However, it didn't score many brownie points with Musk's stock profile: Forbes reported that, in the week following his "SNL" hosting stint, his "fortune … plunged by more than $20 million."
Ashlee Simpson had the mother of all lip sync failures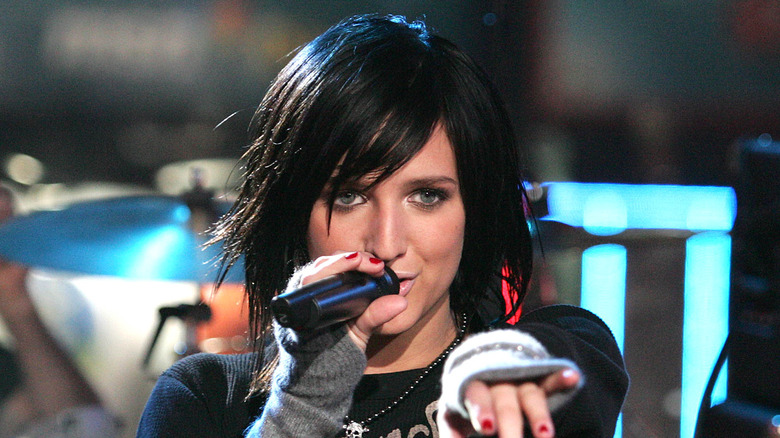 In 2004, musician and reality TV star Ashlee Simpson experienced an onstage moment so intensely awkward that it transcends the annals of "SNL" controversies to being one of the most cringe-worthy blunders ever committed to the stage. 
For her second performance of the night, musical guest Simpson was due to perform "Autobiography." But as the band started playing, the vocal track from her previous performance, "Pieces of Me," started blaring out while the singer's microphone remained at her side. As Today reported, Simpson then "improvised a few dance steps before bolting from the stage" and NBC likewise improvised an emergency commercial break. Simpson closed out the episode by claiming that her "band played the wrong song." She later doubled down on the disaster by explaining on "Total Request Live" that a bad case of acid reflux led to her "completely [losing her] voice," necessitating her to use a backing track (via MTV News). 
But still, the backlash was instant and rough, with Simpson confessing to People in 2018 that, for that moment, "the world hated [her]" and thought of her as a "joke." Further opening up to E!, Simpson added that the controversy only levelled her up as a performer and a person, saying, "I think things like that build your character and your strength and it's how you handle them." Find yourself in a pickle? Improvise some dance moves.
Infamous punk band Fear incited a mini-riot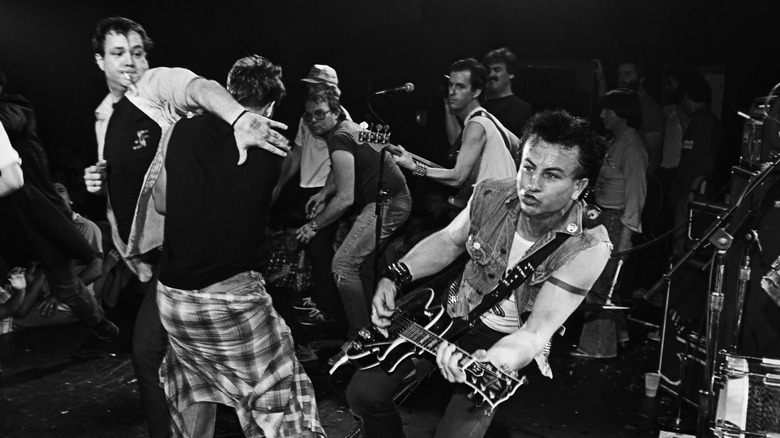 Just before the iconic Los Angeles punk band was featured in Penelope Spheeris' era-defining punk documentary, "The Decline of Western Civilization, Part 1," Fear was simply tearing up its hometown at local punk shows. In 1980, John Belushi happened to attend one of the band's sets, and as lead singer later Lee Ving recalled to Rolling Stone, "We had a couple of beers and became fast friends." 
The comedian subsequently booked the band for "SNL's" Halloween episode in 1981 and hustled together a ruckus of audience members made up of authentic punk fans to enjoy such cacophonous Fear tunes as "Beef Boloney" and the critical "New York's Alright If You Like Saxophones." Then, a small-scale musical riot ensued on stage and consumed everything in its path. Equipment got damaged and "SNL" producer Dick Ebersol even got hit by a pumpkin. But the final straw was one punk fan grabbing the microphone to yell, "F**k New York!" 
An anonymous NBC technician called the performance a "life threatening situation" to the New York Post (via Open Culture), which also alleged that $400,000 worth of damages were caused. A little later, Billboard reported that Ving had supplied the figure to the post as a joke, with "SNL" spokesman Peter Hamilton confirming that they only actually "had to pay $40 in labor penalties." 
Regardless, the performance went down in history, and Ving proudly became "one of the esteemed members of the permanently banned" from "SNL," according to Rolling Stone.
The Replacements got drunk and raised hell on SNL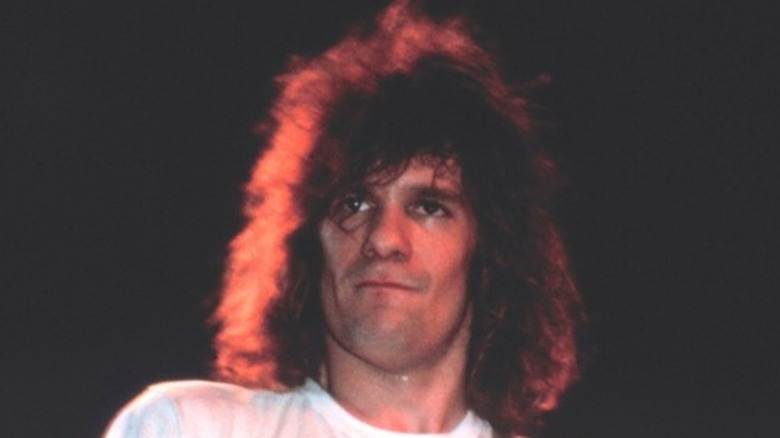 By comparison, legendary ragtag rock band The Replacements dished out a far milder act of punk rock rebellion during its 1986 "SNL" musical guest slot, which regardless earned the group a spot on the auspicious "SNL" banned list. As described in Bob Mehr's biography of the band, "Trouble Boys: The True Story of the Replacements," the inebriated set saw the boys pumping their amps up excessively loud, while singer Paul Westerberg was caught screaming an off-mic profanity, and guitarist Bob Stinson wore a poorly fitted unitard so small that he accidentally "flashed" his bare derriere at the camera, per Rolling Stone.
Lorne Michaels was reportedly furious and chewed The Replacements members out for their behavior backstage. However, "mid-tirade" he "caught a glimpse of the dressing room" and noticed that "the band had 'redecorated' it" — and we don't think he meant in a cute Bobby Berk kind of way. In the band's oral history, "All Over but the Shouting," Stinson revealed that Michaels gave them "free bar tabs" and that the band "went to town." He subsequently said that they were forced to pay "the tab on the $1000 worth of supposed 'damage'" they did (via Stereogum). 
The performance is now renowned for being as "brilliant" as it is "kind of [a] catastrophe," according to Men's Journal. And though The Replacements haven't returned to "SNL," the band did make its return to NBC in 2014 with a far more subdued performance on "The Tonight Show Starring Jimmy Fallon."
Adrian Brody improvised an inappropriate Jamaican impression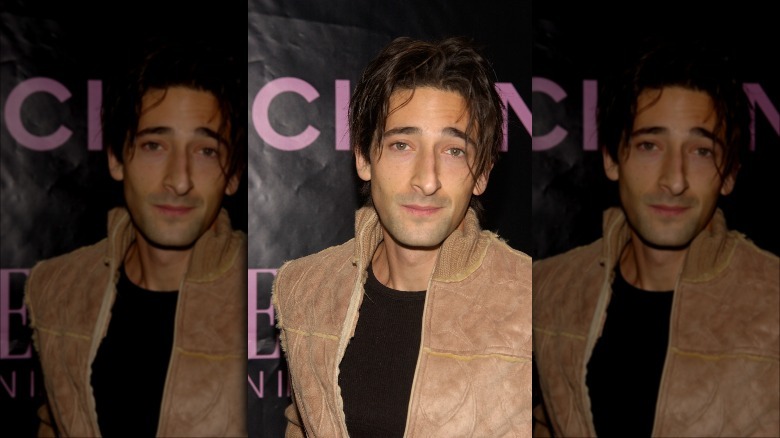 You might have noticed by this point that Lorne Michaels is not a man who necessarily enjoys moments of unscripted insanity in his show. Apparently, Oscar-winning actor Adrien Brody was blissfully unaware of this fact during his first — and potentially last — hosting stint on "SNL" in 2002, when he decided to do his own thing while introducing Jamaican dancehall legend Sean Paul as the musical guest.
Unfortunately for everyone, Brody's "own thing" involved the screen star donning a cheap dreadlock wig while he adopted a poorly-executed Jamaican accent. Brody's "jokes" also appeared to be framed around Jamaican stereotypes, with Far Out magazine stating that the actor referred to Paul as the "original rude boy," before unleashing an odd attempt at comedy, where he said, "Respect all aspect, respect me neck, respect me knees, big up Jamaica massive!" It might just be the most awkward 45 seconds of the show's history — Ashlee Simpson's lip sync debacle very much included.
But the awkwardness didn't end there. In an interview with Moviefone (via HuffPost), Brody gave some sharp, brief answers to questions about the episode, during which he admitted he had "a great time" on "SNL" and would like to host again. However, he also said that he'd "heard" he'd been banned from the show, but added, "I don't know." As Brody told it at the time, Michaels said nothing to him backstage, either. And yet, the actor still has yet to make his "SNL" return.
Shane Gillis got hired and fired from SNL without seeing stage time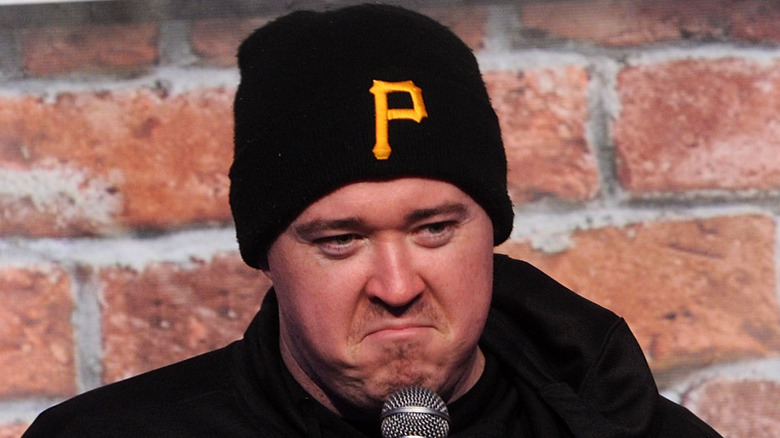 Sometimes, a comedian doesn't even have to be on the sketch comedy show for controversy to hit "SNL." Such was the case for Shane Gillis, who was fired from his new position as a cast member … just four days after being hired in 2019. According to Vox, the incident which lost him his job had occurred a year previously, when the stand-up comic delivered an attack on the Asian community and Chinatown during an episode of "Matt and Shane's Secret Podcast." Unluckily for him, his resurfaced comments weren't so secret, and Gillis received backlash for calling Chinatown "nuts" and for using a racial slur.
USA Today reported that Gillis posted a since-removed apology on Twitter, in which he explained that he "pushes boundaries" through his comedy and "sometimes miss[es]." However, it wasn't enough to save his job at "SNL." Lorne Michaels issued a statement, which read in part, "After talking with Shane Gillis, we have decided that he will not be joining 'SNL.'" Stating that the team were "not aware" of the comments he'd previously made, Michaels apologized and added "our vetting process was not up to our standard." 
Gillis' response? "I'm a comedian who was funny enough to get 'SNL.' That can't be taken away," he wrote in another since-deleted tweet (via TV Line). Gillis went on to conclude, "I was always a 'MADtv' guy anyway." Sure.
Source: Read Full Article