The Disney Channel Show You Forgot Jake Paul Starred In
These days, Jake Paul is one of YouTube's biggest creators. With more than 20 million subscribers and counting, Paul has made quite the name for himself on the internet — and become a millionaire in the process. His older brother Logan has also shared similar success, with both men now turning to boxing. Along the way, Paul dabbled in music, releasing several singles in 2017, including a remix of his song "It's Everyday Bro" with Gucci Mane. Despite Paul's popularity and his successful career, which began on Vine, his journey has been marred by several controversies, making him one of YouTube's most controversial content creators. 
As Paul focuses more on boxing, it's easy to forget that he had a brief spell as an actor. Not only did the YouTuber-turned-boxer once appear on a Disney Channel show, he did so alongside a Gen-Z queen who's quickly becoming a big name in pop music.
Jake Paul and Olivia Rodrigo were co-stars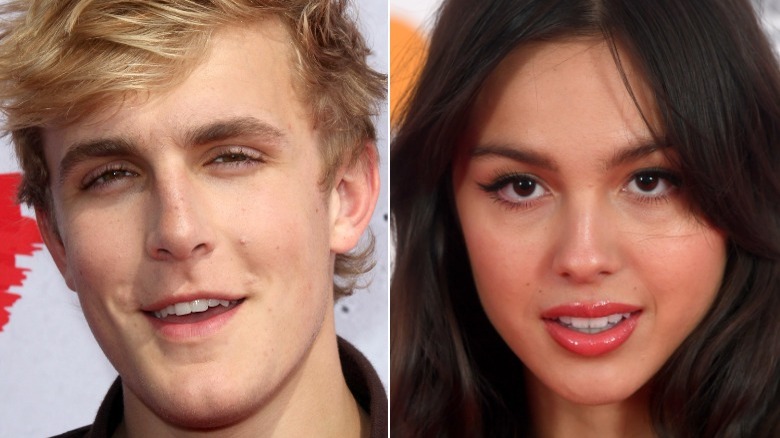 Thanks in part to his success on Vine and YouTube, Jake Paul was cast on the Disney Channel series "Bizaardvark." The series, which also featured Olivia Rodrigo in her Disney Channel debut, followed the lives and careers of young content creators. Hardly a far cry from his real-life self, Paul played Dirk Mann, the star of the channel Dare Me Bro, who took dare requests and performed them for his followers.
Paul's acting career was short-lived though, as he left the series in the middle of the second season. In a statement (via Deadline), a Disney Channel spokesperson said, "On behalf of the production company, the cast and crew, we thank Jake for his good work on the TV series for the past 18 months and extend our best wishes to him."
The network released no further comment as to why Paul left the show. However, his abrupt exit came following a KTLA report about public complaints and threats of a "class-action public nuisance lawsuit" from Paul's neighbors over partying and pranks – "like lighting furniture on fire in an empty swimming pool" – coming from his Los Angeles home
What really went down with Jake Paul's exit?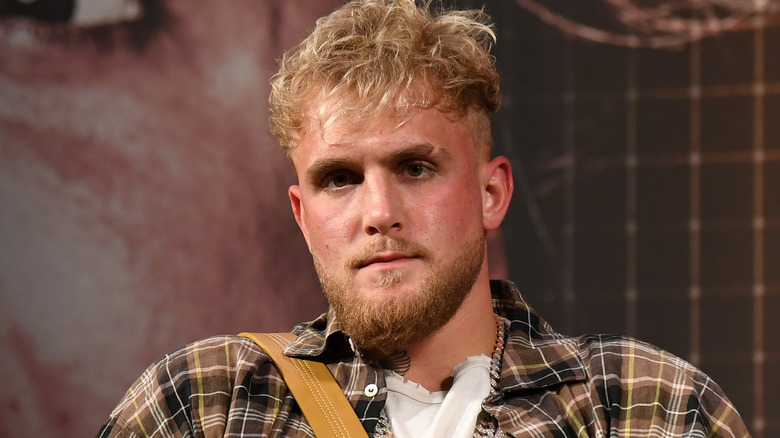 In an August 2017 interview with The Hollywood Reporter, one month after the KTLA report surfaced, Jake Paul opened up about his departure from "Bizaardvark." Per the outlet, "Disney was not a fan of Jake's online antics." Paul explained, "I was becoming edgier with my content," noting that, at one point, he "put a middle finger up in a video for literally half a second." The YouTube star also allegedly "started receiving angry emails from the talent relations division at Disney."
According to THR, the KTLA report was the breaking point. Paul told the outlet, "They basically called me and were like, 'Yo, what's going on, what's going on?' And I just explained the situation, and they were like, 'OK. We want to expedite this process of weaning you off the show.' And I was like, 'Yeah, that's fine. But it's going to look like you guys fired me.' And they were like, 'We can say that we mutually parted ways and blah, blah, blah.' And that's the reality of the story."
Nonetheless, it didn't stop speculation. "Looking back, I see why everyone was like, 'Yo, this kid sucks," he said. "'Cause I look super immature."
Source: Read Full Article