'The Queen's Gambit': Anya Taylor-Joy on Why It Was 'Incredibly Important for the Substance Abuse Scenes to Be Different'
Beth Harmon discovers pills when she's at an orphanage on Netflix's The Queen's Gambit. Portrayed by Anya Taylor-Joy, they become a major part of the chess phenom's life. After winning a Golden Globe for her performance, Taylor-Joy is opening up about Beth's addiction and how the miniseries portrayed it. 
Anya Taylor-Joy explains how 'important' it was for Beth Harmon's 'substance abuse scenes to be different'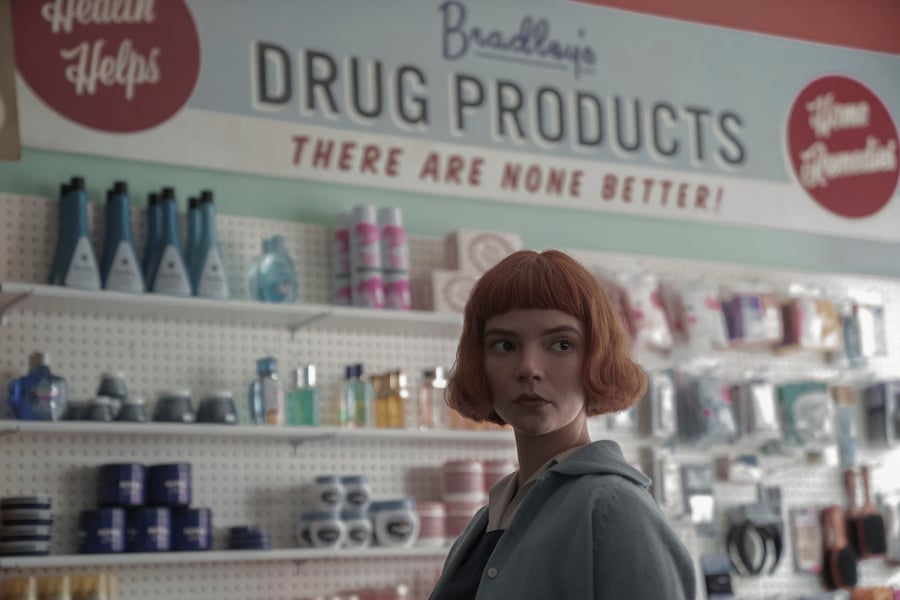 During a virtual cast interview during The Paley Center for Media's PaleyFest LA 2021, Taylor-Joy discussed her character's alcohol and drug use. She explained how The Queen's Gambit portrayed it in a different way as opposed to other TV shows or movies. 
"it was incredibly important for the substance abuse scenes to be different because we wanted to show what it is that she was getting out of it or what it was that she was trying to get out of it," Taylor-Joy said, according to Yahoo Entertainment.
"And the thing about substance abuse is that it works for a period of time, that's why people do it," she added. "It works. And then eventually it stops working and then it completely derails your life."
On The Queen's Gambit, the storyline about Harmon and the pills slowly escalates. She steals pills from the orphanage as a child. Later, she takes them from her adopted mother. Finally, she buys them from a pharmacy in Mexico during a chess tournament.
"In a lot of films I've seen that tackle substance abuse," Taylor-Joy said before adding, "usually something really bombastic and loud happens and it's like, this is your rock bottom."
However, The Queen's Gambit doesn't go that route. 
'The Queen's Gambit' star wanted viewers to see the 'reality of what it is to live with addiction'
In the same conversation, Taylor-Joy shared that the goal was to have a more authentic take. She cited a "beautiful, heartbreaking line" delivered to Harmon by Harry Beltik, played by Harry Potter actor Harry Melling. Beth shows up at a school chess tournament when Beltik tells her about his father's experience with alcoholism. 
"He wasn't mean or anything. He just got quiet and fell asleep in his clothes," Beltik told Harmon.
"That reality of what it is to live with addiction and that it's not this big, rock and roll, you know, I got drunk on a plane and woke up in Las Vegas," Taylor-Joy said. "It's not that. It's like, no, it's you locked inside your house. Like, it's that."
"And I think having that respect for the quiet sadness of it and the quiet despair, I think, potentially people haven't really seen that much of that," she added. "And it shone a light in a different way."
The Queen's Gambit Season 1 ended with Harmon playing chess sans pills or alcohol to become a champion.
Is 'The Queen's Gambit' getting a second season?
After receiving critical acclaim and being one of the most talked-about TV shows of 2020, will the Netflix series return for more? Signs point to no although nothing is for sure.
The Queen's Gambit is based on Walter Tevis' 1983 novel of the same name. Tevis died shortly after his book hit shelves and the program ends right where the book does. Executive producer, William Holberg, likes the ending.
"The last scene feels like a beautiful note to end the show on, so I'm not sure if we want to go on and answer that question," he told Town & Country in February 2021. "Maybe we can just let the audience imagine what comes next."
Meanwhile, Taylor-Joy would reprise her role if the miniseries moved forward with more episodes. 
How to get help: In the U.S., contact the Substance Abuse and Mental Health Services Administration helpline at 1-800-662-4357.
Source: Read Full Article