The Real Reason Siesta Keys Brandon Gomes And Camilla Cattaneo Split
Brandon Gomes' love life has been an on-going storyline on "Siesta Key." Over its first four seasons, the MTV reality show showcased the musician's rocky relationships with co-stars Madisson Hausburg, Amanda Miller, and more. In 2018, Brandon had seemingly found his match with Camilla Cattaneo, an on-and-off girlfriend who lived in Italy but relocated back to Florida, where "Siesta Key" is filmed.
Viewers saw Brandon and Camilla's revived relationship moved quickly, but not always in the ways Brandon wanted. Not only did Camilla encourage her boyfriend to find a career outside of music, but she pushed for a cohabitation situation. In one memorable scene filmed in late 2019, Camilla gifted Brandon a cat for Christmas. She explained that it would be good practice for them for later and that it would mean they would already have a pet when they moved in together. Brandon warned his girlfriend that she was taking some "big steps" without consulting with him first. While he was a little caught off-guard by the kitty, Brandon did seem to be in it for the long haul. 
But then something huge happened.
Brandon Gomes got another girl pregnant while he was with Camilla Cattaneo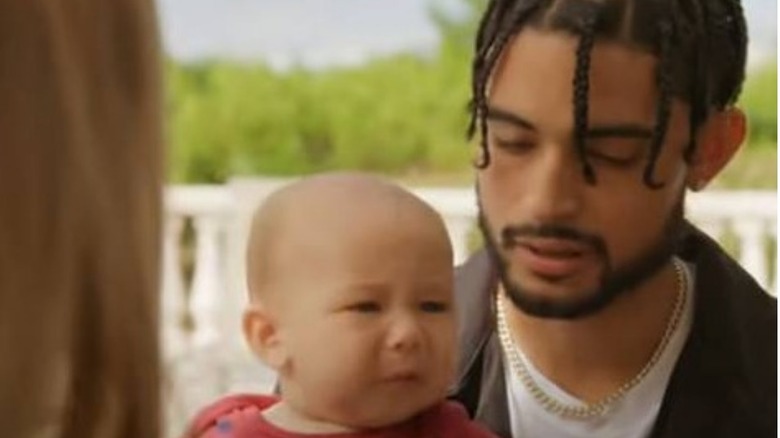 Brandon Gomes and Camilla Cattaneo's relationship was never smooth sailing. Like Ross and Rachel from "Friends," they took a "break" from their relationship. But it looks like the two were together when he fathered a child with a woman named Delainey Shae. Brandon dropped the baby bombshell during the "Siesta Key" reunion in 2020, per People, but he told Camilla a few days before. In an interview with "The Gay & The Girl" podcast, Camilla admitted she was blindsided when Brandon contacted her to tell her he had a baby boy, Quincy, following a one-night stand. "I just went on the floor. I had a panic attack," Camilla said. "I didn't even know what was happening. I was just like, 'What? You're kidding. Is this fake? Are you pranking me?'"
She then proceeded to "block" Brandon from her phone. Camilla noted that Brandon and Delainey were never a couple and that it was "just a random hookup," but that didn't make it any easier to face the rest of "Siesta Key" cast when Brandon broke the news during the reunion. While that reunion was one of the hardest things she had to go through, Camilla told the podcast that she believed Brandon would "step up" as a dad after initially running away from his problem. "He definitely wishes I was the mother of his kid, obviously," Camilla added. "It's just like, that's not how it happens when you cheat."
Camilla Cattaneo revealed that she was pregnant with Brandon Gomes' baby but lost their child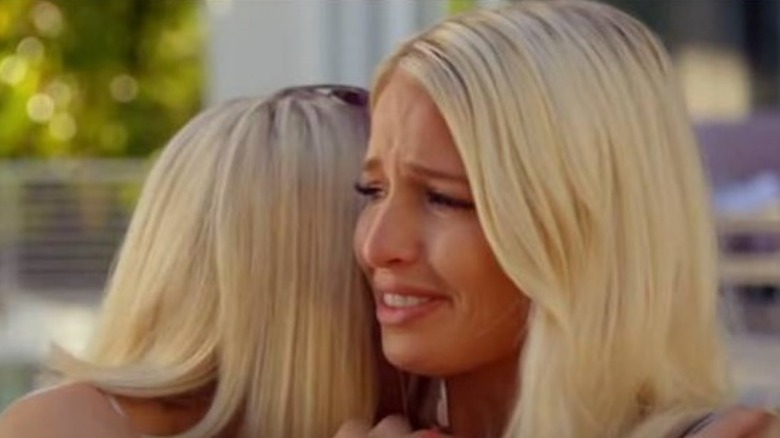 There was another big part of Brandon Gomes and Camilla Cattaneo's story that wasn't revealed until a June 2021 episode of "Siesta Key."  In an emotional scene that aired on the MTV reality show, Camilla revealed that she had also been expecting a child with Brandon at the same time that Delainey Shae was pregnant. She told co-stars Juliette Porter and Amanda Miller that she suffered an ectopic pregnancy with Brandon's child in early 2020 and had to have surgery to terminate the dangerous pregnancy.
Camilla also took to Instagram to fully explain the situation to fans. The reality star wrote that after she had a positive pregnancy test and rising hormone levels, her doctor became concerned because she could not see anything in her uterus. Brandon drove her to a hospital in Tampa, Florida, but due to COVID-19 he was not able to go inside with her as she found out that she had a life-threatening pregnancy and needed emergency surgery. Camilla revealed that Brandon waited in the parking lot for 12 hours to take her home.
While their grief over their lost baby brought them closer together, the revelation that Brandon fathered a child with another woman around the same time proved to be too much for Camilla. But in a May 2021 interview with ET Online, Brandon reveals that although they are not back together, the communication is improving.
Source: Read Full Article