The Stars Of The Suicide Squad Are Gorgeous In Real Life
We got to meet some pretty weird characters from DC's back catalogue in 2016's "Suicide Squad," but there was a general feeling among fans of the comic books that the film didn't take full advantage of the titular band of anti-heroes. Execs at Warner Bros. apparently felt the same, because instead of making a sequel to David Ayer's film, the studio got "Guardians of the Galaxy" director James Gunn on board and started the franchise over — well, kind of. Producer Peter Safran described 2021's "The Suicide Squad" as a "total reboot" in an interview with JoBlo, yet some of the characters from the original returned to reprise their roles, making Gunn's movie a follow-up of sorts.
One criticism of Ayer's 2016 film is that it didn't include King Shark, who featured prominently in the New 52 version of the Suicide Squad. Ayer believed that rendering the character in CGI would be too difficult a task, but Gunn wrote the humanoid shark into his story anyway, and he was far from the only new arrival. Over a dozen new delinquents joined Task Force-X for its second cinematic outing, and while the majority of them look pretty scary onscreen, the actors playing them are anything but.
Yep, the stars of "The Suicide Squad" are gorgeous in real life.
Mayling Ng is more badass than Mongal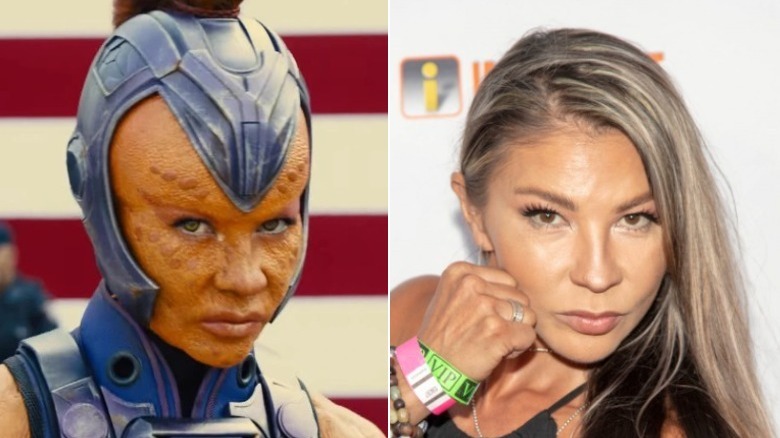 If you haven't heard of actor and multiple kung fu black belt holder Mayling Ng yet, it's only a matter of time. The daughter of a Singaporean-Chinese father and a British mother, Ng was brought up in the U.K., but developed a love for Asian martial arts at a young age. "I'd been training in kung fu since eight and loved Bruce Lee and Jackie Chan movies, so in my 20s I moved to Hong Kong to break into Asian martial arts movies," she told the Mirror. "I got an Asian martial arts movie. Then people said I wouldn't be able to move to Hollywood movies — and I started with a role in 'Wonder Woman.'"
Ng played the Amazon warrior Orana in 2017's "Wonder Woman," on which she also helped out with stunts. She went on to voice Marvel's Gamora in the 2018 video game, "Marvel Strike Force," and that same year she played a villain in direct-to-video sequel "The Scorpion King: Book of Souls." But her second DCEU role is her biggest to date. 
The badass Brit plays extraterrestrial warrior Mongal in "The Suicide Squad," looking barely recognizable under a heap of orange makeup and some elaborate "Warzoon" armor (her character is a former champion from the planet Warworld, ruled by her father, Mongul).
Weasel is played by the director's younger brother, Sean Gunn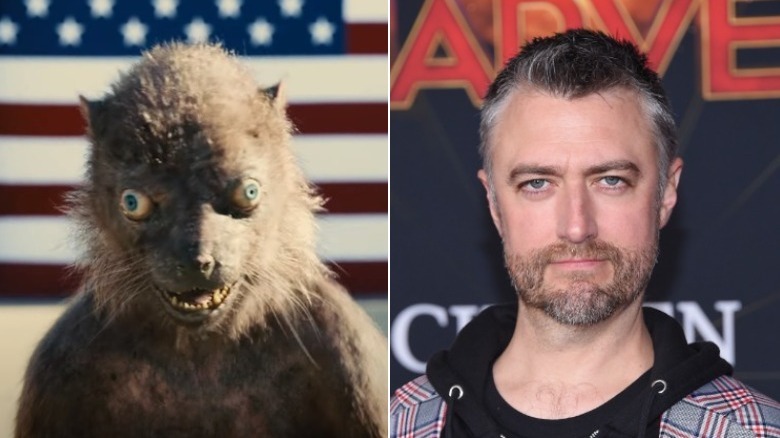 Among the craziest new additions to Task Force-X in "The Suicide Squad" is Weasel, a deep-cut DC villain brought to life by James Gunn's brother, Sean Gunn. In the comics, the character is a college professor who transforms himself into a killer humanoid weasel and takes revenge on the colleagues that bullied him during his time at Stanford. He later falls into the hands of Suicide Squad overseer Amanda Waller (played by Viola Davis in both films), and that's how it plays out in James Gunn's reimagining — though his version of Weasel is way creepier. The muscular man-weasel that DC fans met in 1985's "Firestorm Vol. 2 #38" is replaced with a far more lifelike creature, and the results (as no doubt intended) are terrifying.
He's possibly the most out-there comic book character to appear on the big screen to date, but it's all in a day's work for Sean Gunn. Marvel fans will know that James Gunn's younger sibling worked alongside him on the "Guardians of the Galaxy" films, playing Kraglin and also donning a green motion capture suit to play Rocket Raccoon on set. 
"Sean is able to physically do something most actors aren't able to do, which is waddle around on all fours," the writer-director said of the former "Gilmore Girls" star on Facebook Live (via Cinemablend). "He's always been an incredibly limber guy that can do a lot of strange physical things."
Flula Borg's casting as Javelin was pitch perfect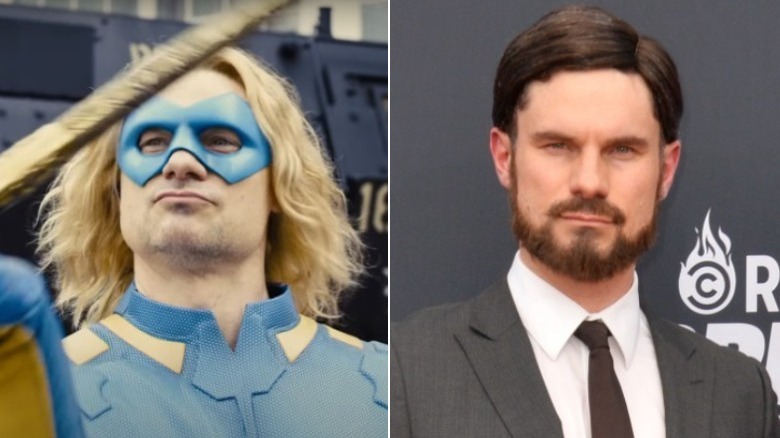 German actor, musician, and internet personality Flula Borg is best known to movie-goers for his hilarious turn in 2015's "Pitch Perfect 2." He relocated to the States after winning the Scion National Hypeman contest, moved in with future "Grimm" star (and Borg's real-life bestie) David Giuntoli, and eventually found his way into films via YouTube, rising to national attention after playing the leader of the German a cappella group, Das Sound Machine. Late-night talk show appearances followed, as did a number of big voice acting roles — he can be heard in both 2018's "Ralph Breaks the Internet" and 2020's "Trolls World Tour," as well as the Netflix sequel series, "The Boss Baby: Back in Business."
When news that Borg had been cast as Javelin in "The Suicide Squad" broke, he hadn't been seen on the big screen for a number of years. The European funnyman had been keeping himself sharp with guest roles in TV shows like "Silicon Valley" and "Curb Your Enthusiasm," but he never expected to get a call from James Gunn. "It's a fever-dream," Borg, who donned a blue mask and a blond wig to play Javelin, told ComicBook.com. "I feel like somebody may have spiked my water actually several months ago, and I don't think any of this is happening."
When his dream experience came to an end and Borg saw the completed film for the first time, he tweeted out that his "Brains and Heart could not handle the DOPENESS!!"
Ratcatcher 2 actor Daniela Melchior was a complete unknown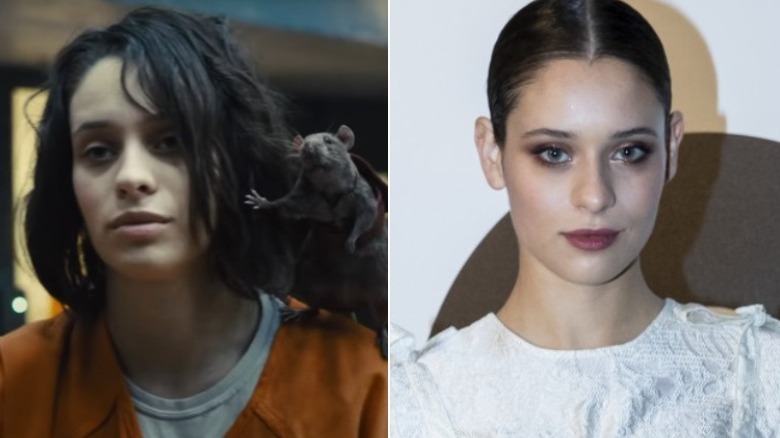 Portuguese actor Daniela Melchior beat out stiff competition from over 300 hopefuls to land the role of Ratcatcher 2 in "The Suicide Squad," and she did it despite being a complete unknown in the United States. Her character's father, the original Ratcatcher, taught her how to communicate with sewer rats and she entered into a life of crime, which ultimately led her to Amanda Waller and Task Force-X. According to James Gunn, Melchior was as popular on the set as her character is with rodents: "She has made friends for life," said Portuguese Soul, citing the writer-director as the source.
Gunn has waxed lyrical about Melchior on Instagram, and it seems as though there's a big future for her in Hollywood, though at the moment she's only done one movie in the States. Well, technically. Many people from the cast and crew of Gunn's "The Suicide Squad" have a connection to Marvel (including, as the brains behind the "Guardians of the Galaxy" franchise, Gunn himself), and Melchior can be added to that list. Hailee Steinfeld voiced the role of classic Spider-Man character Gwen Stacy in Sony's 2018 animated hit, "Spider-Man: Into the Spider-Verse," but the blonde from another dimension is played by none other than Melchior in the Portuguese version of the film, per Deadline.
Jai Courtney is nothing like Captain Boomerang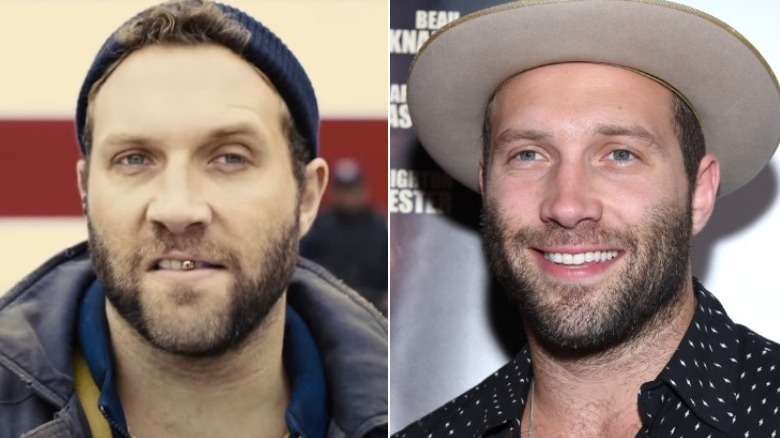 One of the handful of characters that made the crossover from David Ayer's 2016 film, Jai Courtney's Captain Boomerang is still "the same s**tbag liability we came to learn about in the first one," the actor told Collider. Real name George "Digger" Harkness, the Australian villain joined the ranks of Task Force-X after being apprehended by The Flash following a series of jewelry heists. He's a grubby career criminal with a bad temper — a far cry from Hollywood nice guy Jai Courtney.
Courtney (who, like his character in "The Suicide Squad," is Australian) has been popping up in American movies for years now, making appearances in the likes of "Jack Reacher," the "Divergent" series, Angelina Jolie's "Unbroken," and "A Good Day to Die Hard," in which he got to play the estranged son of Bruce Willis' John McClane. He also portrayed the part of Kyle Reese in the 2015 blockbuster "Terminator Genisys," starring alongside Emilia Clarke as a young Sarah Connor and a returning Arnold Schwarzenegger, but, unfortunately for the up-and-coming Aussie, the sequel was a critical and commercial failure in the States.
Reprising his Suicide Squad role has boosted Courtney's Hollywood profile again, but he remains as down to earth as ever. "He's a genuine nice guy," the spokeswoman for an Australian pub that the actor visited in 2019 told Confidential (via Adelaide Now). "He had all the time in the world for everyone."
Polka-Dot Man actor David Dastmalchian almost gave up on acting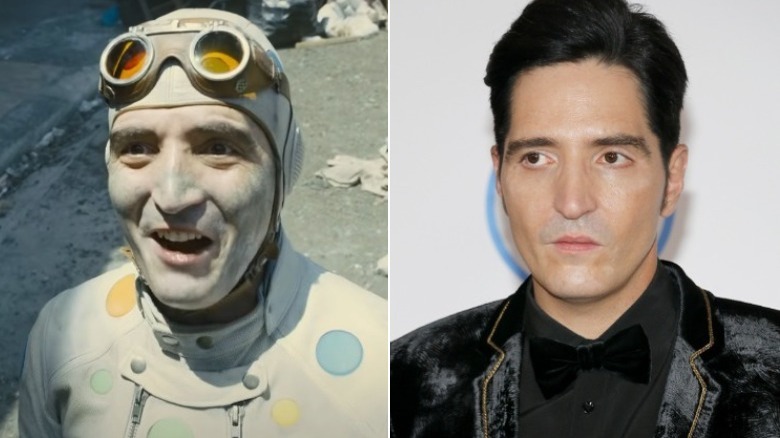 Known to superhero movie fans as Scott Lang's Russian accomplice, Kurt, in Marvel's "Ant-Man" films, Kansas-born actor David Dastmalchian took the long road to Hollywood. He almost opted for a career in football after a successful spell with his high school team, but teachers encouraged him to pursue drama instead. "I thought, 'Only rich kids get to do that,'" he told the Chicago Tribune. "They said I should at least try out … And it totally changed the course of my life."
He took a year out from school and relocated to Alaska to work as a fisherman after seeing a job listing in the back of a comic book, Dastmalchian revealed. He then returned to Chicago to finish his studies and started looking for work as an actor, though by this point he had become reliant on drugs. "I had found myself to be an incredibly high-functioning full-time addict," he explained to the Tribune. Dastmalchian was forced to quit acting for a bit, but thankfully managed to turn his life and his career around.
Dastmalchian's breakthrough role was actually a DC one — he played one of Joker's thugs in "The Dark Knight." It was a small part, but his memorable face stuck with viewers and casting directors alike. He plays the fabulously dressed Abner Krill (a.k.a. Polka-Dot Man) in "The Suicide Squad," a cynical metahuman who fires multicolored discs at his foes.
If you or anyone you know is struggling with addiction issues, help is available. Visit the Substance Abuse and Mental Health Services Administration website or contact SAMHSA's National Helpline at 1-800-662-HELP (4357).
Pete Davidson signed on for The Suicide Squad when he learned his character's name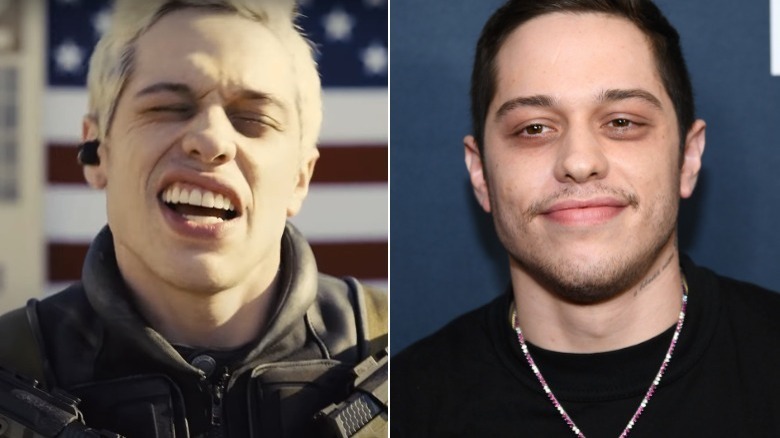 Pete Davidson was the first comic born in the 1990s to join the cast of "Saturday Night Live," but the show's resident young person has been showing signs of outgrowing it in recent years. The New York native received rave reviews for his performance in 2020's "The King of Staten Island," the semi-autobiographical film he co-wrote with its director, Judd Apatow. Having first reportedly impressed Apatow on the set of the 2015 film, "Trainwreck" (he plays Bill Hader's stoned patient), Davidson has plenty of other admirers in Hollywood, James Gunn included. According to Davidson, the feeling is mutual.
"I love superhero movies, and I'm a huge James Gunn fan," the stand-up comedian said on "The Tonight Show Starring Jimmy Fallon" in 2021. "I got a call from James Gunn. He was like, 'There's this role for you in the movie, and you play a guy named Richard Hertz.' And I was like, 'Dick Hertz? I'm in!' Yeah, that's his real name. My character's name is Dick Hertz. And I was like, 'Dude, that's the greatest…' And yeah, he was nice enough to let me be in it. It's a thing I still can't believe, it's like ridiculous." 
Davidson went on to reveal that his friends and family were equally as excited when he landed the part of Hertz, a.k.a. Blackguard, one of the new faces on Gunn's revamped Task Force-X.
Nathan Fillion and James Gunn go way back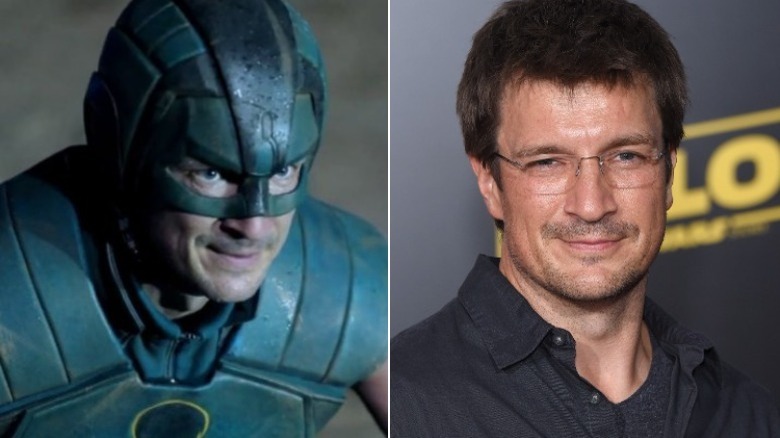 Unlike the majority of his castmates, Nathan Fillion plays an original character in "The Suicide Squad," though he appears to be at least partially based on the bizarre and largely forgotten Arm Fall Off Boy. A first-round reject at the Legion of Super-Heroes tryouts in DC comics, Arm Fall Off Boy has the power to (you guessed it) remove his arms and use them as weapons. He was a lighthearted creation intended to generate a few laughs, and while Fillion's TDK is clearly in the same vein (James Gunn compared him to a character from "some kind of Saturday morning cartoon show," per Fandom), this revamped version at least has cooler powers.
Instead of popping an arm off and waving it around with the other like a big meaty club, TDK is able to remove and subsequently control his limbs telekinetically, which looks as crazy as it sounds. Fillion was a perfect choice for the role, having gotten used to Gunn's particular brand of humor while working on his 2006 horror-comedy, "Slither." The Canadian actor is popularly known for his turn as Captain Malcolm Reynolds in Joss Whedon's cult sci-fi show, "Firefly," and for playing famous novelist Richard Castle in all 173 episodes of the ABC procedural, "Castle." 
But he was no stranger to DC comics when he signed up for "The Suicide Squad," either, having voiced Hal Jordan (a.k.a. the Green Lantern) in several animated projects.
John Cena's Peacemaker is The Suicide Squad's next breakout star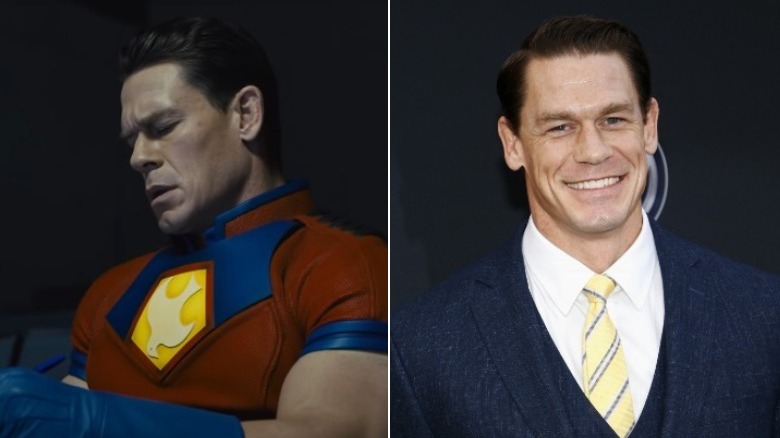 Described by John Cena himself as a "douchey Captain America" in early promotional footage for "The Suicide Squad," new Task Force-X recruit Peacemaker is one of the main stars of James Gunn's film. The writer-director liked Cena in the role so much that he decided to create a TV show based on him, too, which is set to release on HBO Max in 2022. Like his Suicide Squad teammate Pete Davidson, the seemingly retired WWE superstar began making inroads in Hollywood after a small role in Judd Apatow's "Trainwreck," playing Amy Schumer's protein-loving boyfriend, Steven.
"What kind of boyfriend could she be awful to where the audience wouldn't be very mad at Amy?" Apatow explained to USA Today, adding that he decided it had to be someone "in incredible shape." Cena fit the bill, but nobody really expected him to be so hilarious in the role. The stacked wrestler-turned-actor became one of the best parts of "Trainwreck," and he's gone on to flex his comedic muscles in a number of big projects since then, including "Daddy's Home 2," "Blockers," and "Playing with Fire." 
The part of Peacemaker (who, paradoxically, believes in achieving peace no matter how many people he has to kill) is undoubtedly his biggest to date.
Sylvester Stallone was honored to voice the vicious King Shark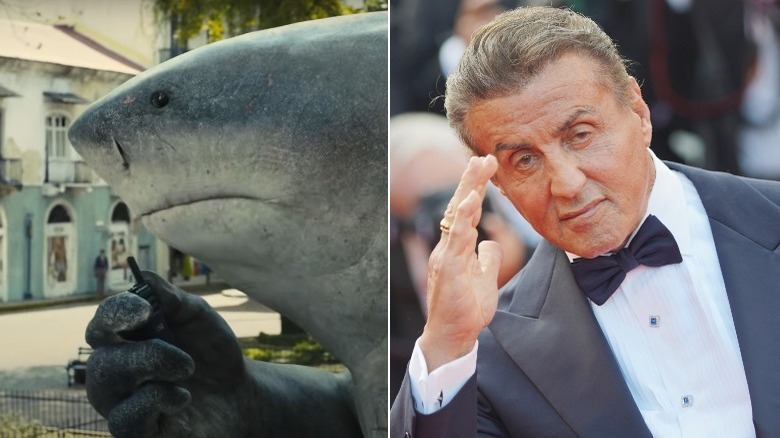 Sylvester Stallone was named on ABC's list of "sexy silver foxes over 60" back in 2016, despite the fact that he actually turned 70 that year. The star of the enduring "Rocky" and "Rambo" franchises has shown no signs of slowing down in the years since. He reprised the role of Rocky Balboa in the 2015 Michael B. Jordan-led spin-off, "Creed," which led to his second career Oscar nod — he'd been nominated in the best actor category for his turn in the first "Rocky" film back in 1976. His career saw plenty of ups and downs in the period between (the less said about "Stop! Or My Mom Will Shoot," the better), but he's got a fan in James Gunn.
The director cast Stallone as Ravager clan leader Stakar Ogord in his Marvel hit, "Guardians of the Galaxy Vol. 2," which, coming out a short few years after "Creed," seemed to confirm the age-defying actor's Hollywood resurgence. Gunn turned to Stallone again when he needed somebody to provide the deep, rumbling voice of CGI character King Shark, and the actor jumped at the chance to reunite with him. 
"Working with this incredible director on this astounding project has made this an amazing year," Stallone wrote in a 2020 Instagram post. "I am a very lucky man to be surrounded by such talent."
Idris Elba is cool as ever as The Suicide Squad's Bloodsport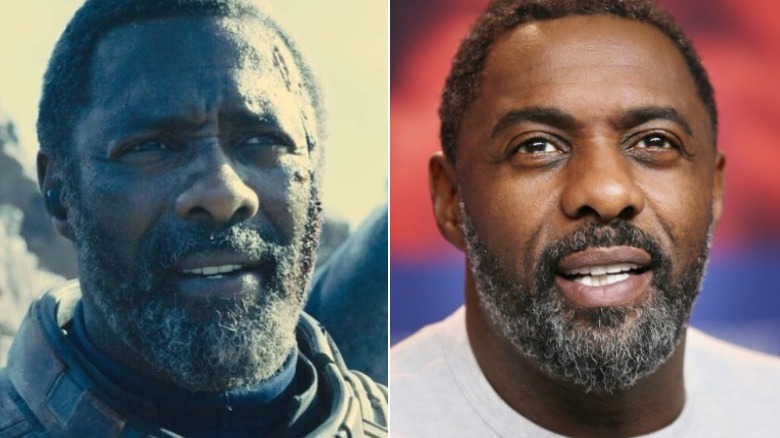 When it was revealed that Idris Elba had joined the cast of James Gunn's "The Suicide Squad," sources suggested that he'd been hired to replace the outgoing Will Smith, who portrayed the hitman Floyd Lawton (a.k.a. Deadshot) in David Ayer's "Suicide Squad." Variety later confirmed that "all parties including director James Gunn have decided to move on from the Deadshot character, with Elba playing a new character." That character is Robert DuBois, who goes by the alias Bloodsport and is notorious for "putting Superman in the ICU with a Kryponite bullet," Viola Davis' Amanda Waller revealed in a trailer for "The Suicide Squad."
Like Smith did in the first film, Elba plays a central role in the follow-up, which is hardly surprising considering his pedigree. He's known to Marvel fans for playing loyal Asgardian gatekeeper Heimdall in the MCU, but the British actor is renowned all over Hollywood for his roles in films like Ridley Scott's "Prometheus" and the Netflix hit, "Beasts of No Nation." Oscar glory has eluded him thus-far, but "The Wire" alum (who was named People magazine's sexiest man alive in 2018) is a Golden Globe winner and a four-time Emmy nominee for his role in the BBC series, "Luther." With an impressive $30 million fortune to his name, Elba has also signed on to reprise the role of DCI John Luther in a feature film, he confirmed to Capital FM (via NME).
Margot Robbie brings her A-game as Harley Quinn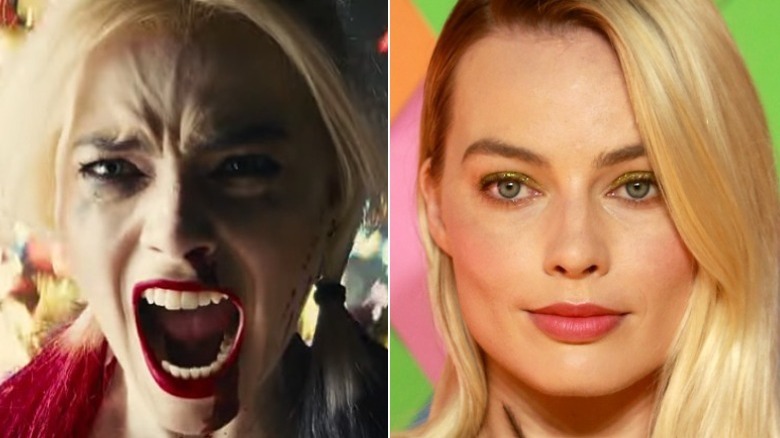 Any discussion about the Suicide Squad films (or, indeed, DCEU movies in general) tends to lead back to Margot Robbie. The Australian actor was the standout performer in David Ayer's 2016 movie, and was considered a shoe-in to return when James Gunn took the reins. She embodied the role of the Joker's tortured sidekick and occasional lover, and she took the character to new levels in the 2020 team-up flick, "Harley Quinn: Birds of Prey." By the time Gunn's "The Suicide Squad" was announced, Robbie was already one of the biggest stars in Hollywood.
She burst onto the scene back in 2013 when she played Naomi Lapaglia in "The Wolf of Wall Street," described simply as "the hottest blonde ever" in the script (via Harper's Bazaar). The Australian actor didn't think she was good-looking enough for the part, but that's because she's always been the down to earth type. Robbie grew up in a rural town, where she was affectionately known as "Maggot" among friends. She worked as a Subway sandwich artist before getting her start on the long-running Australian soap opera, "Neighbours," following in the footsteps of Russell Crowe and Chris Hemsworth. 
Besides Harley Quinn, Robbie's best known for her Oscar-nominated turn as skater Tonya Harding in the biographical sports drama, "I, Tonya."
Source: Read Full Article