There's a 'Whose Line Is it Anyway?' Episode That Never Aired
Whose Line is it Anyway? has perhaps fallen off the TV show viewer's radar lately compared to its heyday, if still showing off the skills of our greatest improv comedians. Since everything is still done off-the-cuff, this can also mean taking major risks in saying something wrong.
Once in a while, the improv panel says something requiring an excise from network broadcast. There was one episode years ago where a Party Quirks bit required careful censoring due to inappropriate body touching.
However, one entire episode had to be cut during a very sensitive time. It also involved one of the most legendary improv comedians of all time.
The incident has long been forgotten, yet would be interesting to see today in the proper context.
What episode of 'Whose Line is it Anyway?' had to be cut from broadcast?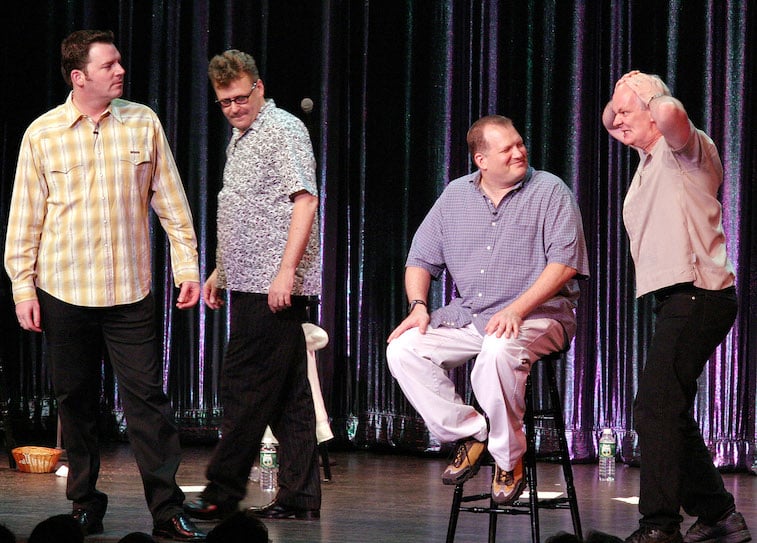 Go back in time to the fall of 2001, and Whose Line is it Anyway? was still airing on ABC after initially premiering there in 1998. This was 13 years after the original British counterpart of the series debuted in the U.K. with many of the same participants.
One of the greatest aspects of the show in those days was bringing in special guests who were known for their improvisational comedy backgrounds. At that time, 70-something Sid Caesar was still going strong, if only seen on TV sporadically.
Whose Line is it Anyway? brought him on as a guest once in a while, giving a new generation a chance to see him work his improv magic as he did in the early days of TV.
For the taping of September 9, 2011, Caesar appeared as a guest again, and one of the games involved another foreign film dub. Numerous episodes had this setup where the participants would dub a random silent movie with different dialects.
Caesar was known for his ability to speak any dialect, albeit speaking nothing but gibberish. During this sequence, he started parodying Arabic, a choice that would hit differently just two days later.
September 11, 2001 changed everything about this episode
The above episode was already taped, but the World Trade Center terrorist attacks on September 11 changed the world. Producers of Whose Line is it Anyway scrutinized their new episode at a time when anything ribbing Arabic would likely be thought insensitive.
They made a good call on not airing the episode, yet what happened to it in the meantime? It never did air that season and it now stands as the true lost episode of the series.
Then again, 9/11 was such an impactful event in human history, it might still feel too sensitive to bring up even almost two decades later.
The show managed to help people laugh again post-9/11
When the show resumed on September 20, there was a gap of three weeks before the last episode aired. The cast managed to get people back into a feeling of wanting comedy thanks to games like Weird Newscasters, Narrate, Duet, Infomercial, Hoedown, and Three-Headed Broadway Star.
Thanks to this show and Saturday Night Live around the same time frame, everyone was reminded it was ok to laugh again after facing the worst tragedy of everyone's lifetimes. And Sid Caesar managed to come back to the show various times afterward.
Little did anyone know one of the greatest TV comedians would have one episode that may never see the light of day.
Source: Read Full Article